What's Really at Stake in the Adidas V. Asics Fitness Tracker Lawsuit?
Patent battles playing out in court over our personal data will decide which companies will steer the future of personalized health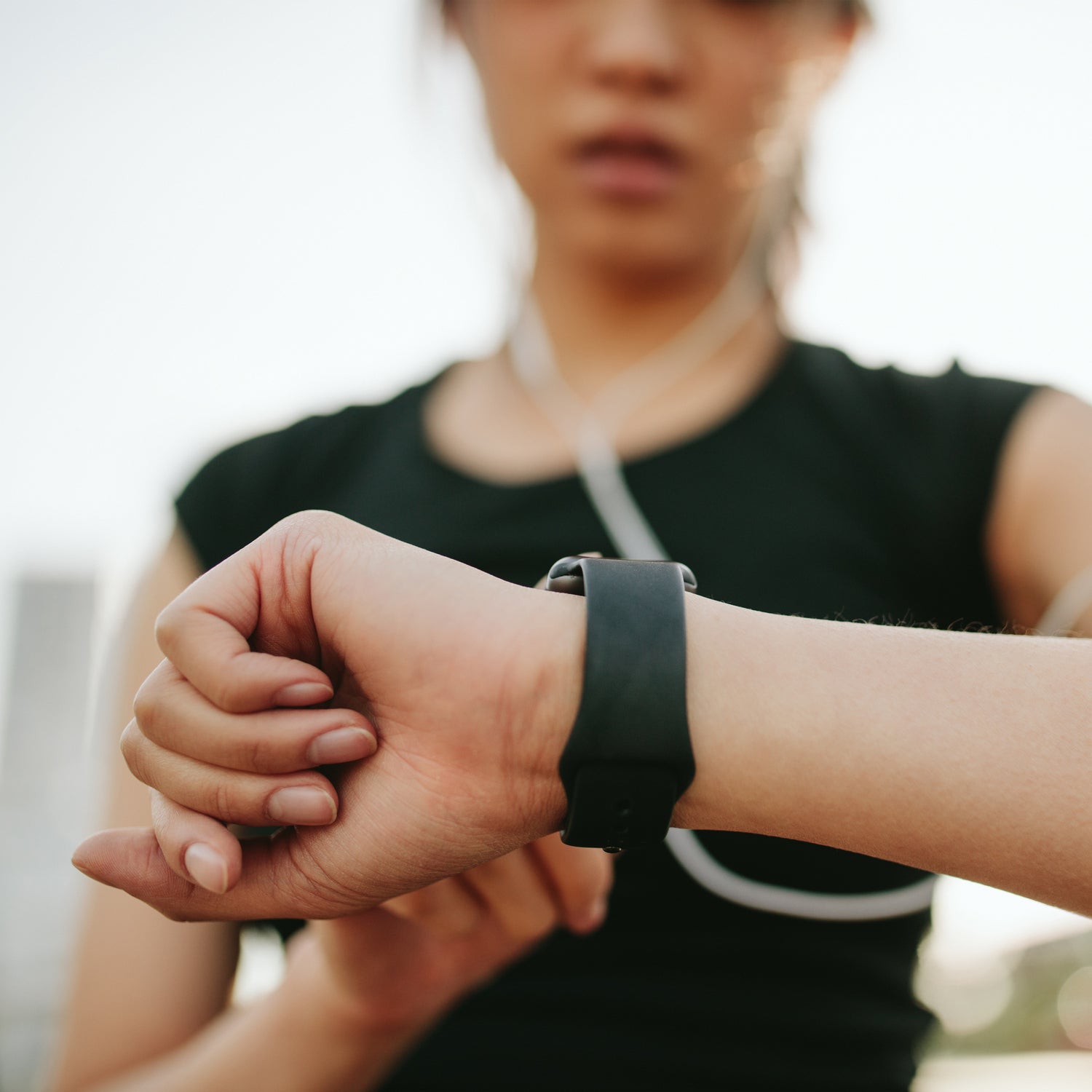 Heading out the door? Read this article on the new Outside+ app available now on iOS devices for members! Download the app.
On March 17, Adidas filed suit in a federal court in Delaware against shoemaker Asics over rights to the technology that powers Asics's fitness trackers. Adidas, which owns the training platform Runtastic, claims that RunKeeper, the fitness app maker founded in 2008 that Asics acquired last year, infringes on ten of its intellectual property patents. The German sports apparel company is demanding that Asics cease and desist providing RunKeeper and also wants undisclosed damages.
There's more at stake in this case than you might expect from two apparel titans grappling over electronic wristbands. As more people begin tracking their physical activity, many companies see a promising opportunity not just to sell monitoring devices, but also to collect heaps of data about their users' personal routines and tendencies. Sales of wearables were up 43 percent between September 2015 and September 2016, according to market researcher NPD Group. Revenue from fitness trackers, tabulated at more than $2 billion in 2014, is projected to grow to $5.3 billion by 2019, according to tech market research firm Park Associates. The lines determining which companies will dominate the market are still being drawn, says NPD Group sports industry analyst Matt Powell. "I don't think we know yet who's going to be the winner here." Legal battles, like the one between Adidas and Asics, could provide key insights into what shape the industry will take.
Reading Adidas's legal complaint against Asics, it appears that the principles guiding the company's claims could be used to target the entire field of wearable, GPS-based activity trackers. The company positions itself as the leading pioneer in the field of fitness tracking and data-driven exercise planning: "[A]didas was the first in the industry to comprehensively bring data analytics to athletes," the complaint reads. If that rationale holds up in court, it could have huge implications for who controls the data we provide when we opt to quantify ourselves.
Court battles, like the one currently raging between Adidas and Asics, might provide key insights into what shape the industry will take.
"Personal data is a valuable asset that these companies are largely permitted to use," says Andrew Hilts, executive director of the Canadian nonprofit personal data advocacy organization, Open Effect, which published a report last year on how fitness tracker data is used. "I'm sure companies are using it in a large variety of ways, like improving their product and marketing. But we don't know what companies are doing beyond that." There's currently no overarching federal law regulating how companies use data they receive from their users.
Adidas made its foray into the wearable fitness tracker industry in 2010 with miCoach, a personal training platform that included a small portable device that verbally coached users during their runs. In 2015, the company boosted its investment in wearables, acquiring Austrian app maker Runtastic for $240 million. By then Runtastic operated more than 20 fitness and health apps, with 140 million downloads on them, and had developed a wearable activity monitor. The patents Adidas is asserting in its latest lawsuit appear to lay blanket claim to the basic systems governing all wearable GPS devices and health platforms we associate with fitness tracking. For example, Patent 8,068,858, titled "Methods and computer program products for providing information about a user during a physical activity," covers:
"…among other things, a method of providing information about a first user engaged in a physical activity that includes receiving a user's location from a portable fitness device; receiving performance data from the portable fitness device while the user is engaged in physical activity; determining the users' location with respect to a route path, visually displaying on a remote system the first users' location and performance data."
In casting such a wide net, it seems like this patent might encompass just about every fitness tracker on the market. Other patents Adidas holds levy similar claims related to the use of fitness trackers. One covers the method behind "monitoring an individual's performance during a physical activity with a portable performance monitoring device." Another covers the method of "electronically providing comparative health coaching information to a user." And there's an additional one that covers the method behind "storing a training plan in data storage."
Adidas accuses Asics of "knowingly and intentionally" infringing these patents by providing RunKeeper, and even claims that the company "induced users" to infringe on the patents as well. After multiple requests to Adidas seeking comment, a spokeswoman emailed Outside to say that "innovation is at the heart of who we are at Adidas. We'll continue to vigorously protect our innovations." But she declined to answer any questions about the lawsuit against Asics or Adidas's patent enforcement strategy.
It's not the first time Adidas has asserted these patents against a competitor in this way. In 2014, the company sued Under Armour on similar grounds. In its bid to carve out its own spot in the wearable tracker space, Under Armour had acquired MapMyFitness and Endomondo in 2013 for a whopping $560 million. Shortly thereafter, Under Armour released UA Record, its proprietary network of fitness tracking, sharing, and analysis. Adidas responded with litigation, and was successful: the companies settled last spring after Under Armour agreed to pay Adidas an undisclosed fee to license its ten patents—the same patents Adidas is currently leveraging in its claims against Asics.
As the market for wearables continues to expand, the stakes for which companies have a foothold in it grow higher.
Other companies vying for a foothold in the rapidly expanding fitness tracking market are engaged in patent battles as well. Fitbit and Jawbone have been locked in a tug-of-war over patents on wearables for the past two years. In May 2015, Jawbone, which makes the UP Move app, filed three lawsuits against Fitbit over wearable activity trackers that deliver fitness metrics to users, and claimed that Fitbit poached Jawbone employees with key knowledge of the company's fitness tracking tech and also stole trade secrets. Fitbit fired back with its own lawsuit in the fall of that year, alleging that Jawbone infringed on several of its patents, some pertaining to wearable heart rate monitors and body sensors, and others that lay claim to general functionalities associated with fitness trackers. They have titles like "Method for Detecting and Recording Physical Activity of a Person" and "System and Method for Activating a Device Based on a Record of Physical Activity." Fitbit also filed a complaint with the International Trade Commission in an effort to stop Jawbone from importing and selling wearable fitness trackers in the U.S. Jawbone responded with allegations of its own, which an ITC administrative law judge dismissed last October. On March 24, a California state judge rejected a move by Fitbit to have the case thrown out, indicating that the case may go to trial.
This type of legal battle is not unique to wearables. In the past decade or so, asserting intellectual property patents in court has become a popular tactic among some companies as a means to protect their information technology assets and stall their competitors. So-called "business method" patents are often broadly conceived and written to encompass entire approaches to product design that, to the average person, might seem like standard business practices or public-domain technology. Companies have wielded these types of patents in questionable ways. One lawsuit sought compensation from restaurants and hotels that provide WiFi to customers. In another, a company from Reno, Nevada, with zero employees sued Google and Samsung over claims that it invented the "mobile Internet." (Companies that routinely assert their patent portfolios but don't use them to make products are commonly referred to as patent trolls.)
As the market for wearables continues to expand, the stakes for the companies that have a foothold in it grow higher. Fitness tracker data is already being utilized in a few ways: to influence the cost of users' health insurance premiums, as evidence in workplace injury disputes, and as evidence of users' whereabouts in law enforcement investigations. So it's worth knowing how companies are positioning themselves to receive and use that data. "I don't think customers are thinking about these types of cases when they just want to track their steps," Hilts says. "There's a whole world of things that can be done with it."
Lead Photo: Getty Images/iStockphoto