Indefinitely Wild
Forget Survival: Here's How to Prepare for Everyday Life
Being prepared with Everyday Carry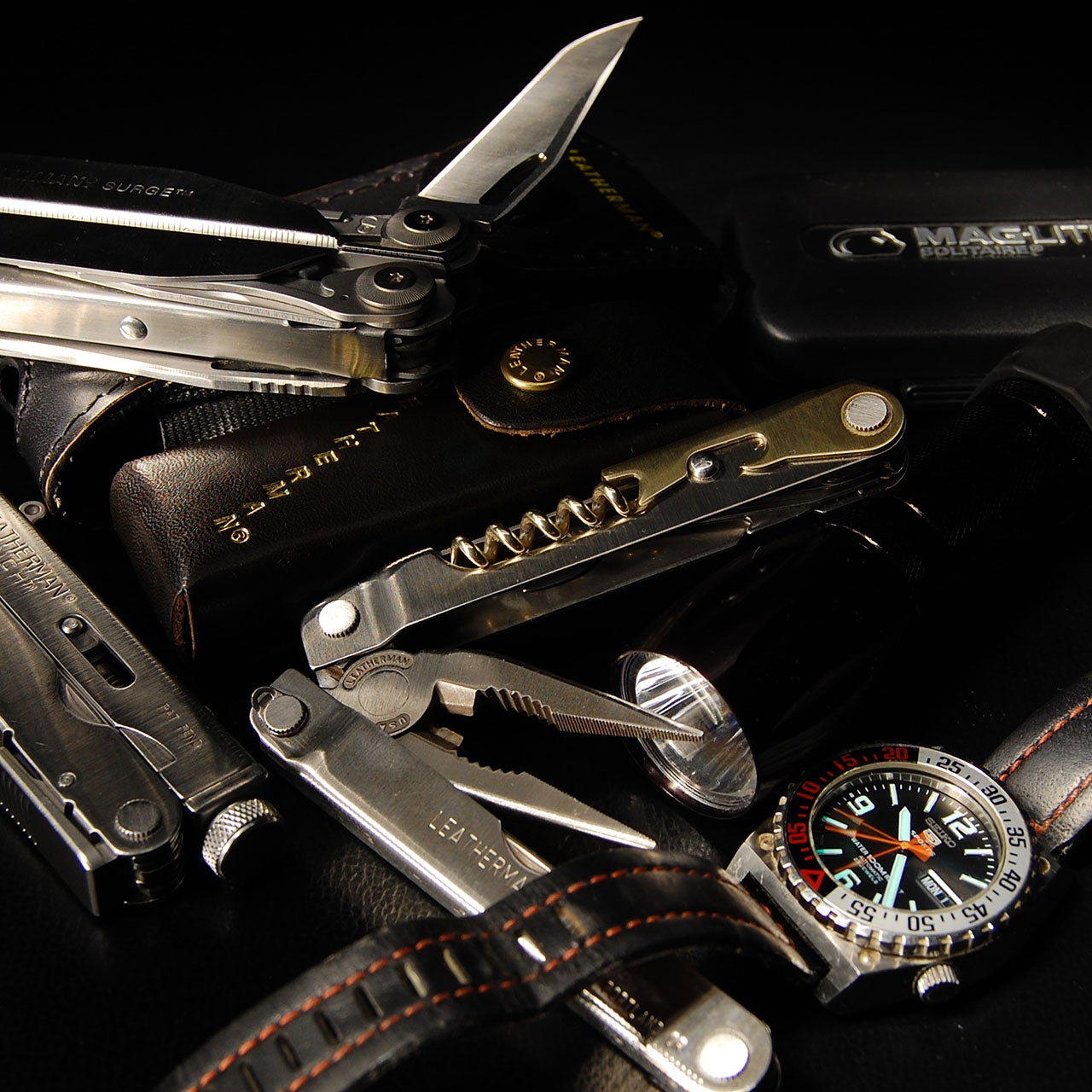 Heading out the door? Read this article on the new Outside+ app available now on iOS devices for members! Download the app.
Last week, I was attacked by a wild animal. Because I was prepared for such an emergency, I was able to stop the bleeding and survived the incident.
That's the kind of story you want to hear from an outdoors writer, right? And it's probably the kind of thing you figure you need to prepare for if you're visiting a place like Australia, where every animal is allegedly out to kill you. It's also the kind of skewed thinking that causes people to exert enormous amounts of time, effort, and late-night interneting to prepare for stuff that never happens.
The vicious beast in question? A sulphur-crested cockatoo. It bit me because I was trying to coax it onto my shoulder so my friend could take a photo. The real problem was that I almost got blood on a new suit, a potentially costly setback I was able to avoid because I carry a few Band-Aids in my wallet.
With some basic supplies, you too can arm yourself with significant capability to make repairs, perform first aid, and handle all the silly little emergencies that life throws at you on a daily basis. The idea isn't to prepare for something exciting but unlikely, like an alien invasion, but rather for the actual problems you'll actually face.
It's a philosophy called Everyday Carry (EDC), and it's an approach that will tangibly benefit your life in a way that knowing which kinds of moss can disinfect a wound or starting a fire with two sticks never will.
The idea is to carry a few basic, small tools with you everywhere you go. That's typically a knife, a multitool, and a flashlight. Stuff that's small enough to fit it in your pocket but handy enough that it's not useless. There's a great forum devoted to discussing these products and their uses in depth, as well as a neat photo blog that fetishizes the stuff us prepared people carry in our pockets.
"They're the things you tap your pockets for before you head out the door, the things you feel naked without, and the things that would throw off your whole day if you had to do without them," writes EverydayCarry.com's Bernard Capulong. "Your everyday carry is comprised of items that you find truly essential."
The first thing you have to understand about EDC is that you're already doing it. In your pockets, you have, at minimum, a wallet, keychain, and smartphone, right? And you've already tailored those items somewhat to suit your daily needs. You need an ID, so you have your driver's license. You need to buy stuff, so you have a debit card. Sometimes you need to buy stuff with cash, so you have a few bucks. You need to get into your house, so you have a door key. You get the idea.
Analyzing your daily needs and tailoring what's in your pockets to deal with them enables you to take these capabilities further. Sometimes those annoyingly tiny screws on your glasses or sunglasses need to be tightened or you risk losing them. Carrying a little multitool with the right-size driver will allow you to do just that. Bam! You just saved time, money, and hassle, all by adding a $20 Leatherman to your keychain. Sometimes you have to walk down a dark path at night. Carrying a small but powerful flashlight will save you from tripping and falling. Another $40 just saved you from emergency dental surgery.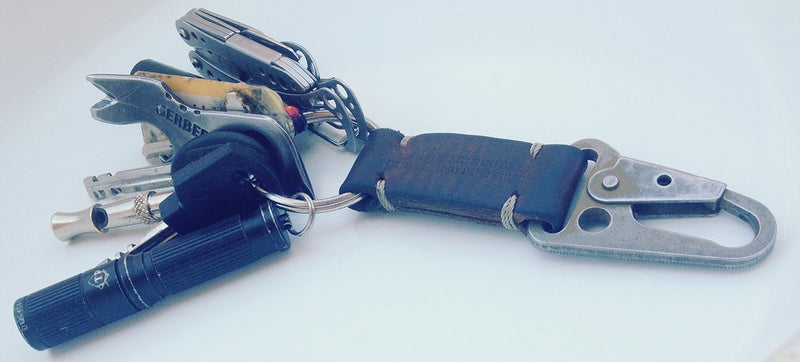 What does a basic, useful EDC load look like? I carry this keychain toolkit, a folding knife, my wallet, and my phone on a daily basis. All those tools fit in my jeans without issue, waiting there until I need them. Occasionally I'll add or subtract a few items depending on travel, location, and other variables like weather or planned activity. A long day out of the office might necessitate a battery pack. A nighttime excursion might dictate a headlamp. A trip to Johannesburg might mean I put a kubotan in my pocket.
You can, of course, go totally overboard with this. Once you realize that knives are neat, it's easy to come up with a justification for spending too much money on one. And once you realize how useful having a knife in your pocket can be, it's easy to jump to the conclusion that carrying a bigger one will be even more useful. As a fellow tool nerd, I totally understand how easy it is to fall down this rabbit hole. I've done it myself. When I first started taking EDC seriously, I lived in New York, so I had the advantage of needing a jacket most days. One with pockets enabled me to carry a two-AA-battery flashlight, a little hank of paracord, a full-size multitool, and my pocketknife. I felt ultraprepared, but the subway crash, terrorist attack, or street fight I was preparing for never happened. And because I never really used all their capabilities, all that full-size stuff just became a burden. Now I genuinely use the stuff I carry as it's designed to be used and have an EDC setup that goes with me anytime I'm wearing pants.
Let's look at a few common items you can carry with you anywhere and figure out the stuff that might work for you.
Knife
I've previously written a deep dive into ideal EDC knife specs, so go read that if you want to make this more complicated than just buying the $60 Spyerdo Delica 4 FFG.
Multitool
I've also written a multitool buyer's guide, which concluded that a TSA-friendly, keychain size tool like the $24 Leatherman Style PS is way handier than anything bigger, largely because you genuinely can carry it every day. Want something even slimmer? Small, one-piece multitools designed to do just a little bit of wrenching, driving, or prying may fit in your pocket a little better but are obviously also less useful. The Leatherman 5 packs a lot of potential usefulness into a very slim package.
Flashlight
Size and method of carry take precedence over brightness. You want to carry a flashlight separate from the one in your phone to preserve precious battery life and because holding a phone while trying to do anything else with your hands is impossible. The new 1,020-lumen FourSevens Mini MkII is the best EDC light you can buy, but its battery dimensions—slightly larger than a CR123 battery—may be a bit bulky for your keychain. A FourSevens Atom A0 (AAA-powered) or CR2-powered Atom ALR2 might better suit your needs.
Smartphone
Sure, you can just Google anything you want to know, but loading up your phone with a few offline knowledge sources can be really useful when you find yourself in an area without cell service or if the power goes out. At the very least, saving your local area (or the area in which you're traveling) for offline use in Google Maps should be something everyone does. It's also a smart idea to have a good first-aid guide.
Wallet
The last thing you want to create is a wallet so fat that it permanently displaces your spine. And you don't need anything fancy just because you're EDCing now. Instead, use it as a place to carry a few small essentials, like the aforementioned Band-Aid and maybe a list of phone numbers should your smartphone battery run out. Avoid any multitool or knife designed to fit in a wallet—they're all gimmicks.
First Aid
In addition to a Band-Aid or two and maybe that little roll of duct tape on your keychain, it might be a good idea to carry a little medicine. If you need something, you probably already have it, but adding a couple Imodium or Benadryl pills never hurt anyone. You can put a little blister pack in your wallet or add a tiny pill container to your keychain.
Etc.
A portable battery for your gadgets, a USB stick, a pen, a watch, a camera…everyone has diverse needs. Analyze what yours are, and try to meet them with stuff that maximizes portability.
That's the priority for any approach to everyday carry. The whole idea is to have useful stuff with you at all times. To achieve that, everything you have with you should be both useful and portable. Two Band-Aids in my wallet wouldn't have done much in the aftermath of an explosion, but they did save me from having to go to a wedding with blood on my suit.