Gear Guy
How do I clean my hands in the wilderness?
What's the best way to clean my hands in the wilderness prior to handling contact lenses? My waterless hand sanitizer warns against eye contact and I don't want to use stream water.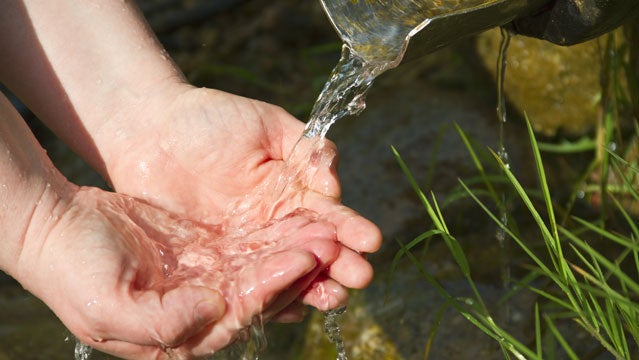 Heading out the door? Read this article on the new Outside+ app available now on iOS devices for members! Download the app.
Wow – that's a tough one, as my first response would have been "use a waterless hand sanitizer!" Any chance you're willing to wear eyeglasses while out in the woods? That would certainly make life easier, in some ways.
Still, there are solutions to this problem. For one thing, I don't think plain old stream water poses a particular threat. I wouldn't rinse my hands off in a stagnant pond then stick them in my eye, but clean stream water should be OK. In North America, at least, there aren't any worms or parasites that are known to enter the body through the human eye, burrow into the brain, and make your head explode… I don't think.
There are alternatives, though. For instance, carry a small bottle with a half-pint or so of chlorine bleach. Whenever you need to work on your contacts, decant a few tablespoons into a quart of clean stream water. Let it sit for ten minutes or so, and use that to rinse your hands, perhaps after first washing them with your hand sanitizer. Dry with a clean, light towel you keep separate just for this procedure, and go to work. That should give you a pretty sterile cleansing bath, and ensure that your contacts don't trap any baddies in there.