Indefinitely Wild
How MSR Designs a Fork
Six months, two trips to Thailand, and flirtations with madness have produced possibly the most forgettable fork ever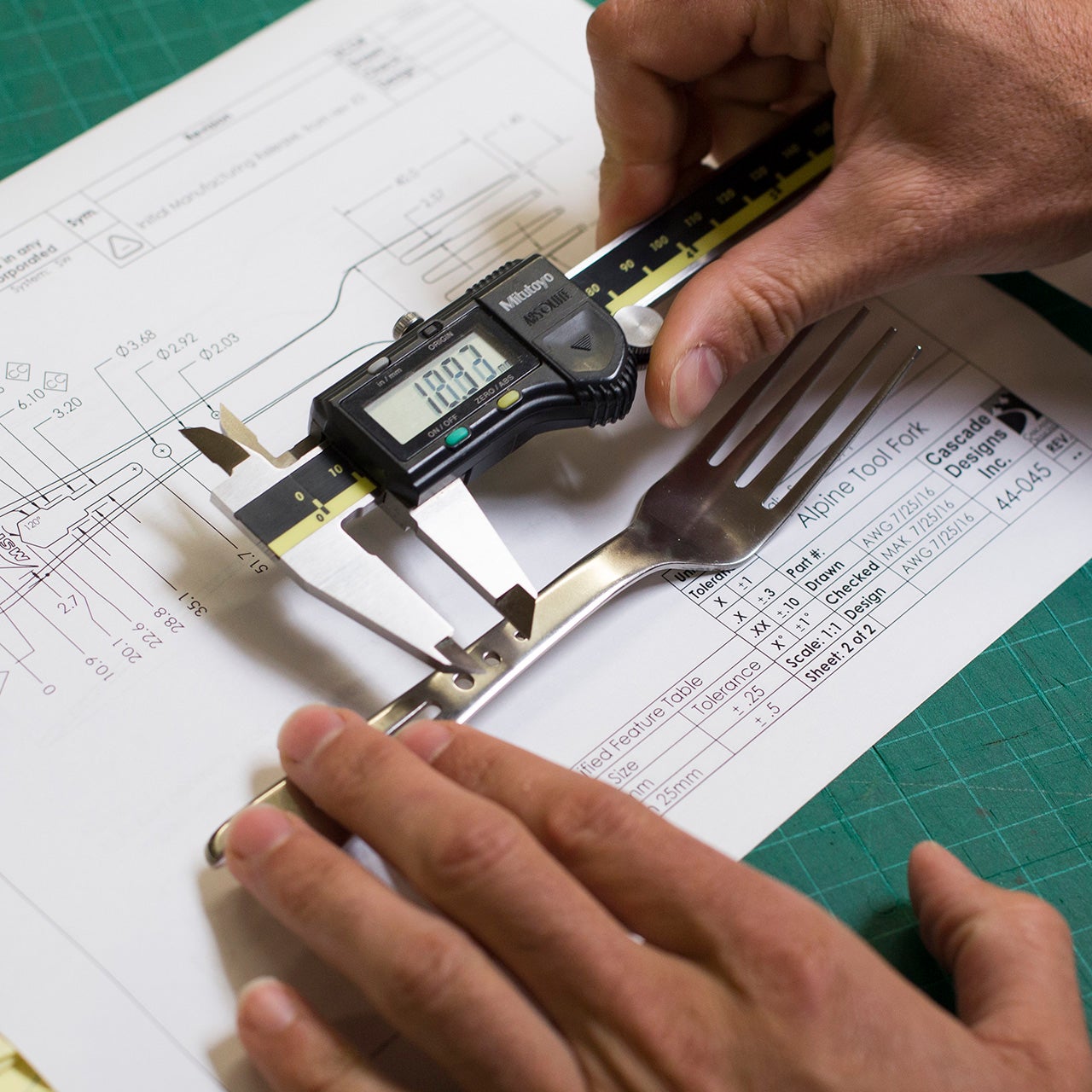 Heading out the door? Read this article on the new Outside+ app available now on iOS devices for members! Download the app.
"You should be able to grab any product from an entire brand, hold it up, and it should represent that brand," says Owen Mesdag. He's been a product manager at Seattle's Cascade Designs for ten years and has just finished his latest project—a fork. 
I met Mesdag on Washington's Mount Baker. We got talking about old Land Rovers, International Knife Day, and our mutual affinity for a quixotic flip-flop designer. Five minutes into it, he invited me to come stay with his family in West Seattle. There, after a few beers, he told me this incredible story. It was about a fork. 
The tale starts with a little plastic pouch, Mesdag's first ground-up product at Cascade Designs, the parent company for more recognizable brands like Therm-a-Rest and Mountain Safety Research. Mesdag was working on this waterproof gadget bag—a small, manageable project for a rookie—when he heard rumors of a phone about to be launched.
"In 2006, there was this thing that came out called the iPhone," he tells me. "For no other reason than I wanted a dimension to base my small size on, I went online and did my best research to find the measurements for this new thing that was about to come out. The idea was not to use the phone, just to store it safely. I figured sizing it to the iPhone might be a nice little bullet point to put on the packaging. Well, the phone came out, someone in the office got one, and we put the phone in it. I realized you could use the phone through it. Amazon caught wind of it and asked me to design them a Kindle-specific case next. In one year, that plastic bag became a $3 million product. The next year, they made it a brand [called E-Case]. And now I'm a product manager."
Mesdag has since transitioned from E-Case to fellow Cascade brand MSR, which produces mountaineering and backpacking equipment. A longtime outdoorsman, Mesdag's been using MSR products since he was a kid. But it was a spoon that first made him really fall in love with the brand. "I remember Anderson's Sporting Goods in Portland, Oregon, had this spoon on their shelves, and this spoon was $16," he says. MSR's Alpine Tool Spoon was made from titanium and included tools in the handle designed to disassemble and service any of the brand's liquid-fuel stoves and bottles. Packaging those tools into a piece of cookware made a ton of sense, cutting weight by getting multiple uses from an essential item. "The eating device didn't compromise the tools, and the tools didn't compromise the eating device! This is MSR, in a spoon."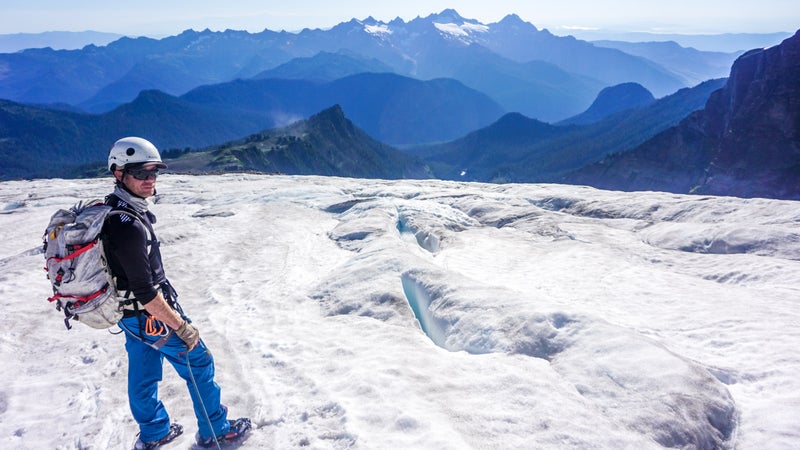 ​In 2015, at the start of his ninth year at Cascade and as director for cookware, Mesdag had a brilliant idea. Why not make a fork? "The rest of the team looked at me like I had two heads and asked me what I meant. Well, we've had a spoon in the line for 20-plus years, and we've never had a fork that could live up to that spoon. Why would we not sell a fork that was that awesome?"
The project started out simply. "Our goal was to make a fork with a different handle on it," says Mesdag. "We just kind of made a fork with tools in its handle. We had a great big shopping list of different tools. Should we do a metric version? Should we do a bottle opener?"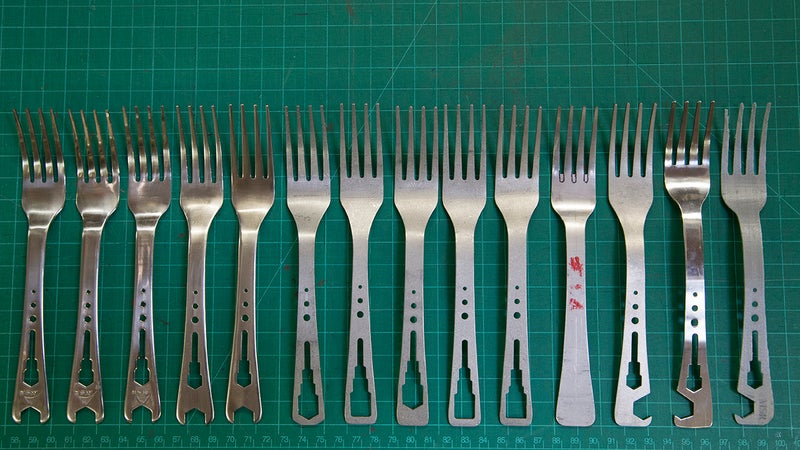 Owen and his team started prototyping ideas for the tool handles and put the various designs into a focus group, asking testers to disassemble and reassemble MSR stoves with them. Despite having the production spoon on hand, they found that people preferred a fork with a duplicate of its original tool set. They decided to run with that handle. 
"Then I grabbed a prototype fork one day and started eating with it," says Mesdag of a pivotal moment in this odyssey. "I realized that the whole thing was just wrong. I didn't like eating with it. So, for the first time, we really asked ourselves: How do you design a fork?" Mesdag had his team go home and bring back their favorite forks from their kitchens. They then set about figuring out what made those utensils a pleasure to use. 
Why not a spork? Mesdag grimaces, "Have you heard of car-boats? They're not very good cars and not very good boats. With a spork, yeah, you can eat cereal, but it's going to be terrible with soup, and you can kind of stab pasta, but it's going to be terrible with spaghetti. A spork is a car-boat." 
The project started evolving. "For a while, I wanted to design a fike—a five-tined fork—just to be different," laughs Mesdag. "So we actually made one with five tines, and one with a 'thumb' that we called the pasta spinner. We learned that all forks are not the same; some forks have a continuous radius, while others have round tines that transition to straight at the tips. Stuff like that makes a huge difference to how you stab a chunk of steak and how you pull it off your teeth. Does the fork stab you in the mouth or drag against your teeth?"
"In the beginning, I just wanted a fork, but it turned into a real, real project," says Mesdag, a little incredulously. "It might have been as complicated as designing something with 12 moving parts."
"We finally found a shape we liked, and then it was time to think about thickness," Mesdag is getting animated now, waving his hands in the air. "How thick should a fork be? How sharp should it be?" Turns out it's not that sharp. So the team created a design with rounded tine points. But that just led to more problems. 
"Look at your fork right now," instructs Mesdag. We were at a restaurant, with people starting to look at us funny, so it was easy. You may need to go get one. "Ever thought about the tips? They're square. Do you know why they're square? Because they shear them with a knife as the last process."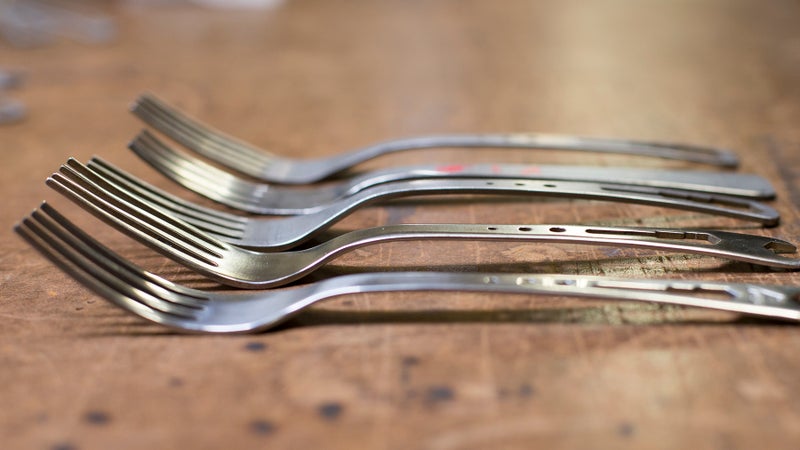 Dissatisfied with this latest development, Mesdag boarded a plane for Thailand, where the fork factory is based. "I felt I had to be with the machine that flattens the tips of the tines," he explains. "You don't want to change the thickness of the entire product. You only want to change the thickness of the tines themselves. They made five or six versions—two millimeters thick, 1.6 millimeters, 1.8, 1.1, 1.0, etc.—and I sat there in a meeting room in front of suppliers that we've worked with for 20 years, putting forks in my mouth. And you know these forks came right off the factory floor."
Finally satisfied with the fork's mouthfeel, Mesdag placed an order for 200 prototypes and returned to Seattle. But the saga doesn't end there. "I pulled one out of the package and said nope, these are wrong," laments the designer. "It wasn't the manufacturers fault. I was wrong. I'd asked for them thinner, and I realized I wanted thicker."
The factory said no problem, and six months since its inception, MSR finally had its completed fork. Mesdag is frank about the results: "The tines alone probably took us three months. Three months of putting forks in our mouths to learn what a fork should be. All of that for something people will take for granted. I hope people use it without having to think about it. I want people to look at it and say, 'Well, that's MSR for you.'"
Mesdag was holding the fork in his hand while he said that, a piece of salmon speared on its tines. I think he'd forgotten it was there.