Indefinitely Wild
How to See Better: A Guide to Buying Glass
It can be overwhelming to buy your first spotting scope or pair of binoculars. This article will help.
Heading out the door? Read this article on the new Outside+ app available now on iOS devices for members! Download the app.
Whether you're bird watching, navigating, or tracking, a quality set of binoculars or a spotting scope are essential. But they can also be very expensive, which, when you also consider all the jargon surrounding these tools, can make them intimidating purchases. Let's break through that and teach you how to determine which device is right for you. 
Know the Terminology
Before you dive into the market, here are some terms that you need to understand. The terminology can be a little overwhelming, but hopefully this will give you a clearer picture of what each term means and why it matters.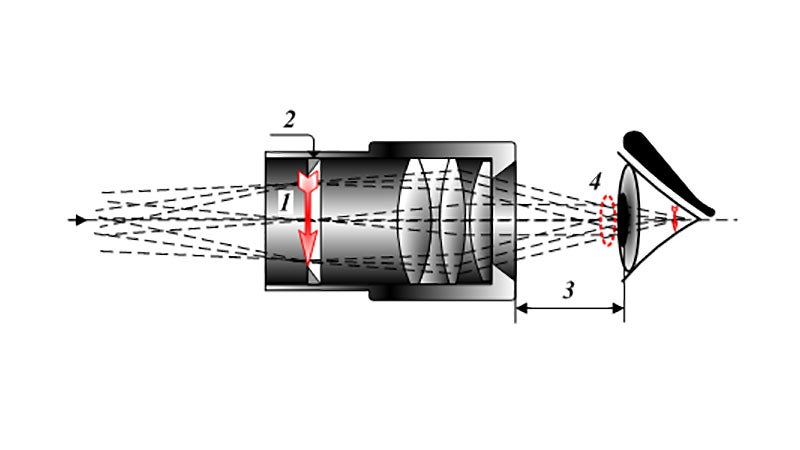 Eye Relief
This is the distance that your eye can be from the exit pupil (where light exits the optics) and still give you a complete image. The greater the length, the more comfortable the viewing experience will be. For those who wear eyeglasses, pay special attention to this detail as it can greatly affect your viewing experience. If the eye relief is too short, it will make viewing uncomfortable, if not impossible. 
Magnification
This is how much larger an object appears through your optics compared to the naked eye. Spotting scopes and even binoculars can have adjustable magnifications. When looking to buy binoculars or a spotting scope, the first piece of information you'll see is something like this: 15-45×60. Everything before the "x" is magnification, also referred to as power. In this case, the optics can be adjusted from 15 times larger than with the naked eye to 45 times greater. We'll get to what is on the other side of the "x" next. 
Objective Lens Diameter
Using the example above, the 60 refers to the objective lens diameter (the lens at the front of your scope), measured in millimeters. This is one indication of how bright your image will be, especially in low-light conditions. The larger the objective lens diameter, the more light is gathered. For instance, with my Bushnell Elite 10×45 binoculars, objects appear brighter through the binoculars than with the naked eye. For anyone interested in observing wildlife, dawn and dusk are prime viewing hours. During these twilight moments, you're going to appreciate this detail.  
Field of View
How much terrain can you see from one extreme of your view to the other at one kilometer? That's your field of view. Usually expressed as feet/1000 yards or meters/1000 meters. When glassing for animals, the bigger the image, the more likely you are to pick something out. Bear in mind that the greater the magnification, the narrower your field of view.
Exit Pupil Diameter
Light travels through your optics, gets shaped and shifted, and finally leaves through the exit pupil as a beam of light. The size of this column is your exit-pupil diameter. The larger the column headed for your eye, the brighter the image will be. 
Shortest Focal Distance (Close Focus)
Pretty self-explanatory, this is the closest object that you can focus your optics on. Those who are interested in watching butterflies or other objects that are relatively close should pay attention to this detail.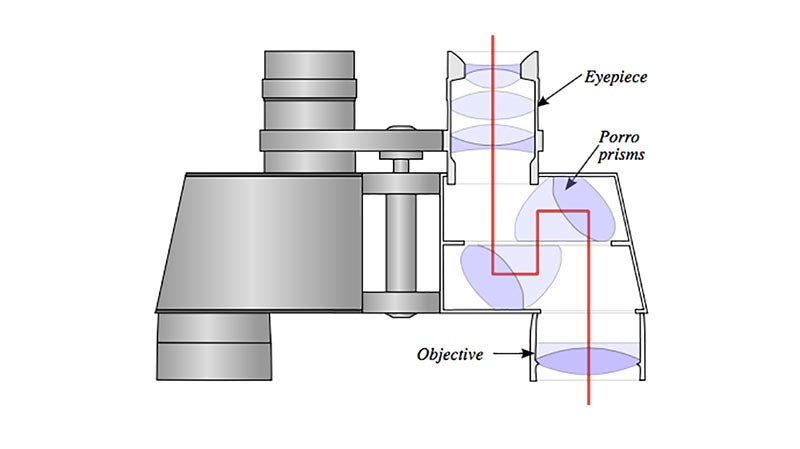 Prism System
When light enters binoculars or a scope, the image is flipped upside down by the glass. A variety of tricks are used to rotate it again. Most binoculars and scopes today are constructed with a roof prism. Another common technique used in spotting scopes is a folded light path, which manipulates light with lenses and mirrors and thus reduces the overall length of the optics. The quality of glass used in these techniques can affect the image produced.
Light Transmission
Normally expressed as a percentage, this is the amount of light that your optics can take in without reflecting or scattering it as it heads toward your eye. The higher the percentage, the better you'll see. Light transmission is improved through a number of ways, including coatings on the lens surface, which reduce reflection and glare. 
Diopter Adjustment
Our vision may differ significantly from one eye to the other. In order to compensate for this, binoculars will have a diopter adjustment. In general, it's a good idea to look for models that can lock your adjustment in place.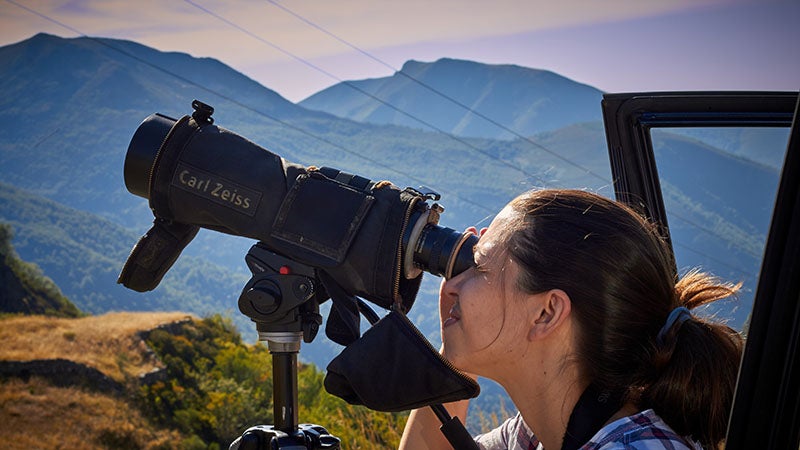 Binoculars or Spotting Scope?
Now that you've got the lingo down, how do you decide which optics are right for you? Here's a breakdown. 
Binoculars
I never head into the field without my binoculars. I consider them to be an absolutely essential item for anyone interested in the outdoors. They will not only help you spot wildlife on a distant ridgeline, but also avoid danger and navigate through any given landscape. 
The classic magnification and objective lens diameter of full-size field binoculars is around 8×42 or 10×42. This gives you a large light gathering objective lens to illuminate your image and strong magnification. Don't go for anything with a smaller objective lens or magnification unless you really need something compact—the sacrifices in brightness and detail are too great. The decision on whether to go for 8x or 10x magnification is up to you. As a rule, the greater the magnification, the more difficult it is to stabilize the image. Some prefer eight power over 10 simply because they can't keep the image still. Personally, I've never found that to be a problem and the benefits of having that extra magnification are significant, so long as you don't mind the reduced field of view. Many birdwatchers tend to prefer eight power. 
The rule when buying optics is to purchase the best glass you can afford. Investing in a quality pair of binoculars will not only improve your viewing experience but will also give you a tool that should last a lifetime. 
Look into Bushnell or Leupold for optics that are high quality but fairly affordable. Both of these companies make quality glass and stand by their outstanding warranties. I would highly recommend the Bushnell Elite 10×42. With this pair, you get Bushnell's highest quality glass with a rugged rubberized magnesium build. Tough as nails, they feel great in hand and provide excellent views even in the worst of conditions. From Leupold, check out their BX-3 Mojave range. 
If you've got more cash to spend, here are a couple of choices. While you won't necessarily miss any of the high-end features of the more expensive models when using the previously recommended binos, you'll notice the difference. If you're going to drop over a grand, I strongly recommend focusing on Swarovski and Leica. The Swarovski EL 10×42 and Leica Ultravid HD-Plus 10×42 make excellent choices, providing the finest glass available with a superb build quality. Although I own neither brand, I have spent a significant amount of time glassing through both in Arctic Alaska looking for caribou and moose. The clear image from edge to edge as well as the uncompromising design is impressive. 
Spotting Scopes
While binoculars are essential for any outdoorsman, spotting scopes are an added advantage. Binoculars can be used on the move and are extremely versatile. Spotting scopes on the other hand are much larger, requiring you to stop and take a better look at what you're interested in. Hunters, birdwatchers, and enthusiastic wildlife watchers will find spotting scopes to be very useful, even if they are cumbersome. 
Spotting scope models are typically around 15-45×60 or 20-60×80. Take the 15-45×60: this means the scope has a minimum magnification of 15x and a maximum of 45x. That sort of glassing power gives you the ability to not only spot a deer on a distant hillside, but also to count the number of tines he's carrying. Being able to take the magnification down to 15x (as opposed to 20x) also allows you to glass terrain with a larger field of view before zooming in on a specific target. 
The eyepiece can also be angled or straight. An angled eyepiece allows for a more comfortable viewing experience but can make it difficult to locate an animal that you've spotted with your binoculars. For this reason, I would typically recommend that hunters choose a straight eyepiece for its ability to quickly and easily locate your target. 
I typically carry the Bushnell Elite 15-45×60. Although a little unconventional in its design (especially for digiscoping, which we'll talk about), this scope offers fantastic image quality, a tough exterior, and is light enough to take on long hikes. For those who don't need a scope that light, I would recommend the Bushnell Elite 20-6×80. Both are affordable and well made. 
Moving up in price, check out the Vortex 20-60×60 Razor HD or Swaroski STX 25-60×65. These scopes will last forever and provide the best views possible. For a more compact scope, check out the Leupold GR 12-40×60.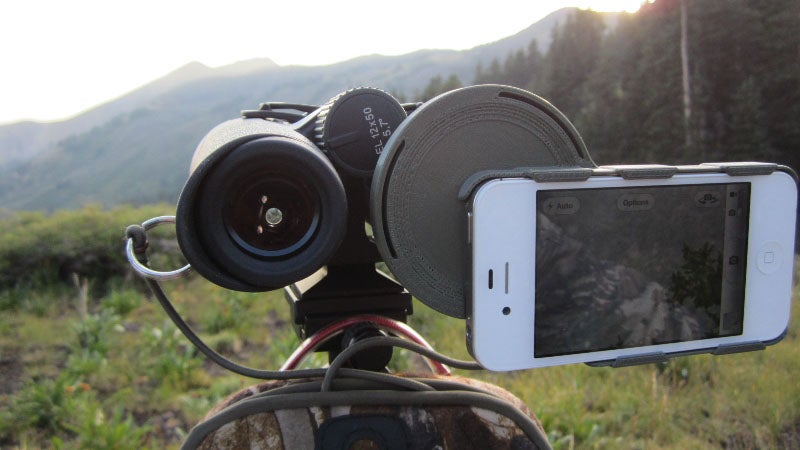 Accessories
Digiscoping
Inevitably, you're going to want to share the cool things that you're seeing. That's where digiscoping comes in, allowing you to take pictures through your binoculars or spotting scope. Head over to Phone Skope and pick up one of its awesome kits. It will allow you to easily attach almost any smartphone to your binoculars or scope and get great images from the phone to share with your mates. Trust me, you want this. 
Tripod
Essential for spotting scopes and handy for binoculars, tripods can be your optics' best friend. We like these models available at Eagle Optics.