Inflatable Vests Are No Longer Just for Big Wave Pros
As big-wave surfers push bounderies, a new breed of high-tech PFDs has emerged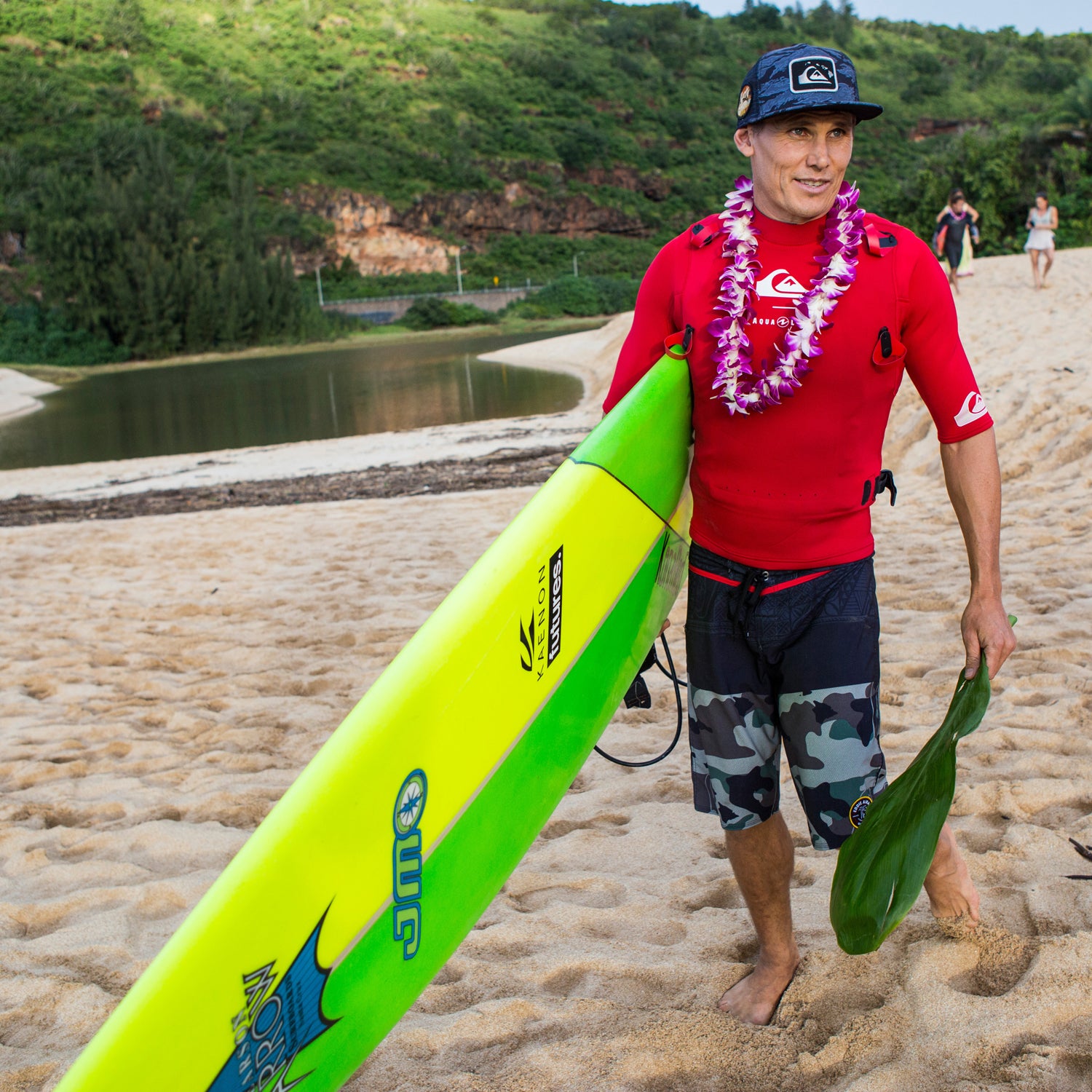 Tom Servais(Photo)
Heading out the door? Read this article on the new Outside+ app available now on iOS devices for members! Download the app.
When it comes to safe surfing, nothing trumps knowledge and experience. But over the past five years, as big-wave surfers have pushed the boundaries of wave riding and paid the price with unprecedented wipeouts, a new breed of high-tech PFDs has emerged as a critical safety tool. 
After a near-death experience at Mavericks in 2010, Shane Dorian dedicated himself to developing an inflatable vest designed for big-wave pros with his sponsor Billabong. Dorian's single-inflation V1 vest went on to win multiple awards and started a serious conversation about big-wave safety when it first hit the lineup in 2011. Patagonia followed suit in 2012 with its own iteration, designed to be worn under wetsuits. And just last month, Quiksilver debuted its own buoyancy compensator vest—possibly the most technically advanced model yet. 
Quiksilver partnered with Aqua Lung, the scuba company co-founded by Jacques-Yves Cousteau, on the new vest, which is designed to take abuse from some of the most turbulent conditions on the planet. The PFD works a bit like a skier's avalanche air bag, with built-in gas canisters that quickly inflate the vest after a wipeout and keep the surfer on top of the water.
The vest has five pull tabs—two at the top of the shoulder and two just a few inches below. Pull a tab and you'll set off one of the four CO2 canisters (the same kind used for inflating bike tubes) to inflate the vest to three pounds per square inch. A fifth tab, located on the back of the vest and a safe distance from the inflation tabs, is used for deflation. The vest is good for four inflations before more CO2 canisters are needed. Meanwhile, an oral inflate valve is available for partial inflation and conserving canisters for emergency use. 
"It's one thing to pull a tab on a mannequin, but when you're getting thrown around like a rag doll underwater and you might be concussed, things have got to be nearly automatic," says big-wave surfer Jamie Mitchell.
Aqua Lung's proprietary overpressure valve has a maximum PSI, above which it dumps excess air to prevent the bladders from exploding. The company tests buoyancy compensators with 5,000 cycles of inflation and deflation. "After 5,000, we had no problems. So we thought we'd give it another 5,000 cycles," explains Eric Thorstenson, director of research and development at Aqua Lung and longtime Southern California surfer. "Still no problems." 
The surfing community is notoriously wary of outside influences in the sport, but Aqua Lung carries some serious credibility in ocean-bound circles. Renowned for design, quality, and reliability, the brand's reputation goes a long way on the North Shore. "Aqua Lung is helping make the vest. Is that the biggest no-brainer you've ever seen?" said Pipeline local and big-wave pro Jamie O'Brien, who's not affiliated with Quiksilver or Aqua Lung. "When I saw that vest, I was like, 'This is the best vest in the world. How do I get one?'"
Every detail, from the number of canisters to the fit and feel of the vest, was considered for various big-wave scenarios. Aqua Lung and Quiksilver involved athletes in the vest's development from the very beginning.
"During our initial project kickoff meeting with Quiksilver, we conducted a five-hour scoping meeting with some of their big-wave ambassadors," Thorstenson adds. The team represents a wide range of surfing perspectives, from seasoned big-wave pro Jamie Mitchell to up-and-coming North Shore charger Koa Rothman. Repeat inflations were a top priority for all of the athletes. After several design iterations and rounds of testing, four canisters turned out to be the magic number for the designers and surfers. In addition to multiple inflations, the vest is also easier to use than its competitors, thanks to the ability to swap in fresh CO2 canisters without removing the vest. 
Surfers were a major part of the project's research and development, performing extensive testing in extreme conditions. "It's one thing to pull a tab on a mannequin, but when you're getting thrown around like a rag doll underwater and you might be concussed, things have got to be nearly automatic," says big-wave surfer and Quiksilver team rider Jamie Mitchell.
A surfer's movement can't be restricted either. To keep the vest stretchy, Quiksilver used its most elastic two-millimeter neoprene blend. "Whether you're wearing it over skin in Hawaii or over a six-millimeter winter suit in Oregon, you've got to be able to paddle and not feel like a zombie," says Mitchell.
Possibly the coolest thing about the new vest? Quiksilver plans to make it for the mainstream—not just the pros. "Safety is a fairly new topic in the world of surfing, and it's only concerning top professionals, but we're seeing rapidly growing interest from nonprofessional surfers around the world," says Peyo Lizarazu, head of global research and innovation at Quiksilver (and a big-wave charger in his own right). "We clearly envision that these types of devices will be coming to mainstream use in the next few years. The same way you have avalanche air bags in the mountains, we think the same type of device will become a regular piece of equipment for recreational surfers in the near future."
There's no concrete timeline for getting a recreational model to customers, but Lizarazu suggests professional models should hit the market this year. He is quick to note that inflatable vests are by no means a substitute for fitness, ocean knowledge, and experience. "This is only one element to stay safe," he adds. "We will aim at making purchasers of the Quiksilver and Aqua Lung inflatable vest understand that using this equipment will not be the only and best solution to improve their safety in the ocean."
The motivation for professionals and recreational surfers looking to progress is the same: surf another day. "When I was growing up surfing Waimea and all these spots, honestly, I was scared to drown," says O'Brien. "That was my biggest fear in life. I'm not saying I can't still drown, but with these vests, they're going to find me and be able to help me. I love life far more than I love surfing."
Lead Photo: Tom Servais
Trending on Outside Online