The Last U.S. Heavy Icebreaker Ships Out
With 75,000 horsepower and the ability to smash through 20 feet of ice, the Polar Star is the country's last ship capable of deep Antarctic missions. She's also 10 years past her retirement date with no replacement in sight.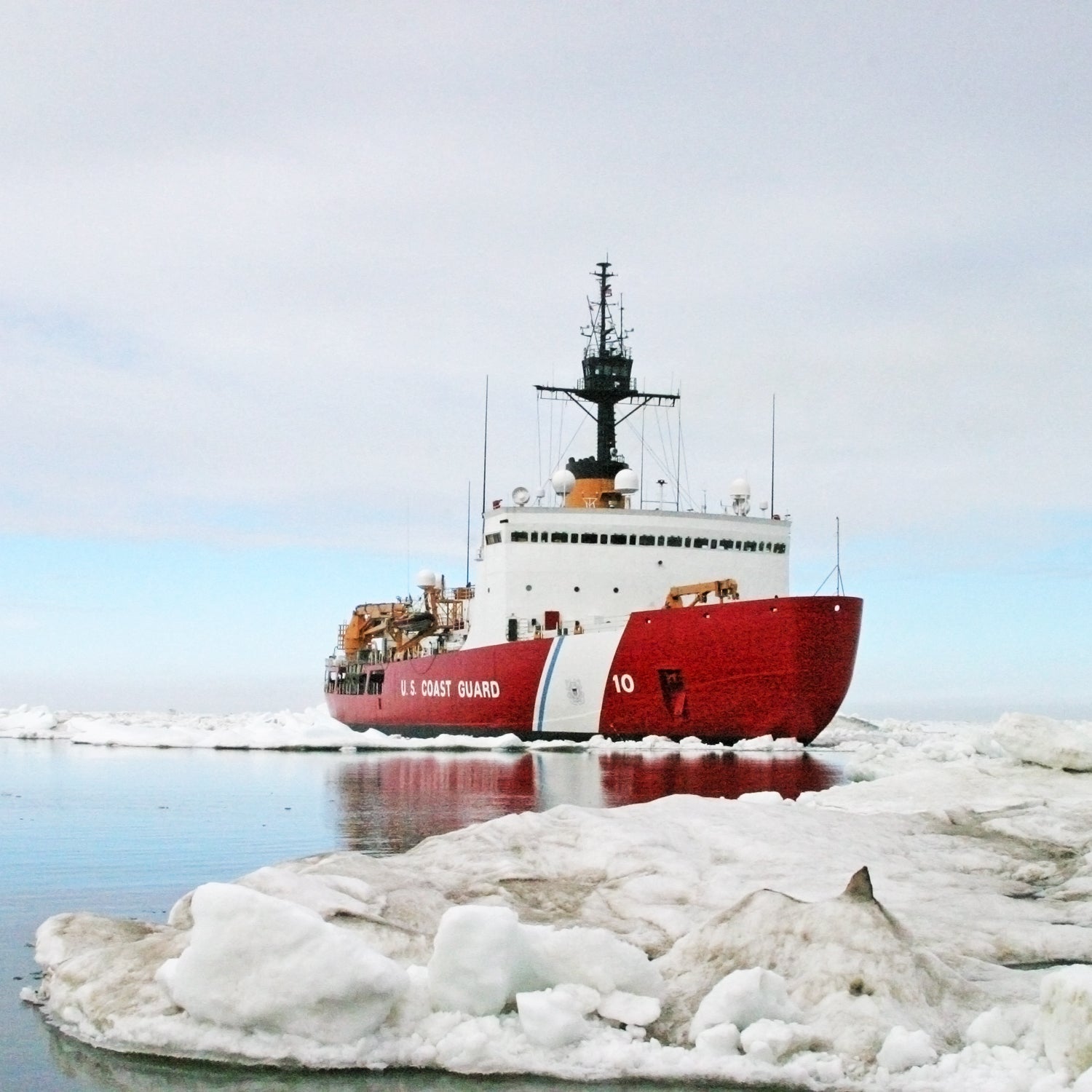 Chief Warrant Officer Allyson Co(Photo)
Heading out the door? Read this article on the new Outside+ app available now on iOS devices for members! Download the app.
To access the poles, the U.S. Coast Guard doesn't mess around with high-capacity sleighs or elite reindeer teams—it uses specially designed icebreakers to pulverize a path through near-frozen waters. These ships are the offensive linemen of the sea, carrying out key national security missions and delivering crucial supplies to remote research stations.
The queen of America's ice fleet is the 38-year-old USCGC Polar Star, the largest and most powerful U.S. "cutter" still in commission. "Put simply, we are at the top of the food chain," says Commanding Officer Matt Walker. Although it's almost a decade past its scheduled retirement, the Polar Star is the only American ship that can reliably make the trip to Antarctica.
So just how badass is this boat? The Polar Star can carry 150 passengers, 1.5 million gallons of fuel, two HH-65 helicopters, and enough food to last the crew more than two years. With more fire-fighting equipment than most small-town fire departments, it's also one of the biggest damage controllers in the world. It has a 3,500-square-foot gym, one of the largest mess halls on the ocean, and a fully operational Starbucks.
Icebreakers are a dying breed in the U.S. and that could spell trouble for environmental research facilities like McMurdo Station, the National Science Foundation's operational hub in Antarctica.
But the most impressive thing about the Polar Star is how it demolishes the frozen stuff. At 399 feet long and 84 feet wide with a 34-foot draft (the same as an aircraft carrier), the ship weighs close to 14,000 tons with a full load. For thrust, it relies on nine engines (six diesel and three jet-turbines) capable of cranking out a combined 75,000 horsepower. The Polar Star uses this incredible propulsion to climb on top of massive ice sheets, at which point its giant hull crunches down like a steamroller.
This technique allows the ship to plow through six feet of solid ice at a sustained speed of six knots, and it can Hulk-smash up to 20 feet (depending on thickness), with a little momentum. "At two to three times the horsepower of other international icebreakers, she can out-break, out-sail, and make child's play out of almost anything Mother Nature can throw at her," says Walker.
But icebreakers are a dying breed in the U.S. The Polar Star is the last "heavy" icebreaker in the Coast Guard's fleet. (A sister ship, the Polar Sea, was permanently retired after it broke down in 2010). And while the Coast Guard is reviewing various options to replace the Polar Star, there's no approved plan to build the next generation of heavy American icebreakers. That could spell trouble for environmental research facilities like McMurdo Station, the National Science Foundation's operational hub in Antarctica.
"The Polar Star's annual resupply is critical to fulfilling the U.S. Antarctic Program's presidentially-mandated mission to maintain an active presence in Antarctica and support a comprehensive year-round science program there," says Peter T. West, a spokesman at the National Science Foundation. "Any further delay beyond missing a single season would in all likelihood mean shutting down the station."
Russia, meanwhile, has a veritable gaggle of icebreakers. The country had 18 at last count, including seven nuclear-powered behemoths. And Putin plans to start construction on another ship this spring. That means control of the Arctic could fall entirely in Russian hands, California U.S. Rep. John Garamendi, the Democrat on the House subcommittee that oversees the Coast Guard and maritime affairs, told The New York Times. 
Late last month, the Polar Star set off for McMurdo Station to deliver a full year's worth of supplies, clear a path through the channel, and create a "turning basin" off the station so that smaller boats can move around. The ship could last another five to 10 years if its lucky, but after it crushes its final piece of ice, the future is uncertain—it could be scraped, sunk for artificial reef, or sold to a developing country. There is one other retirement option: a permanent mooring in a location where it could be converted into a museum. "I would prefer the museum," says Walker.
Lead Photo: Chief Warrant Officer Allyson Co
Trending on Outside Online