The Soccer Ball That Never Needs Air
An interview with the founder of the One World Futbol Project, the makers of a virtually indestructible soccer ball that's being donated to children in need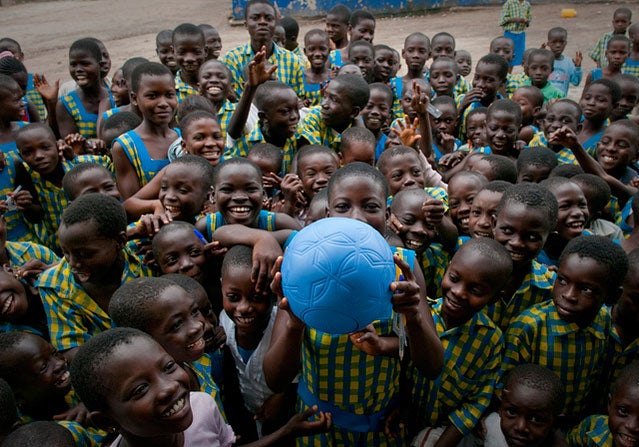 One World Futbol/Flickr(Photo)
Heading out the door? Read this article on the new Outside+ app available now on iOS devices for members! Download the app.
In some ways, you don't actually need a soccer ball to play soccer. You just need something you can tolerate kicking for a sustained period of time, and you're playing, kind of. You've seen the pictures. Kids playing soccer on gravel-and-dirt fields in Africa and glass-sprinkled back alleys in South America with bigger rocks, rolled-up socks, crumpled-up juice boxes, and whatever other depressingly-ingenious, kind-of-round things they can find. Those things don't cost any money, and maybe more importantly, they can't lose air. But still, they're not balls. With the featured ball at the 2010 World Cup being "the roundest ball ever," the most "ball" ball ever—and also the worst World Cup ball ever, which probably says something, too—there's at least some suggestion that, in fact, a ball is a requirement for the sport to be expanded and therefore enjoyed as much as it can be. (Note: sports are meant to be enjoyed, Internet.)
That's where the One World Futbol Project comes in. Founded by Tim Jahnigen, the foundation has created a nearly-indestructible soccer ball that never needs air—and they're distributing it throughout the world. When someone buys the ball—it's available to all individuals, companies, and non-profits—a second ball is then donated to an area-in-need. While it's not the roundest ball the world has ever seen, it's seemingly the toughest, and it is still round. More than that, it's a ball, something a lot of these kids, who play soccer almost every day, have never had. We caught up with Jahnigen to figure how all of this is actually possible.
How'd you come up with the idea and make it a reality? A financially-reasonable, completely-indestructible, not-cement soccer ball sounds like something only aliens could make.
The short answer is while in a state of jetlag and exhaustion, laying on the couch watching the news one day, I saw a piece about the plight of children in Darfur. Besides explaining the growing recognition of how critically important play is, it showed that these deeply traumatized children had nothing to play with but wads of trash, bottles, cans and, in some cases, just rocks to kick around because the harsh conditions they lived in could destroy a conventional, inflated ball often in as little as an hour.
The long answer would take too long, but let's just say that in that moment I had a visceral, non-intellectual response, and in a Big Bang-like moment, the understanding of the problem and the solution for it came all at once, and I knew this was something I had to do. But there's much more to it than just having the thought. There are a lot of people who, once they heard this idea, were so taken with it that they used their own innate gifts, skill and generosity to make the One World Futbol the powerful tool it has become for helping children, youth, adults and communities in challenging places all over the world.
How is it compared to your regular, FIFA-approved soccer ball?
We're now in our fifth generation of improvements of the ball, so in technical terms it's almost a virtual analog of a low-bounce street ball. However, four out of five of the criteria for getting a FIFA approval have to do with pressure retention, water absorption, valve wear and the like. Because our ball never needs a pump, never goes flat even if punctured, doesn't absorb water and more, a whole new category would have to be made, which is unlikely since we make the only ball of it's kind. 
Conventional soccer balls are only designed for the ideal conditions of a groomed grass or turf field. They are perfect for competition and optimized for the elite form of the game. They are utterly vulnerable to scrapes, cuts and punctures anywhere else. The One World Futbol picks up where all others leave off. It is optimized for the conditions that the vast majority of the world's population lives in. Even our roughest, most primitive first prototypes were infinitely better than wads of trash, bottles, cans or rocks. That's the "market" or "demographic" we're serving.
What kind of tests have the balls undergone, giving you license to use the "indestructible" term?
One World Futbols have been bounced off of barbed wire, driven over, run over with riding lawn mowers that tore out pieces, stabbed with knives, chewed by dogs—some for over a year—and even survived being mauled by a lion for almost two years and still shown they're ready to play for years more.
Why soccer? Is it the sport you could most positively affect needy children with?
Great question, "Why soccer?" Though soccer is not yet fully mainstream in the U.S., it is, in fact, the most played sport for people under 30 in the U.S.—and the most popular sport in the world. The nuances and passion for the sport still elude most Americans. However, beyond our borders, there is a world that is every bit as passionate, wildly loyal and utterly consumed with soccer as American fans of baseball or American football. But on a scale that's almost unimaginable.
Of the nearly seven billion people on the planet, fully half of them, 3.5 billion, couldn't imagine life without the sport. One of the top teams in the Premier League in England is Manchester United. Their official number of fans and followers worldwide is now up to 659 million people, and their average viewership, through worldwide cable subscriptions, often exceeds 70 million for a regular season game. They sell more jerseys worldwide, just for their team, than all of the NFL combined.
And as if that was not evidence enough for "Why soccer?" worldwide viewership of the World Cup, which happens every four years like the Olympics, is more than double that of the Olympics. 
One of the simple reasons for this kind of scale, in my opinion anyway, is that soccer has captured the imaginations of the vast majority of humanity. It is one of, if not the only, major sport that can be played without a conventional field and ball. Having said all that, yes, a soccer ball was a no-brainer, but the One World Futbol can be and is used for all sports and games that children play. 
Did you play growing up? If not, how'd you get into the sport?
I've always been athletic and strong, played American Football, swam butterfly, wrestled, etc. but found my greatest fulfillment in fencing. But I also traveled the world and lived abroad for many years. I absorbed the awareness of the sport by default really. Ultimately, I wasn't trying to invent a ball. I was simply trying to solve a profound problem and support the profound healing and positive impact that "play" has on all living things. This solution just happened to start out as a soccer ball because of the sheer size of the need, but professional competitive sport doesn't move me the way happier, healthier, more hopeful children do.
Why focus on sports and not something people would consider, say, more education-related?
This is a very important question because it addresses and contradicts much conventional thinking and or attitudes. I know this seems like an odd direction to go in. To most people, especially in our Western, puritanically-rooted societies, "play" is often seen as a luxury or a frivolous activity. In fact, without play none of us would be here today. 
We watch sports, read about sports, analyze sports, and we vicariously live through sports. We've all been armchair quarterbacks at one time or another. The one thing we rarely ask of ourselves is, Why? Science is confirming more and more every day that "play," in all its forms, which include music, dance, art, words, puzzles, song and other things, is something we are compelled to do. It has been shown that children cannot retain what they learn in a classroom unless they can go out for recess and integrate the words and work out the lesson through playing on a jungle gym, or playing tag, etc. Yet here we are cutting out recess and sports in school and feeding our kids unhealthy food—and we wonder why there's a problem with our plummeting scholastic achievement and behavioral problems. 
"Play" has been shown to be how we prepare for life. Without "play" we cannot adapt and evolve. In fact, "play," in its truest form, is the very basis for all civilization. It transcends language, culture, religion, race and orientation. "Play" is so important that the U.N. places it right after food, medicine and shelter—and before setting up schools.
Yes, we are just talking about a ball—something kids play with and something we may take for granted—but this ball is not about being a ball. It's a tool. A tool to build stable communities, heal deep trauma from war, slavery and disaster. Smarter people than us have not yet figured out world peace and world hunger, but it's possible that a child who we give a ball to will.
How many balls have you given out to date?
We've just had our second anniversary. Our balls are in use in almost 150 countries on six of seven continents and in all 50 states. More than half a million children have been positively impacted by the ball. One of the elements of my vision for the ball included a goal of finding a way to facilitate the delivery of one million balls in our first three years. The good news is that we just signed a life-changing sponsorship agreement with Chevrolet. Over the next three years they are supporting the manufacture and delivery of 1.5 million balls to our global network of organizations, who use sport as a powerful delivery system for critically-important life skills such as AIDS prevention, gender equality, landmine awareness and conflict resolution.
Though the million-ball mark will technically fall past the three-year time frame I started out with, the number itself is meaningless. The fact that they found us and understood how they could help is something I can't begin to quantify, but it certainly feels like we're playing a very different game and have moved to a whole different level.
What's been the best moment for you, one moment in particular, since you've started this?
Triton the lion, who lives at the Johannesburg Zoo, in order to get 30 less-than-enthusiastic minutes of "play" a day, could easily bite or maul his way through six balls and call it quits. When we threw him our blue ball, he started out as usual but no matter what he did to the ball—biting, batting, pouncing—it just kept bouncing and rolling. He worked himself into level of intensity his handlers had never seen. He ended up playing for almost an hour straight and then finally lay down, exhausted. 
Several days later, I went back to see if the ball survived. Not only had it survived, but it clearly had much life left in it and the zoo management was amazed. I left another ball with them as a back-up. And now, two years later, they recently told me that he still has both balls and still plays full-force. They would have had to buy nearly 3,000 regular balls in that time, but more importantly, for me anyway, is that this Lord of the Jungle, who didn't care what color the ball was or what pattern was on it, showed us the magic of "play."
That he was able, without thinking, without judgment, without question, to be so transformed, I knew then and there, beyond all doubt that this ball had the potential to allow outcomes and to have impact in ways well beyond any current metric or existing criteria. We are now beginning to see the early signs that this is carrying over in the world of children and that is so far beyond any possible hope or dream I could have dared have.
Do you have any plans for other sports?
Yes, we hope to make our One World Futbol version of every other inflated sports ball. Our goal is to support these sports by offering these balls to recreation centers, schools and camps as a way of saving money and time. This could then be an additional way of creating resources for giving yet more balls away.
Durability is an aspect that has long been neglected or forgotten in our modern world. At times it's hard to understand what problem we're actually addressing. We're still learning the nuances of it the longer we do this. It is humbling at times to see how many ways its purpose is broadened. In other words, no matter the environment, no matter the sport, no matter the game, "play" makes life easier.
What's next for One World Futbol?
There's so much in the pipeline right now, I can't predict which will break through first. All I can say is stay tuned.
Lead Photo: One World Futbol/Flickr
Trending on Outside Online