The Best Dog Toys, According to a Musher
One team of sled dogs. Twenty tested toys. Three standouts.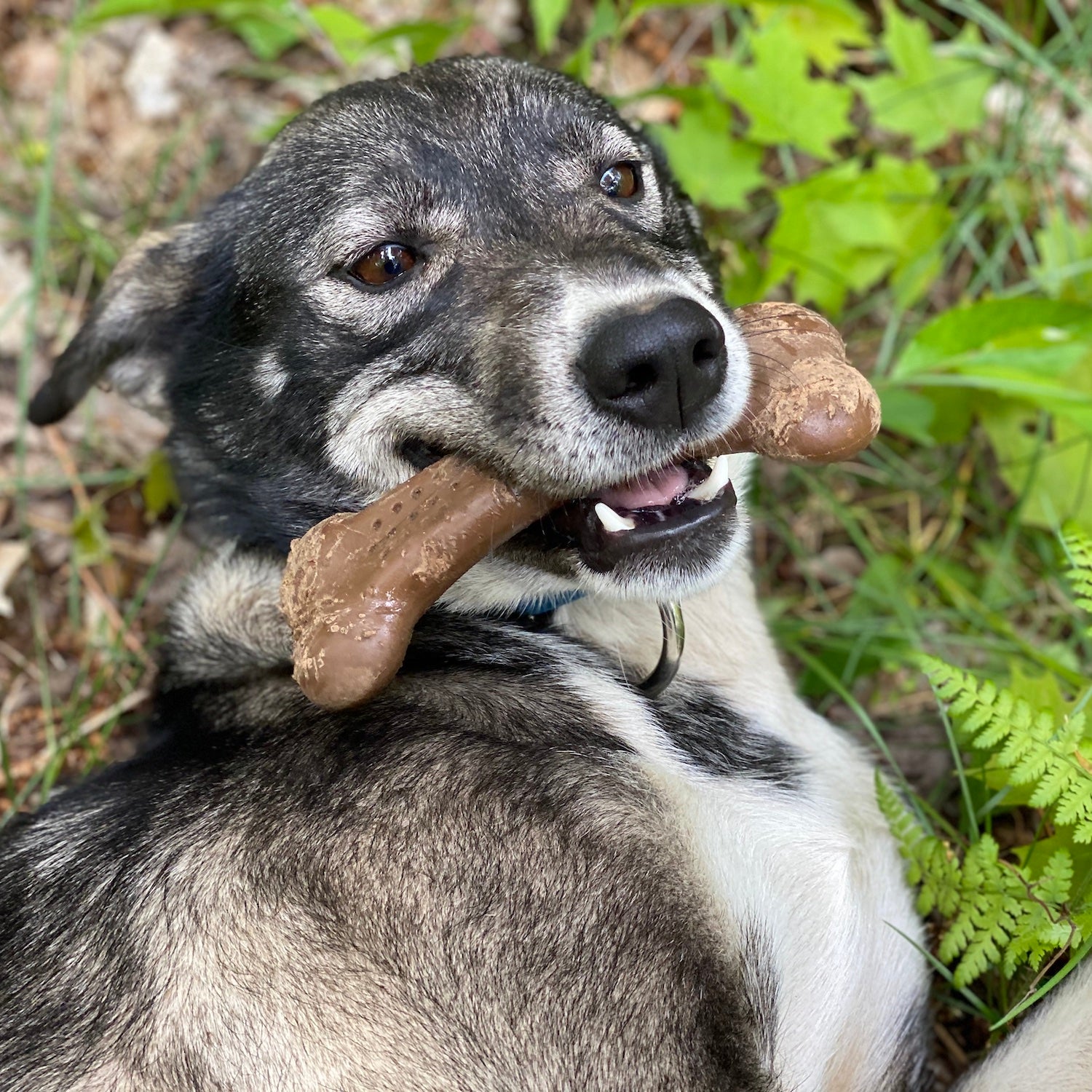 Heading out the door? Read this article on the new Outside+ app available now on iOS devices for members! Download the app.
Our sled dogs seem to think that the value of toys lies not in using them but acquiring them, and so I've long sought out toys that our dogs will not just hoard—and plot to steal from each other—but actually engage with. For this test, I collected around 20 durable toys, handed them out, and then spied on the dogs while they played. The results: dogs are particular individuals, and no one toy was universally beloved, but a number of toys were intensely beloved. Of those, three emerged as the biggest hits.
For Food-Oriented Dogs
Pet Qwerks Peanut Butter Barkbone ($11)
The dogs tested a number of flavored and scented chew bones, and either the flavor was too faint, or our dogs are too used to eating actual meaty bones, but they really weren't interested. The Peanut Butter Barkbone seemed promising: it has tiny dimples, and if you spread a dab of peanut butter across it, the dimples all get filled up. I gave it to Pepé, whose relationship to food is purely utilitarian, and she kept the PB-smeared toy near her for days while also seeming vaguely disgusted by it. But when I gave it to Leap, a true food enthusiast, she was obsessed. There was a lot of licking. There is still a lot of licking. She's licking it now. It's been days. I want to take it away from her to refill the dimples, but I also don't want to break her heart. I will try to sneak it away while she sleeps so that she wakes to a freshly peanut-buttered bone like a child on Christmas morning.
For Destroyers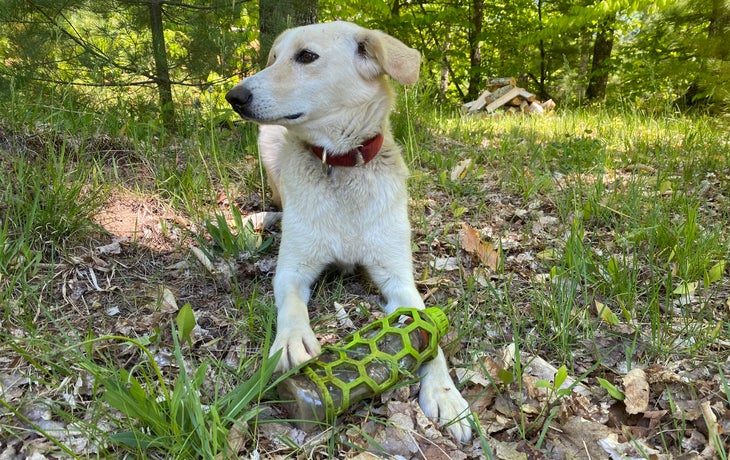 JW Hol-ee Water Bottle Dog Toy ($8)
Our dogs would happily destroy trash all day if we let them (we do not let them, usually) and this JW Hol-ee Water Bottle toy incorporates trash in a way that was—to put it mildly—popular. It's a sort of rubber casing that fits around a disposable plastic bottle, which makes excellent crunch noises. Tester 1: Flame lay for hours in the sun with her head thrown back, smashing the bottle repeatedly between her back teeth. Tester 2: It took two hours for Yotam to remove and thoroughly puncture the inner bottle, which felt to him like a great success. Once the bottle was out, he celebrated by sticking his snout in the open end of the rubber casing, pushing toward the ground, and compressing the whole thing like a slinky. The fun thing is that the toy is refillable. Stick another plastic bottle inside (without the cap, which is a choking hazard) and it's as good as new, with fresh opportunities for crunching. The cycle of destruction starts again.
For Dogs Who Like Tug-of-War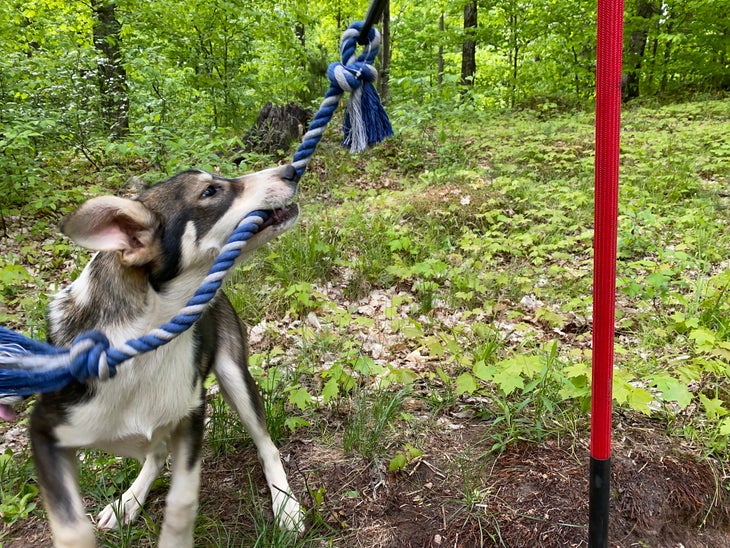 TetherTug (from $75)
I was intrigued by the TetherTug, but skeptical that our dogs would get into it. It's basically a bendy fiberglass stick that embeds in the ground and allows your dog(s) to play tug-of-war with themselves, fighting the springiness of the rod like a fish caught on a line. None of our dogs have seemed partial to tug-of-war, but I pounded this into the ground anyway, thinking that with a some encouragement I could get them interested in the rope that dangles off the end. (There are also options that incorporate squeakers and tennis balls, which we did not test.)  I did not have to encourage them. Within literally seconds, Forrest was leaping around, rope in mouth, with complete abandon—and he did not pause for breath until 45 minutes later. The base did loosen in sandy soil; I found that it stuck better in other parts of the yard, with a bit of trial and error. But this might be Forrest's all-time favorite toy. It requires supervision (the pole isn't designed to be chewed on), but I didn't mind, because it's especially fun to watch.
Trending on Outside Online