What Goes into Making an Ultralight Backpack
Pro hiker Tom Gathman teamed up with Mountainsmith to craft the Zerk 40
Courtesy Mountainsmith(Photo)
Heading out the door? Read this article on the new Outside+ app available now on iOS devices for members! Download the app.
Tom Gathman was solo camping in the high mountains just west of the Grand Teton National Park boundary last summer when he woke suddenly at 2 a.m. With the intensity of a man caught in a house fire, he scrambled for his phone and dialed Mountainsmith's lead backpack designer, Cody Durham. The call went straight to voice mail.
"I've had a terrible dream," said Gathman. "I was hiking the last leg of the Colorado Trail, reaching for something in my pack but to no avail. It went on for miles. Bad conflict—stopping would cost me the record. I awoke trembling, cold with sweat. The meaning is obvious: the Zerk needs more quick-access pockets!"
Then he fell back asleep. The heavily bearded Gathman, who is known as the Real Hiking Viking, was fresh off a 100-day thru-hike of the Pacific Crest Trail and had been training for an attempt at the Colorado Trail's unsupported speed record. He'd spent the previous seven months working with Durham and Mountainsmith to create what he calls "the Rolls Royce of ultralight backpacks."
The 1.5-pound Zerk 40 is the result of more than 1,000 miles of personal on-trail testing, hundreds of text messages, dozens of late-night calls, seven major iterations, and innumerable beer-fueled meetings at Mountainsmith's headquarters in Golden, Colorado. The pack was released in January via an ongoing Indiegogo campaign and will be available at select retailers this spring.  
"I make a living designing boutique outdoor gear, and many of my friends do the same," says Durham. "And I can tell you with 100 percent surety: this thing with the Viking was the most out-of-the-box, intensively hands-on design project I've ever heard of."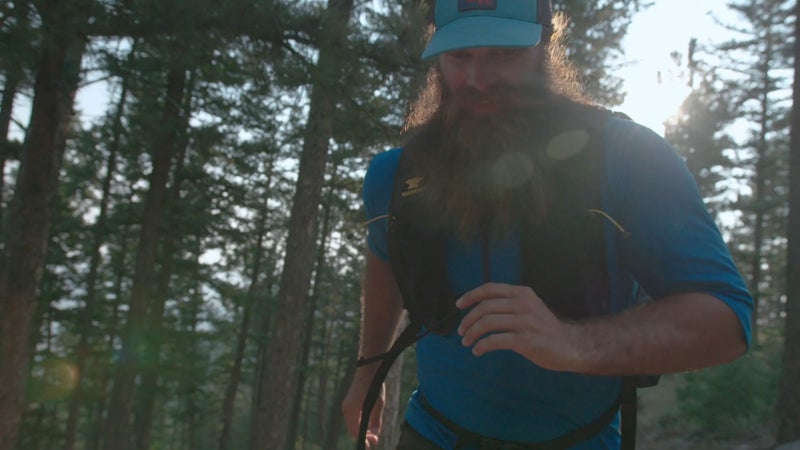 Gathman jokes that the project was, by and large, self-serving. He's lived almost entirely on trail since 2013 and logged around 20,000 miles. A veteran of the American Triple Crown and a winter Appalachian Trail thru-hike, among others, Gathman averages anywhere from 30 to 50 miles a day. Sustained for months on end through some of the toughest conditions and terrain in the world, the pace is hell on gear.
"I've been sponsored by lots of great companies and worn tons of different packs," Gathman says. But nothing was ever quite right. Though weight was a primary concern, he was wary of ultralight models—their minimalism sacrificed too much durability and function. "I started making a wish list of features for [a modified ultralight] about halfway through my first AT hike," he continues. "Over the years, that list got stupid long. Something would go wrong, and I'd get pissed off and say, 'If I could design my own damn pack, I wouldn't have these problems.'"
The opportunity presented itself in January 2018. Mountainsmith project manager Torie Palffy phoned to ask about teaming up for a signature pack. As a brand ambassador, Gathman was familiar with the company's 40-year history and had been carrying its camera bags since 2014. He reasoned that Mountainsmith was big enough to fund a high-end project yet small enough to embrace a perfectionistic vision.
"I don't think I let her finish the sentence," Gathman recalls with a laugh. His response was an emphatic yes. "I thought, Ye gods, here's my chance! Forget commercial success, I wanted that idea out of my mind and into my hands."
A meeting was scheduled for later in the month. There, Gathman made quite an impression.
"He came in and basically just took over," says Palffy. The Viking's presentation began with an open letter outlining their "mission objective." A PowerPoint presentation followed, where he listed nearly 100 desired features—including pro-con analyses and photographic examples for each. "His enthusiasm and depth of thought was incredible. It was a matter of tweaking an extremely specified vision to yield a cost-effective but uncompromising design," Palffy says.   
Studying the suggestions, Durham identified a theme. The Viking wasn't after the world's lightest pack. As a long-distance fastpacker, his goal was efficiency. He aimed to combine the benefits of ultralight technology with features that enabled him to carry more gear and keep it within reach.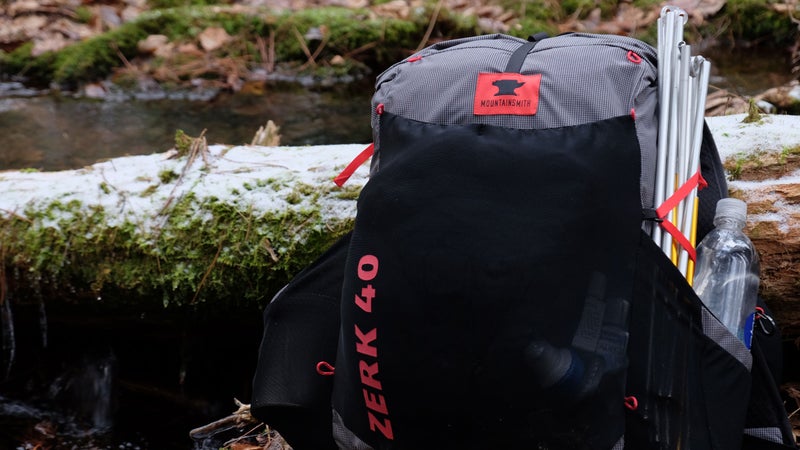 "When you're trying to put in 50-mile days, stopping is your worst enemy," says Gathman. Pausing to grab a camera can snowball into a 20-minute break. "You lose your concentration and realize how tired and hungry and miserable you are, which in turn makes it harder to get going again." Spread those losses across 2,000 miles and they add up quickly.
Within six weeks, Durham had crafted a prototype. He says the design focused on "an ideal combination of weight, durability, comfort, and accessibility." Gathman field-tested the unit and its subsequent iterations while hiking the PCT, Wind River High Route, Tetons, and Colorado Trail throughout 2018. Communication between Gathman and Durham was constant throughout.
"The Viking would text with nitpicky details like, 'Raise the front strap loops by five millimeters,'" says Durham. Cataloging the suggestions, he divided them into categories like shoulder straps, weight distribution, storage, and so on. From there he'd head to the drawing board, figure out what was possible, and incorporate solutions into the next design. "The devotion to getting it right was uncanny, fanatical even," he says. "As a designer, it was an ideal scenario. I could make changes, have them overnighted to him, and get feedback really fast. That streamlined our progress and enabled us to scrutinize every last nuance and detail."
After nearly a year of testing, they arrived at the Zerk (short for berserk). Palffy accurately describes the result as a hybrid "unlike anything else on the market."
Inspired by ultrarunning rigs, its shoulder straps are wide and feature dual mesh pockets with elastic drawstrings and lashing points. Similarly, the sides and back are outfitted with multiple layers of XXL pockets. Roll-top webbing allows for added storage atop the bag, with center lashing points that increase carrying capacity. To cut weight, the hipbelt is removable and there is no standard frame, frame sheet, or aluminum stays. Instead, support is provided by EVA and Atilon foam paneling encased in breathable mesh. Maximizing durability—and trimming additional weight—are Spectra fibers; woven into the fabric, they are 15 times stronger than steel but light enough to float.
Durham hopes the pack, which will retail at around $225, will serve as Mountainsmith's inroad to the thru-hiking community. Gathman agrees, but with a slight caveat.
"Yes, I want other hikers to love it, but I'd be lying if I said that was my primary motivation," he says. "This is literally my dream pack. The idea was gestating in my head for five freakin' years. And now that it's here in my hands? I feel like we've given birth to a miracle."
Lead Photo: Courtesy Mountainsmith
Trending on Outside Online