What Are the Best Knot-Tying Apps?
The weather's been bad, and all I've been doing is sitting at home and practicing my knots. Is there an app for that?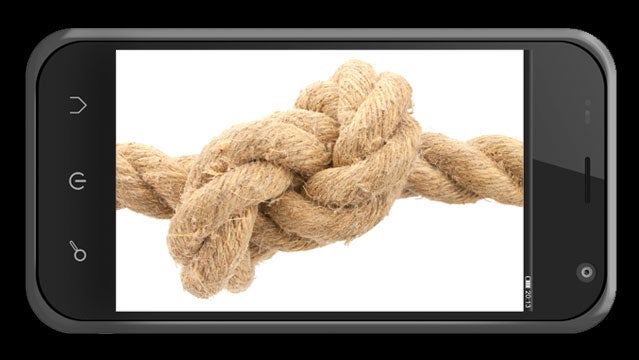 Heading out the door? Read this article on the new Outside+ app available now on iOS devices for members! Download the app.
When the snow's too wet and the trails are too sloppy, practicing basic outdoor skills like knot-tying is a good way to pass the time. Anyone planning to climb, camp, sail, or fish over the next few months needs to have a working vocabulary of at least a half-dozen knots. The perfect way to learn is through a phone or iPad.
We've come a long way from the days of books with hard-to-follow illustrations. The new apps use 3D animations and high-definition videos to show you how to tie the toughest entries. You can watch the process in slow motion, or click through one step at a time. The following apps are accessible to anyone with a few dollars—or even no money at all.
---
Animated Knots by Grog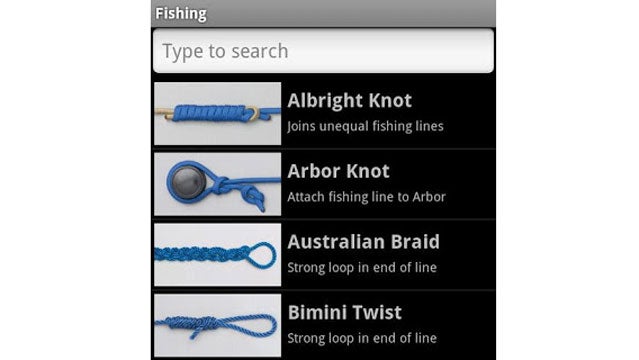 Created by multiple generations of the U.S.-based Grogono family, Animated Knots has the best combination of multimedia and researched background that we found in any app. The Grogonos have a history in competitive sailing, but there are also categories for camping as well as search and rescue. We learned how to make a quick-and-dirty emergency harness out of webbing, and loved the expert perspective on the advantages and disadvantages of each knot.
Number of Knots: 110
Android, iPhone, and iPad ($4.99)
---
Knots and Splices by Sailing World
Some apps drill down on a specific area of the craft, and Sailing World's software is a boon for anyone who needs to tie sea-worthy knots. We liked the teaching style of having both animation and video on the same knot; in conjunction, the two methods made it easy to practice our bowlines or learn to apply whipping to the end of a rope. There were a few minor glitches, however, such as when an animation inexplicably presented a different knot than its accompanying video.
Number of Knots: 26
iPad and iPhone ($3.99)
---
Knots 3D by NyNix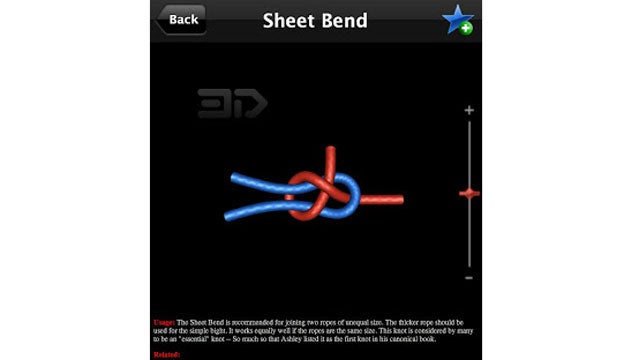 With no videos or photos, Knots 3D is definitely not the most user-friendly app reviewed here. However, the designers have put a real effort into modeling each knot in 3D. With Knots 3D, you can run your finger across the screen to scrub forward and back on animations, and read well-written descriptions of each entry. Sections describe the reliability of each knot, and even give an account of its history.
Number of Knots: 87
Android, iPhone, and iPad ($1.99)
---
KnotsGuide by SusaSoftX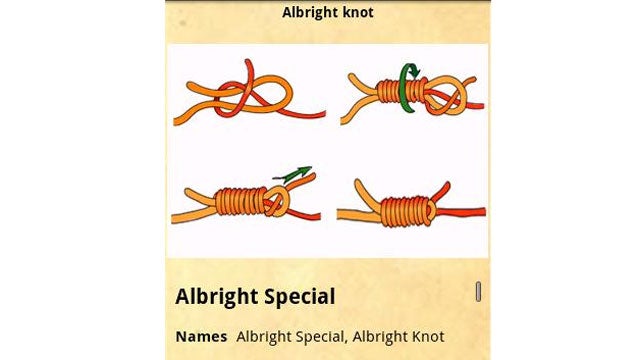 Unusually and somewhat frustratingly, all the instructions in KnotsGuide are text-based. But we found something charming about the level of detail in this app. Created by a polyglot in Finland, it gives lively history and assiduously-researched data on each knot, such as their efficacy and the difficulty of undoing them. Because of this app, we can now name five different kinds of "running" knots, or knots designed to move.
Number of Knots: 92
Android, iPhone, iPad (free)