What set of walkie-talkies should I get for a three-month trip on Hawaii's Big Island?
I'm planning a three-month trip to the Big Island and wanted to have some way to keep in contact with my travel companions. We are thinking about buying a set of walkie talkies. If we purchase these in Ontario will they work in Hawaii? Or do we need to purchase them in Hawaii? Can you suggest the best model to buy? Diane Ontario, Canada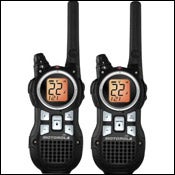 Heading out the door? Read this article on the new Outside+ app available now on iOS devices for members! Download the app.
There are two ways to answer this question. The first is in an affirmative way. Radio wave don't suddenly get lazy and lie on the beach (well, maybe they do) in Hawaii, so any FRS (Family Radio Service) device will function just as well there as it does in Hawaii. So you could get one or more pairs of Motorola MR350R radios ($85/pair) and off you go.

The Talkabout MR350R Two-Way Radios
The second way is this: You really might as well take a couple of long lengths of string and some tin cans. At their best, radios such as the Motorolas have a range of about two miles. And that is before you factor in hills, water, weak batteries, and a million other things that have an impact on radio reception. This isn't a knock on the radios, but you could literally be 100 yards from each other, over the crest of a ridge, and you might as well be trying to reach Cousin Kloogie on Alpha Centauri.
But, hey, maybe you're mostly surfing and hanging out on the beach, and the rest of your party is up on the main drag shopping for leather belts or something. They might work there. Then Motorolas I mention are nice. So are Garmin Rhino 530HCxs ($500/pair) which have on-board GPS units They also use GMRS (General Mobile Radio Service) frequencies, which have an ideal range of 14 miles. GMRS requires an FCC license, but cost is not prohibitive ($85 for five years) and the application process is not bad.
My own advice: Take your cell phones, have some party organization, and enjoy yourself. No one will get "lost." Out of touch for an hour or two? Sure, why not? Determine a default regroup point and chill, bro.