The Ultimate Gear Storage Facility
How to build your very own gear shrine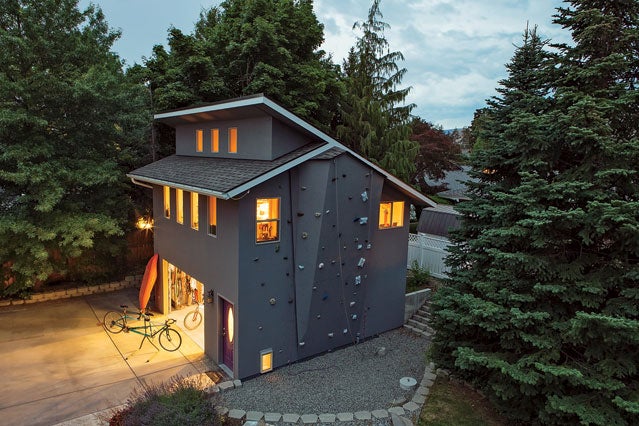 Jose Mandojana
Heading out the door? Read this article on the new Outside+ app available now on iOS devices for members! Download the app.
Every minute spent wrangling gear in a cluttered closet is time wasted. This truth prompted Mark Shipman, a 64-year-old skier and climber from Wenatchee, Washington, to build the most impressive gear-storage facility we've encountered. Using made-to-fit shelves, a custom lazy Susan, and drying racks, he packed 10 pairs of skis, two bikes, and all of his climbing and camping equipment into his 20-by-20-foot garage. Then he used the extra space to house a home-brewing kit, a walk-in cooler, and two climbing walls on the shed's exterior. Here's Shipman's blueprint for building the ultimate gear shrine.

Inside the ultimate garage.
USE WALLS WISELY: If you're starting from scratch, cover your walls with OSB, a composite that's tough enough to be drilled into. Build shelves parallel to the wall—the sides of each unit, and the spaces between them, are for hanging and drying gear.
INVENTORY BEFORE YOU BUILD: Customize your shelving to fit what you're storing. For example, helmets should sit on a 12-inch shelf, not the 16-inch kind used for books.
TAKE ADVANTAGE OF OVERHEAD SPACE: Drill rubberized hooks into the OSB, then hang bikes, ice axes, crampons, and so forth on them. Shipman spent $1,600 on materials; if you don't want to build everything yourself, organization kits from Garage Storage Cabinets start at $800.
RACK IT UP: Shipman stands his skis vertically between sets of dowels. To make a ski rack, drill a pair of 3/4-inch holes into the OSB about five inches apart. Fill the holes with glue and insert 3/4-inch dowels. Repeat for the tails.
KEEP IT ACCESSIBLE: Safety equipment goes at eye level, so it's harder to forget. Store wet gear near the front of the garage for ventilation. (But don't hang foldable materials like nylon or Gore-Tex when dry—it's a waste of space.) Packs can be rolled; sleeping bags should be stored in loose sacks.
LEAVE AN OPEN AREA IN THE CENTER: Use this for packing and maneuvering.
INNOVATE: To keep his climbing ropes off the ground and away from corrosive chemicals, Shipman installed a 24-inch lazy Susan, upside down and at eye level. His ropes hang and rotate, like on a tie rack, for easy access.