E-Bike Technology Is Going to Revolutionize Kayaking 
Old Town's new ePDL+ technology doesn't just make a better kayak, it creates a better fishing boat for most anglers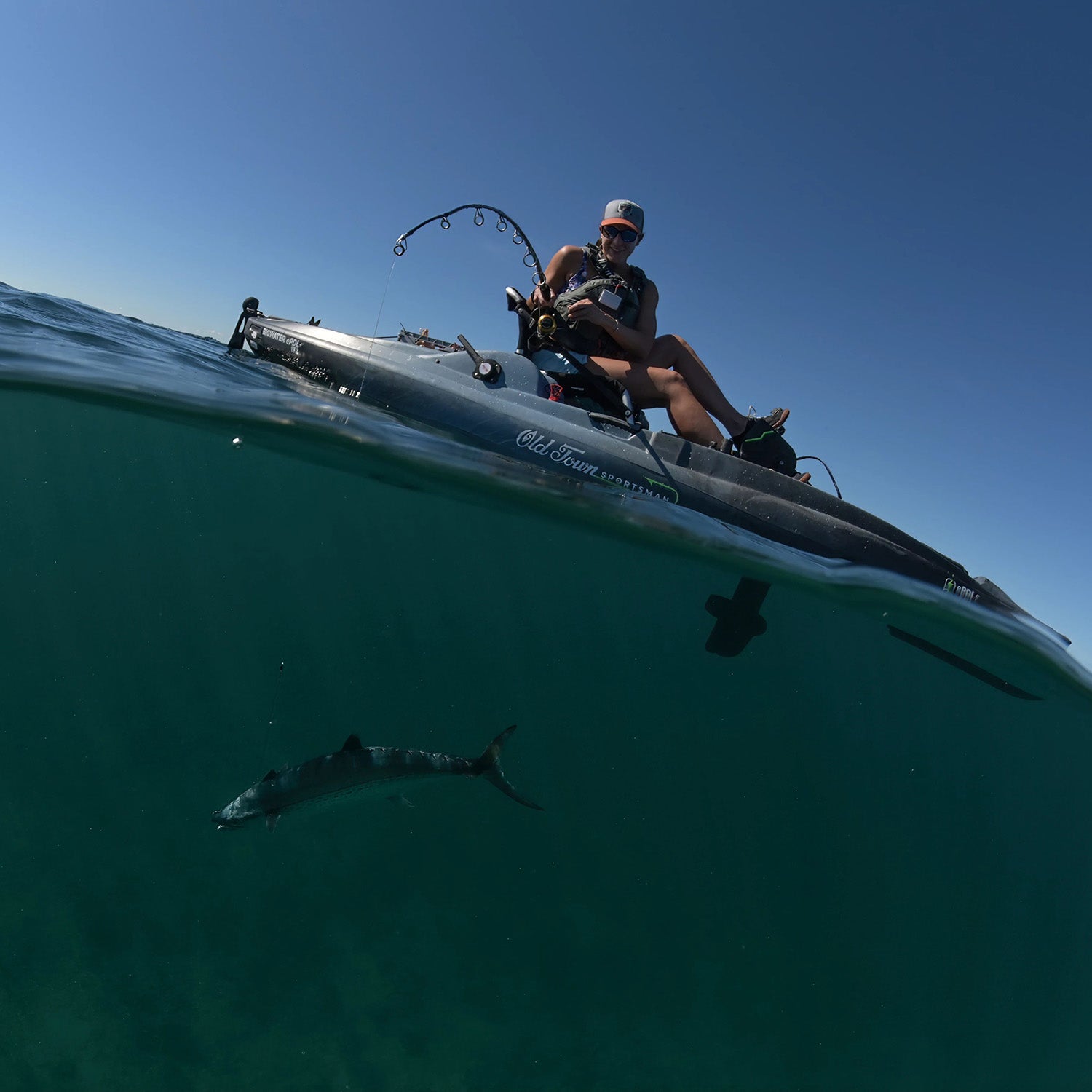 Courtesy of Old Town
Heading out the door? Read this article on the new Outside+ app available now on iOS devices for members! Download the app.
When you hear the phrase electric pedal assist, what comes to mind? For us it's internet screeds against e-bikes. Maybe that lack of acceptance in hardcore bike circles is about purity—in a world devoted to the automobile, bicycles remain a paragon of frugality, personal responsibility, and hard work. Maybe it's about trail maintenance—there's not much evidence for it, but the thought is heavier bikes might cause more erosion. And maybe it's just about gate keeping—bicycles require fitness, people who want to take things easy should not apply.
Regardless, the technology works. Hop aboard any electric pedal assist road or mountain bike made in the last decade, and your speed is augmented intuitively and efficiently. There is no learning curve, you just ride the bike and are rewarded with more miles per hour than your muscles alone could generate. Maybe they're not the real thing, but at least they're not a car.
Applied elsewhere, can electric pedal assist technology bring similar benefits? Will it be accepted or remain controversial as it has on bicycles? Last January, I flew to Tampa, Florida to find out. I spent a day fishing channels in the mangroves aboard a pre-production Old Town Bigwater ePDL+ 132 ($6,000), the first kayak ever fitted with electric pedal assist.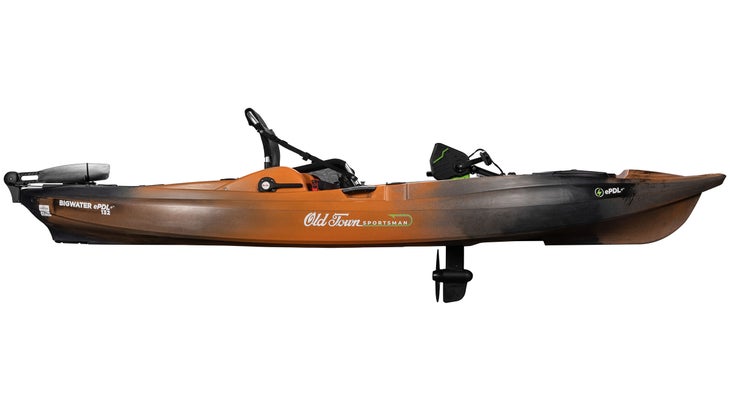 Modern pedal kayaks were first invented by Hobie in the nineties and used a rubber flipper system that put emphasis on retaining access to very shallow water. By the next decade, those pedals were powering propellors, which traded a foot or so of extra draft for a dramatic improvement in efficiency. Old Town entered the market in the 2010s with a radically stable hull form that allowed anglers to stand while casting, even on choppy water. And by building the entire pedal drive assembly into a section of the kayak's floor that lifts up and out of the water when you undo a simple single-handed latch, the boat can still be launched from the shore, through water only a few inches deep.
The benefits of a pedal kayak are obvious. Your legs are the largest, strongest muscles in your body. Using them for propulsion is far more efficient than paddling with your arms and back. Pedals also leave your hands free, a boon to both fishermen and people who just want to enjoy a beverage on the water. Another Old Town innovation makes pedaling one of their boats even simpler: if you want to go backwards, just pedal in reverse. There's no switch to throw or system to reconfigure between the boater and the direction of their choice. Steering is handled by a rudder, which is controlled from a small analog dial mounted down by your left knee.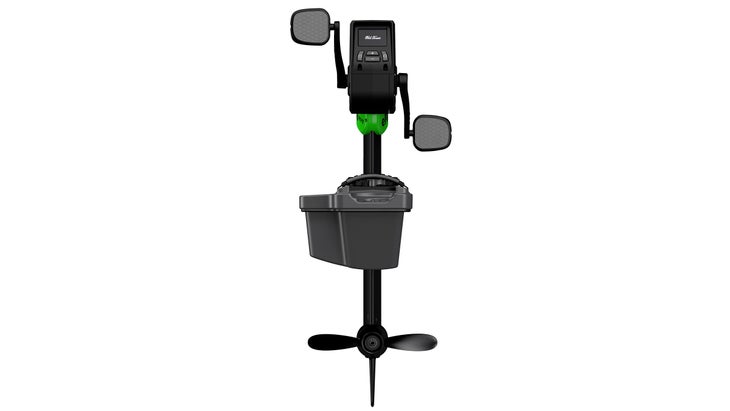 Old Town is owned by Johnson Outdoors, which also owns Minn Kota, which makes electric trolling motors. Around the same time Old Town was developing pedals, Minn Kota was putting silent electric motors on kayaks, giving anglers the choice between paddling and zipping along effortlessly under electric power. The motors work great, but controlling one requires at least one hand, taking you away from rod and reel, or can and koozie. Combining electric power and pedal control is a logical evolution.
Old Town's new ePDL+ drive system can seamlessly switch between manual pedal power, power-assisted pedal, or fully-motorized propulsion—they're calling that mode "cruise control"— at the push of a button. A proprietary 36-volt lithium battery delivers 46 hours of continuous power in the lowest speed cruise control mode, and three hours in the fastest setting. After experimenting my way through the various modes while fishing, I settled on the fastest pedal-assist speed, and after a long day on the water, returned to the dock with more than 80 percent charge remaining. Most users will have no trouble getting a two- to three-day weekend out of a single charge.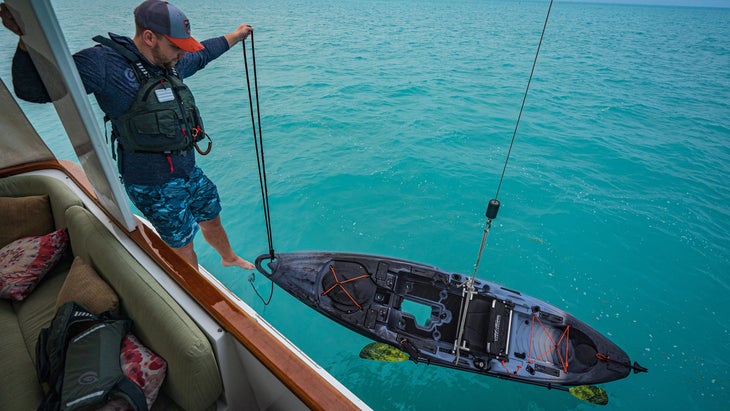 The reason I settled on max pedal assist, over cruise control, is that it combines the total control of pedals with the speed of motor power. Start pedaling, and the boat gains speed at a rate impossible from legs alone, topping out noticeably faster than larger craft abiding by no wake restrictions. It's easy to control speed simply by pedaling a little bit faster or slower, and you can still reverse direction just by pedaling backwards. All the system requires is a few initial button presses and you're off.The system is so intuitive that little thought is required beyond deciding how hard to pedal.
No matter which mode you're in, progress remains silent. And that made spotting and approaching fish easier than ever. There's so much speed available that I was able to respond to rises even hundreds of yards away in a matter of a few seconds, while the fish was still in that location. Some hard pedals, followed by a drift, where enough to get me within casting distance of any fish I was able to see.
What happens if some component in the electric motor or battery fails? It's an unlikely scenario, but one worth considering given the distances pedal assist will allow you to travel. Disabled, the electric drive adds no palpable resistance to manual pedal power, and the whole system adds only 21 pounds of additional weight to the kayak. There's also a provision to strap a backup paddle to the side of the craft.
That weight is the biggest downside to the total product. The non-electrically assisted Bigwater 132 ($3,250) already weighs in at a hefty 122 pounds fully assembled. That's likely more than any person will be able to load onto roof rack by themselves, and enough to make just loading one onto a trailer feel like a workout. At 143 pounds, the Bigwater ePDL+ 132 will prove to be even more of a struggle. But, the entire pedal assembly, and the battery can easily be removed, dropping 41 pounds from the total, that can then be loaded into a trunk or truck bed separately from the hull.
But to speak of inconvenience compared to a smaller, lighter, manual kayak is to miss the real advantage electric pedal assist brings to boating. After a day's fishing aboard the ePDL+, it wasn't comparisons with other kayaks that was on my mind, it was with larger boats powered by outboard motors. Combined with the stable hull, Old Town's electric pedal assist technology is so effective, that many anglers will likely be able to use it to replace gasoline-powered skiffs, utility boats, and fishing rigs in many, if not most applications. And in so doing they won't just be eliminating emissions, they'll be gaining ease of transport, simplicity of use, lower maintenance, and a smaller, less invasive footprint on the water, all at a lower cost.
Are pedal assist kayaks going to piss off as many people as electric bicycles seem to? I think it's more likely to be the opposite. Kayaks already offer a superior fishing experience to power boats. Making that easier to access is going to be really exciting for a lot of anglers.
Lead Photo: Courtesy of Old Town