Inside the Mind of a Custom-Surfboard Shaper
John Oppito taught himself to handcraft surfboards in high school. Now he's winning awards for his exquisite East Coast creations.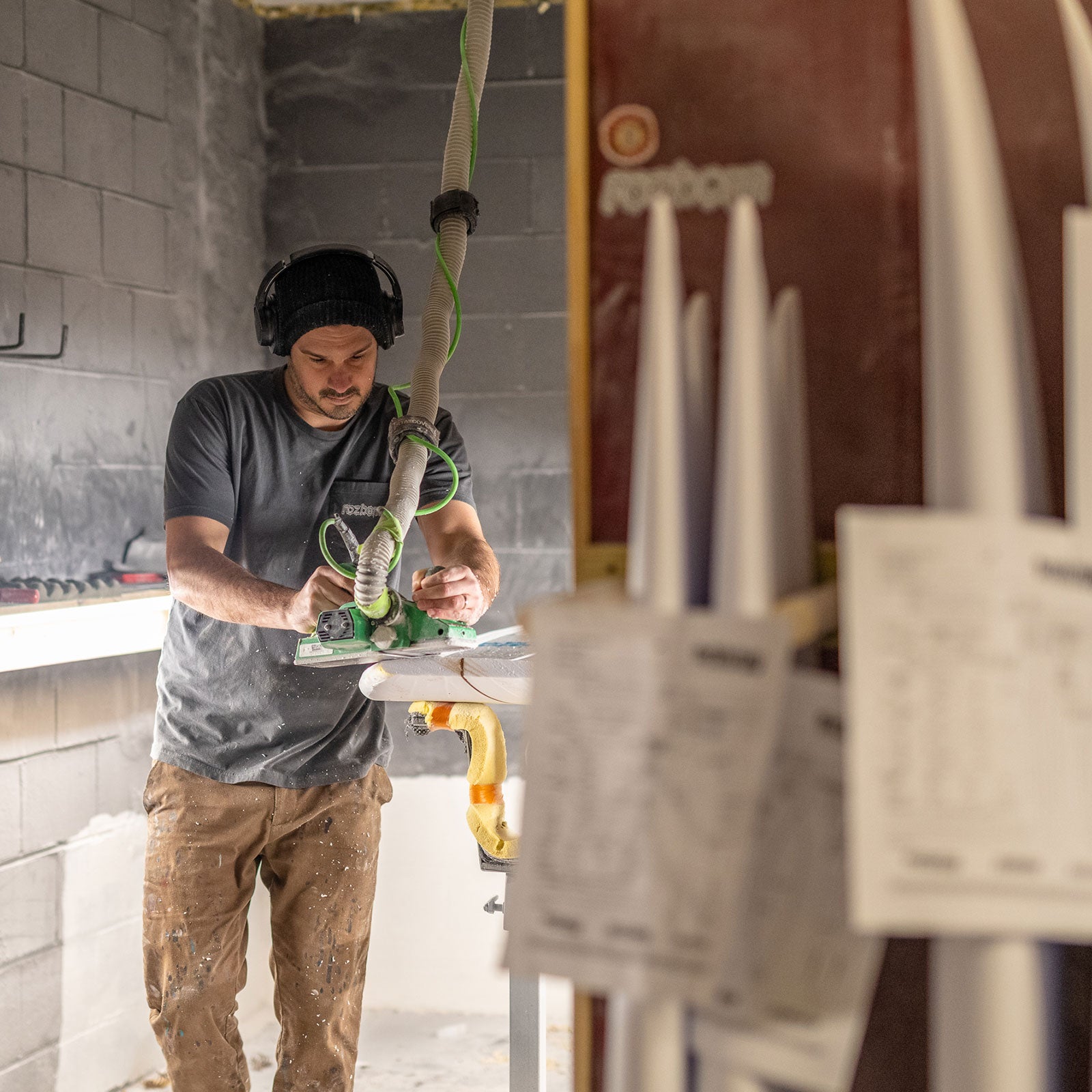 Heading out the door? Read this article on the new Outside+ app available now on iOS devices for members! Download the app.
John Oppito has broad shoulders, a week's worth of stubble, and the type of handshake that makes you wonder why you spend most of your waking hours behind a keyboard. On an overcast afternoon in late January, he's sitting on a stool next to his shaping bay in an unassuming, windowless warehouse nestled on the fringes of Asbury Park, New Jersey. It's known as the Heavens and has developed a reputation as the hub for one-of-a-kind hand-shaped surfboards on the East Coast. It's less than two miles from the Atlantic Ocean but feels a world away. A fan hums in the background but fails to quell the bracing resin fumes. Oppito, 32, has on a navy blue New York Rangers sweatshirt, brown paint-splattered pants, and low-cut sneakers that—like almost every surface here—are caked in foam dust. "Everybody assumes my last name is Rozbern," he says with a chuckle. He understands the confusion and explains that it's actually the street name of his parents' house, where he first started crafting boards. Over the last decade, Oppito has become synonymous with Rozbern Surfboards, the label he created and co-owns with his friend and business partner, Kevin Strickland.
Rozbern Surfboards, along with the boards Oppito shapes for the alternative-board collaboration Trimcraft—which features designs from shaping luminaries Rich Pavel, Gerry Lopez, and Ryan Lovelace—are the antithesis of generic. His creations often include elaborate color work and unusual customizations. One example is the seven-foot Widowmaker channel-bottom board with a psychedelic resin-swirl deck, which earned Oppito Best in Show honors at the Boardroom International Surfboard Show last weekend in Del Mar, California.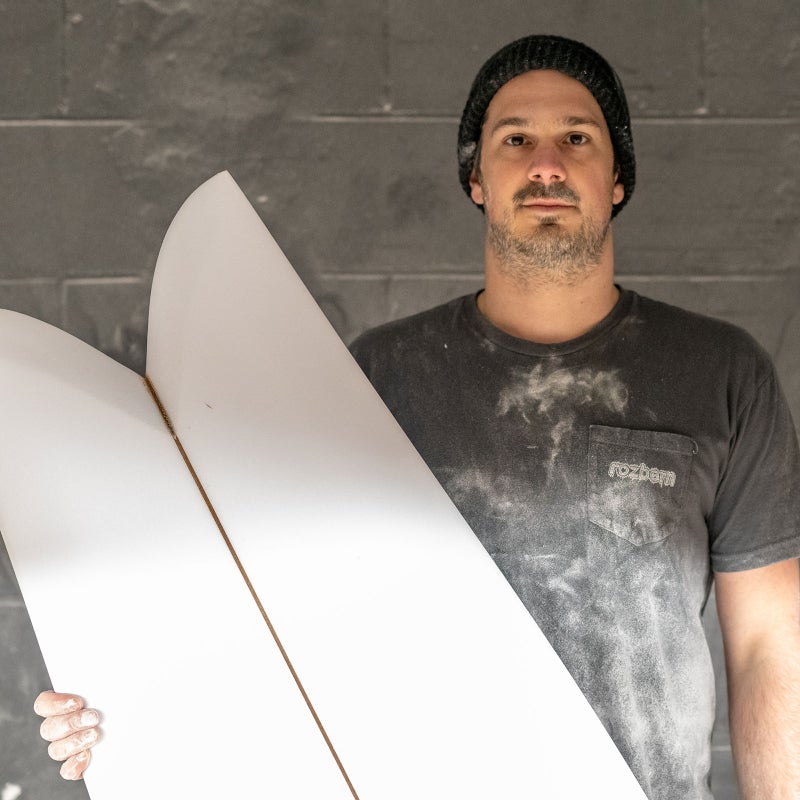 Oppito's functional art stands out for more than looks, though. He takes no shortcuts, building the boards by hand from start to finish. At a time when it feels like most hard goods are available at the click of a mouse, it's refreshing that there are still people out there providing custom craftsmanship with a personal touch. Next to where Oppito signs his name on each board, along with the dimensions, board model, and customer's name, he also writes, "Hand shaped in NJ—Enjoy!"
Yet Oppito won't wax philosophically about the pureness of hand shaping or assert that there's only one ideal way to build a surfboard. "I have nothing against the machine," he says more than once about CNC instruments that are the norm for mass producing boards in the surf industry. "It's a tool. My opinion is that as long as you're transparent about what about what you're doing, it shouldn't matter how the board's made." Oppito has only brought in a couple of board glassers in the last year to help him keep the turnaround time on his custom boards between four and eight weeks.
"I shaped a fish for my first board," Oppito says about his board-building origins in the shed behind his parents' house in Eatontown, New Jersey, during his senior year at Monmouth Regional High School. "A fish is not an easy first board to shape. I glassed the whole thing. The fins ended up ripping off by the second session, because I didn't put enough glass reinforcement on them."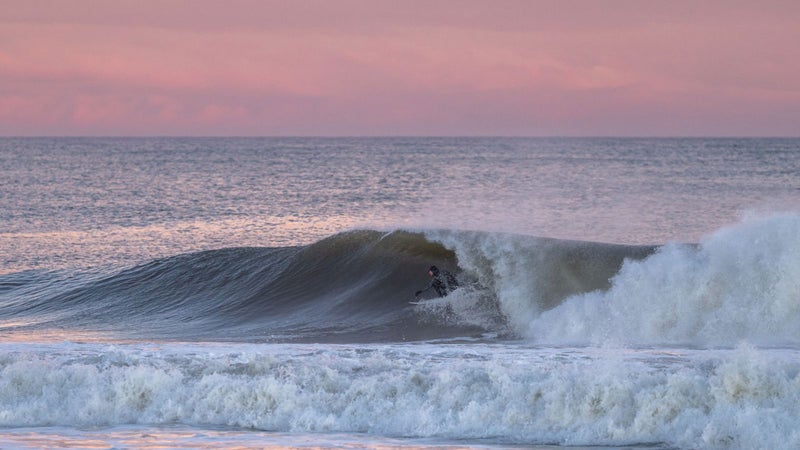 From there, Oppito learned every stage of the board-building process and developed a DIY ethos out of necessity. In California, Oppito explains, you can go to any supplier and buy a blank, resin, and everything you need to start shaping. But when he was starting, there was nothing like that in New Jersey, no factories to get information from. "You couldn't walk into a reputable glass shop and say, 'Hey, I want to sweep your floors and learn how to laminate a board.' I just figured it out trial and error—so there was a lot of error."
Oppito doesn't bemoan his roots. His surroundings influence every board he builds. "I feel like, growing up in New Jersey, you have to shape everything, because we get literally every type of condition imaginable," he says. Ranging from ankle-high summer slop to world-class overhead barrels in the winter, the waves in the Garden State can be as fitful as traffic on the turnpike. Rozbern's models reflect that diversity; they include grovelers, shortboards, longboards, fish, twin-fins, and step-ups that fuse alternative and performance characteristics.
He developed a shape called the Hound with local charger Mark Gilmartin, who earned Surfline's "Ride of the Week" for a draining barrel he navigated on a mango-tinted five-eleven board the day before Halloween 2017. That board was Oppito's first try at the design. He still has it—well, at least half of it. "I think it lasted a whole winter until it broke," he says as he reaches down behind a stool and retrieves the severed tail end. "This thing saw more tube time than most people have." Although Oppito also has Gilmartin's original order card, with all its specifications and a template for the Hound's outline, he likes to keep "Magic Mango" nearby for reference. "You can nail all the numbers but not have a board come out as you mean it," he says. "A lot of shaping is by feel and muscle memory. You know how the board should feel in your hand. You know how it should look under the lights."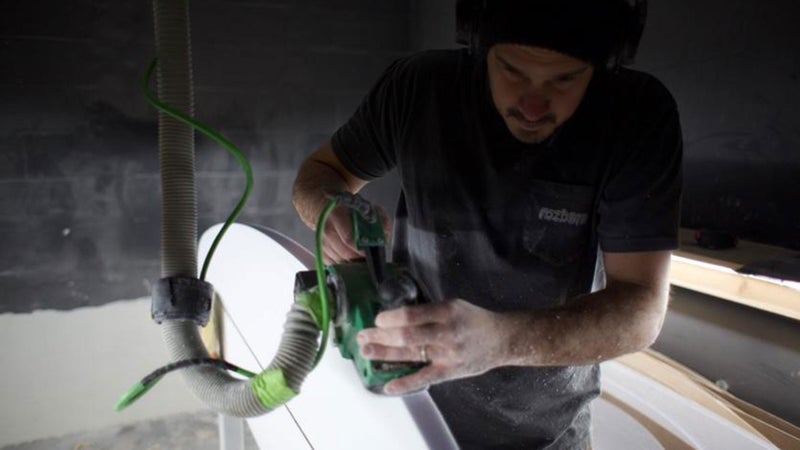 But then there's seeing the board in the water with his customers. Oppito sounds like an anxious parent when he describes waiting for feedback. "The worst is when somebody is surfing a board for the first time and I'm surfing with them," he says. "I can't even concentrate, because I am constantly watching them and wondering, Is the board working well? Are they liking it? Does it look good? Is it flowing like it should? I have all these thoughts racing through my head, and I can't even focus on surfing myself."
Those nerves fade amid the whirring of Oppito's Clark Foam–modified Hitachi planer back in his factory. "In the shaping bay, I'm in my element," he says. "I'm really just focused on making the board come out as I have it in my head." When you watch him at work with his bulky Sony wireless headphones on, it looks like he's in a trance.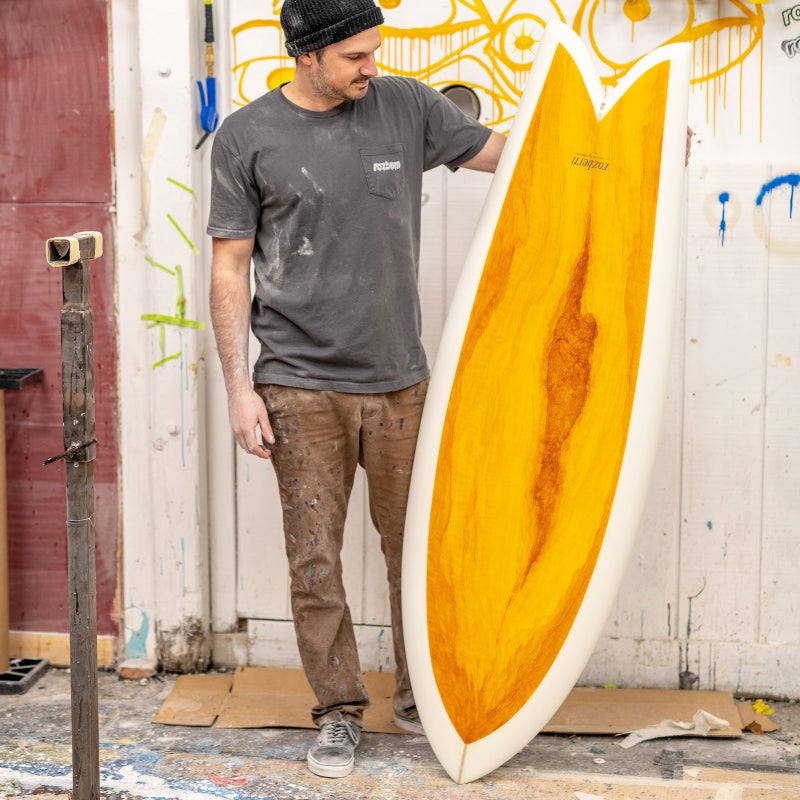 While the countless variables that go into creating a board can make an average surfer's head spin, regardless of the fumes, Oppito consumes himself with the process. It provides structure. "I approach the blank the same every time," he says. "I'll generally plane the blank to thickness first, cut it out, set my bottom concave, foil the deck, and then turn the rails. The best part is when you do the final sanding screen and everything comes together. This thing that has taken life slowly along the way, when you sign your name, you get to see all the hard work in a tangible object."
That sense of satisfaction is fleeting. "Every time I make a board, I think it's a good one. Then I look back at it even weeks later and think, Oh, I could have done this differently," Oppito says. "When you start not doing that, you stop progressing. There is no such thing as a perfect surfboard. You can always find something that you could do differently."
Lead Photo: Tim Torchia