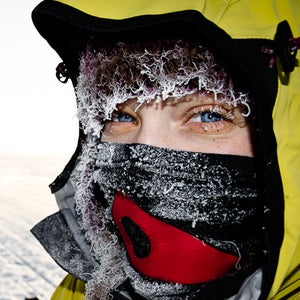 You hear about how the Arctic changes people—how it can lead them to lose their minds a little bit, or make dumb mistakes. Then there are those adventurers like Sarah McNair-Landry who are at their best on the ice. McNair-Landry grew up near the Arctic Circle, on Baffin Island. At 18, she joined a skiing expedition to the South Pole. A year later, she became the youngest person to reach both poles. She has since crossed the Greenland ice sheet five times and traversed the Gobi Desert in a kite buggy, among other journeys. Last year, she led a team that towed kayaks 400 miles across Greenland to run a river they'd seen on Google Earth. That was the plan, anyway—but almost nothing went as they expected. Outside contributing editor Florence Williams sat down with McNair-Landry at Mountainfilm, in Telluride, Colorado, to talk about sailing in frozen landscapes, close encounters with polar bears, and where she's going next.
Follow the Outside Podcast
Outside's longstanding literary storytelling tradition comes to life in audio with features that will both entertain and inform listeners. We launched in March 2016 with our first series, Science of Survival, and have since expanded our show to offer a range of story formats, including reports from our correspondents in the field and interviews with the biggest figures in sports, adventure, and the outdoors.