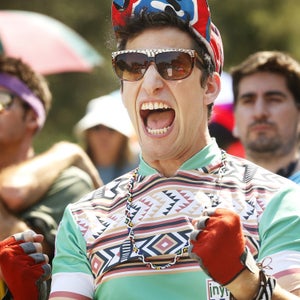 Nearly every sport can point to a comedy taking aim at its flaws. Hockey has Slap Shot. Car racing has Talladega Nights. Skiing has Hot Dog. And dodgeball has, well, Dodgeball. Now cycling can claim its own: HBO's Tour de Pharmacy, featuring executive producer Andy Samberg and a laundry list of A-List celebrities. It's about damn time. Is any sport riper for parody? Besides the rampant doping, there's the leg shaving, the spandex, the team names, the whiteness, the stuffy British commentators, and, of course, the curiously misshapen bodies. The film sends up all that with a gonzo storyline that clocks in at a breezy 38 minutes and features—spoiler alert—no less than four shots of full frontal male nudity plus recurring commentary by Lance Armstrong. We caught up with Samberg to find out how the film came about, why he chose to pick on cycling, and his fetish for wiener gags.
Follow the Outside Podcast
Outside's longstanding literary storytelling tradition comes to life in audio with features that will both entertain and inform listeners. We launched in March 2016 with our first series, Science of Survival, and have since expanded our show to offer a range of story formats, including reports from our correspondents in the field and interviews with the biggest figures in sports, adventure, and the outdoors.