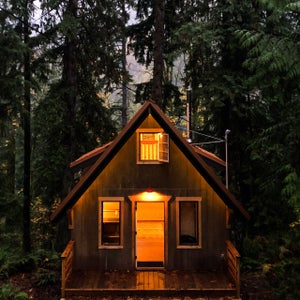 It sounds like a fantasy: join forces with a good friend to build a sweet little cabin in the woods. And for Bryan Schatz and Patrick Hutchison, that's exactly how it felt. They took time away from promising careers to pursue a dream of crafting a base camp for adventures in an idyllic spot in Washington's Cascade Range. There was just one problem: they had no idea what they were doing. Their planned summer project turned into a yearlong saga that drained their bank accounts and stressed their relationships with family, friends, and each other. But they stuck it out and ended up not only with a gorgeous cabin but a new perspective on what matters most in life.
---
This episode of the Outside podcast is brought to you by Whoop, the fitness tracker that gets you training smarter by giving you feedback on every moment of your day. For a limited time, Outside Podcast listeners get 15 percent off a membership; just enter the code OUTSIDE at checkout.
Follow the Outside Podcast
Outside's longstanding literary storytelling tradition comes to life in audio with features that will both entertain and inform listeners. We launched in March 2016 with our first series, Science of Survival, and have since expanded our show to offer a range of story formats, including reports from our correspondents in the field and interviews with the biggest figures in sports, adventure, and the outdoors.