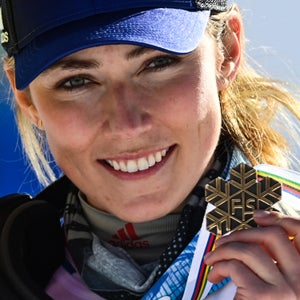 The most dominant ski racer on the planet is constantly questioning her talents—which may be the secret of her greatness. Mikaela Shiffrin has won two Olympic gold medals and more than 70 World Cup races, but unlike fellow American skiing stars Lindsey Vonn and Bode Miller, she isn't known for her speed-demon recklessness. Instead, she's lauded for her perfect form, tactical brilliance, and workaholic approach to training. In this episode, based on excerpts from an exclusive extended interview with Outside for our five-part docuseries, Mikaela Shiffrin: Passion and Purpose, she reveals how underneath all that there's a burning doubt she has learned to embrace.
---
This episode is brought to you by Ikon Pass, which gives you access to the most iconic skiing and snowboarding mountains in the world. Ikon Passes for the 2022–23 season go on sale March 10 at the lowest price of the year. Learn more at ikonpass.com.
Podcast Transcript
Editor's Note: Transcriptions of episodes of the Outside Podcast are created with a mix of speech recognition software and human transcribers, and may contain some grammatical errors or slight deviations from the audio.
Michael Roberts: From Outside Magazine, this is The Outside Podcast.
Mikaela Shiffrin: When you think, oh, this is the biggest event of my sports career, and this is where I want to win. Everything kind of leads up to this moment. And I want to feel perfect here. I want to feel ideal. I want to feel good. I want to feel confident. And, and this is the moment and you've built it up that much in your minds and everyone around you is built it up that much to your chances of feeling actually good are so low. I mean, the chances of you feeling like the worst in your entire career at that exact race or competition, that's most likely what's going to happen.
Mike : This is not exactly what we expect to hear from one of the greatest ski racers in history on the eve of the Winter Olympics.
Mikaela Shiffrin is an two-time gold medalist as well as perennial World Cup overall favorite, known for her relentless commitment to training and her perfect technique. You'd think a supreme competitor like that might look forward to the biggest races with glee. But, well, like champions across sports, she's more complicated than we expect.
Which is why Outside launched a five-part docuseries about her that kicked off in December, in the run-up to the 2022 Games. It's called Mikaela Shiffrin: Passion and Purpose, and it uncovers the many layers of the most dominant skier on the planet. The first three episodes can be streamed by Outside+ members on the Outside app, which is available on all streaming devices. I highly recommend checking it out. You can download the app at outside.tv/app.
And, for the Outside Podcast, we also have something special. We were given access to the extended interview with Mikaela that's at the core of the series. In it, she opens up about the her goals and challenges at this singular moment in her career, when she's handling so much more than the competition. The result is today's episode, crafted by producer Paddy O'Connell, which offers a rare look at what it really takes to be the best of the best
Paddy O'Connell: That's me arriving at the home of my pal Gordy Megroz. He's written about skiing for nearly two decades. And as you can tell, he is soooo excited to talk to me about Mikaela Shiffrin. No, seriously he is. He just loves to give me a hard time.
Gordy Megroz: What's up dude? Drop your shoes off there.
Paddy: You're  a shoes off family. 
Gordy: Yeah.
Paddy: Gordy and I live in Colorado's Roaring Fork Valley, just down the road from a little place called Aspen. People here, well, we talk skiing pretty much all the time. But nobody more than Gordy.
He started arching turns when he still had a pacifier in his mouth, he attended a ski academy for high school, he raced in college, then coached ski racing while he was getting his masters in journalism.
And back in 2011, he started hearing rumblings about a ski racer from his brother in law, who was a ski coach at Burke Mountain Academy, in Vermont, a prep school that has long been a training ground for skiers, producing almost 40 Olympians. That racer making all the noise? A then 15 year old phenom named Mikaela Shiffrin. 
Gordy: when I would see him, he would be like, this girl that's training here is amazing. Like, she's going to be the next greatest ski racer ever.
And I, would be like, 'yeah, okay.' I mean, he's got a pretty good eye, so I sort of believed them. And then I went and watched. Either train or race. I don't remember. And I was like, 'oh my God, she is so much farther ahead of anybody else, her age.' And she's also like farther of women who are racing on like the world cup right now.
Paddy: How so? Like what, what was, what stood out so much? 
Gordy: Well she was like making these perfectly clean turns and her body position was so perfect. And she was like, wait, Uh, you know, above the gate, which is still what I think Mikaela does better than anybody else.
And so. Her turns, most of her turns are so clean, and so round, and she doesn't scrub any speed. Whereas, you know, a lot of women are going a little bit straighter and turning a little bit later. And so they're scrubbing a lot of speed at the bottom of the turn. Mikaela has never done that. Even when I saw her, when she was 15 years old, she didn't do that
Paddy: That year, Gordy wrote a profile on Shiffrin for Outside as she was making her debut on the World Cup circuit. It was the first ever national magazine story about her, and as he watched her race, he was certain then that she was going to be special. He was right. But even to Gordy, her list of accomplishments is a jaw dropping read. I know this, because I made him read it.
Gordy: She's a two time Olympic gold medalist tied for the most Olympic Alpine skiing, gold medals ever won by an American. She is a three time world cup overall champ. One of only five Americans to ever win that title. In world championship, she is the most decorated American Alpine skier in history.
Paddy: In fact, Shiffrin has won more than 70 World Cup races. Even if your only knowledge of ski racing is that skis go slidey slidey on snow real fast, that number should impress you.
Gordy: She is the only athletes win 15 races in the same calendar year. 
Paddy: Wow. 
Gordy: That's remarkable. You know, she's probably going to crush she'll crush every record that, that, that there is by the time she's done.
Paddy: Oh by the way, Shiffrin is only 26 years old. 26! At that age, most skiers are psyched if they remember to wash their long johns on a regular basis, but Shiffrin has already established herself as the best skier in the world.
So you'd think she'd exude that confidence. You'd think that Eye of the Tiger plays on repeat in her head....weeeeeeell...
Mikaela Shiffrin: I still have doubts about whether they're actually good or not. It's just like, I don't know what if, what if I just wake up tomorrow and I'm just not that fast and everybody else is way faster and I'm just not good anymore.
Paddy:  Gordy nearly fell out of his chair when I played that clip for him.
Gordy: That's super surprising to me. I mean, I remember back, you know, reporting that story on her and thinking that she exuded a lot of confidence.
Like, I would think that somebody like Mikaela is so good that she carries so much confidence into a race that she wouldn't feel that way at all. The, the likelihood that she has a bad finish is so low. Like, I don't know. It's hard for me to understand how that would even like creep into her consciousness.You know, If I was out there like winning world cup races, basically every time I went out of the start gate, I would not feel that way.
Paddy: When we hear about other recent American ski greats like Bode Miller and Lindsey Vonn, people talk about their competitive drive, their speed-demon recklessness, and their killer instinct on race day. That's what sets them apart.
But we don't really hear that with Shiffrin. She's a tactician and workaholic: she never misses a gate during training, never skis off course, she and her coaches track every part of her workouts, even her sleep, and she constantly reviews race and training video, trying to find any minute mistake. When other skiers take rest days, Shiffrin trains non stop. Even when she wins, she wants to find a way to get faster. That is her edge.
So, with a mentality like that, with all that commitment to perfect technique, perfect training, you might think she'd revel in the energy that surrounds race days. But, you'd be wrong.
Mikaela: Everything else that's around racing aside from the actual skiing is really uncomfortable.
It is really stressful and it's something you care so much about, but you, at the end of the day, you can ski and otherwise you can't really do much about it. Some athletes handle that a little bit better than others. 
And you see some athletes and you say like, they're just a racehorse. They just love the vibe on race day. And they even raised their level at races. And I, I'm just not one of those I it's exhausting to be so that there's so much waiting and there's so much uncertainty and there's so much that I want to do. So many people that I want to make happy and proud and including myself.
So, if you're talking about the Olympics or an, or world championships or really any world cup race, I will have so many moments of doubt and negativity throughout the day, even when I'm in the start gate. And I literally thinking, 'no, I don't really want to do this. I'm really, really nervous.' 
So I would say majority of the day is like fairly negative. So a lot of negativity there's a lot of, oh, can I do this? And what if I don't and what are people going to say? And what am I going to think?
That uncertainty really crushes me.
Paddy: Nerves of steal is a phrase thrown out often when we talk about superstar athletes. But that is not Mikaela Shiffrin. She's been known to get so anxious before a race she'll throw up.
And her dominance doesn't insulate her from critique. Even though the World Cup overall title is every ski racer's dream, the Olympics are more well known to the casual observer. They are, of course, the damn Olympics. In 2018, at the games in South Korea, Shiffrin was hoping to score 5 gold medals, but came away with a single gold and a silver. Remarkable by normal standards. But, she was not happy. And neither was the casual viewing public.
Mikaela: In a lot of ways I walked away from it feeling like I was a disappointment.
And had to go for the last four years, had to go through a whole process of trying to understand why, even though, if I just asked myself, I would have considered that Olympics successful, why did I feel the weight of disappointment walking away from it?
You can't avoid that feeling of, you know, what could I have done differently than I didn't let everyone down? And you read the comments and they say, 'you were supposed to win. Don't even come home.' And there's a lot of that out there.
It's been a process to learn how to dissociate, like, how I see my own value or my self worth from a race, a big race, a big stage, and a lot of opinions surrounding it and not want to either run and hide from that, or just get rid of it altogether. 
Mikaela: I sometimes I think about that when I think, 'oh, there's so much pressure and oh, and, and I don't even control it.' And what if I get a gust of wind and then everyone's going to blame me and, and it wasn't even my fault. And you get in this spiral of what ifs and it gives you literally gives you a headache.
Paddy: Though she was reeling from the 2018 Olympic disappointment, Shiffrin righted herself during the 2019 World Cup season, winning 17 races, breaking the record of 14 –which was held for 30 years–and winning her third overall championship. Things were looking good.
But then in February of 2020, just before Covid shut down the world and made a mess out of the World Cup schedule, Shiffrin's father, Jeff, died in an accident at their family's home near Vail, Colorado. When races weren't canceled or moved because of the pandemic, Shiffrin somehow still competed. Throughout both the 2020 and 2021 seasons, she battled through back injuries and made it on the podium a combined 23 times.
She was handling the physical side of ski racing amazingly well. But on the inside, in her heart, she was struggling.
Mikaela: It's hard to describe in just a few words, but it was in a lot of ways, a really big learning experience and overall a fairly, uh, sad Season, I guess.
I, I mean, I had some really great moments skiing. Obviously I also had some really great results, but there was, it was like this, um, invisible blanket was just covering me and my whole world and, um, and the whole season. And it just, it was just dimmer. I don't know how much better to describe it actually, but everything just felt more dim.
And almost when I look back on it, almost like I was sleeping, like it was a dream.
Paddy: We'll be back after a short break.
[advertisement]
Paddy: After the sudden death of her father in February of 2020, Mikaela Shiffrin questioned whether or not she would ever ski competitively again. Her parents had introduced her to skiing and played giant roles in her racing. Her mother, Eileen, is the technician. Her father had been the driver of the consistency philosophy. More than anything, he was her biggest, most ardent fan. With his death, Shiffrin says that she lost the care to compete, what she refers to as the most fundamental part of racing. And she just could not find the focus she needed to win.
Mikaela: I had [a] harder time doing things that I've been good at for my whole career. I had [a] much harder time remembering a full race course, especially two runs in a single day, and super, especially slalom. And I've never struggled with that before.
I had a hard time focusing throughout an entire training session, let alone for an entire race day. I was even more exhausted on a daily basis, but especially after races or, you know, if we had a two day race weekend, I would, I just, I was just even more tired than I would normally be. 
And I don't know. A lot of it is just the time it takes to kind of get back to your, I don't know, equilibrium sort of. And it's, there's a level of stress that you deal with on a daily basis after experiencing loss that you don't even realize. Like, whether it's what you want to call it grieving, or you could call it whatever you want, but you don't realize it. You're just tired and it's a sunny day. It's beautiful. It's great training. Everything's going well. And I'm tired or I'm angry and sad for no reason. And I've, I haven't, it's not really my personality.
When you lose someone, it's like your world stops and everybody wants to cater to you and send you their condolences and kind of stop their world along with you for a minute. And then they keep going. And your world is still just at a total standstill. You feel like you've been shaken upside down. You have no idea. It just. And you're looking around you like everybody else is still going. Like, why, why aren't you completely, like, I don't know, So overcome with this awful feeling that you can't even function. Why is this not affecting you? The way it's affecting me?
I don't know. It's the one thing you can never go back and change. So that's just something that I don't know, my whole family and I will have to balance and sort through for the rest of our lives.
Paddy: One of the things that Shiffrin points to in helping her sort through the loss of her father is the concept of post traumatic growth syndrome, the theory that people who endure psychological struggle following adversity can often see positive growth afterward. Shiffrin learned about this in a book entitled Option B by Sheryl Sandberg and Adam Grant.
Mikaela: The book is about basically handling death and loss. And, it's obviously a very sad and I mean, it's not a topic you really want to talk about. But, the way that she, went about discussing some of the things that are really hard to discuss actually left you with some sort of a feeling of positivity or even an optimism or hopefulness.
And, most of the time when you talk about loss and pain and tragedy, it just, you just get sad and everyone around you get sad. I know this sounds really weird, but it will get better.
You will, you'll learn to handle it. You will learn to enjoy moments and not feel guilty for enjoying those moments. You'll learn how to laugh. And then not immediately feel overcome with like a huge weight of depression after just like simply laughing. And those things are going to get better and a little less, it's not less painful, but it's just a less, less sharp pain. It's a little duller. You actually see the world maybe in a clear way, or you have certain parts of your life may be better because of how you've grown from this tragedy.
You open your eyes to certain things in life that you never really noticed before, and you have more respect for it. You have greater perspective on, on some things enough to take a moment and appreciate what you still have while you have it.
And I, I never would have called myself ungrateful before. But now, I feel much more grateful about almost everything actually.
And that was at a time just came at a time when I was really basically having a lot of trouble, not being angry at everything.
Throughout the season I started smiling more and I think I started being a little bit nicer to my coaches and just being a little bit more myself.
Paddy: Off the race course, Shiffrin continues to work back toward the light. And on the race course, she continues to stack wins, but it has been the furthest thing from easy. She says she teeters back and forth with drive and focus, doubt and lack of motivation, sadness and anger. This was exemplified in December 2021 at the giant slalom World Cup race in Courchevel, France.
Mikaela: I remember thinking, 'I tried as hard as I can today and I was fourth. That was the best I could do. And that was the best I can see myself doing.'
And I went back and looked at the video and I didn't really come up with any answers besides I just haven't had enough time, not just not like training specifically, but I haven't had enough time doing this and living in this world after this last year, to really feel like I know what I'm doing, or I didn't feel like one with my skis. I didn't. 
Felt like I would have really, really fast sections of a course. And then I would make an error that I'm like, 'seriously? That's not an error that I normally make.' I was just looking at that. I think it was the second run in that first race, in courchevel thinking. That's like, that's what I got.
So let's go out and race tomorrow and we'll see what I can do.
Paddy:  What Shiffrin did the next day at Courchevel was win big: she was nearly a second faster than the skier who came in behind her. It was Shiffrin's 72nd career World Cup victory.
Mikaela Shiffrin: For whatever reason, I went out the next day and I was just so much more on point sharper mentally. That was like throughout all of last season that one single moment of clarity I felt, or like I was not in a total fog and it definitely, it showed in my skiing.
On a personal level, it was a big step being able to bring that focus for both runs top to bottom, have that intensity in my skiing and feel like I wanted to ski fast. The day before it wasn't that far out. But I was, there was a point in the day where I thought I don't, I don't really want to win. Cause I, I like, I don't want to be. I don't know what it's going to feel like to win if my dad's not going to text me after or call or like, I don't really want to live in a world where I win races and my dad's not alive.
And that was like, that was a very big thought I had the day before I had it, the second race too, but it was just like, push that thought away. Just, you're here, you've worked for this, everybody's worked for this. You have a good shot, ski 60 seconds of good skiing and just see what happens. And also like you might not win. So maybe don't worry about that yet. 
And then it just, I don't know, odds were in my favor that day and skiing was good and it was a big step.
Paddy: Shiffrin is going to need more of these big steps in 2022. The World Cup has been world cupping. And the 2022 Olympics in Beijing have begun. Shiffrin wants to win, she wants to win everything. The plan is to compete in all 5 individual skiing events: downhill, super-G, giant slalom, slalom, and combined. And though she's been coy about publicly stating she wants the gold in all 5, it's safe to bet she's thinking it. But she won't do that by avoiding her doubt, by trying to shield herself from it. Instead, she'll win by embracing it.
Mikaela: You can't really like decide what, what things you think about. You can't really put up a blockade for other thoughts that might enter your mind or distractions or just things you notice. So like trying to run from that, isn't really going to work.
When you feel this kind of self-pity. It goes directly against feeling gratitude for anything. You just feel sad and bummed out, and then you start to get depressed and it's this whole downward spiral.
So I should probably like sit down and stop feeling so bad for myself and just try to, I dunno, feel some gratitude for what I do have.
There's just a lot of things that happened in succession that just made me stop and think about how grateful I should be, even though I was still really sad and angry. But, I mean, you can be grateful and angry and sad at the same time. So I've been kind of living like that. 
I mean, there's always another side to the coin. So choose to focus on the more positive side of it. It helps not feel so weighed down by everything.
Michael Roberts: This episode was produced by Paddy O'Connell and edited by me, Michael Roberts. Jay Jalbert of Jalbert Productions International interviewed Mikaela Shiffrin for Outside TV.
It you're an Outside+ member you can stream Mikaela Shiffrin: Passion and Purpose on the Outside app, which available on all streaming devices. Download it now at outside.tv/app, then sign in in with your Outside+ membership account to unlock our entire collection of films and series.
And if you're not a member, now is a great time to join, as we're giving new members 25% off the annual fee. Go to outsideonline.com/podplus and enter the code pod25 at checkout. That's outsideonline.com/podplus and code pod25.
This episode of the Outside Podcast was brought to you by Ikon Pass, which gives you access to the most iconic skiing and snowboarding mountains in the world. IKON Passes for the 2022/2023 season go on sale March 10 at the lowest price of the year. Learn more at ikonpass.com.
Follow the Outside Podcast
Outside's longstanding literary storytelling tradition comes to life in audio with features that will both entertain and inform listeners. We launched in March 2016 with our first series, Science of Survival, and have since expanded our show to offer a range of story formats, including reports from our correspondents in the field and interviews with the biggest figures in sports, adventure, and the outdoors.