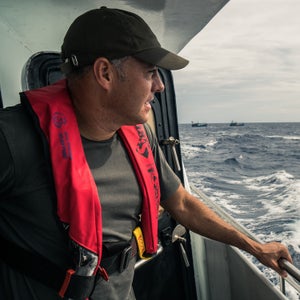 Investigative journalist Ian Urbina had a bold plan: he would journey to the unpatrolled waters of the open ocean and bring back stories about the last regions on the planet where laws have almost no power. Over three years, he traveled some 12,000 nautical miles and reported on the traffickers, pirates, poachers, and other clandestine characters who operate outside the reach of authorities. His resulting chronicle became a bestselling book, The Outlaw Ocean, but that only spurred Urbina to go farther. Now his mission is taking him in a surprisingly creative direction: partnering with popular musical artists, he's producing songs that push his stories out to a much wider audience.
---
This episode of the Outside Podcast is brought to you by the all-new 2021 Ford Bronco Sport, a 4×4 SUV with seven available G.O.A.T. modes that enable it to go over any type of terrain. Learn more at ford.com/bronco
Follow the Outside Podcast
Outside's longstanding literary storytelling tradition comes to life in audio with features that will both entertain and inform listeners. We launched in March 2016 with our first series, Science of Survival, and have since expanded our show to offer a range of story formats, including reports from our correspondents in the field and interviews with the biggest figures in sports, adventure, and the outdoors.