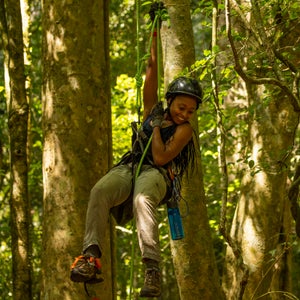 Early in her career, wildlife ecologist Rae Wynn-Grant joined an expedition to Madagascar to track the elusive ring-tailed lemur. But the trip had an unexpected personal outcome: it convinced her that this was the work she was meant to do. That was a long time coming for Wynn-Grant, who'd grown up loving TV shows on nature but found herself initially hating her college ecology courses because she felt out of place as a Black woman who'd never been camping and surrounded by people with very different backgrounds. In this episode from the new podcast Going Wild with Dr. Rae Wynn-Grant, she shares the story of how an experience with a lemur helped her find her confidence and her voice.
---
This episode was brought to you by Avocado Green Brands, maker of the 100 percent organic-certified Avocado Mattress, which helps outdoor athletes get the restful sleep they really need. Learn more at avocadomattress.com.
Follow the Outside Podcast
Outside's longstanding literary storytelling tradition comes to life in audio with features that will both entertain and inform listeners. We launched in March 2016 with our first series, Science of Survival, and have since expanded our show to offer a range of story formats, including reports from our correspondents in the field and interviews with the biggest figures in sports, adventure, and the outdoors.