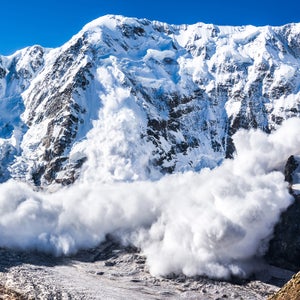 Over two decades of ambitious adventures, elite skier and climber Zahan Billimoria has had some very close calls in the mountains. That doesn't make him unique. What does is his passionate belief that we all have a lot to learn about the true meaning of risk. As the founder of Samsara Experience, a training program for outdoor athletes, he's developed an approach to safety that instills a crucial caveat: danger is inevitable, and it's ultimately up to each individual to decide how much exposure they can handle.
---
This episode is brought to you by Tracksmith, maker of high-performance products for amateur athletes striving to be their best. Learn more about its No Days Off collection, designed for winter training, at tracksmith.com.
Podcast Transcript
Editor's Note: Transcriptions of episodes of the Outside Podcast are created with a mix of speech recognition software and human transcribers, and may contain some grammatical errors or slight deviations from the audio.
[advertisement] 
Michael Roberts: From Outside Magazine, this is the Outside podcast.
Zahan Billimoria: If you haven't been in an avalanche but you've been in a river, you can imagine that feeling of just getting overwhelmed by the force of the water. And that's a lot of what it was like. 
I smacked into this buttress like some rock that was right in the line of fire, and when I did that, the whole mental picture changed of like, 'I've got this, I'm fighting, I'm fighting. I might win this battle to just feeling like, 'no, now I'm just getting battered around.'
And then I felt the full force of the avalanche just engulf me. 
And I felt like, you know, the fight in me just evaporated. 
And I felt my body kinda go limp. My muscles relax.
And I remember in that moment making peace with death and being in a state where, 'hey, I fought like I tried…And it's time to say goodbye.' Say goodbye to my wife. Say goodbye to my kids. And just make peace with the fact that. It was over after so many close calls. This was the one that I wasn't going to survive. 
Michael: This is the story of Zahan Billimoria. He goes by Z. He's a mountain guide and the founder of Samsara Experience, a training program for outdoor athletes. He's also a husband and a father. Over nearly two decades of ambitious adventures, he has had some very close calls. That doesn't make Z unique. What does is his passionate belief that all of us, especially elite athletes like him, have a lot to learn about the true meaning of risk.
Producer Cat Jaffee brings us this piece, which explores Z's fascinating journey, and how he ended up pushing for a new approach to the dangers of mountain sports.  
Cat Jaffee: At first glance, Z doesn't appear like he's constantly thinking about risk. When he speaks, his shoulders are relaxed. He's got muscular knuckles. A leathery face. He looks and talks like an extremely fit dad. 
Z: Ok sweet. Let's go. I'm all in.
Cat: I know the type. They're that person who flys up the skin-track in the backcountry. The one who passes you so fast, it takes minutes to realize it's your next-door neighbor.
And yet, as much as Z is the super fast dad next door, in a way, he's become an ambassador for the idea that traveling in steep alpine territory means accepting danger, and with it, the possibility that you might die. 
For people seeking challenging objectives in the mountains, Z is trying to meet them at the gateway. And unlike so many hardened veterans, he's not cautioning them to avoid possible danger. Instead, he's doing something that some people might disagree with: he's training ambitious athletes to go bigger through determining their own risk.
What I wanted to understand is why? 
Cat: Z's story starts in 1977. He was born to Indian parents in London. Then when he was five, he moved to Switzerland. The rest of his youth was spent trying to go deeper and higher into the Alps. And dreaming of a future in North America's Rocky Mountains.
Z: As an English speaker and an immigrant in Switzerland, I read a lot of the ski media from the U.S. mostly, and I have these vivid images of my wall as a kid plastered with these cutouts from powder magazine photos of Wade McCoy of Doug Coombs just launching into Corbett's on a really stormy and cloudy day. And I just always had this sense that I've got to get to Jackson. Jackson is just this mythical place that has all these elements that just spoke to what I felt the mountains and adventure would be all about. 
Cat: Life in the Teton Range in Wyoming was part one of Z's dreams. Part two, was becoming a professional mountain guide. So when he graduated high school, his parents gave him a special gift: a day in Chamonix with his idol.  
Z: Christophe Profit, he was a legendary French mountain guide. And he had come back from K2. And I knew that he worked as a guide for the Bureau, the big company de guide in Chamonix. And that day sealed the deal for me. I was probably 17 or 18. 
And when we met at the bottom of the tram, the first thing he did is, he wanted to look inside my pack because I had it full of stuff. I was so ready. And he was like, "No, you don't need this, you don't need this. You don't need this. And he was like, "Where are your sunglasses?" And I was like, Yeah, "I don't have those." And I remember him turning to anybody and asking for a pair of sunglasses, and they were like, "Oh my gosh, it's Christophe" and some friend of his lent him a pair of sunglasses. 
We went into the mountains. We had an amazing day, and what I remember the most was just how easy everything was for him. There was no stress. There was no wasted energy. There was just this ease about his movements and about his planning. His whole process was just like all about flow in the mountains. 
I just remember that day, so clearly we ended up having a coffee at the end of the day at this little hut. And I knew that this had to be my trajectory. So that was one of those days that really crystallized that vision in my mind. 
Cat: Z moved to the U.S. to attend Gordon College in Massachusetts. He studied economics and Spanish, and met his future wife, Kim Bogart. They graduated in 2001, and two years later, headed West, landing in Driggs, Idaho, just on the other side of Teton Pass from Jackson. 
Z: Kim and I moved out in our pickup truck  with a little bit of climbing gear, some skis. And we just found our way into life in this mountain community and I've never really looked back.
Cat: Z got a job as an apprentice mechanic. Then a Spanish teacher. And eventually, he was hired as a guide at a local shop. After his first son was born in 2008, Z was eager to progress his career. He had his eyes on a position with Exum Guides, which is based in Jackson and one of the world's premier climbing services. In 2009, he received an invitation to join their team.
As Z expanded his experiences and skills, he also endured his first significant mountain tragedy. In 2010, his best friend and climbing partner Wray Landon died in an avalanche. A few years later, two other members of the Jackson community perished in a slide. 
With each loss, Z was struck by the titanic consequences of going big in the mountains. Here he was. Holding down multiple jobs. Helping Kim raise their son and their new baby daughter. And then still frequently heading into high-risk backcountry environments. 
Cat: In addition to guiding, he'd begun working with the action sports film company Teton Gravity Research, often known as TGR. Z had become someone you call if you wanted to try something difficult. 
Z: I was in the peak of my career. I was working really closely with TGR. And that really put the work that I was doing on this big screen. And it started attaching my name to these people who were just legends in the world of big mountain skiing and writing. And during that time, my phone would ring off the hook with people who only wanted to ski the biggest, gnarliest things in the Tetons. 
Cat: His response was to double down his work as an educator. With Exum, Z had guided skiers and climbers of all skill levels. But as his public profile took off, many of the people requesting him already had experience and talent. What they needed was support getting to the next level. 
So in 2013, Z launched the Big Mountain Snow Safety Program, which he designed for experienced backcountry athletes.
Z: At first, I thought it was a total dream. But, then I really started realizing that, like my whole career now started depending on doing these really high risk things. And through that, I also had very close friends who also started becoming clients, people who were partners in the mountains, but then wanted to do certain things that maybe they weren't quite ready to sign-off on their own. And that's really the crew that I was planning to ski with in May when the accident happened. 
Cat: The accident he's talking about happened in May of 2015. Z and three other dads, Stephen Adamson, Luke Lynch, and Brook Yeomans all wanted to celebrate Brook's upcoming 37th birthday. Z had recently guided Stephen and Luke on a successful ski descent of the Grand. This time, they'd all head out as friends. They targeted a steep gully on Mount Moran called the Sickle Couloir. They'd have to cross Jackson lake to get there. 
Z: Luke, our friend had a boat and he really wanted to like, tie the boat into the ski mission. And that was pretty sweet because crossing the lake takes a long time. The lake was open, the ice was gone. So we cast off in the early morning hours and puttered out in his little boat out to the bay and started rallying up the Sickle. And it was just, you know, a good old fashioned dad's day out. We were just all hamming it up and, you know, chatting about our families and having a great morning.
Cat: If you look directly at Mount Moran, the Sickle Couloir resembles a white narrow hockey stick of snow, with rocks on either side. The slope ranges between 45 and 50 degrees and it's a steep 5,000 ft climb up the Northeast face. The day of their expedition, it was drizzling. Recently, the range had received nearly a foot of snow. 
Z: When we got into the Sickle basin, we found the remnants of a very recent and very large avalanche, a real large avalanche that would destroy homes and things like that. So we scampered across the debris and then our minds flipped the switch because the avalanche hazard had been mitigated because it had already occurred, but the fall and slipping hazard as we started climbing up the bed surface, the old surface that the avalanche left behind that really started to become the primary concern. 
And I remember as we were front pointing up the couloir and it was getting quite steep, you know, we were all talking about the fact of that this could be quite, call it, just "heads-up" type of skiing where you've really got to be on your edges and you've really got to be turn four turn and they can't be any slips. 
And we kind of got to this choke where the couloir funnels. And as we go to the choke, we're, you know, we're probably a bit on the move for two or three hours. And we probably had, I'm guessing here, but maybe like 2000 feet left to go. And so we thought, Hey, let's just take a quick sip of water. And then we'll punch it to the top. 
But I remember looking up thinking this is not traditionally a place where I would hang out. And then I remember thinking, 'Well, if you wouldn't hang out here, do you want to even be here? Moving or not moving?' 
So I remember taking a brief moment to sort of take stock of the hazards and to reckon with, you know what, what things could go wrong and ultimately felt that no, this is reasonable, even though this is a steep place. 
And no sooner had we stopped than I looked up because I heard this hissing sound. It sounded like a snake almost. And I looked up and it was foggy and there was this very slow but evident little snake of snow just meandering its way down above us. 
And we were all congregated together, we were probably all within ten or 12 feet of one another? And I remember saying, 'heads up, boys.' There wasn't really time to move. And my concern level was actually really quite low because the snow that I could see moving was so little. And so I remember taking one step to the left. And just kind of putting my head down. And I just braced for impact.
And I remember when the snow hit me, I immediately had this sense of relief because it hit my right boot, but it didn't hit my left boot. So my brain was like, 'hey, it's small. No big deal.' 
And then I looked up or I looked sideways because the guys were all to my right and they had all vanished.
I remember thinking, strange as it sounds, I really remember thinking that somebody was playing a trick on me like it was a joke. Because we were just in the middle of conversation. My brain wasn't able to process that moment. I had a real sense of panic because I really just didn't understand what had happened, but by then I had processed that the snow had clearly knocked them off their feet and it had knocked all three of them.
I just turned around, I had my crampons on and I ran straight back down the couloir, and I really I wonder what that would have looked like because it's really steep, it's very icy. I don't fully recall all of how that happened, but I just remember I was like I got to go find the boys.
As I approached the basin I could see this, this person I couldn't tell who was, and they were moving horizontally across my line of sight and I hollered. And he hollered back and it was Brooke. He's like, 'I'm alright, I'm good.' And I was like, OK, one one accounted for. And I think we communicated as I approached the boys. 
And when we got to the boys. They were together. Stephen had very labored breathing. And Luke had no obvious signs of life. 
Small little amounts of snow were accumulating on the rocks at the very top of the mountain and on the northeast face and on these slabby sections of the Upper Mountain and the mountain wasn't able to hold even just a little bit. Every couple of minutes you'd get these pulses where it would just flushed down and they weren't fatal or all that powerful down where we were. But we certainly were not going to be able to take care of the guys there and. 
You know, Brooke was also quite injured and. Luke didn't have a pulse and he wasn't breathing. So we did what we could for Luke. But we had to come to terms with the fact that we weren't going to be able to save him. So we had to accept that. And we had to really focus our energies on Stephen. And so we moved Steven into a safe place and he continued to have labored breathing. We monitored his symptoms, we kept him warm, and at that point we waited for a rescue. 
Cat: A rescue helicopter arrived quickly. But both Luke, a father of three; and Stephen, a father of two did not survive the slide. 
Following the accident, the families of Jackson Hole felt an overwhelming loss. For some, the list of young men who had died in the mountains in recent years had simply grown too long. 
Ted Kerasote, a longtime resident and well-known outdoor author, published an op-ed in The Jackson Hole News, writing that, "Sometimes, not even stepping into our bindings is the best, but hardest choice of all." It was time, he argued, to stop taking so many risks. 
So Z stopped. At least, for a little while.
[advertisement]
Cat: After hearing Z's account of the accident on the Sickle Couloir, I asked him, why did he keep going into the mountains to attempt big routes?
Za: At first I didn't keep going, actually. I took a long time to figure out what was next. I had a client who I was close with, and, when he learned what I went through, he wrote me a check that would cover about the next month of wages, maybe a month and a half. And I was like, 'all right, I'm going to take a break.' So I really did. I took a long time off. I took weeks where I didn't even want to look at the mountains. I didn't want to talk about the mountains. Lot of figuring out to do. 
You know, and I don't think I've ever returned to be the same person and have the same hunger for risk as I did before that. And now it's, you know, seven years later, I'm really happy about that. Like it wouldn't honor the experience that I had. And the lives that were lost if I just was on this quest to like, get back, you know, and people are people sometimes like, 'do you feel like, are you good now?' I'm like, 'Oh yeah, I'm good, I'm real good.' But like what you, I think you mean is, 'are you back to how you were before?' And I'm like, Hell, no. Hell, no, I'm not back to how I was before, like I don't ever want to.
Z: I look back on that, call it the peak of my guiding career. Holy smokes. Awesome time, epic. So wild. So adventurous. So fun. But I'm like, 'wow, you're so lucky you survived that you made so many mistakes. You had so many close calls, you lost so many friends.' 
And the fact that I get to be forty four…
I'll get to send my first kid… I'll get to send my first son off to college. 
I feel really, really fortunate. You know? Because I've seen so many of my friends who didn't survive to do that. So I feel lucky, you know? And to me, if I feel lucky and I feel fortunate, then you've got to honor that and you can't keep playing the game the same way. 
Cat: Even if Z wasn't playing the game the same way, he was still taking risks. As he saw it, there was just no way to avoid them. So now, he wanted to gain a deeper understanding of what it really meant to accept risk, and to talk candidly with other mountain athletes about it. This is how he ended up making another film with TGR called Solving for Z: A Calculus of Risk, which came out in 2020.
Z: Yeah, the film was supposed to be a retrospective on a chapter in my life when I was really figuring out how you balance the life of being a guide and having this passion for doing dangerous things, with my life as a family. 
And I can now sit back and I've had this accident five years ago at that time. And you know, I can I can process this, these things for a younger generation that um, maybe hasn't had a film that really speaks so honestly about the risk. 
Cat: Then as Z was preparing for production, he was caught in an avalanche. 
Z: As we'd begun climbing, a storm began to brew up. 
It became quite ferocious and started snowing really hard. And it wasn't in the forecast. So it was really outside of what we had really planned on. And, very quickly closed the door to returning the way that we came.
And the descent that we had planned on, which seemed pretty reasonable in the original plan, was now no longer reasonable. The visibility, the avalanche hazard and the combination really of the two and the inability to really look and study the texture of the snow and really understand where those pockets of slab were starting to build it just made it not reasonable. So we had to find a new way to descend the mountain. 
So, piecing it together, I found a way through and got down into much lower angle terrain where the avalanche hazard was much, much less. And so there's a lot of relief actually when we got there. And then there was this final exit couloir, and I think that retrospectively I can really see how that little bit of relief and the how pleasant it is to be in a state of relief after you've been in a state of such high tension, allowed me to move just a touch faster than I should have. 
And I skid right into where the slab was building. 
 And as soon as I triggered it, I felt like, you know, 'OK, this is a mistake, but I got it.' Like, I'm going to survive this thing. It's not overwhelming in its power and I'm at the very, very top of it. So all I've got to do is just arrest on the bed surface for just a split moment. And the remaining snow that's tugging on me will just slide down the mountain and then I'll just be on the bed surface and that'll be all good. But then this avalanche triggered a larger pocket. And when that pocket flowed in now I was in a full blown river of snow. 
And I remember looking down and I could see my fate, because the snow that I was in was smashing into this buttress of rock that was maybe just a couple hundred feet below me. 
And it was curling up like a tsunami and creating this wave where the snow would smash into the rock and then just plow straight up the rock and then curl back down into the debris that was coming in. And I remember thinking, 'fuck, no I'm not going to die this way. I'm not going to die this way.' 
And I remember, just like having to close my eyes and just feel like, 'I don't want to move like I don't want to let go.' 
But I did, you know. And I just exploded and snapped my body up and I flipped onto my right side in the force of coming down as my skis like, cut through the debris. I remember the sensation of my sharp metal edges of the tails of my skis catching the bed surface. And as soon as that happened, I just stood straight-up and accelerated right through the remainder of the debris and just went flying out of the river and braked in the snow before I went full-blown into the cliff that I was in front of. 
And it was over like that was the last of the snow. The avalanche stopped and the world went dead quiet. And then I said something like, 
"I'm okay!"
I'm OK. And I remember I had this sheepish sound of my voice. Like, I just feel like, Wow, what I was. So foolish. 
My first reaction. I told the guys is like, 'Hey, guys, films off I'm out. Can't do this. You know, this is not the film. Like we had a film. We scripted the whole thing and it was going to be great film. But now I went and just botched it, and the film's done.' 
The process of really kind of dealing with that was realizing like, you think you've really scaled your risk down and sure you have, but like, you're still taking so much risk. And so it's not a retrospective, actually, it's a live event right now.
Cat: In the end, Z changed his mind. He continued filming, because he wanted people to witness him processing what had happened.
Z: I can't just sit back in like my recliner and be like, well, way back when when I was an idiot I was making all these mistakes, I was like no, I just made them and I just screwed up. 
And now you get to watch me process my screw ups in real time. So the making of the film was like a great moment in the sense that it really enabled me to grow as a human being and to just be so much more comfortable with my own mistakes and share about them and teach from them and let them be a part of my identity. I'm so much more good with that now. 
Cat: In many ways, Solving for Z is similar to a number of recent films about athletes in extreme mountain environments. Free Solo, The Alpinist, Meru. But while most elite outdoor athletes accept that risk is part of the deal, Z wants them to go a step further.
Z: I want to help prepare that next generation technically, but also to bring a real understanding and a reckoning with risk. You know, in our community, a couple of years ago, we had this big campaign that was called Backcountry Zero and Backcountry Zero was all about creating a campaign to eliminate avalanche fatalities. 
And I was like, "No way, no way. That's a terrible idea." Because it's never going to happen, one. And two, what it does is it suggests that when there are fatalities, you screwed up. It's on you. It's your mistake. You blew it.
Cat: Read the comments section of any report about a backcountry avalanche. You'll see what Z is talking about. 
No matter how tragic the event, people pile on brutal remarks blaming victims for bad decision making. To Z, part of the problem is the belief that we can be totally safe if we do everything just right.  
Z: I think that the way that modern avalanche education prepares people, is to feel that if you're methodical, if you check the boxes, if you do your beacon checks, if you carry your little card, if you, you know, ensure that the red flags aren't present, that you can actually become a master of risk. And I think that's very misleading.
There's a whole generation out there right now of young people who are so athletic and they're so talented and they're so fit and just like me, they're so hungry for adventure.
The avalanche world has left those people behind. 
Cat: This is why he designed his Big Mountain Snow Safety Program. 
Z works with small groups of experienced backcountry skiers and climbers. And he tiptoes them into situations in the mountains where they need to make decisions about potentially deadly hazards. Technical teachings, group management, communication, and snow science are all big components. But Z stresses to his students that they will make mistakes. And when they do, he wants them to have a process for handling what happens next.
Z: The reality is that we are all blowing it so often in the mountains. We just aren't all paying the price. 
And that's the thing with the mountains is they're not fair. It's not a perfect feedback loop. You don't get told every time you screwed up. It's not like grade school. You might make terrible decisions and survive them, and you might make such a small mistake and not survive it. It's not a one for one deal. And that's the thing with the mountains is they just don't care. 
You know, because I look back and I see that younger version of myself and I see what a dark art it is. And My interest in what I hope to make as a contribution is to that young skier who and rider who knows and is coming to terms with the fact that they are choosing risk. They want risk in their life
And I'm not interested in fueling that quest for risk. I'm probably much more interested in temporing it. And, I'm really interested in making sure that those people don't go figure it out by themselves.
Cat: Z's desire to push for honest dialogue and structured education that focuses on risk may not seem particularly controversial. But there's an argument to be made that some things shouldn't be taught. By offering a course on how to navigate dangerous environments, Z might be encouraging his students to seek out places where they shouldn't go.
Not surprisingly. Z doesn't see it that way. 
Z: I'll never say that that's too risky. Allow humans to have a place where they can go out and choose what's acceptable risk in the context of their party and their friends and the community that they share that with and go and push the boundaries and evolve and grow the sport and explore the mountains and do amazing things. 
Risk tolerance should never be normative. There should be no acceptable norm for what your risk is and your risk is and your risk is, and nobody should get to decide that. 
Cat: I'm not sure I completely agree with Z. I do think some things are too risky. 
But, I see his point. Speaking personally, I tend to forget about the risks that remain even when I feel like I'm making the safest choices available. While I was working on this piece, I went on a casual ski tour in Colorado's San Juan Mountains, where I live. I was with my friend Dave. We're both experienced skiers. We ran beacon checks, and avalanche risk was low. 
It was a bluebird day. The last storm was two weeks behind us and the snow was like icy concrete. We followed a well-hardened skin track up the slope, staying well below treeline. Then we skied through a tight forest for our return. 
Back at our cars, which we'd parked in an icy lot, we removed our ski boots next to my van. 
Then, out of nowhere, Dave's parked car suddenly started sliding backwards off the road towards a steep cliff. All on its own. Dave bolted after his car. Thankfully it slowed to a stop. 
Later, I found myself thinking that people like me try to make the choices that don't feel risky at all. But often, they still can mean trouble. 
And for those who want to push farther, because it calls to them, Z will be there to talk them through it. 
Michael: You can learn more about Zahan Billimoria's Snow Safety courses on the website of his training program, SamsaraExperience.com; Samsara is S-A-M-S-A-R-A.
This episode was written and produced by Cat Jaffee. She's the founder of House of Pod, an audio-focused production company in Colorado. Editing by me, Michael Roberts. Original music by Robbie Carver.
This episode was brought to you by Tracksmith, a proudly independent running brand that makes high-performance products for amatuer athletes striving to be their best. Their No Days Off collection is exactly what you need for winter training. Check it out at tracksmith.com.
The Outside Podcast is made possible by our Outside+ members. Learn more about all the benefits of membership at outsideonline.com/podplus. Also, we're offering new members a 25% discount. Just enter the code pod25 at checkout. 
Follow the Outside Podcast
Outside's longstanding literary storytelling tradition comes to life in audio with features that will both entertain and inform listeners. We launched in March 2016 with our first series, Science of Survival, and have since expanded our show to offer a range of story formats, including reports from our correspondents in the field and interviews with the biggest figures in sports, adventure, and the outdoors.