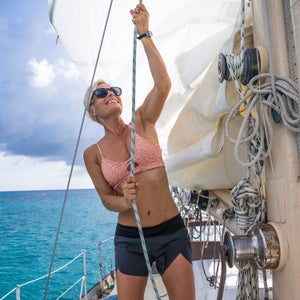 She was one of the world's best big-mountain freeskiers—and then, suddenly, she decided she was done. Angel Collinson's announcement shocked the sport and left fans wondering what was going on. The fact that she'd started living full-time on a sailboat with her partner, and without and solid plans for what was next, only made people more curious. As Collinson, 29, tells it, after more than a decade of ripping down insanely steep slopes, trying to "make friends" with her  fear, she began to question whether the thrill-seeking habit she'd fallen in love was actually good for her.
Follow the Outside Podcast
Outside's longstanding literary storytelling tradition comes to life in audio with features that will both entertain and inform listeners. We launched in March 2016 with our first series, Science of Survival, and have since expanded our show to offer a range of story formats, including reports from our correspondents in the field and interviews with the biggest figures in sports, adventure, and the outdoors.