LOGE Camps Is Flipping Forgotten Motels into Basecamps for Outdoor Lovers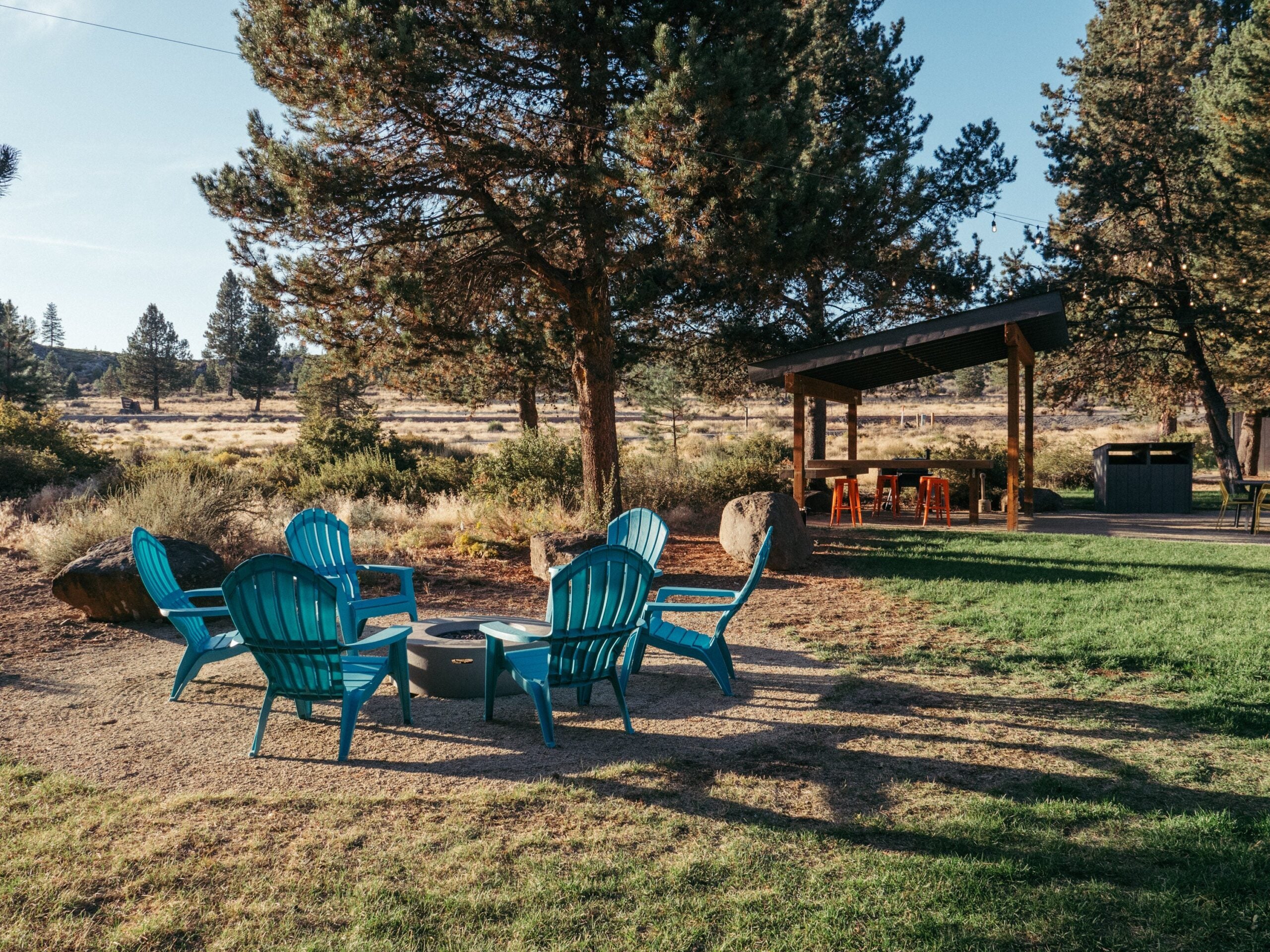 Heading out the door? Read this article on the new Outside+ app available now on iOS devices for members! Download the app.
Within an hour of disembarking a small plane at the Redmond Municipal Airport near Bend, Oregon, I find myself in the woods at the front desk of my hotel, Loge Camps, for the weekend. Except it doesn't feel like a hotel. There's a cafe and bar, where a group of mountain bikers line up for happy hour. A golden retriever naps while his owner reads in the sitting area lit by sunshine streaming through floor-to-ceiling windows. On the front lawn, friends gather in Adirondack chairs with drinks in hand. On the back patio, two people wearing trucker hats stay warm by a fire pit. A rack under the front awning is packed with mountain bikes, which you can rent from the connected gear shop. Folk music plays over the speakers. It feels more like I've arrived at an outdoorsy friend's mountain cabin and I can't wait to explore.
I find my room in a building steps away from another community fire pit and picnic area. I open the tangerine orange door to find a Kammok hammock suspended from the ceiling, a Yeti cooler as my coffee table, MiiR mugs perched on a shelf, and a Rumpl blanket hanging from a bike rack—things I didn't know I needed for my stay, but am allowed to borrow or buy. During my two-night visit, I run on a trail on the surrounding trail system; I visit Mt. Bachelor, a 20-minute drive up the road; I meet several mountain bikers and a couple from Portland who drove the hour south for a concert; and I spend a few hours watching live music on the lawn, where Patagonia Provisions' handed out free pints of beer and nachos.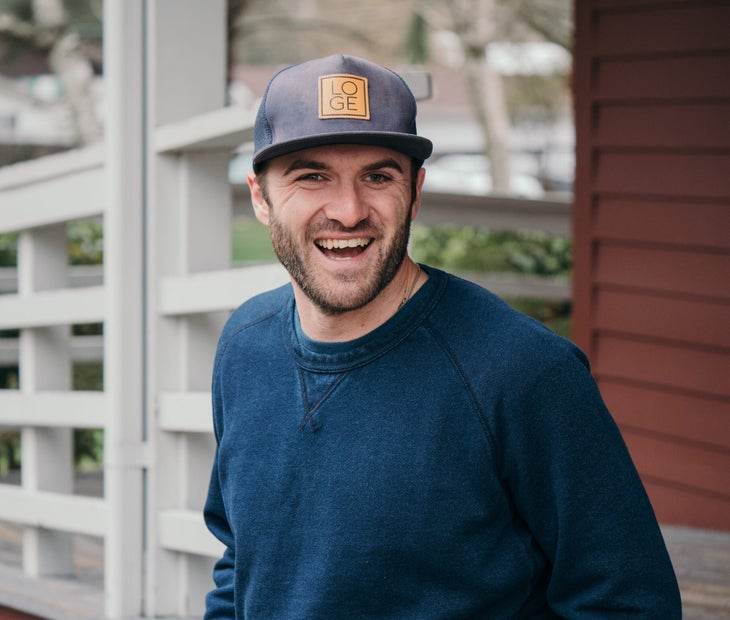 It wasn't the lonely, far-away-from-home hotel experience I'm used to and I found myself scheming trips to the other five locations in the West.
Loge (pronounced "lodge") has only been around since May 2017—its first project was renovating a midcentury motel in Westport, Washington. Each of Loge's six locations offer hostel bunks and regular rooms ($45-$190), free city cruiser bikes and gear rentals, a slew of events, and community spaces. But they also have their own special amenities: Westport has a campground and wetsuit drying room; Bend has ski lockers; Leavenworth, Washington has an avalanche gear demo center; Breckenridge has a shuttle service to the ski resort; and the newest site, Mt. Shasta, California, will soon have a game room.
With more locations planned and the potential for more brand partners, I talked to co-founder Johannes Ariens about his inspiration, what he means by "host like a friend," opportunities for gear makers, and what he's learned about the evolving outdoor consumer. An edited version of the conversation is below.
What role do you think your boutique hotel plays in the outdoor space?
We call what we do "hacking the local experience." By staying at our locations, you can feel like you're part of the town's community. All our events are totally free and open to the community. We actively promote them to get locals onto our site. You are who you hang out with and if locals are around, you're going to start talking to them. That's going to help you understand that community a little better.
In the lodging business, you are almost always putting people up who don't live in town, but are there to use resources of that place. The town's assets and resources are pressed pretty hard, but are not supported by the visitors pressing them hard because they aren't local. The locals are paying for it with their taxes. But trails are an essential part of us being a successful business, so we actively give back. In Bend, 1 percent of our top line revenue from that property goes to Central Oregon Trail Alliance, who does the mountain bike trail maintenance and building for the region. Being able to engage our customers in that giving back process creates a better balance relative to resource allocation.
How big a factor does location play into your business model?
It's as much of a science as it is an art. We figure out where people are going 20 times a year to ride their mountain bikes or go surfing. Most people are recreating near their houses, outside major metros, not in luxury places like Jackson and Whistler. Those markets are expensive and have become unattainable for many users. So we focus on the places that are heavily used by the greater recreation and outdoor community, but aren't really well served. Maybe they're old mining or logging or fishing towns that are creating a new identity for themselves, and they're places people are pretty familiar with. Ten to 15 years ago, they maybe would've had a second home there. But our primary consumer is currently a 25-year-old who isn't interested in owning much of anything, let alone a first or second home.
In what ways is Loge sustainable?
We're not in the business of creating markets. We go into markets that are already working or are early, and figure out what size place we can put there that will actually work and won't be outsized or undersized. In most of these markets, there actually happen to be quite a few underperforming places and the current owners are excited to do a deal when we show up. Yeah, the building may be be outdated. But why should we build from the ground up when we can repurpose the buildings and create a business that performs just as well? It's shorter period of renovation time, drastically less expensive, and insanely less environmental impact from a building materials and waste perspective.
To run a place like that effectively for the long haul, you have to keep your model pretty lean. That's why when you stay at one of our places, it's not a fully inclusive, super high service experience. Ultimately if you go to this place 20 times a year, do you really need that? We refer to the idea "host like a friend." With Loge, people can feel like they have a second home, but they're not strapped down. Once you've been to one of our locations and you understand what you're getting, you suddenly have all these places all over where you can feel very comfortable.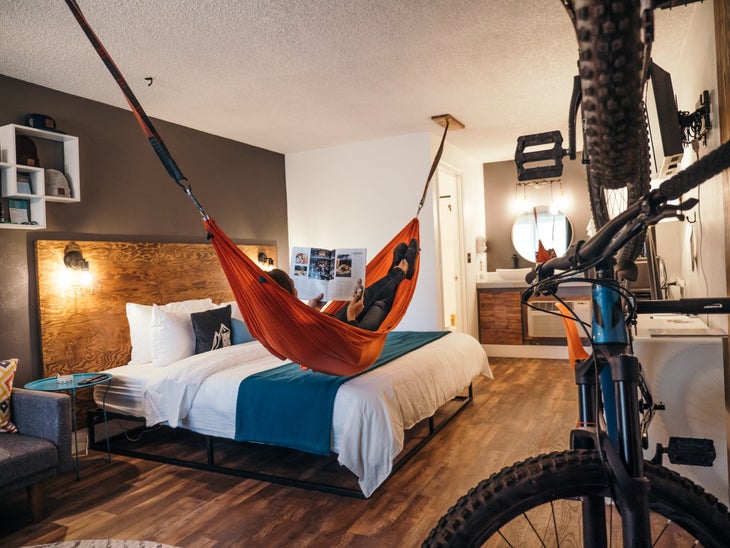 What have you learned about retail and consumers by placing outdoor gear in rooms? Does it lead to purchases?
You do not need a place to have a transaction. Does that mean I think brick and mortar is gone? Not at all. I think they become experience centers. One of the originals is Starbucks. Before Starbucks, no one needed a $7 coffee. And they still don't. You're not paying for the taste in almost all cases. You're paying for the experience, for what that does for your identity. Maybe that that barista knows you or it's part of your routine or it's part of how you spoil yourself. But you're not buying coffee, you're buying the experience.
Our primary focus isn't purchases, it's getting our partner brands close to customers. If you're not figuring out how to create a meaningful relationship with them through an experiential channel in a way not everyone else is doing, you're going to really struggle. So, at Loge, you can go live with a customer in their room. We lock people in rooms with your product and your story and they get to be with you in a non-transactional environment. You're never going to get that from a Facebook ad.
What's required for brands to get in Loge?
If you want to be in a room with a customer, our customer has to open their door and the first thing they need to think is, "Awesome, sweet, I'm so glad this Yeti cooler is here. I can use it this weekend on my adventures." But we don't want our customer to feel like they're staying in REI. That's not what they signed up for and we have to respect that. The place you sleep is actually, from a basic human needs perspective, very intimate. People are super sensitive about stuff you put in rooms, kind of like how people feel about food. It has to be value added to our customer. We start there and that knocks out a lot of folks.
During my stay, I saw a lot of different kinds of people—families, older folks. Have the demographics surprised you?
Yes, in the best way. Yeah, we have a lot of mountain bikers, but we also have a lot of people who just want to be around a healthy environment and don't care to spend money on luxury. When you look at the wellness world, it's heavily dominated by luxury brands. At some point that's gotta transition. We really see ourselves apart of that. Our customers could easily afford a $300 hotel room, but they'd rather spend $150 for a room at Loge and save for a $7,000 mountain bike.
Our older demographic thinks loge is a cool place to hang out because it might have a bunch of younger folks around that are doing good things with their lives and they don't need room service. They want to be around other people who give a damn about getting outside, the environment and their health. Then, young families have been amazing. We just did not see that coming, but it totally makes sense in hindsight. For example, post-college couples have some disposable income and they have a kid, which kind of took them away from what they used to do before they had a kid, which was go mountain biking and hiking all the time. It's such a sustainable client base.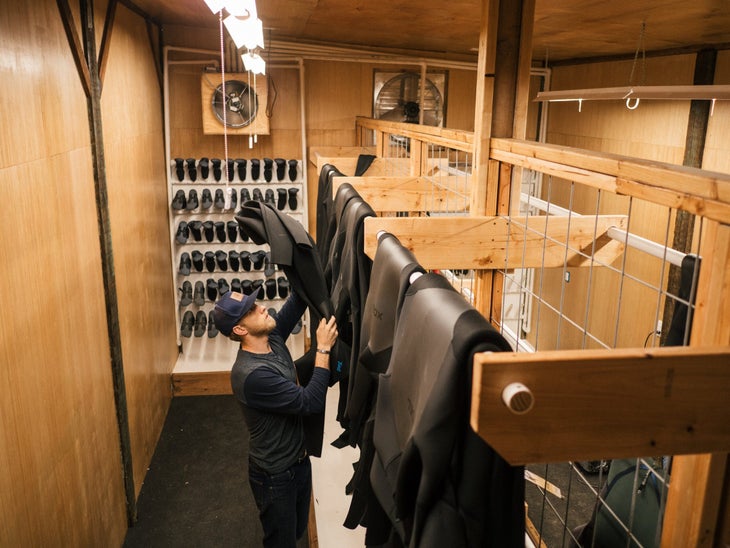 Each location has unique features. But when you start expanding, how will you keep them from feeling mass-produced or corporate?
There's certain things—our line item amenities—that we're going to repeat everywhere because people like them and expect them. For instance, a ski rack or bike rack or boot dryers in rooms. Why wouldn't we do that? There isn't any other hotel doing that consistently, so that's why someone wants to stay with us over some random place. If they stay at some other random place, they don't know if they're going to get that.
But from an overall experience perspective, people want uniqueness. All of our places are in different regions and they have different quirks. Part of how we design is taking each unique place into account. We take on midcentury motels that are already funky, so we figure out that weirdness about them and double down on it.
What else was part of the initial vision that you haven't executed yet but are still hoping to?
Where we see a tremendous amount of opportunity is in community-building efforts. We're working on a membership and loyalty program. We did a season pass program that we want to ramp up with the next release. It would be a way for folks to travel from property to property. We're continuing to build out our athlete and squad programs. Beyond being an outdoorsy boutique hotel, we want to be a place where the outdoor community can come together on a regular basis.
A Glimpse at Loge's Six Properties
Loge Bend is nestled in a forest of pine trees, only 15 minutes from downtown and 20 minutes from Mt. Bachelor.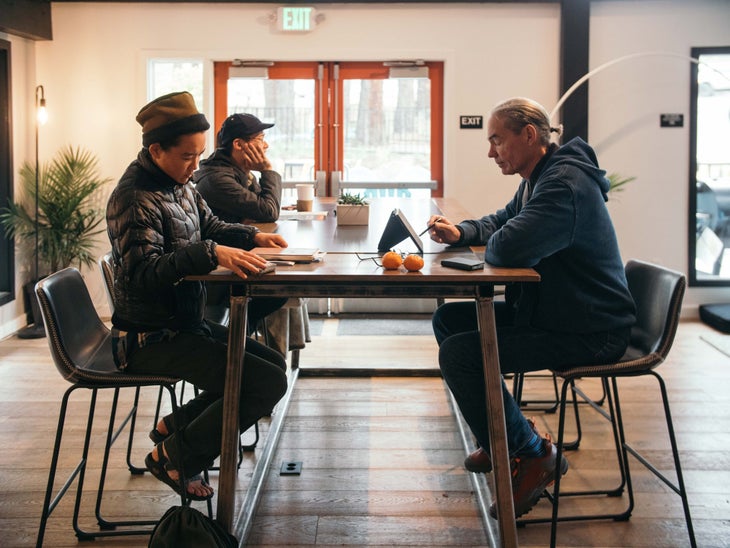 WiFi is complementary at all locations.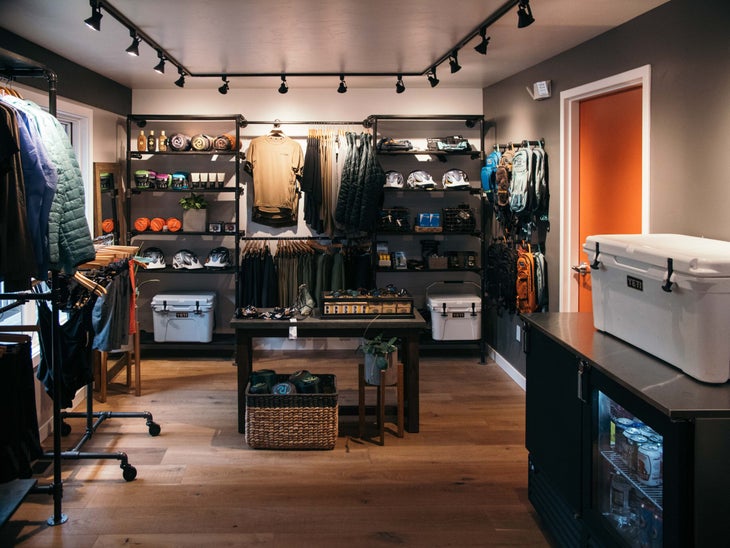 At Loge Bend, guests can rent and buy gear at the onsite retail shop.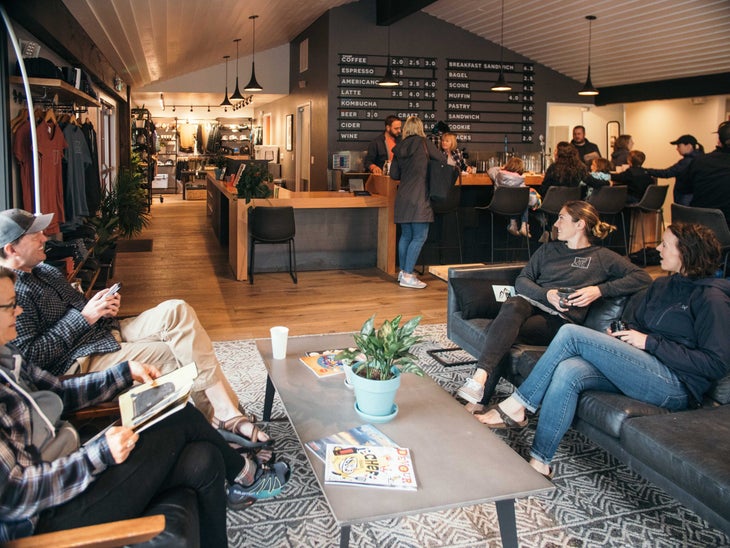 The cafe and bar at Loge Bend serves coffee and pastries by day, and wine and beer by night.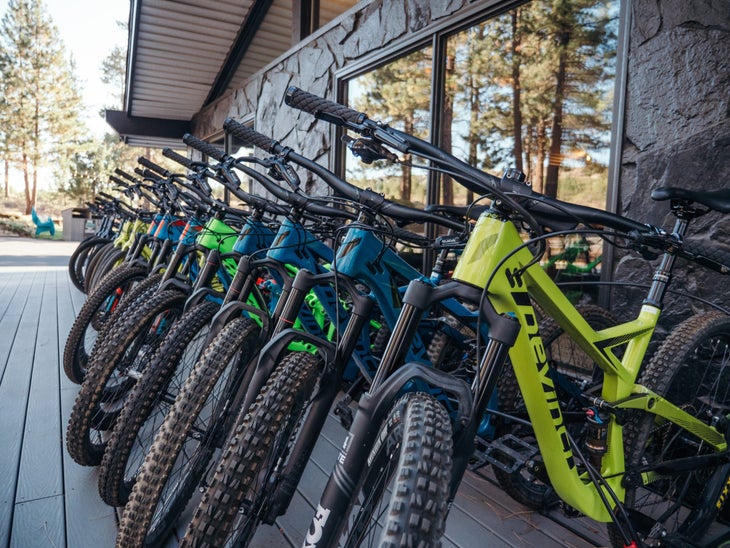 A fleet of mountain bikes are frequently reserved at Loge Bend.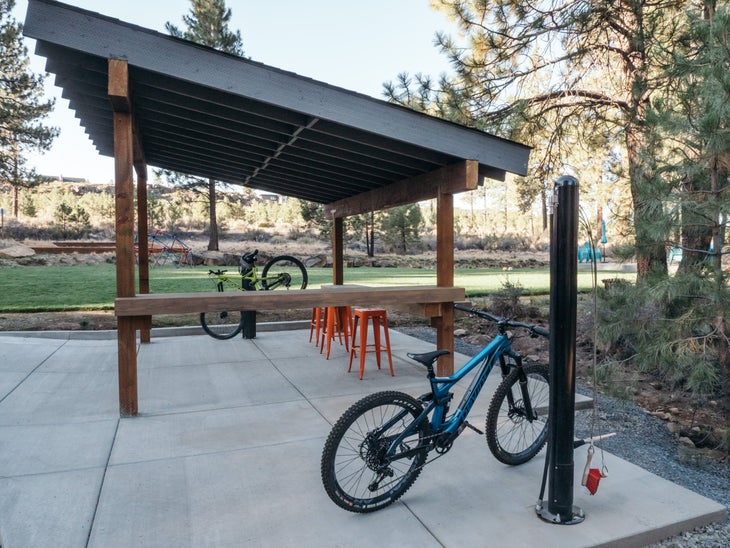 A bike maintenance stations sits adjacent to Loge Bend's grassy area, where musicians play every weekend.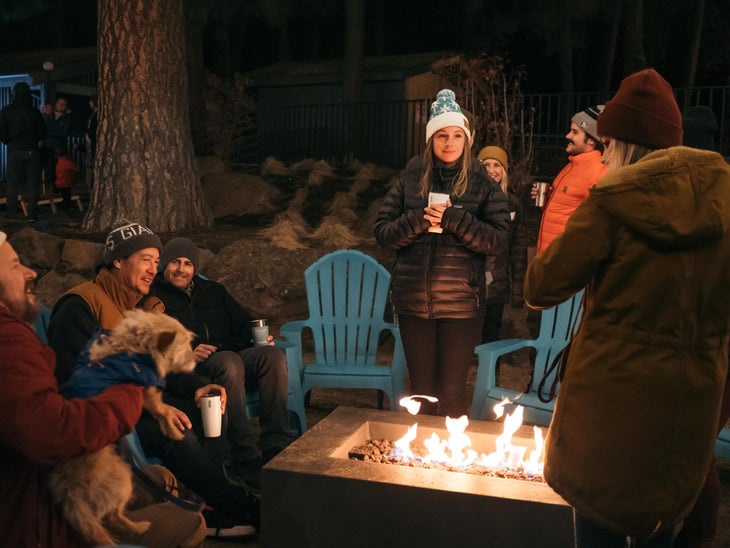 Community fire pits are a mainstay at all locations.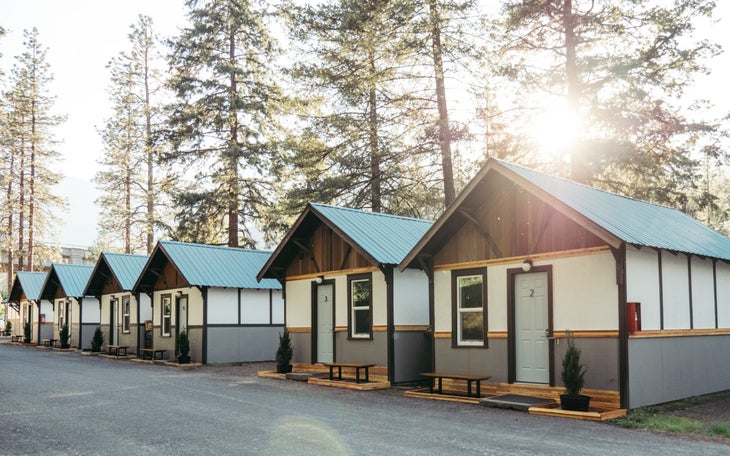 In addition to rooms and hostel bunks, Loge Leavenworth has cabins with views of the river.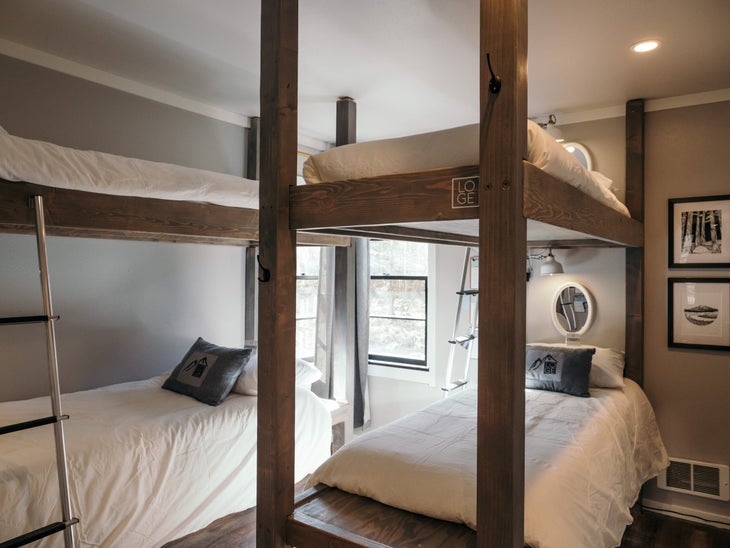 Every location offers hostel bunks, a shared space for only $45.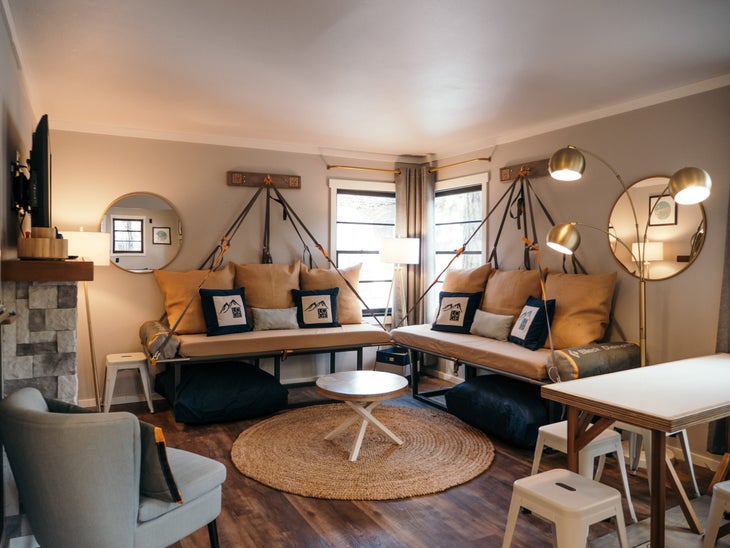 Yellow and gray are the accent colors at Loge Leavenworth.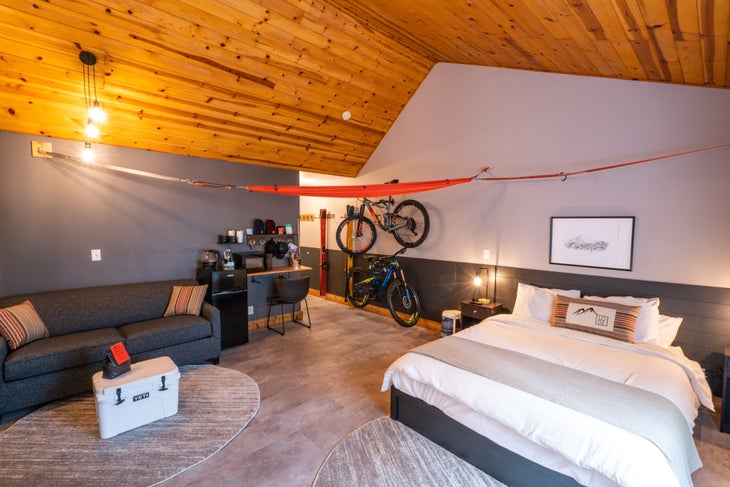 Loge Mt. Shasta is the boutique hotel's newest location.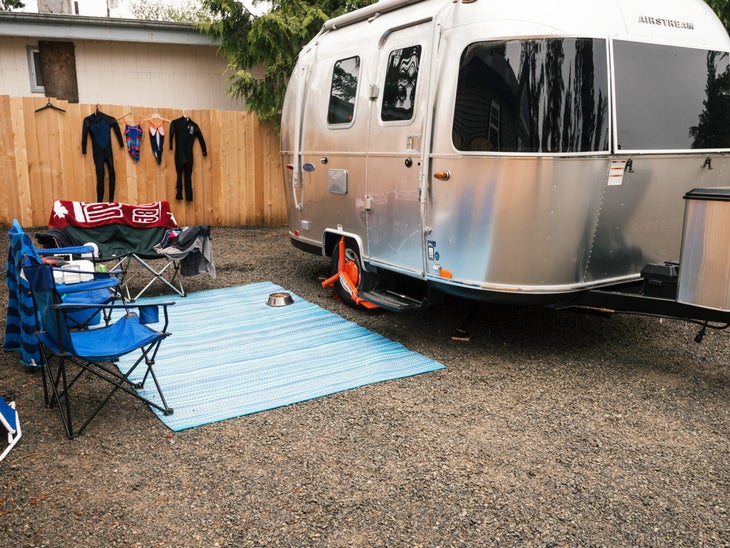 Campsites and RV hookups are available at Loge Westport and Loge Mt. Shasta.
Trending on Outside Online