The Colorado Tops the List of the Ten Most Endangered Rivers
Mined, dammed, and sucked dry: The annual list of of the country's most endangered waterways is out—and it isn't pretty.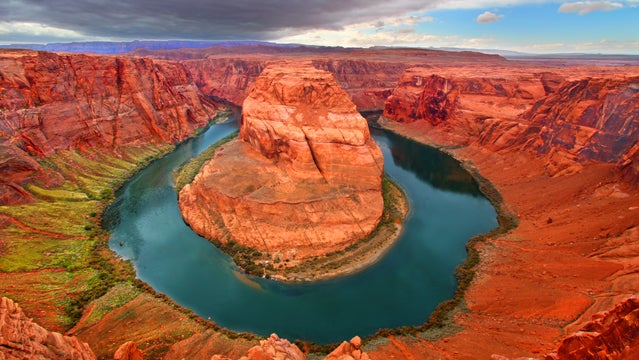 Jason Patrick Ross/Shutterstock.(Photo)
Heading out the door? Read this article on the new Outside+ app available now on iOS devices for members! Download the app.
The Colorado River has been in serious periil—from pollution, depletion, and mismanagement—for many decades. Now, with 36 million people and 15 percent of U.S. crops relying on its water, and with a changing climate likely to slow its flow by 30 percent by 2050, the river is at a crossroads. That's why American Rivers placed the mighty Colorado at the top of its 2013 Most Endangered Rivers list, an annual inventory of the nation's waterways released today.
"It's time to start thinking about how we can better manage this massive river system," says Molly Mugglestone, spokesperson for Protect the Flows, a coalition of small-business owners who rely on the recreation economy based on the Colorado River. "Our primary focus is to engage decision-makers on smart, 21st Century innovation that prioritize water conservation."
American Rivers creates the list each year based on a nominations process. It considers climate change, the number of communities that rely on the river, as well as whether the river's management is facing a proposed legislative action.
As with the Colorado, outdated and wasteful water management practices represent the main threat faced by the second, third, and forth rivers on the list: Michigan's Flint River, the San Saba River in Texas and Wisconsin's Little Plover River.
Mining extraction is the chief threat among the remaining rivers on the list. The Catawba River in North and South Carolina, for example, makes the list due to concerns over coal-ash pollution. The Boundary Waters Canoe Area Wilderness in Minnesota is listed due to proposed nickel and copper mines near the South Kawishiwi River. Wastewater from a proposed coal mine near the Mulberry Fork of Alabama's Black Warrior River prompted its inclusion. The list goes on.
The legacy of damming prompted the addition of Nebraska's Niobrara River, a Wild and Scenic River. Sediment backing up in the upper reaches of Lewis and Clark Lake behind the Missouri River's Gavins Point Dam is overwhelming the Lower Niobrara and, says American Rivers, "Threatening local communities with flooding."
Special mention was also given to California's Merced River, whose Wild and Scenic designation American Rivers is fighting to keep. Lifting the designation would allow a proposal to raise the upriver New Exchequer dam. This would cause flooding, says the group, in a portion of the river home to endangered species, setting a dangerous precedent to weaken the Wild and Scenic designation on other rivers.
Overuse is perhaps the most sinister problem. A Bureau of Reclamation study of the Colorado River Basin completed in December found that the demand for Colorado River water will exceed supply by 3.2 million acre-feet by 2060. (To put that in perspective, a single household generally consumes one acre-foot over the course of a year.) The best means for righting this imbalance is to begin aggressively conserving water at an infrastructure level.
As part of a major initiative to mitigate growing water deficits across the country, the Bureau and the U.S. Geological Survey are working on a number of water conservation programs, including WaterSMART and Title XVI Water Reclamation and Reuse. Conservation groups like Protect Our Flows are hoping that exposing the supply and demand problems on the Colorado will drum up dwindling financial support for those programs. In 2011, for example, $61.4 million was allocated for WaterSMART. It dropped to just under $50 million last year, and $38.3 is being sought for 2014.
"We want to see more money put in those programs but that's probably not realistic, given budget constraints, so we're pushing to keep funding level, at least," says Mugglestone.
Urban and agricultural water consumption are key focus areas for conservations. Mugglestone says programs in which residents are given monetary incentives to get rid of their lawns, such as the one employed in Las Vegas, prove the potential for large-scale savings. "It's not one person turning the tap off," she says, "It's a policy-level change." she says. She adds that retrofitting large residential buildings with things like high efficiency toilets can also lead to significant water savings.
The sport-shops, guiding services, and mountain-town hotels that joined forces to form Protect Our Flows rely on the Colorado River to support their income. In fact, the group sized the recreational economy linked to the Colorado at $26 billion.
World champion freeskier and farmer Alison Gannett says that over-allocation could mean that water for her farm and others near Paonia, Colorado, wouldn't be available for an entire growing season. She says water regulations should be changed to reward agricultural users for conserving water. "If we do that now," she says, "Another farmer can apply to have our 'extra' water permanently, which would wipe us out in a drought season."
Oil and gas developers represent another major demand for water in the Colorado River Basin. "Those that want to drill for oil and gas should have to prove that there is sufficient water before private or public lands are leased for energy extraction," says Gannett. 
Lead Photo: Jason Patrick Ross/Shutterstock.