8 Holiday Yurt Dinners
Not your typical restaurant experience.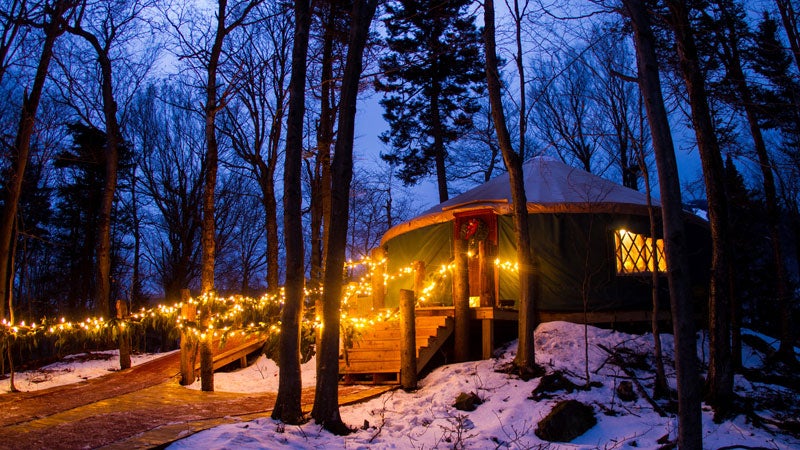 Heading out the door? Read this article on the new Outside+ app available now on iOS devices for members! Download the app.
Yurts—those portable, round, one-room huts that first appeared on the Mongolian steppe centuries ago—are becoming increasingly common in the United States.
But not for calling home. Instead, Americans are embracing the lattice-walled structures as places to escape, to unwind and recharge—for a weekend or even just for an evening.
And although most yurts offer a DIY-approach to getting there (skiing or snowshoeing) and dining (prepare your own meals), some offer sophisticated alternatives, especially when it comes to eating.
From a high peak in Wyoming to the sunny beaches of Malibu, these eight yurts have at least two things in common—they're all secluded, and they all have great food.
---
Baldy Knoll Hut
For the intrepid, the Baldy Knoll Hut is located at 8,800-feet on a ridge between Fox and Game Creek canyons in western Wyoming. Guests must trek 5.5 miles with 2,200 feet of elevation gain to get there.
The yurt is available to rent DIY-style, but guided and catered options are available as well. Guides carry in grub and prepare meals, which include organic greens, wild Alaskan salmon, and chicken asiago sausage over pasta. And dessert, of course: New York cheesecake.
When you're done feasting, hit up the powder right outside your door. Acres of incredible backcountry terrain surround Baldy Knoll, including a traverse through the Tetons and over Housetop Peak to Jackson Hole. 
---
Citrus Orchard Yurt
The average high in Malibu in December is 64 degrees, but it's not just the weather that sets this yurt apart. Situated on an organic farm in California and surrounded by hiking and mountain biking trails, this bed and breakfast bears little resemblance to its relatives up in snow country.
Visitors can rent the yurt overnight or just stay for dinner—which usually entails three courses of organic food picked fresh from surrounding gardens.
Because the yurt is operated primarily as a B&B, guests share their meals with host Bibi Jordan, who says having strangers gathered around a Thanksgiving or Christmas table makes for great storytelling. "It's like being drawn back to the womb," she says. "Round rooms, they're very rare, and there's something about them that is welcoming and comforting." 
---
Ledgewood Yurt
If you're looking for a romantic evening away from the kids, this yurt, located in Killington, Vermont, might be the place for you; with the exception of family nights, Ledgewood requires guests to be at least 21 years old.
To reach the yurt, guests hop aboard a snowcat-drawn sleigh for a 20-minute ride up the mountain. Communal tables and fresh, local food prepared by Chef Greg Lang await. "When you fill the room, the whole ambiance changes," Lang says, noting that a full yurt is 34 people. "Everybody is talking, mingling, introducing each other, some of the tables are talking back and forth; it has a really good feel to it."
---
Magic Meadows Yurt
Situated on a Nordic ski area with more than 30 miles of groomed trails, the Magic Meadows Yurt is open for brunch, lunch, and dinner throughout the winter. The Crested Butte, Colorado, hut can also be booked for private parties.
Roger Sherman, a local who's rented the yurt for family gatherings eight years in a row, says it's the music—his music—that really makes the evenings special. 
Sherman and his band, the Gypsy Jazz Social Club, routinely haul their instruments through the snow during the half-hour ski to the yurt. But the trek is worth it, according to Sherman. "It ties us into some of the more legacy feelings of a ski town, of a community that moves around on skis," he says. "It's like going back to a 19th century, horse-drawn carriage era when people arrived at gatherings on a sleigh or by ski. It pulls you back to the traditional Nordic culture."
---
Montana Dinner Yurt
If a family night is what you're after, check out the Montana Dinner Yurt at Big Sky Resort, Montana.
Hop in either Betsy or Dolly (the two enclosed passenger snowcats) for a 20-minute ride into the backcountry. Hang out under stars—the sledding hill is torch-lit, and a campfire will keep you warm—before heading indoors.
According to owner Kevin Daily, the three-course meal—served on long, communal tables—is the focus of the yurt experience. The dinners, which usually last three house, include grilled beef tenderloin, baked French onion soup, sautéed vegetables, garlic mashed potatoes, chocolate Toblerone fondue for dessert. 
---
Tall Pines Yurt
Boundary Country Trekking operates a system of yurts along the Banadad Ski Trail in northeast Minnesota. Guests start at Tall Pines Yurt at the eastern end of the trail and ski almost 12 miles to the Bedew Lake Yurt Camp, where they stay at the Croft Yurt or Olga Hut.
Thankfully, you don't have to schlep your gear the whole way. Guides carry your supplies and even fix you a hot holiday meal—Bouef Burgundy—once you arrive at Croft Yurt. The first evening, at Tall Pines, you'll kick off your adventure with the Mongolian Firepot—meat and veggies cooked in a charcoal-heated broth and served over rice.
---
Tennessee Pass Cookhouse
Standard transportation to get to a yurt usually involves skis, snowshoes, or a sleigh. But if you're headed to the Tennessee Pass Cookhouse, consider renting a fat bike to get you up the mile-long, snow-covered climb to the yurt.   
The Cookhouse sits on the Tennessee Pass Nordic Center, which has 14 miles of groomed trails. The area contains a lot of history, says co-owner Roxanne Hall. The Tenth Mountain Division—an Army group trained to fight in rugged, remote areas—drilled on the surrounding slopes during World War II. 
If fat bikes and local history aren't enough for you, the Cookhouse offers another bonus: it allows dogs—outside, anyway. After you eat, take your canine friends for an outing on the Nordic Center's dog-friendly trails. 
---
Viking Yurt
The only way to get up to Viking Yurt in the winter is by sleigh—but instead of horses, a snowcat pulls guests up the 1,000-vertical-foot pitch. The trek takes exactly 23 minutes, says Joy Vik, president and owner of the yurt for the past 14 years. 
Once guests reach the top of the mountain, they're directed inside the structure, which is enveloped in NASA-developed insulation for warmth and Norweigan décor for comfort. The Yurt also offers Norwegian cuisine, including glogg—a non-alcoholic berry drink with cardamom, nutmeg, and cinnamon.   
Then there's the piano music that's played during every dinner service. A mattress and a snowmobile trailer were used to haul the antique baby grand to the hut, making Viking Yurt likely the only yurt in the country that can boast live piano music, Vik says.