Kombucha and the Booze-Free Kegger
"Booch" is fermented non-alcoholic tea. Can it become the party drink of a much healthier future?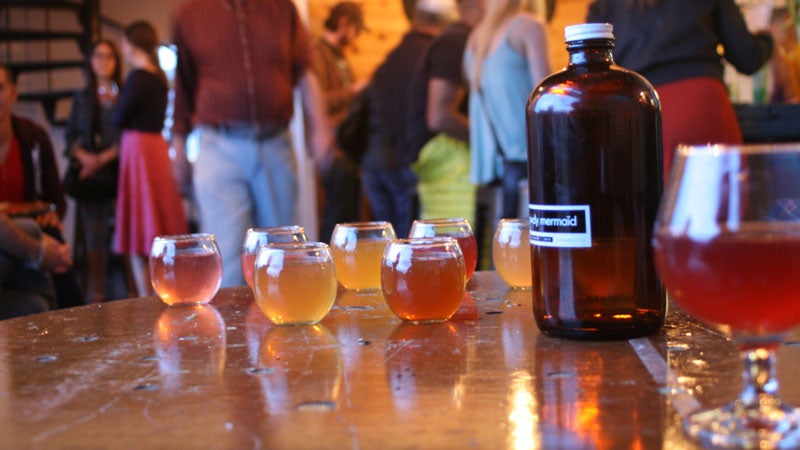 Gloria Liu(Photo)
Heading out the door? Read this article on the new Outside+ app available now on iOS devices for members! Download the app.
It's Saturday night, and I'm checking out a new craft brewery in Boulder, Colorado. The DJ spins drum and bass. A projector plays Planet Earth-style videos on the wall. From time to time, women in flowy pants break out into spontaneous dancing. But mostly, the attractive and fit-looking crowd just chats—while they sip non-alcoholic, fermented tea.
What kind of party is this?
Let's call it a "kombucha kegger." More specifically, this is the grand opening of the Rowdy Mermaid, one of a small but rapidly growing new wave of kombucha taprooms that have cropped up in the past year in places like Colorado, California, Hawaii, Oregon, and North Carolina.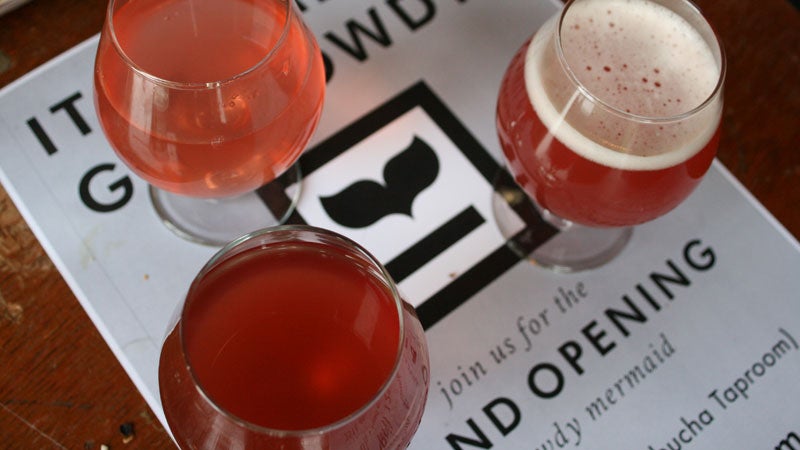 Dubbed "booch" for short, kombucha has purported health benefits that range from curing cancer and detoxifying the liver, to facilitating weight loss and improving digestion. Substantiation for these benefits is mostly anecdotal, but this hasn't stopped the ancient Asian probiotic beverage from exploding in popularity the past several years. A BEVnet.com report from the first-ever "KombuchaKon" conference in January estimates that, in 2013, kombucha sales grew 53 percent in mainstream channels, and 37 percent overall.
Rowdy Mermaid founder Jamba Dunn tells me that significant projected growth in the market and the preponderance of kombucha's target demographic in Boulder—young, well-educated, and health-conscious professionals—convinced him that he could create a business around booch. Indeed, all three booch bashes I've attended this month have packed the house, and with a wide variety of characters. There were artists, yogis, college students, schoolteachers, and retirees. There were also a lot of families with kids, like 9-year-old Quinn, who told me kombucha tasted "like vegetables", in a good way.
At Denver-based Happy Leaf Kombucha's "First Friday" party, I end up surrounded by an unruly group of 20-something dudes wearing trucker hats. Most of them are "kombucha virgins," as they put it, and they order round after round of 4-ounce tasters, slamming them like tequila shots.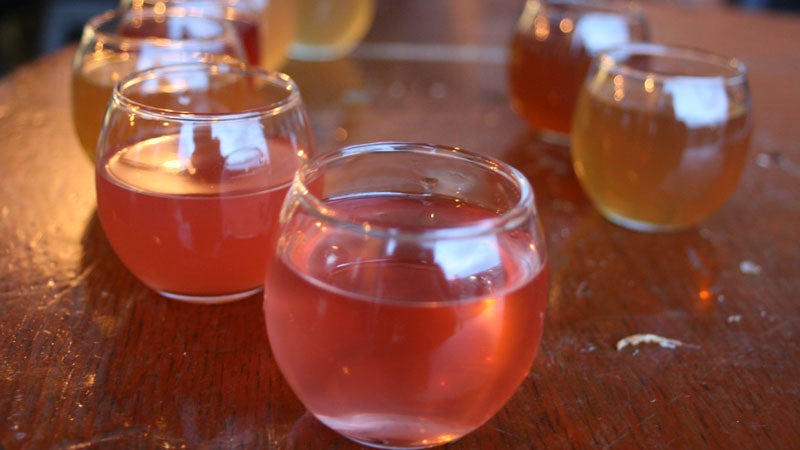 "Why do you drink kombucha?" I ask one of them.
"Why do you drink Mountain Dew?" he yells over the din.
Trick question? His buddy explains, "We've been at the bars all afternoon. We needed a pick-me-up."
He's referring to the buzz that some people get from booch—a 12-ounce serving has about the same amount of caffeine as a third of a cup of tea. That's not much, but it's certainly preferable to drinking sugary, processed energy drinks like Red Bull or "doing the Dew. Most of the sugar in kombucha is consumed by yeast during fermentation.
Fermentation also naturally creates alcohol, but to sell booch as a non-alcoholic beverage, brewers must keep alcohol below 0.5 percent by volume—less than what's in a jar of sauerkraut, says Dunn. According to Happy Leaf co-founder Jenni Lyons, that makes kombucha taprooms an alternative for "a younger crowd that doesn't want to drink [alcohol], but still wants a cool place to hang out and enjoy something fizzy and fun, too."
Not that they're relying on teetotalers to float their business. Both breweries plan to apply for their liquor license. Rowdy Mermaid intends to start serving alcoholic kombucha (5 to 7 percent ABV), which tastes similar to champagne. Beer is also a natural pairing. "Kombucha beer will be huge in the next two to five years," Dunn predicts. Down the street, nanobrewery J. Wells is already mixing their chocolate milk stout with Rowdy Mermaid's Cherry Kom Pow.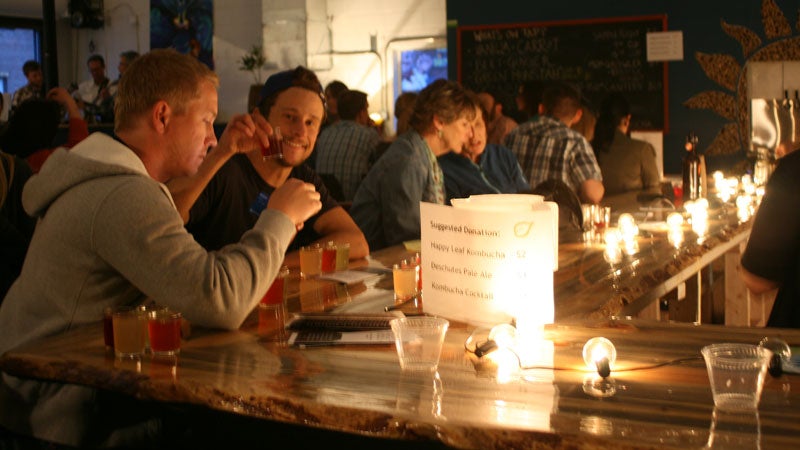 Artisan craft booch tasting also appeals to locavores and foodies. Dunn grows his herbs in his own backyard, and his main ingredient is "filtered Colorado snowmelt." His Deep Forest kombucha, infused with organic reishi mushroom and anise, reminded me of a fragrant Chinese herbal soup my grandmother used to make when I was a kid—with a light black-licorice finish.
My friends and I end up sitting at Rowdy Mermaid for hours, watching the sun go down, sessioning kombucha and getting not-drunk. At one point my buddy Pat notes, "It feels like we're sitting around having beers, but we're just drinking tea." It's true, I think. I'm still sober! When we leave around 9:00 p.m., the party is in full swing.
Lead Photo: Gloria Liu
Trending on Outside Online