Welcome to the Quietest Square Inch in the U.S.
And meet the man who's made it his mission to keep it that way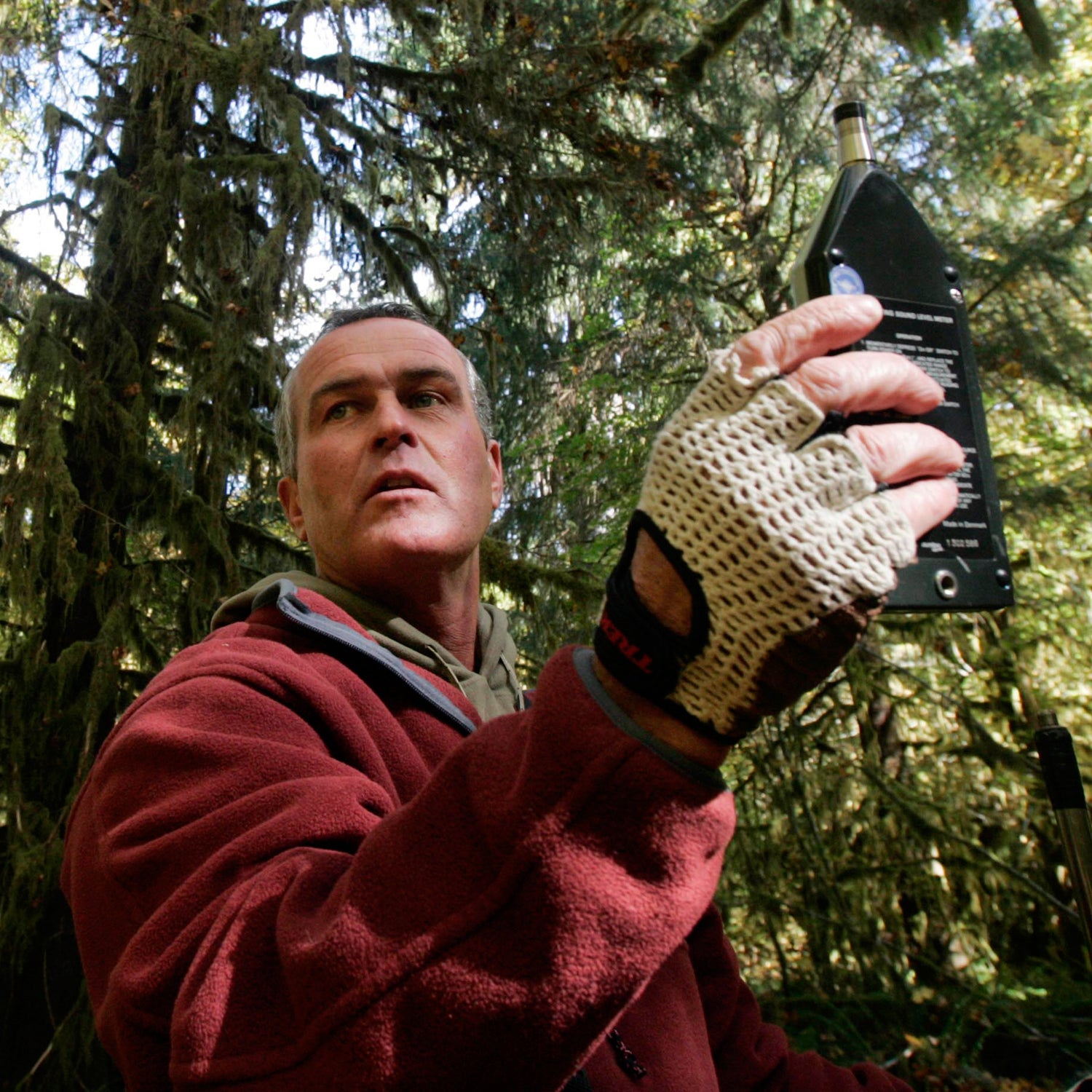 AP(Photo)
Heading out the door? Read this article on the new Outside+ app available now on iOS devices for members! Download the app.
Reaching the quietest square inch of land in the U.S. is literally a walk in the park. Well, a rainforest, to be precise. To find it, you hike along the Hoh River in the heart of Olympic National Park, past bigleaf maples carpeted in spike-mosses and around epiphytic ferns sprouting out of the saturated Northwest soil. Eventually you pass through the split trunk of a Sitka spruce to enter an even muddier, mossier, more verdant nook of the forest. Look to your left and you may notice a tiny red pebble resting on a mossy nurse log, marking 47°51'57.5″N, 123°52'13.3″W. That's America's quietest wild place.
The quietest inch isn't a sound vacuum. It represents a place with a minimum of human-made noise. The discipline of acoustic ecology, which is dedicated to understanding the natural sounds that come through loud and clear when we're not around, outlines an important distinction between sound and noise. The blip of water droplets from a forest canopy? Sound. The tinny din of Taylor Swift through smartphone speakers? Noise. For example, the inch, as it's often called, is exposed to flute-like bugling from Roosevelt elk, the Morse-code chirp of the American Dipper, and assertive hooting from the endangered Northern Spotted Owl. The steady rush of the Hoh River rounding the shoulder of Mount Olympus whooshes nearby, and summer snowmelt punctuates the setting with staccato droplets. In spite of the natural sound, dense forest engulfs the inch in a hush that is, at times, below 20 decibels—quieter than most recording studios.
The red pebble was put in place in 2005 by Gordon Hempton, a 62-year-old Emmy Award-winning acoustic ecologist in Washington State who has been recording natural soundscapes for more than 35 years. He switched from merely studying sound to actively protect quietude ten years ago, when he spontaneously lost his ability to hear. The lull in his ears arrived out of nowhere and he's still unsure of the cause, though doctors suggested it could have come from an infection or immune system issue. "It sounded like the whole world was an AM radio station as heard from a garden hose," Hempton says. "Besides being immediately out of work, I was cut off from the world I loved. I was depressed."
Hempton's hearing began to return 18 months later—again out of nowhere—and shortly thereafter, he made it his personal mission to visit natural spaces in all 48 continental states in search of the quietest place he could find. Though he didn't measure decibles in every square inch of the country, he experienced enough of them to know true quiet when he heard it. He marked his choice with that red pebble, three miles into Olympic National Park, and named the spot One Square Inch of Silence (OSI). It's the rare place in America that is absent of human-made noise for up to 20 minutes at a time. OSI represents an independent research project meant to demonstrate how one spot of silence can positively impact its surroundings the same way that constant loud noise can alter nature's normal soundscape and disturb wildlife. Quietude is a valuable natural resource, Hempton argues.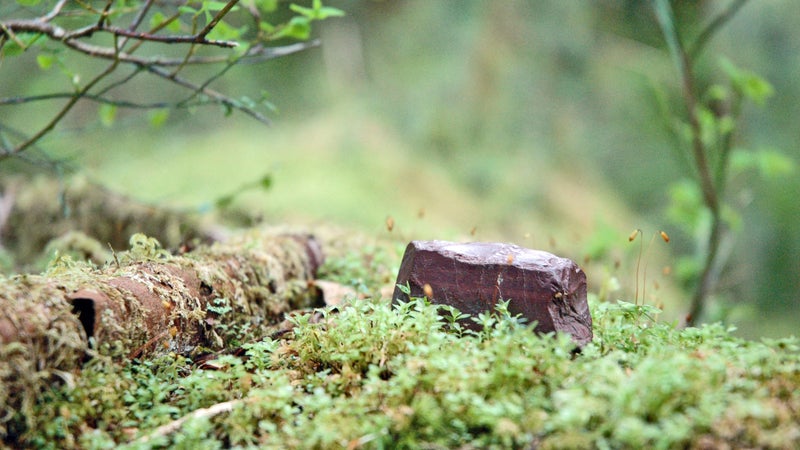 But on the 10th anniversary of the quietest inch, noise in Olympic National Park continues to grow into a worrisome crescendo of sorts. The main offender: aircraft soaring overhead. The low whirr of planes flying in and out of Seattle-Tacoma International Airport just 40 miles to the east and the intermittent blasts from fighter jets at the nearby Naval Air Station on Whidbey Island are disturbing the area. The thunderous jet engines roll through the sky above the inch every 20 minutes on average, according to Hempton's measurements—that's down from an hour in 2005, and quickly shrinking.
Hempton admits that one inch of quiet by itself may not be such a disastrous thing to lose, but he says OSI represents a cutting-edge effort to finally put a value on natural silence. To preserve it, Hempton has been petitioning the National Parks Service, sending letters to commercial airliners, and rallying local residents. His goal: establish a "quiet reserve" in Olympic National Park as a model for other parks to follow. These would be places free of noise from airplanes and other human-created audible disruptions—similar to how dark sky reserves ban streetlamps. If he fails, Hempton says, we may be sounding the death knells of natural sound for good. "Unless something is done, we'll see the complete extinction of quiet in the U.S. in our lifetime."
---
Before the advent of the portable casette recorder in the late 1960s, scientists who wanted to capture, say, a birdsong in the field had to come prepared with a hefty load of backup batteries, tapes, and large recording devices. The improvements in recording technology allowed for the growth of a new discipline of what was then called soundscape ecology in the U.S. and Europe. Nascent sound scientists were tasked with gathering field recordings of nature's auditory ensemble—for example, the sound of an Alaskan arctic lagoon, complete with birdsong, wind, and the trickle of glacial melt—then using them to study the relationship between sound and functioning ecosystems.
As interest in constructing a vast library of sounds grew, the concept of charting noise pollution was also gaining attention. A groundbreaking 1993 news dispatch from Sweden detailed its horrifying effects on wildlife: when a military jet flew over a zoo, animals ate 23 of their own babies as a protective response. (Those affected included Siberian tigers, foxes, and lynxes.) Studies have since shown that animals carve out sonic "niches" in order to hear mainly the information they need for mating, navigating, hunting, and not being hunted. "To interrupt that information flow, even for a few brief seconds, is dangerous," Hempton says. When exposed to sudden bursts of unfamiliar noise, they revert to survival instincts. In wild areas where noise persists, animals have been known to drop in numbers. According to a 2006 report from the U.S. Fish and Wildlife Service, the Northern spotted owl, an endangered species found in Hoh Rainforest, has been found to neglect feeding its young, or even to eject eggs and juveniles from the nest, when "harassing" noises like passing trucks or electric tools are present.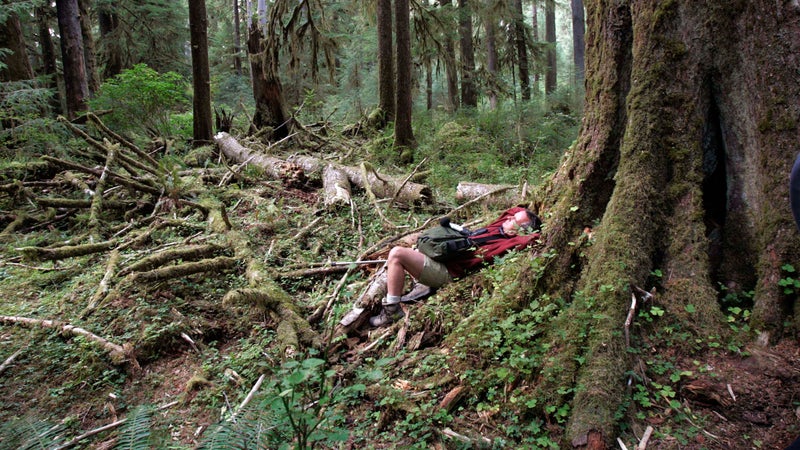 Though noise pollution isn't quite so life-or-death for humans, research increasingly presents it as a public health risk. "It's not unlike the scientific developments we saw in terms of air or water pollution," says Karen Trevino, chief of the National Park Service's Natural Sounds and Night Skies Division. "The attention has turned to more insidious effects from low-level exposure to noise." The human body still perceives jarring noise as a danger cue, which triggers a stress response—even during sleep, and even in people who have lived in noisy environments for years. When exposed to short, intermittent noises during sleep, study subjects experienced heightened heart rate, blood pressure, and stress hormones. Long-term exposure is even associated with long-term cardiovascular problems.
The solution is simple: Go outside, to the most remote natural spaces you can find. The part of the brain that processes sound is more attuned to the kinds of amplitude and pitch fluctuations found in nature, so even listening to recordings of natural sounds can decrease cortisol levels, improve memory and focus, and lower blood pressure. As Hempton puts it, "Quiet is quieting."
---
Earlier this year, scientists with the National Park Service's Natural Sounds and Night Skies Division produced a first-of-its-kind set of "noise maps" that showed average sound levels around the U.S. It was the result of 1.5 million hours of sound recorded at 600 park sites. High-decibel hotspots on the maps demonstrated what sound scientists have observed for decades: quiet places are dwindling. As Outside reported when the NPS noise maps first emerged, the researchers who made the maps found one common noise, even in the backcountry: aircraft.
The National Park Service has several guidelines mandating natural sound preservation, but must work with the Federal Aviation Administration (FAA) and the Department of Defense to manage airspace above parks. The sheer volume of air travel makes carving out no-fly zones a monumental task. According to NOAA, there are more than 87,000 flights over the U.S. daily. Hempton has sent three airlines recordings of their planes flying over OSI, asking them to divert their flight paths from the sky above Hoh Rainforest. "In many cases it saves jet fuel," he says. His efforts were not as successful as he'd hoped. Between 2005 and 2007, all three airlines agreed to divert only their unscheduled flights—the kind that celebrities or wealthy travelers can request for last-minute trips. This is because the average commercial flight typically stick to the FAA's preferred flight routes, which are essentially the traffic lanes of the sky. Defaulting to this does keep air traffic running normally, but much to Hempton's distress, some routes still pass over Olympic National Park. 
Noise from military flights above the park is another major concern. The U.S. Navy has been flying noisy Prowler and Growler planes over the Olympic Peninsula since 1942. But a 2014 proposal would increase its electronic warfare training program and would up the number of flights by about 10 percent from the current number of three flights a day, according to the Navy. Residents on the Olympic Peninsula—including one group created specifically to fight the proposal—say military jet flybys register above 100 decibels. "The noise levels of these operations will cause a noise impact [to wildlife and human health] that I expect would easily take decades to repair," Hempton says.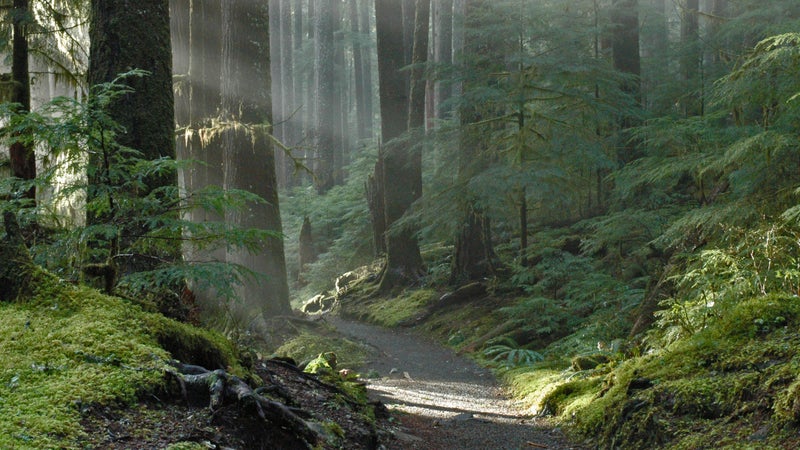 As U.S. Representative Derek Kilmer (D) wrote in a public letter in May, the Navy's proposal and environmental assessment lack two key pieces of information: a realistic estimate of the increase in flights over Olympic National Park (the current estimate is an extra 130 flights yearly), and the real-life impact of Growler noise on wildlife and human health. In early June, Hempton received a letter from Kishore Rao, the director of UNESCO's World Heritage Center, requesting the latter as well. Olympic National Park is a World Heritage property, and though UNESCO outlines no explicit protection for the area's soundscape, Rao indicated concerns that the operations would hurt the wildlife and natural resources that brought it to UNESCO's attention in the first place. Navy officials say they will cooperate with the request for more studies, though they haven't given a specific timeline for doing so. A decision on the Navy's proposal has been delayed until 2016 due to these requests as well as a louder-than-usual citizen response.
 
In the meantime, Hempton is working on his pitch to the parks service for preserving quiet. If OSI became the nucleus of the world's first quiet reserve, Hempton says, "We'd be the Yellowstone of sound ecotourism." If Hempton is successful, OSI would be the first natural area with zero noise pollution, which Hempton says would be a goldmine of information for sound scientists, not to mention a more natural habitat for animals in the area and a more serene experience for visitors.
 
"I'm optimistic that we can preserve silence, but if it doesn't happen then noise will continue to intrude until we come around," Hempton says. "There's no alternative to quiet. It's one of those things that keeps us sane in life—like clean air, it just takes some smog to remind us why we need it."
Lead Photo: AP