What to Eat While Running
A runner cannot exist on sports drinks alone. Here's how to refuel on your toughest runs.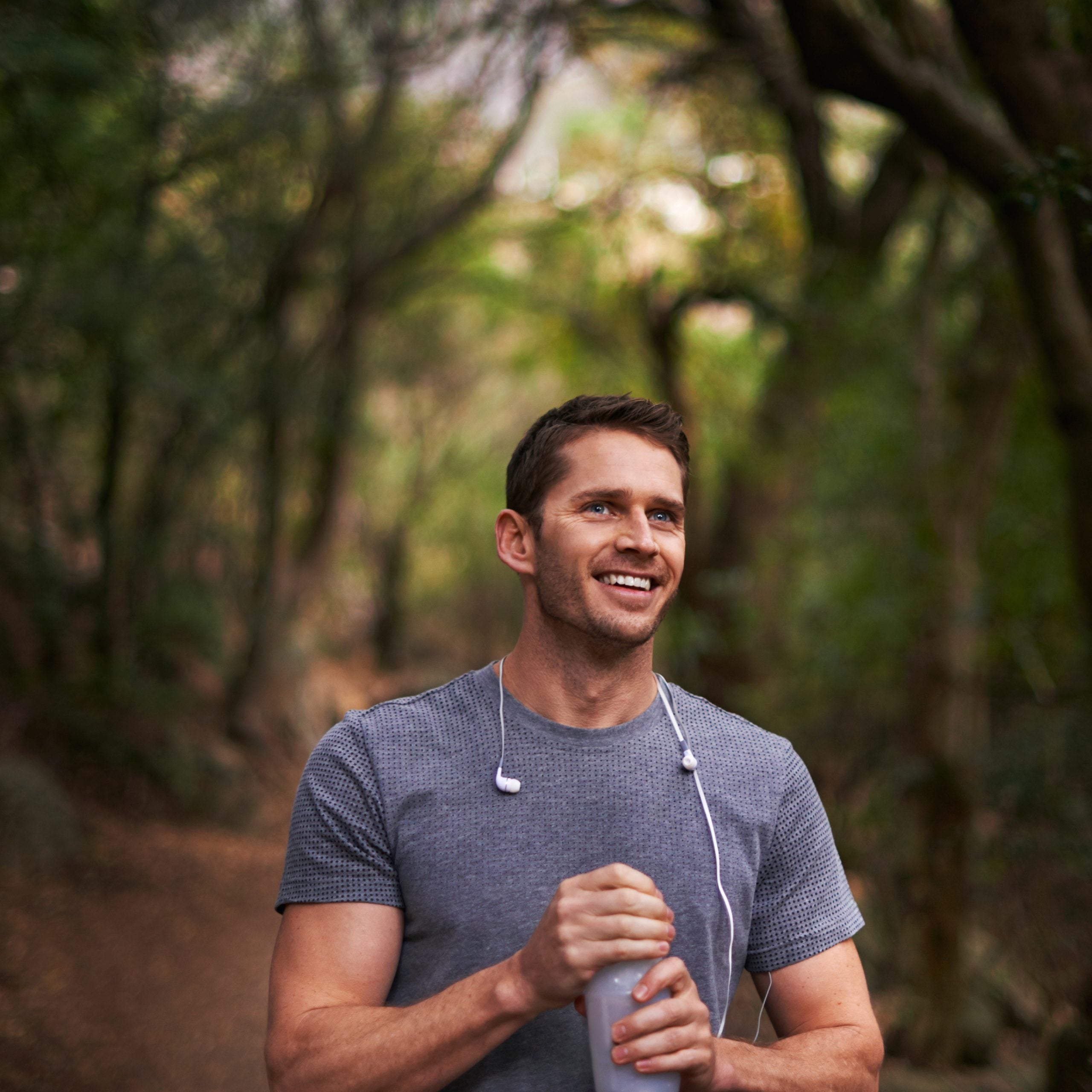 Heading out the door? Read this article on the new Outside+ app available now on iOS devices for members! Download the app.
If you picked up running as a way to lose weight, the idea of eating while exercising may seem counterintuitive. Aren't I supposed to be burning calories, not consuming them?
Here's a quick explainer: Your body can store only a limited amount of carbohydrates. "Adding consistent fuel intake from carbohydrates, electrolytes, and fluids during long workouts will help maintain blood glucose concentrations," says Marni Sumbal, a triathlon coach, elite triathlete, and board-certified sports dietitian. 
Water is all you need if you're pounding the pavement for an hour or less. Longer than that, "aim for 30 to 60 grams of glucose per hour," says Sumbal. She has most of her athletes do this by sipping an electrolyte-enhanced sports drink. In her opinion, taking in pure glucose is best, because it's absorbed directly from the stomach into the bloodstream. Sumbal thinks most athletes should be using prepacked energy foods for runs. "Companies are doing this for you, and I'd rather you spend that time out training than in the kitchen playing chemist."
However, athletes are increasingly asking for real food options, which is why companies like Clif Bar are responding with baby-food-like packets of pureed banana and mango.  
You will never go wrong with gel packets from the major energy food companies. They are tried-and-true options that many racers come back to year after year. But if you want something that seems less like a relic from a past space mission and more like, you know, food, try one of these 10 great options. 
Honey
A series of experiments at the University of Memphis found that honey mixed with a touch of water fueled exercise just as effectively as commercial sports gels. Honey contains polyphenols, which may help reduce oxidative stress, a by-product of extreme exercise. However, different types of honey have different levels of polyphenols. For the best bang for your buck, try buckwheat honey mixed with water in a small reusable flask. Each tablespoon of honey contains 15 to 18 grams of carbohydrates, so a few tablespoons should supply an average athlete with an hour's worth of fuel. If you're wary of making your own slurry, Honey Stinger sells a 95 percent real-honey gel in single-serving packets. 
Maple Syrup
Like honey, maple syrup is considered to be a lower glycemic index food than pure cane sugar. This means it will have less of a "panic at the stock market" effect on your blood sugar levels. If you're prone to the dizzying effects of spikes and crashes, choosing either maple syrup or honey might make you feel more in control. Plus, maple syrup is high in minerals like calcium, manganese and potassium. Like honey, it has about 15 grams of carbs per tablespoon. Untapped, a company founded by former pro cyclist Ted King, offers premeasured pouches of pure maple syrup. 
Sweet Potatoes
"Eating while running takes practice," says Tommy Rodgers, a North Carolina–based coach and registered dietician. If you can master it—and your GI tract can handle digesting through all that bouncing—it opens up a whole new world of possibilities. Solid foods like sweet potatoes are your best during long, slow efforts like ultras. Research has shown that the lower the intensity at which you're running, the more likely you'll be able to process solids. But that's ideal, because long efforts are where you're most likely to suffer from flavor fatigue—that feeling you get when you've been downing nothing but lemon-lime sports drink all day and can't even bear to take one more sip. In moments like this, having a wrapped-up sweet potato, with its big hit of starch, vitamin A and beta-carotene, is a godsend. Like anything, "always try foods in training before race day," says Rodgers, especially if you've never consumed anything but gel on the run. If carrying a wrapped potato in your pocket isn't your idea of a good time, pro cyclist Ally Stacher uses sweet potatoes as the base for her Ally's Bars.
Pickle Juice
Believe it or not, the science of what causes muscle cramps is far from settled, but researchers have found that one thing that reliably relieves muscle cramps is pickle juice. Interestingly, according to research on the topic, it's not because of the sodium in the brine. In one study, pickle juice relieved the cramp too quickly for the stomach to have absorbed the sodium or water in the brine. Researchers think the effect may have more to do with our brain sensing the taste of the brine, versus a true chemical change. The important thing is that it works.   
Chia Seeds
In the 2009 book Born to Run, author Chris McDougall refers to these tiny seeds as the original superfood for ultrarunners. They're essentially flavorless but full of omega-3s, dietary fiber, and niacin, which may boost HDL cholesterol (the good kind!). Throw a tablespoon or two into your water bottle—you likely won't even notice them. (Although they can get a bit gelatinous after a while, so practice before race day.) If you want your chia seeds worked into a premade gel, Hüma Chia Energy Gels has you covered.  
Bananas
A staple at marathon aid stations since the dawn of the mass-start race, bananas are beloved for their high levels of potassium and minimal-chewing-needed texture. Unfortunately, they aren't terribly portable since they bruise easily—but that's where baby food companies come in handy. Look for a pure banana puree, or opt for a product from a company like Clif Bar, which blends banana with beets and ginger in an easy-to-eat-from pouch. 
Homemade Energy Drink
There is nothing wrong with consuming a ready-mixed sports drink. Having the electrolyte formula worked out by a true sports nutritionist is as foolproof as it gets. But if you want to do something from scratch, Elyse Kopecky, co-author of Run Fast, Eat Slow and a former NCAA runner, recommends a blend of coconut water, pure orange juice, honey, and sea salt. The coconut water provides potassium, the orange juice and honey deliver flavor and carbohydrates, and the salt keeps your sodium levels steady as you sweat. 
Raisins
Rodgers suggests these to his athletes who want a real food option instead of energy chews or sport beans. Raisins have potassium, iron, and some calcium, along with about 30 grams of carbohydrates per serving. Best of all, they're small enough that if you accidentally swallow one while running (it happens!), it's won't cause a major coughing fit. 
Lead Photo: iStock