How Can I Recover from a Bad Injury?
Nine-time bouldering national champion Alex Puccio shares her secrets on bouncing back to compete at the GoPro Mountain Games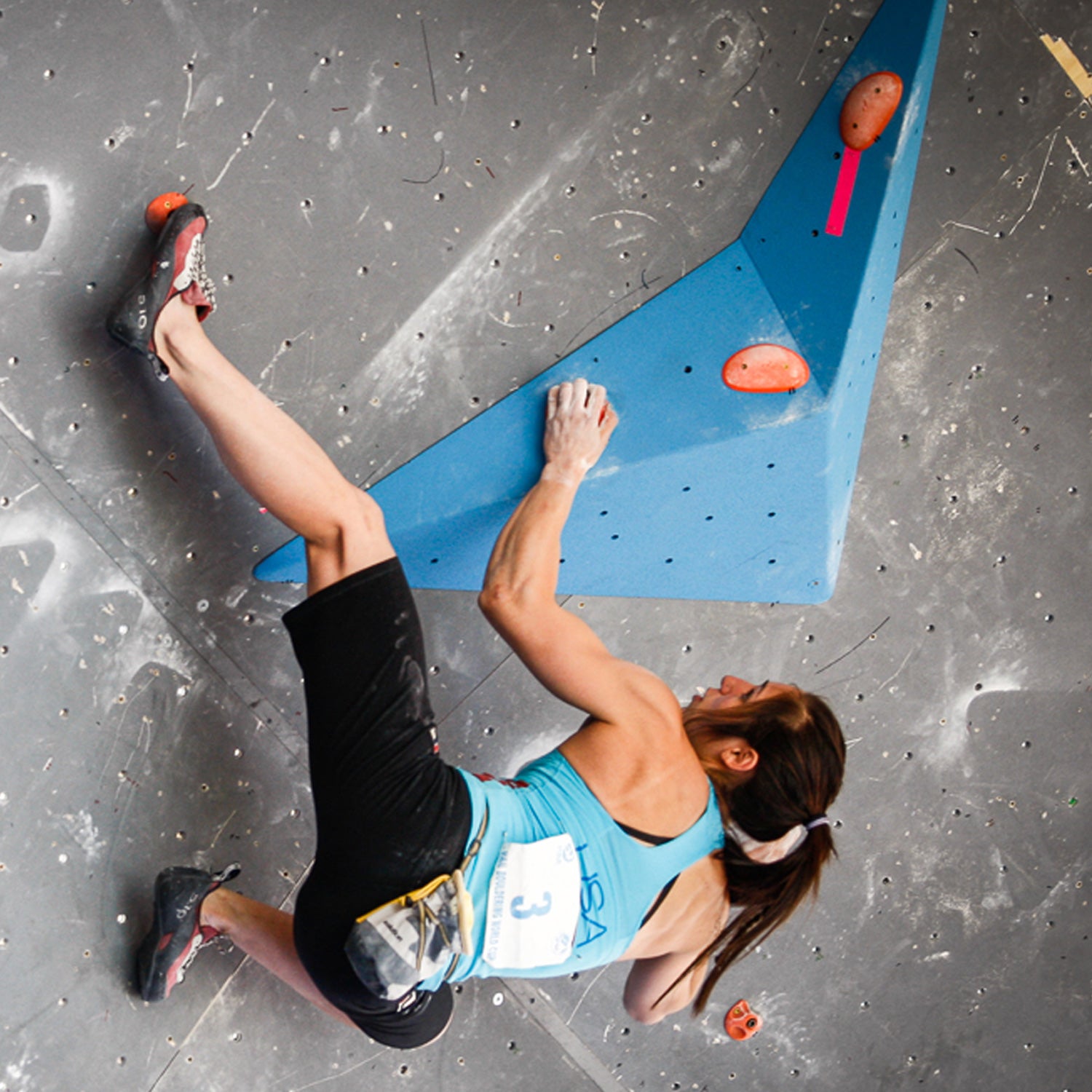 Rick Lohre(Photo)
Heading out the door? Read this article on the new Outside+ app available now on iOS devices for members! Download the app.
This time last year, nine-time bouldering national champion Alex Puccio was warming up for the 2015 GoPro Mountain Games, in Vail, Colorado, when she missed a handhold during a routine move and fell 15 feet to the ground. As she descended, Puccio's leg got caught under her in an awkward position. When she hit the ground, her knee buckled and an excruciatingly loud pop and tear could be heard from 50 feet away. "In that instant, I was positive that my climbing career was over," recalls Puccio. A few hours later, an MRI revealed that she had torn her ACL, MCL, and meniscus.
 
Puccio, a self-proclaimed "pusher," didn't feel sorry for herself for long. She attacked her rehab program with the same resolve and focus that she attacks her training and made a remarkable recovery. Just eight months after the injury, Puccio finished a close second at the 2016 USA Climbing Bouldering National Championships. To learn more about how she bounced back so quickly and strongly, we caught up with Puccio in advance of this summer's GoPro Mountain Games–where she is once again a favorite in the bouldering competition.
 
Don't Wall Yourself Off: After I got the diagnosis, I was put in a brace and told it would be two weeks until surgery. I left the hospital and went back to watch the rest of the GoPro Mountain Games. Being around other people helped take my mind off the injury and made me happy.
Wait for the Right Doctor: This was the hardest part. I felt like a sitting duck. I wanted so badly to start my rehab program, to start thinking ahead. But it was worth waiting to have one of the best surgeons operate on me. 
 
It's OK to Feel Down…: In those first few weeks, I often cried myself to sleep. I couldn't help but second guess everything: Did this happen because I was warming up too quickly? What if I would have gone for a different hold? Are my best days behind me?
 
…Just Not for Too Long: After the surgery, I forced myself to focus only on moving forward. I watched videos of amputees climbing and remember thinking, who am I to feel sorry for myself? There are so many people out there doing truly incredible things. It helped put everything into perspective.
 
Do What You Can: I did not want to be in a situation where I'd need to make a heroic "comeback," so I did everything I could to maintain my fitness. I was doing core work seven days after surgery. Just a few days after that, I was back at upper-body training: TRX, pull-ups, and grip work. After two weeks, I was on the elliptical.
 
Let Pain Be Your Guide: I would keep pushing until my leg started to hurt, then I'd back off just a bit, wait a day or two, and start pushing again. My entire recovery was very much this pattern of a few steps forward, one step back, then rinse and repeat.
 
Do Your Physical Therapy Exercises: I'm not good at doing things I don't like, and I'd be lying if I said I enjoyed doing PT exercises. But it's so important to stick with them. Whenever I slacked on things like balancing, stretching, and targeted muscle strengthening, my leg would flare up.
 
Stay Nutritionally Sound: I knew that I wasn't training nearly as hard as I'm accustomed to, but I also didn't want to deprive my body of the nutrients that it needed to heal. So my strategy was simple: I didn't restrict myself on calories, but I did limit junk food and ate only clean and nutritious foods.
 
Confront Fear: Getting back into training was easy. Getting back into heights–and falling–was hard. Sometimes I still find myself hesitating a bit. I just take a deep breath, tell myself I've got it, and go for it. At first it felt like I was constantly forcing myself, but it got easier over time.
Lead Photo: Rick Lohre