The Ultimate Guide to Road Trip Food Strategy
Increase your MPG (meals per gallon) this summer with these rules for finding the best road food.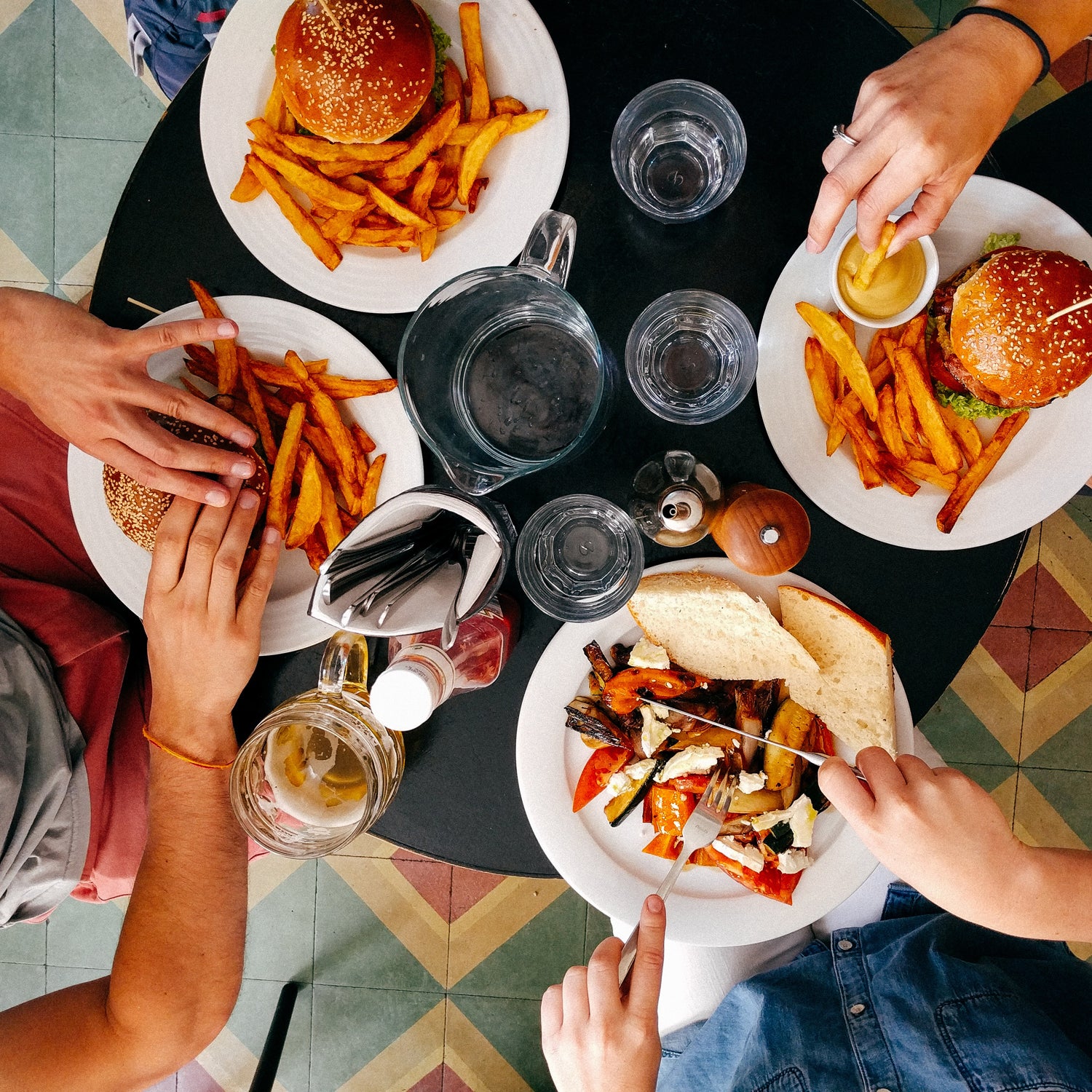 Dan Gold(Photo)
Heading out the door? Read this article on the new Outside+ app available now on iOS devices for members! Download the app.
Every time you find yourself at a drive-thru window for mid-road-trip sustenance, you're likely turning down dozens of amazing restaurants that just happened to be hidden slightly off the highway. Think of all the donuts, cronuts, pies, hoagies, half smokes, hot chicken, and green chili sauce you've missed. 
"In many ways, when you stop in at a local place to eat, you find much more than something delicious on your plate," says Michael Stern, the James Beard award-winning co-author of the Roadfood guide and Roadfood.com. "Often you're sitting elbow-to-elbow with people from the town. It's a door into the way people live."
Plus, "the Internet has made things much, much easier," says Stern. In fact, when he and co-author Jane Stern began exploring backroad eats in the seventies, doing recon was almost impossible. The pair would visit the local library and skim out-of-state phone books. If they saw a particularly captivating ad, they'd put the spot on the list. "It didn't always pan out," says Stern.
Once, when the couple was researching food in Idaho, they saw an ad for "The Spud Bowl." It sounded like the perfect spot to get those famous Idaho potatoes. The two packed up the car and headed west from New York. "It turned out to be a bowling alley," says Stern. "The only potato they had in the whole place were potato chips."  
Today, if you've got an Internet connection, you have everything you need to find the best chow around. Here's how to make sure you always get your order right. 
Ask the Locals—Carefully
Before you leave, spend some time looking into the regional specialties of wherever you're going. Often, those who live somewhere don't realize that a specialty is, indeed, special. Stern himself grew up eating Italian beef sandwiches in Chicago. It wasn't until he moved to Baltimore that he realized those didn't exist everywhere. "Ask someone who used to live there, What's the first thing you'd eat if you went back? What they suggest usually isn't the fanciest or the most expensive," says Stern. It'll be soft shell crab sandwiches or huckleberry pie. "Some are obvious, but a lot more are less known and are very easy to miss," he says. A quick Google search for "(Insert state name here) + regional specialty dishes" will take you a long way, too.    
Be Prepared to Wander
The best spots are rarely right off the exit ramp, so commit to spending a bit more time in the car in exchange for really great grub. Sterns says 20 to 40 extra minutes should be enough to get you to a really good spot. If you're not totally sure whether a place is going to be good or not, Sterns says he likely wouldn't risk more than a 15-minute detour. Conversely, if you know for a fact that something is really amazing, blast those tunes and go. "I'd drive well over an hour for the best frozen custard in Wisconsin," he says.  
Know the Signs of Greatness (and Mediocrity) 
Tour buses in a parking lot are a hard pass. Sterns says they're a dead giveaway for tourist traps. Instead, he recommends looking for local license plates and emergency responder vehicles. "Then you at least know that you're going to be able to eat there without getting sick." Inside, look for patrons who appear happy, and a clean atmosphere that smells good. If something seems off—even just a little bit—walk out, says Sterns. "I think a lot of people feel like once they walk in, they're committed," he says. "I can't tell you the number of places we've walked into and thought, I don't want to waste an appetite on this."
Order Wisely
"Look around. If eight out of ten people are eating the peach cobbler, that probably means you should get the peach cobbler," says Sterns. Again, he stresses that asking locals or the wait staff may not be as fruitful as simply being nosy, since many don't consider local specialties to be unique. 
Menus, too, may be misleading. For example, in Iowa you'll see something simply described as "tenderloin." While that doesn't sound interesting, Sterns says it is. "It's almost like Wienerschnitzle; it's pounded into this thin cutlet the size—actually sometimes bigger than—a plate. It's delicious, succulent, and crisp," and anything but what its non-descript name would imply. 
Go Beyond Yelp!
Anyone who's ever opened up Yelp in rural America only to find Pizza Hut as the top-rated restaurant knows the limit of this website. Sure, it has its place, but there are better options. Try one of several new sites devoted to helping you plan food-based road trips. Trippy, a website that connects travelers with helpful locals, just published two interactive road trip maps built on stuffing your pie hole. The first features routes that take you to the best eats (as rated by Yelp and TripAdvisor) in America. The second is all about visiting America's most iconic watering holes. Using these two maps, you could easily build a summer road trip where every meal was amazing. 
The Stern's website, Roadfood.com, also has tons of reviews and recommendations which you can break down by city or state. It also offers suggested routes if you, say, want to hit all the best eateries on old Route 66, find the best clam chowders in all of the Northeast, or taste all of the Mississippi Delta's best tamales. 
If Nothing Else, Eat Here
We asked the Sterns to give us their top three picks in every region. Wherever your road trip takes you, this is your ultimate cheat sheet.
Northeast
Five Islands Lobster Company: "The dining area is a deck with picnic tables overlooking blue waters and five small islands tufted with pine trees. Resilient lobsters burst from their shell when squeezed with a nutcracker, and the juices drip onto corn and potatoes." 1447 5 Island Rd., Georgetown, Maine.
Parkway Diner: "This gorgeous old diner, built in 1950, serves the best imaginable versions of diner fare, including a Thanksgivingworthy hot turkey sandwich and extraordinary hand-pattied hamburgers." 1696 Williston Rd., South Burlington, Vermont.
Frank Pepe Pizzeria Napoletana: "Many people (including us) consider Frank Pepe's pizza the best on earth. The signature dish is white clam pie, but everything is top-notch thanks to crust that is a magical balance of crunch and chew with just the right amount of char." 163 Wooster St., New Haven, Connecticut.
South
Hites Bar-B-Q: "For absolutely traditional and utterly delicious South Carolina barbecue, Hite's can't be beat. Slow-smoked whole hogs are served as chopped pork, ribs, crunchy skins, and hash on rice." 240 Dreher Rd., West Columbia, South Carolina.
Lynn's Quality Oysters: "Lynn's deep-cupped Apalachicola oysters are the cream of the crop. They are perfect when freshly opened and served raw on the half shell, even more sensuous when you get them baked and gilded with a film of melted cheese and copious bits of heat-softened garlic." 402 Highway 98, Eastpoint, Florida.
Martin's: "Southern-style meat and three dining at its finest, featuring four-star fried chicken and five-star baked chicken, plus some of the best banana pudding anywhere. And the coconut pie, O, the coconut pie—so delicate that it starts to fall apart as soon as it sees a fork." 1796 Carter Hill Rd., Montgomery, Alabama. 
Midwest
Green Gables: "In this polymorphous grocery store/tavern/bait shop/café, the specialty is a smashed crispyburger, a central Illinois specialty that features lacy-crisp edges and a juicy center. It may not quite be what the menu promises—'the best food known to man'—but it is one unforgettable hamburger." 17485 E. 2500 North Rd., Hudson, Illinois. 
Cherry Hut: "Pie paradise! Local cherries and enough sugar to balance but not overwhelm their tartness are piled into a blue-ribbon lard crust that is melt-in-the-mouth flaky. Each serving is one-quarter of a full-size pie." 246 Michigan Ave., Beulah, Michigan.
Camp Washington Chili Parlor: "Cincinnati is mad for chili. The best of its 100-plus chili parlors is Camp Washington, serving a magnificent rendition of the city's unique five-way chili: spaghetti noodles topped with spicy sweet ground beef sauce, kidney beans, raw onions, and shredded yellow cheese. It's open round the clock." 3005 Coleraine Ave., Cincinnati, Ohio. 
Southwest
Louie Mueller: "The alpha and omega of Texas barbecue: gorgeous brisket, hand-sliced into fall-apart-tender flaps with a salt-and-pepper halo and a fat-laced interior that quite literally drips flavor." 206 W. 2nd St., Taylor, Texas. 
Santa Fe Bite: "Hail the green chile cheeseburger! There are good ones all over New Mexico, but none can compare to the killer served at Santa Fe Bite: 10 ounces of crusty-edge, juice-oozing chuck and sirloin topped with the amazing harmony of spicy chiles and mellow melted cheese." 311 Old Santa Fe Trail, Santa Fe, New Mexico. 
El Guero Canelo: "An al fresco urban picnic specializing in the most baroque wiener in America, the Sonoran hot dog. It's wrapped in bacon and heaped with pinto beans, grilled onions, raw onions, and chopped tomatoes, then hot jalapeno sauce, mayonnaise, and mustard." 5201 S. 12th Ave., South Tucson, Arizona. 
West Coast
Freshy's: "A seafood market with a walk-up window where you can buy fish tacos, fish and chips, chowder, and seafood salads. Must-eats include Dungeness crab in season and wicked-crisp onion rings." 2411 76th Ave. SE, Mercer Island, Washington.
Wanda's: "Boasting that it serves 'the best food this side of Jupiter,' Wanda's is a cheerful, comfort-food breakfast-and-lunch cafe where everything is made from scratch and the hazelnut-studded granola is an only-in-Oregon treat." 12870 H. St., Nehalem, Oregon.
Squeeze Inn: "Behold the Squeezeburger: a round of beef topped with a fistful of grated cheese as it cooks. By the time the burger is lifted from the iron, its edges are wide, brittle-crisp orange wings, while the cheese atop the burger remains soft and squishy. It is an edible work of art!" 5301 Power Inn Rd., Sacramento, California.
Lead Photo: Dan Gold
Trending on Outside Online