You Can (and Should) Cook Like a Team Chef
Hosting a group of athletes for a post-workout meal? Take these tips from a Grand Tour veteran.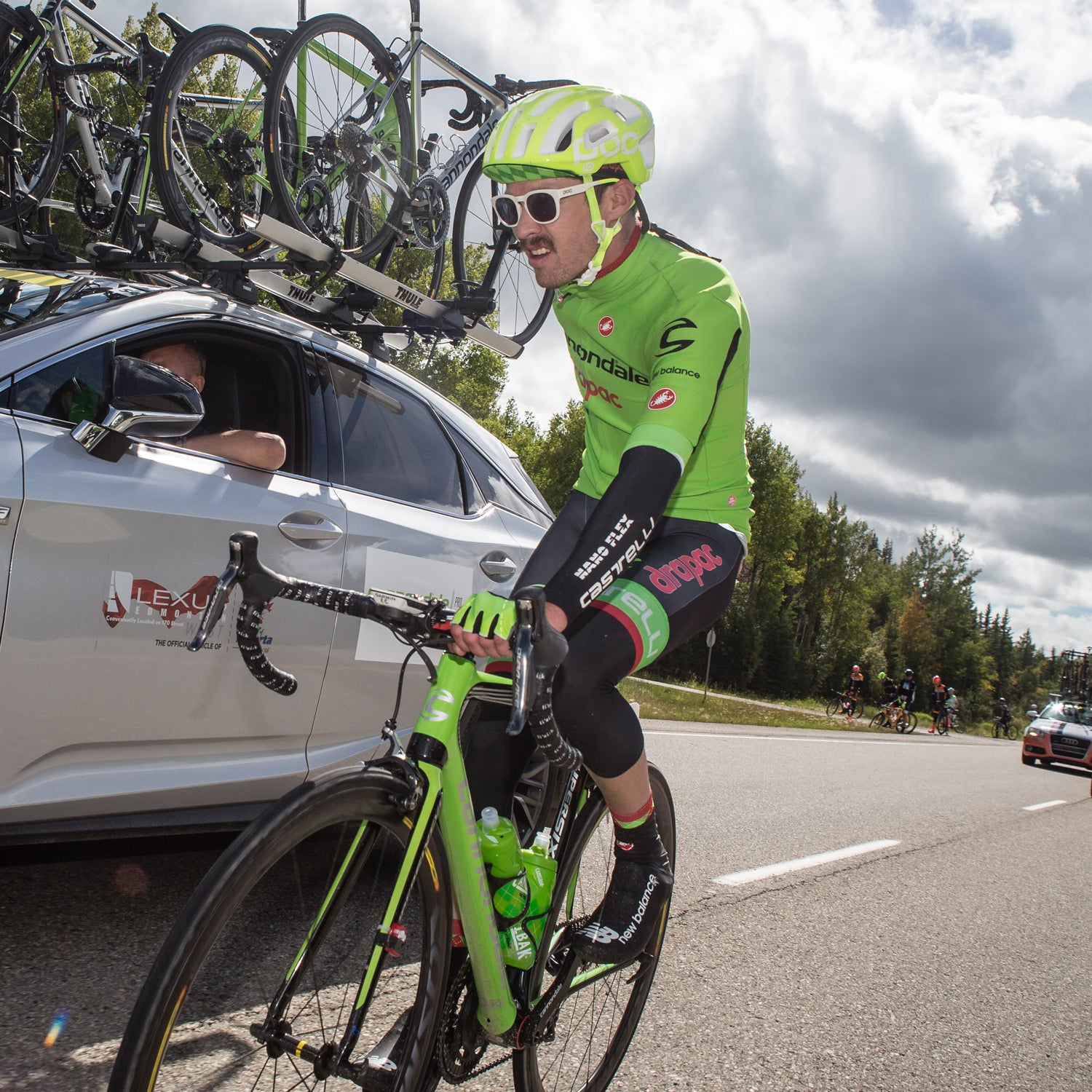 Jonathan Devich/Getty(Photo)
Heading out the door? Read this article on the new Outside+ app available now on iOS devices for members! Download the app.
"Cyclists eat a lot," says chef Sean Fowler. "There is nothing that can prepare you for how much they eat."
Fowler had been a professional chef for years and owned a restaurant in Catalonia, Spain, when a few American cyclists began frequenting the place after training rides. He had always loved the sport and quickly developed a rapport with the riders. In 2009, when the cyclists from Garmin-Cervélo asked Fowler to step in as team chef, which entails prepping all their meals before races, he quickly agreed.
Soon after hitting the road in a camper van outfitted with two burners and nine mouths to feed, he realized he had severely underestimated his new gig. See, Fowler had thrown himself directly into the madness of the Tour de France. And nothing seemed to go right. There was the issue of actually finding places to cook—French hotels were not at all interested in letting the visiting American share their kitchens. "We ended up cooking in the camper van almost exclusively," Fowler says. Then the camper van broke down. And then someone broke into it and stole his bike out of the back.
Despite all that, Fowler has been back every year since, working as a team chef for the Cannondale-Drapac Pro Cycling Team. "The immediate gratitude you get from having the same eight or nine customers night after night, and participating in something that's bigger than yourself, it's really motivating," he says.
Here are Fowler's best tips for saving money, eating better, and having more fun during your cookouts this season. 
Keep It Simple
Fowler plans meals by thinking about the macronutrients the athletes will need and working it out from there. "There's a lot of food you can cook that will accomplish the requisites," he says. Fowler often relies on staples like chicken and rice, then mixes things up by swapping in unique sauces or spices. The other advantages of sticking to a basic template: you won't throw any curveballs at people's digestive tracts, and you can easily isolate and remove ingredients that people are allergic to or simply don't like.
Maximize Nutrients, Minimize Time
For years, Fowler would get up extra early to make a giant fruit salad for breakfast. But chopping apples, grapes, pears, and whatever else he could find was a major time suck. Worse, the guys didn't eat much of it. "So we started making smoothies," he says. Now Fowler throws a bunch of fruit, plus kefir or yogurt, into a blender and serves it with a straw. This has drastically reduced his prep time, and the athletes actually drink it.
Dessert Doesn't Have to Be Junk Calories
Just because you technically burned 10,000 calories in a day doesn't mean you should slam a gallon-size jar of Skittles. Fowler usually makes some sort of nightly dessert for the athletes, but he always packs it with usable nutrition. "I'll often make a rice pudding with low sugar, or sometimes I'll do kefir with gluten-free cookies crumbled into it," he says. Even baked goods like tarts get piled high with antioxidant-rich fruits.
Don't Underestimate the Power of Snacks
In a big group of athletes, calorie needs will vary. "Sometimes they'll say, 'I'm hungry,' and I'm like, you ate 30 minutes ago," says Matt Accarrino, a Michelin-starred chef who moonlights as a team chef for the Holowesko Citadel Racing Team. "I call them trash compactors," he says lovingly. Accarrino favors whole fruits, granola, nut butters, and breads for his snack stations. Fowler packs a cooler with fruit, granola, and energy bars and stations it in the rider's hotel for 24-hour access.
---
Fowler's Favorite Recipes
#1. Gluten-Free Buckwheat Flour Pancakes with Berry Compote
Makes eight four-inch pancakes.
Ingredients
1/2 cup plus 2 tablespoons buckwheat flour
1/4 cup rice flour
1/4 cup oat flour
1 teaspoon salt
2 teaspoons baking powder
1/2 teaspoon cinnamon
1/4 cup olive oil
2 large eggs
6 tablespoons coconut oil, melted
3 quarts rice, oat or soy milk
1/3 cup yogurt or kefir
Preparation
Grease griddle with small amount of olive oil and preheat. It should be hot enough that water sputters and bounces when dropped on it.
In a bowl, sift all dry ingredients together. In a separate bowl, mix all liquid ingredients.
Stir the liquid into the dry ingredients, being careful to avoid overmixing.
Immediately pour pancake batter onto griddle—this recipe thickens if it sits too long—and cook until golden brown. If your batter thickens, add more rice milk to thin.
Multiberry Compote
1 pint raspberries
1 pint blueberries
1 pint strawberries, topped and quartered
1/2 cup agave syrup
Juice of 1 lemon
Mix all ingredients together. Let stand overnight in refrigerator. In the morning, while preparing pancakes, warm mixture slowly in a saucepan until simmering. Remove from heat and serve over pancakes.
#2. Vegetable Paella with Steamed Hake
Makes six to eight servings.
Ingredients
2 large onions, diced
1 bunch leeks, thoroughly washed and chopped, with green and white parts separated
4 carrots, cut in half to fit into pot if needed
2 celery stalks
10 plum tomatoes, two smashed and the rest diced
One bunch parsley, left unchopped
1 large sprig fresh thyme
1 bay leaf
1 tablespoon whole black peppercorns
1 small onion, diced
4 ounces olive oil
4 garlic cloves, crushed
2 red peppers, one roasted and peeled, one raw and diced
1 green pepper, diced
1 zucchini, diced
8 ounces fresh mushrooms
Salt and pepper
3 quarts vegetable broth
4 artichokes, quartered, with the tough outer leaves removed (sprinkle with lemon juice to prevent oxidation)
1 tablespoon paprika
1 1/2 to 2 pounds Spanish rice (short grain)
8 fresh hake fillets (or a similar firm whitefish)
Lemon wedges to garnish
Preparation
Broth: In a stock pot with three to four quarts of water, combine the large diced onions, green parts of the leeks, carrots, celery, two smashed tomatoes, parsley, thyme, bay leaf and peppercorns. Bring to a boil. Reduce heat and simmer for one hour. Strain.
Paella: In a large paella pan, heat olive oil and sauté small diced onion and the white parts of the leeks. When the onions are transparent, add the garlic, peppers, zucchini, and mushrooms. While cooking, add the diced tomatoes and sprinkle with salt. This permits the tomatoes to release a small amount of liquid. Cook and stir until this liquid has evaporated.
Add the vegetable broth and artichokes. Bring to a boil. Add paprika, and season with salt and pepper to taste. You want it to be tasty at this point to ensure all the flavors penetrate the rice.
Sprinkle the rice evenly over the boiling paella. Stir once—and only once—to evenly disperse the rice. Set timer for 15 minutes. Place the hake into the boiling broth, making sure the fish is immersed in broth to ensure thorough cooking. Cover pan with a large lid or aluminum foil.
After 15 minutes, remove from heat and let paella rest for no more than five minutes. Garnish with chopped parsley. Eat immediately.
Notes: Some paella recipes call for the rice to be sautéed with olive oil to help keep the rice fluffy, separated, and al dente. I've found that keeping mixing to a minimum works efficiently and enables you to use less oil. You can also incorporate saffron. For this recipe, about two pinches is enough to add a subtle flavor.
Lead Photo: Jonathan Devich/Getty
Trending on Outside Online