The Horror Vault
The Curious Case of the Disappearing Nuts
In California, millions of dollars' worth of almonds, walnuts, and pistachios are disappearing. Farmers are perplexed, the cops are confused, and the crooks are getting richer. We sent Peter Vigneron to the Central Valley to take a crack at the crimes.
Heading out the door? Read this article on the new Outside+ app available now on iOS devices for members! Download the app.
At 11:22 a.m. on Thursday, June 20, 2013, an orange Freightliner tractor-trailer arrived at Crain Walnut Shelling in Los Molinos, California. The truck's driver, a man in his mid-thirties wearing a gray T-shirt, introduced himself as Alex Hernandez. He said he was from K and G Transport Services, a company contracted to take a load of Crain's walnuts to Bulk Barn Foods Limited, a Canadian food retailer ­located 2,600 miles away in Ontario. Hernandez had arrived before the pickup had been scheduled, which initially made Crain's logistics director suspicious. But after double-checking the paperwork that he provided, she directed employees to load 630 cartons of walnuts, worth $85,000, into Hernandez's trailer.
At 12:06, Hernandez left Los Molinos and headed south through California's Central Valley into Glenn County, where he picked up a second batch of walnuts intended for Bulk Barn from a processor called Carriere Family Farms. While leaving, Hernandez's Freightliner got stuck in a field. He called a tow truck to pull it out, then drove off.
By Monday, June 24, neither batch of walnuts had arrived in Canada. A representa­tive from the shipping brokerage that arranged the exchange tried but failed to reach K and G, and alerted Crain to the possibility that the nuts had been stolen. On June 27, Chad ­Parker, a then 38-year-old ­agricultural-crimes ­detective with the Tehama ­County Sheriff's Office, went to investigate.
Crain's chief financial officer showed Parker a photograph from June 20 and provided him with the Freightliner's plate ­number and a photocopy of Hernandez's commercial driver's license. What Parker found made little sense: the plate came back registered to a different model of truck, and the license number ­belonged to a 30-year-old woman. Later, when Parker pulled rec­ords for the phone number Hernandez had ­listed on the paper­work, he found that it was a prepaid cell phone with a Miami area code. It had been activated for the first time only two days before the pickup and then ­disconnected on June 29. Tractor-trailers do not disappear easily, and Parker considered ­issuing a be-on-the-lookout for the Freightliner. But more than a week ­after the theft, he ­decided it was likely long gone.
Petty thefts of walnuts are not uncommon in central California. Several counties even ban the sale of nuts before harvest is complete, to discourage black-market sales. But the Crain theft, along with similar heists in 2011 and 2012, seemed different to ­Parker. They were committed by people who ­appeared to understand the trucking business, identity theft, and computer secur­ity. Neither of the earlier crimes had given ­Parker much to investigate, and at first this one looked no more promising. "I'm left holding a report saying 'Someone showed up,' and I've got a license plate that doesn't exist," Parker told me last winter. "They disappear into the night."
---
Around the time of the Crain theft, Rich Paloma, a police officer turned reporter at the Oakdale Leader, a weekly paper based several hours south of Tehama County, ­began tracking high-­value loads of nuts that had vanished. Paloma counted half a dozen heists, valued at more than $1 million, in the previous year. In the fall of 2013, he published an article speculating that the thefts were coordinated.
"When you look at the logistics needed to complete this crime," he told me, all signs point toward an organized group. "You steal 370,000 pounds of almonds, you're not ­going to sell it on the side of the road."
In recent years, nut theft has ­exploded into a statewide problem. More than 35 loads, worth at least $10 million, have gone missing since 2013. The number and style of the thefts—quick and professional, as if the characters from Ocean's Eleven had descended on the Central Valley—have drawn the attention of federal organized-crime investigators and prompted the creation of a regional task force.
Why steal nuts? They're worth an awful lot of money. In 2014, the American Pistachio Growers association reported industry-wide sales of more than $1.6 billion. The organization recently signed endorsement deals with British cyclist Mark Cavendish, big-mountain snowboarder Jeremy Jones, and the U.S. water-polo teams.
California grows the majority of the world's almonds and is the second-largest producer of pistachios and walnuts. Many environmentalists blame their cultivation for exacerbating California's drought—nut trees are thirsty plants.
Last spring I visited the Horizon Nut Company, three hours north of L.A. in ­Tulare County. In November 2015, Horizon lost a load of pistachios worth $450,000. Kirk Squire, Horizon's grower-relations manager, said that the theft was embarrassing for the company. "You have to imagine, you're handing someone half a million dollars."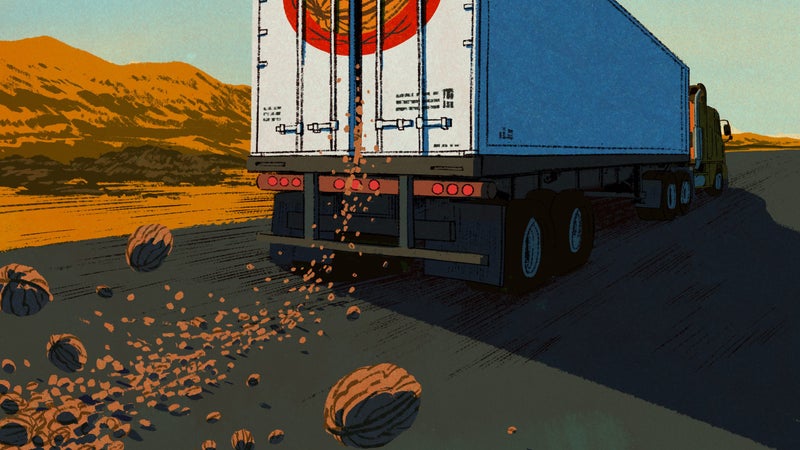 The Horizon plant is well defended. Visi­tors must have escorts, and the facility is enclosed by a tall fence topped with barbed wire. When I arrived, a security guard examined my ID. Squire and I met in a waiting area near his office, where I found a bowl of roasted and salted pistachios and took a handful. Inside the processing facility, we walked by an embankment of 2,000-pound bins of pistachios. Squire showed me a series of automated laser- and X-ray-guided sorting machines and the company's refriger­ated storage warehouse, where nuts are kept for processing after being husked. The nuts in the load that went missing in 2015 retail for as much as $17.
A few hours after that theft, a Horizon em­ployee had noticed that the driver's ­paperwork was out of order and called the police. Officers eventually tracked down the man, who had already delivered the nuts and didn't seem to know that he'd been involved in a crime. The thieves likely tricked him into delivering the load, then quickly transferred it. The nuts were never recovered.
---
The man tasked with finding missing nuts in Tulare County is sheriff Mike Boudreaux, and in 2015 he faced a growing problem. That year, thieves had stolen six shipments, valued at $1.6 million, from area processors, including Horizon. Recognizing a threat to the county's economy, Boudreaux assigned half a dozen detectives to a new unit—the Nut Theft Task Force. I met most of them at a conference for nut processors in Modesto last year. The men were barrel-chested and serious, wearing jeans, cowboy boots, and blousey white dress shirts. They looked as if the department had just then switched their assignment from bailing hay to organized crime. Boudreaux said nut theft had outstripped drug crime as his top priority and promised an aggressive investigation. ­Shortly after the conference got under way, news ­arrived that ­another processor in ­Tulare had been hit, and the team excused itself to work leads by phone out in the hallway.
Andrei gestured toward the shipping dock where his truck was parked and explained how easy it would be to execute a theft. "No security, no cameras, nobody else."
Scott Cornell, who heads the transportation business at Travelers Insurance and works with the company's special cargo-theft fraud investigators​, told the audience that food and beverages overtook electronics as the most commonly stolen cargo in 2010. "We think the bad guys learned that food is a great ­category," he told me. "There's no serial number. You can't locate these things over the Internet. The evidence is consumed."
In fact, food is the easiest target in an ocean of easy targets. A private investigator and transit-company owner from California named Sam Wadhwani said that he had tracked cargo thefts of tires, Xboxes, computer equipment earmarked for the military, baby formula, tampons, and iPhones. Inventing a fake trucking company is easy, he said, as is impersonating a legitimate one. The only people in the shipping industry responsible for verifying truckers are brokers, who connect customers with trucking companies. Wadhwani looked into vetting practices at a major brokerage several years ago and asked the company to describe its process. An em­ployee said, "We ask the trucking company to send documents, we pick them up off the fax, and we file them away. We don't look at them, we don't read them."
Roger Isom, president of the Western ­Agricultural Processors Association, said that the situation is further complicated by the fact that many nut processors have avoided contacting the police, worried that reporting thefts could jeopardize future business. "And not just the nut industry—the trucking companies, the shippers," he said. "They don't want to talk because they're embarrassed." No one is eager to be the laughing stock of the nut industry. When I visited Horizon, Squire told me that one processor, concerned about publicity, tried hiding GPS trackers in its shipments instead of calling the police. The company still lost two loads to thieves.
---
The closer Chad Parker looked at K and G Transport, the more he grew convinced that the Crain theft was linked to a ­broader conspiracy. E-mail records for K and G ­revealed that someone had been accessing the company's account from public computers at libraries and Internet cafés around Los ­Angeles. (K and G is based in Miami.) ­Cargo thieves often pose as legitimate companies and bid for shipping contracts on load boards, which are sort of like Craigslist for truckers looking for jobs. A thief hoping to steal almonds might try to find transport jobs in nut-growing regions across the country, especially ones that ask truckers to be well insured or that leave late in the week, to give them a few extra days to get away. The Crain pickup, which occurred on a Thursday and was headed to Canada, was a perfect target.
Parker's first real break came when he discovered that Hernandez had made an ­error: Crain employees asked him to submit a thumbprint on June 20, 2013, and he agreed. Parker was shocked when the thumbprint generated a hit in the California Department of Justice database. Hernandez, it emerged, was actually a ­parolee named ­Marco Alberto Garcia, and he had recently been detained in the Los Angeles County Jail. Parker subpoenaed cell-phone records for Garcia's contacts, many of whom seemed to live and work in L.A.
The idea is to convince victims that they are working with legitimate truckers—sometimes by making up a trucking company, sometimes by faking the paperwork of a legitimate business.
When interviewed, however, Garcia refused to answer any questions, and Parker wasn't optimistic about the case. "It went cold pretty fast," he told me. To help navigate the Los Angeles connections, Parker had sought out Marc Zavala, an LAPD ­detective who is widely regarded as the state's top ­cargo-theft investigator.
I met Zavala at a Starbucks in Van Nuys last year to discuss the crisis. These people "know that the punishment for theft is nothing. There's minimal jail time," usually measured in weeks or months, he told me. The thieves not only understand this, but "they make it complicated by stealing IDs."
Zavala put me in touch with a truck driver I'll call Andrei, who he arrested several years ago. I met Andrei last summer in Commerce City, Colorado, east of Denver. He is 53 and short, and was wearing, sandals, a baseball hat, shorts, and a blue button-down shirt open to his belly. Andrei is ethnically Arme­nian and lived in the Republic of Georgia before emigrating to the Los Angeles area in 1995, where he did occasional work with a small trucking company.
In 2011, an accident put Andrei's truck out of commission. He needed money and ­approached a friend in the trucking business for help. The man had easy access to federal motor-carrier and Department of Transportation ID numbers. "We're going to put these stickers on your truck, because they know this company," he told Andrei. The man gave him a fake driver's license and a new truck, then sent him to collect a load of Bud­weiser. After Andrei delivered the beer success­fully, the man had him steal a ­trailer full of beauty products. Investigators call these schemes "fictitious pickups," and they are a variation on the style of theft used in the Crain and Horizon heists. The idea is to convince victims that they are working with legitimate truckers—sometimes by making up a trucking company, sometimes by faking the paperwork of a legitimate business. ­Zavala happened to catch Andrei as the ­beauty products were being ­unloaded, then linked him to a 2011 almond theft in ­Madera, California, from a processor called Going Nuts.
Andrei told me he collected the load of almonds from Going Nuts as a subcontract while passing through Northern California on a run back to Los Angeles. He took them to a warehouse in Van Nuys, where two men—one of whom had an Israeli-sounding accent—paid him $600 cash. According to a criminal complaint in the case, the almonds were intended for Once Again Nut Butter in Nunda, New York, but never arrived. Zavala believes that they ended up in Mexico.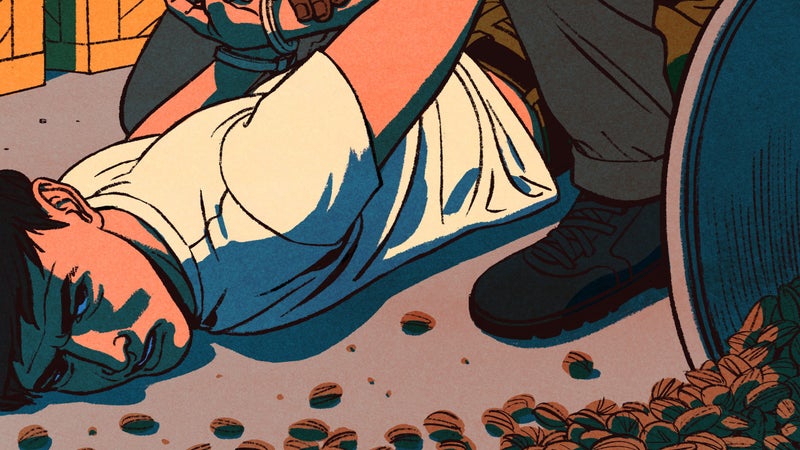 Andrei's lawyer advised him to plead guilty to stealing the almonds. He spent just shy of a month in jail and is now back to work as a driver. Though he admitted to me that he knowingly stole the Budweiser and ­beauty products, Andrei swore that he did not realize the nut transaction was illicit.
It appears that some drivers are ­genuinely unaware that they are participating in a crime. Kirk Squire at Horizon believes that a gullible driver picked up the company's pistachios, not knowing he was delivering them to criminals. In his experience, he says, "it's always been a subcontracted driver who doesn't know what's going on." Keeping drivers in the dark makes it significantly harder for police to trace missing nuts—theft on a need-to-know basis.
Andrei and I spoke at dusk in the parking lot of a shipping facility in Commerce City. The area reminded me of the sinister, depopulated city depicted in season two of True Detective—a warren of ­warehouses, ­empty lots, and tractor-trailers. Andrei was likable and friendly, though midway through our conversation he mentioned that he fought with Soviet forces in Afghanistan in the eighties. This revelation was not ­intended to be threatening, but it did nothing good for my nerves. After we spoke, Andrei said he was scheduled to haul a load of coins from the U.S. Mint in downtown Denver back to L.A., a detail I found astonishing, given his prior convictions.
Before I left, Andrei gestured toward the shipping dock where his truck was parked and explained how easy it would be to execute a theft. "No security, no cameras, nobody else," he said. "It's simple—you've got a truck, you can change your motor-carrier number, DOT number, name, license plate." I asked if he believed that the people who hired him were part of a larger group. "My opinion," he said, pausing, "yes."
---
In late 2013, Chad Parker got a call from a nut broker in Brooklyn, New York, named Arthur ­Coussa. Coussa explained that one of his clients, a distributor in Detroit, was getting undercut on walnut ­prices; he believed that someone was selling hot nuts. "How do you go cheaper than cost?" Coussa asked. ­Parker convinced the distributor to become an informant and had him go under­cover at a bakery near Detroit called Babylon Foods. Because the nuts had crossed state lines, ­Parker ­enlisted the help of the FBI to obtain a search warrant for Babylon Foods. There, agents found walnuts in packaging that matched a load stolen from Carriere Family Farms. When questioned, Babylon's owner said he had purchased several shipments of nuts from a Los Angeles bakery and food distributor called Lavash Guy.
A number of experts told me that selling hijacked food is easy. Stolen nuts often move through unscrupulous food brokers and end up in independent grocery stores or bakeries. When I asked an executive at the shipping-security company CargoNet what sort of person buys stolen food, he laughed. "You do!" he said. "You just don't know it. If you go to the back of a market—a smaller market—those guys are looking for a bargain. They're not looking for information on where the food came from. They're not asking questions."
Later that fall, ­Parker and federal agents searched Lavash Guy and questioned the owner. According to a police report, he could not explain where he had purchased the nuts he sold to Babylon Foods or why he had written a check for $30,000 to a nearby business called Lopez Canyon Development Group, where Parker found an orange Freightliner matching the one used to rob Crain. (Lavash Guy's owner told me that he did not buy or sell stolen nuts and denied that there was anything incriminating about the $30,000 check. The police, he said, "were going around to a lot of places. They searched us, but it wasn't us. They didn't find anything.") Parker and the FBI also uncovered a relationship between ­Lopez Canyon and three men with Armenian surnames.
More than a half-dozen law-enforcement officials I spoke with said they strongly suspect that many nut thefts have originated with Armenian Power, a criminal group that is active in the Los Angeles area and linked to a broader Russian organized-crime network. One of the three men listed in a police report as being involved with Lopez Canyon has a criminal history that includes convictions for burglary, assault and battery, criminal trespass, and domestic violence resulting in injury; a second pleaded no contest to a charge of grand theft in 2014. Though the men have not been charged with any crimes in the nut case, Parker told me that they ­remain under investigation by the FBI. "We were trying to go up the food chain," he said.
---
It took the nut industry more than two years to realize that it was under attack. In late 2015, a month after the Horizon theft, the Western Agricultural Processors Association held a meeting for nut companies and law enforcement, which it called, perhaps melodramatic­ally, the Emergency Nut Theft Summit. "We thought we'd hold it for just a couple of people, because we'd had two companies that had been hit," the association's
Roger Isom told me. "We had 147 people register. We realized right then, about the first of Decem­ber, that this was way bigger than we'd been led to believe." (By January 2016, Isom had received information about 20 thefts. Three months later, that number grew to 34.)
As the pace of thefts accelerated in 2015, police in the Central Valley scrambled to piece together information about Armenian Power, which arose in Glendale and North Hollywood in the eighties and nineties. Martin Estrada, a former assistant U.S. attorney who helped prosecute more than 100 Armenian Power associates for extortion, kidnapping, and gun charges in 2010, told me that its closest analogues are Mexican drug cartels. "I worked on U.S. organized crime, but I also worked on many cartel ­cases," he said. "It's hard to quantify, because the cartels operate in a different country. But I would say, as a criminal enterprise, they're highly sophisticated."
When I asked an executive at the shipping-security company CargoNet what sort of person buys stolen food, he laughed. "You do!" he said. "You just don't know it."
Well before it became interested in nuts, Armenian Power made tens of millions of dollars in credit-card and medical-­billing conspiracies. In 2010, dozens of people linked to the group were convicted in a Medicare fraud case involving more than $160 million in fake claims. Bob Zahreddine, a detective with the Glendale Police Department who supervised a multi-agency task force that investigated the organization, told me that local and federal investigators have identified Armenian Power collaborators working inside the Armenian consulate in Los ­Angeles, the California Department of ­Motor Vehicles, and the federal court in L.A. (In the latter case, a clerk named Nune Gevorkyan and her husband, Oganes Koshkzryzn, were con­victed and sentenced to prison for leaking sealed information to group members.)
"When a truck driver gets ar­rested for stealing a little container of walnuts, and then hires a $100,000 attorney, he's not the guy running the organization," Zahreddine said.
In another police report, Chad Parker noted that, while digging through business records during his investigation, he discovered that one person of interest in the case had cosigned a loan to a Los Angeles County official worth $5 million.
---
When I first spoke with Tulare County sheriff Mike Boudreaux in February 2016, he told me to expect arrests within weeks. Several months later, no arrests had been announced and Boudreaux sounded less ­assured. He said that his team, which was now also working with the FBI, was examining connections in ­other parts of the country.
"We're taking it where the money is," Boudreaux said. "These are not easy prosecutions. But we believe we have enough ­evidence." Armenian Power, he said, is ­active across the country. (The FBI declined to comment for this story but confirmed to the Los Angeles Times last year that it had opened an inquiry.)
"The whole point of inves­tigations like this is to get to the bigger fish. We've gotten to the bigger fish. We have the bigger fish identified." The hard part is catching them.
Federal involvement has both widened the investigation and slowed prosecutions. The advantages of a federal probe—manpower, technology, and the authority to work across state lines—may be somewhat outweighed by the reality that theft is a low priority for federal prosecutors, who prefer to build cases around charges of conspiracy or racketeering. One might say that they prefer to crack the organization first, nuts second.
Another detective told me he'd traced a group of walnut thieves to Glendale and Van Nuys, and served search warrants there, yet there have been no prosecutions in that case. "We were onto the right people," he said. "But it's not what you know, it's what you can prove."
In the summer of 2016, Roger Isom and Kirk Squire lobbied the California legislature to increase penalties for people convicted of stealing nuts and to fund a task force to combat the problem, but Governor Jerry Brown vetoed the bill. When we met in California, I asked Marc Zavala whether he was optimistic that law enforcement might stop nut theft. He was complimentary of recent efforts but said that local departments would eventually move on, or else the thieves would find something else to steal. ­"Cargo theft has been around since for­ever," he said.
In 2014, Marco Alberto Garcia pleaded guilty in the Crain theft and was sentenced to four years in jail. (His lawyer did not respond to a request for comment.) Other members of the ring, if prosecuted, are likely to get off easier: in California, a 2014 state law prohibits people convicted of grand theft from serving sentences in state prison, and because county jails are so overcrowded, theft convicts often serve dramatically abbreviated terms.
Meanwhile the heists have continued. "You go down to Tulare County, Fresno County, to San Joaquin County, where some of these thefts are also occurring, and most likely by the same people or by associates of theirs—it continues to happen," Parker said. "It's frustrating."
Ultimately, Parker's bigger contribution to stopping nut theft had little to do with ­police work: in the wake of the Crain theft, he ­began training Tehama County nut processors in basic security precautions, and there have been no fictitious pickups there since 2013, despite increased problems elsewhere in the state. "The whole point of inves­tigations like this is to get to the bigger fish," he said recently. "We've gotten to the bigger fish. We have the bigger fish identified." The hard part is catching them.
Correspondent Peter Vigneron (@petervigneron) wrote about being your own doctor in October. 
Corrections:
(10/06/2021) This article originally misstated Scott Cornell's job at Travelers Insurance. Outside regrets the error.
From
Outside Magazine, June 2017
Lead illustration: Patrick Leger