The Hayduke Option
Mountain bikes were made for this: 450 miles of empty, achingly scenic backcountry in southern Utah, on little-known trails pieced together in the spirit of Edward Abbey. Our writer saddles up to get lost.
Heading out the door? Read this article on the new Outside+ app available now on iOS devices for members! Download the app.
The sand in canyon country is much like the Holy Spirit, which is to say it's everywhere, and in everything, and often leads to invocations of the Almighty, though for reasons that land short of the sacred. The sand will gum your nostrils, salt your coffee cup, and miraculously transform your toilet tissue into 80-grit sandpaper. Then it will accompany you home. It's a normal reaction upon returning from Utah's back of beyond to think that some joker has detonated a large canister of Hungarian paprika in your duffel.
"Desert spice," a friend calls it. "Cowboy sunscreen." Said friend tells of once hunkering in the lee of a piñon to wait out a fierce windstorm in southern Utah and eventually falling asleep. Overnight the sand quietly duned in his eye sockets, a fact he discovered upon waking the next morning.
After many trips, I thought I knew southern Utah and its dusty ways. Like many of us, I also thought I knew all about the mountain biking that's available here—a knowledge that pretty much could be summed up in one word: Moab.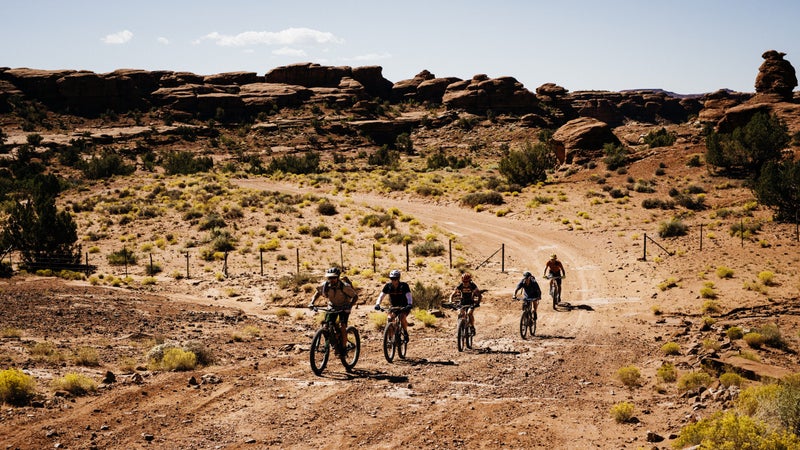 John Humphries's considered opinion is that we don't know bupkis. Humphries is the founder of Lizard Head Cycling Guides, a small touring company based in Ophir, Colorado. His confirmed belief is that there's another world to explore on knobby tires, beyond the slickrock rabble in their I GOT (SAND) STONED IN MOAB T-shirts. I've known Humphries for several years, and I like his simple philosophy. He offers the kind of adventure trips that he wants to do, as a passionate cyclist and mountain biker. This almost always translates into long, point-to-point itineraries on lonesome roads that wind through western landscapes so iconic they should bear a ™.
"If everyone is taking a right," says Humphries, who is prone to speaking in aphorisms, "we want to take a left."
---
Last summer, Humphries called me with his latest concoction: the Trans-Utah Mountain Bike Tour, a 450-mile crossing of the bottom of the state, which he did for the first time in spring 2016.
Strictly speaking, the tour isn't a border-to-border ride. It leaves off wide chunks of Utah at either end and concentrates on the huge sweet spot in the middle, which is terra incognita to so many Beehive State visitors. Over two weeks, the ride touches just a handful of tarmacked roads, instead stitching together unpaved Jeep and mining tracks that aren't found in most guidebooks. It's a monster gravel grinder.
The ride touches just a handful of tarmacked roads, instead stitching together unpaved Jeep and mining tracks that aren't found in most guidebooks. It's a monster gravel grinder.
The route starts north of Lake Powell, at Big Water. During week one, bikers climb the Smoky Mountain Scenic Byway, named for the natural coal fires in the ground; pedal along Hole-in-the-Rock Road, the famously difficult route that pioneers carved through the future Grand Staircase–Escalante National Monument; zigzag through the Waterpocket Fold of Capitol Reef National Park on the Burr Trail; then finish with a climb—and a brakes-smoking descent—in the Henry Mountains, the last range to be explored and named in the lower 48.
During the second week, bikers trace a lazy arc as they aim southeast toward southern Utah's other little-known mountains, the Abajos, and traverse still more Bureau of Land Management real estate. Eventually, they turn north and nip the eastern boundary of Canyonlands National Park before pedaling into Moab for finish-line hamburgers. Clients can sign up for one week or both. Humphries calls the ride the Hayduke Tour, after the fictional George Hayduke, the desert-rat antihero who vanishes into canyon country at the end of Edward Abbey's The Monkey Wrench Gang. Humphries promised places I'd never seen; some I'd never even heard of.
I signed on for week two.
In the closing days of summer, several of us meet in Grand Junction, Colorado, to stock up on whiskey and provisions. Humphries points the van toward the dropping sun. The radio shrinks to two options: country or western, with Fox News on the hour.
The last peopled dot on the map is Hanksville, a dried-up town of 200 in eastern Utah, its mobile homes as lonesome looking as beer cans in a ditch. Hanksville's claim to fame is a roadside convenience store inside a cave. An enormous woman presides over the grotto's cash register; I set a bottle of water on the counter and apologize for the $20 bill. "This is the West," the woman says. "I keep lots of change—and a handgun up front."
We return to the blacktop, arrowing south. At sunset Hanksville looks like it's been set on fire.
"Say goodbye to civilization," somebody says.
"Such as it is," says somebody else.
---
Humphries's briefing the next morning is one part pep talk, one part liability disclaimer. "Cycling is a humbling endeavor," he says as we stand around at a camp beneath some cottonwoods. "There are highs and lows." Our leader is short-ish and seems built of copper wire, through which run frequent jolts of exuberance, even when he's discussing adversity. "There will be walking of bikes—if you ain't hikin', you ain't bikin'. " We're heading into the backyard of the boondocks, he reminds us. "Evacuation out here is slow and painful at best. Ride at 85 percent. When in doubt, chicken out."
We break camp and pedal into the already warm day. Leaning over our shoulders are the lumpy Henrys, a passel of frustrated volcanoes that never erupted. Butch Cassidy once found refuge in the impossible landscape surrounding these hills. Now we ride three abreast up a sandy road like some latter-day Wild Bunch. With our two guides we are eight—including my friend Kevin, an unstompable spirit who did BMX as a kid 30 years ago in the Bay Area; Sam, a game Taos, New Mexico, real estate agent in his late sixties; and Richard, the trip's only through-rider, a subdued Aussie with the hunched posture of a greyhound, who so noiselessly approaches to pass that someone soon dubs him the Assassin.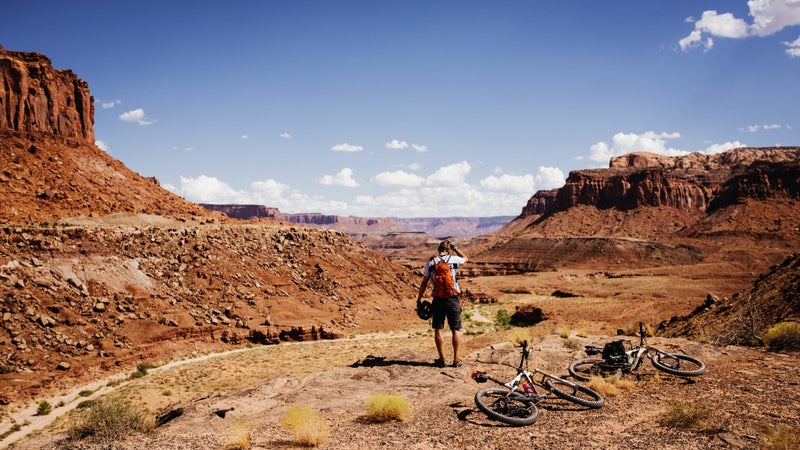 Already picking up the rear is Jim—or Hedge Fund Jim, as I come to think of him. Jim is a middle-aged Master of the Universe from the East Coast. He likes to talk about his vacation home in the Bahamas and his land in Jackson Hole. He says "market cap" a lot. He describes the epic ride he took down the Rockies with buddies after business school.
But that was a few decades ago. Now Jim is softer in the middle. Perhaps attempting to neutralize the rigors to come, he has brought thousands of dollars' worth of gear, including a spiffy Garmin watch with a heart-rate monitor. The previous day we had stood, hands to hips, in front of a beige Marriott Courtyard in Grand Junction while Jim sorted through the contents of his enormous suitcase.
"Are we seeing a town on this trip?" Jim asked. "Does this trip have laundry?" He held up an economy-size can of Barbasol. "Are you guys planning on shaving?" The answers to these questions seemed to vex him. He rummaged more. The desert waited. He looked at Humphries. "Do we have to worry about bears?"
---
We follow the signs toward Poison Spring Canyon on doubletrack edged with blooming snakeweed and rabbitbrush. Brush gives way to rock. The land takes on the pinkish cast of a Brit left on the beach too long. Soon we're bouncing over cobbles in a wide gully that seems to have had some water coursing through not so long ago. (The concept of a "road" in southern Utah is rather liberally applied to any scratch in the dust that's been navigated more than twice by a high-clearance Jeep, including streambeds, which are often the flattest earth around.) Eye-of-needle arches appear atop the walls above us. The temperature is in the high eighties—pretty typical around here. We stop for a drink in the shade of a willow and squint up at the walls. Travis Tucker, Humphries's fellow guide—who's as lean as a seatpost—takes more interest in the friendly smoke-signal clouds. A thunderstorm in a drainage like this, Tucker knows, could mean a flash flood that sweeps us all away. Jim frets about whether the two pairs of bike shorts he has tugged on will buffer him from the assaults of the week ahead. Tucker throws him a look.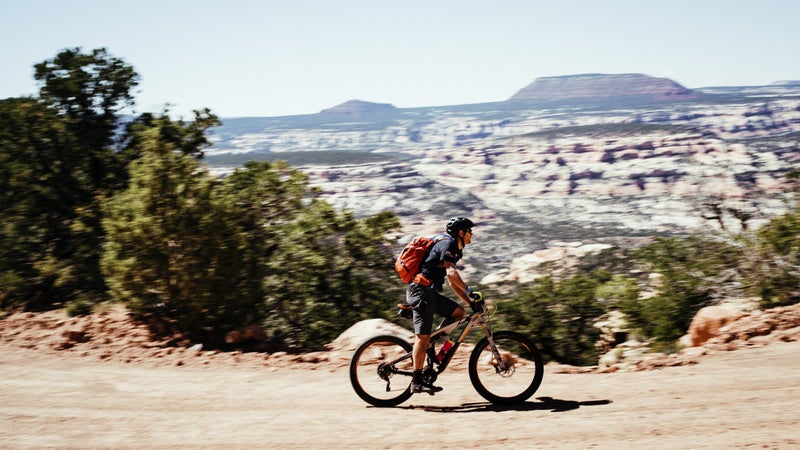 "You know what I applied this morning? Some HTFU cream," Tucker says.
"What's that?"
A grin. "Harden the fuck up."
We ride on. The walls step back and the sky steps in. Thousand-foot mesas run to the horizon. Tall clouds pause over them for our snapshots before drifting off toward the Rockies. Anywhere else this landscape would be an attraction. In Utah, it's just more cattle country. I have a sudden urge to light a Marlboro and spur a big bay toward Mexico. Instead I click the shifter and nudge the bike onward.
---
Most multi-day bike tours have a support vehicle. A ride like this requires a different kind of sag wagon—in our case, a high-clearance Ford F-350 Super Duty flatbed truck. It's part pack mule, part mothership. We've piled it with tents, stoves, coolers, beer, water jugs, a week's food, a portable toilet. Throughout the trip, the truck will leapfrog us and rendezvous for water and food breaks. If someone needs a breather, he jumps in and takes a bump for a few miles. In canyon country, though, the roads are sometimes too rough for even this truck to follow us closely. Then we're unsupported. We carry what we need.
Our first day is one of those days. The Dirty Devil River, when we finally reach it after several hours, is narrow enough to spit across. We splash through and climb again. We ride the rim in the day's draining light as the river twists below and the shadows of the mesas pull across the land.
"There will be walking of bikes—if you ain't hikin', you ain't bikin'. Evacuation out here is slow and painful at best. Ride at 85 percent. When in doubt, chicken out."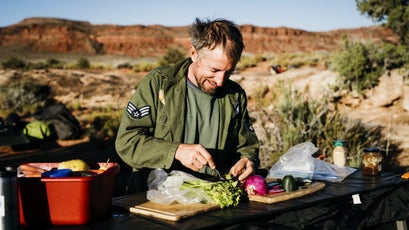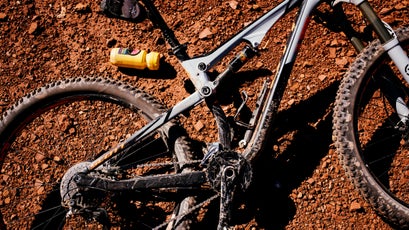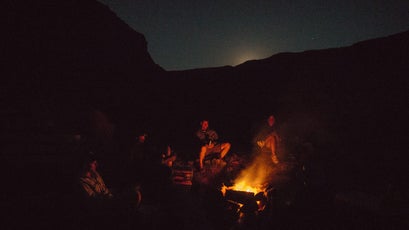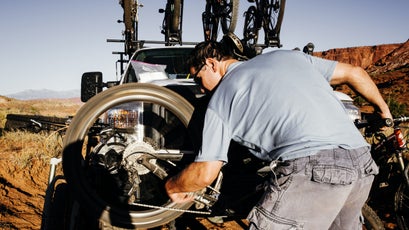 Fortunes change quickly in the desert. One minute we're babbling about the beauty. A few minutes later we're out of water and thirsty. We ride and ride. Yet the truck keeps not appearing, and it's carrying our night's camp. Tongues grow thick in mouths. Conversation stops. The world shrinks to the want of a cool glass of water, a ham sandwich, a cot. We pedal deeper into the purpling dusk.
The F-350 finally appears, well after dark. I'm shelled. Humphries, who was driving, is embarrassed and contrite. Today's ride was a gorgeous new variation he'd wanted us to see. But the mileages on signs were wrong, and unforeseen washouts meant the truck had a hard time reaching us. It was a bad choice, he concedes.
Humphries leads some of the best trips around, but once in a rare while riders pay for his exuberance. We collapse on the desert floor.
There's a name for days like this, Tucker says later: type-two fun.
Meaning?
"It doesn't have to be fun to be fun."
---
Sleep and mugs of cowboy coffee brush away the previous night's despair. In the morning we saddle up and ride out of a red canyon, crossing a dotted line on the map that marks Glen Canyon National Recreation Area. The heat of the day is already on. Clouds pass over the Orange Cliffs as if cooling a fevered brow. "As you can see, now the scenery begins," Tucker deadpans. "That BLM land—pfffft."
During a water break at the truck, Humphries points to the layer-cake stripes in the tall walls nearby. "See that green stuff? That's the Chinle layer," he says. "That's why these roads are here." The rock is famous for containing uranium. In the decades after World War II, there were 800 active mines on the Colorado Plateau as prospectors crawled over this country looking for the radioactive stuff that fed the arms race. We see them as we spin past, their tailings piled like gopher mounds.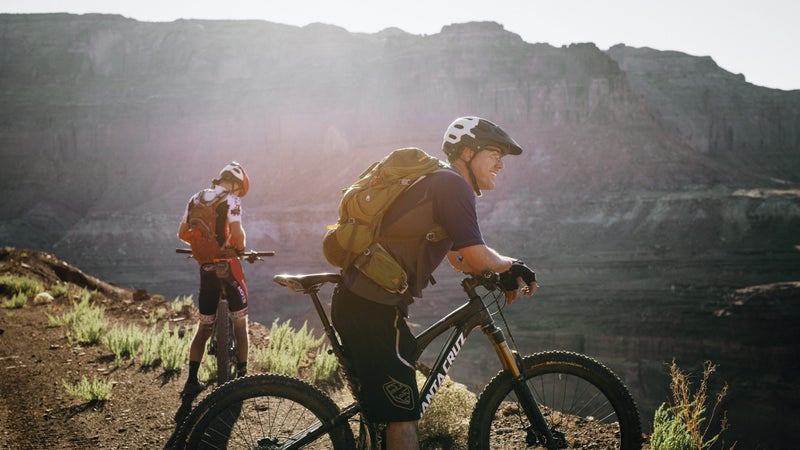 Plunging down a stony road brings us to a junction. A weathered sign points the way to the Maze and the Dollhouse. We turn away from those marquee sites, form a ragged paceline on a hard-packed road, and head deeper into the landscape.
It isn't accurate to say that you bike through canyon country. You bike with it, because the topography demands submission. We skirt canyons and pedal beneath mesas on a dusty track that's obedient to every curve of the land. With each change of direction, headwinds become tailwinds become headwinds again. The sun is an anvil overhead. Each shading cloud is a passing grace. And God, the sand. It grits eyes. It coats legs. It waits like a tank trap in every wash to grab the unwary and toss him over the handlebars. If you're going to last out here, you soon come to a realization: you must surrender to this place. To the sun, the wind, the predilection of every living thing to want to bite or sting or prick. You must absorb the challenge and reply with equanimity. You must find your Zen and keep pedaling. The cool head can move all day. But resist or try to make the desert bend to you? Well, sir, you'll go a little scooters.
---
We do have one weapon on our side: the bikes. The recent revolution in mountain bikes almost levels the playing field—with today's 27.5-inch wheels, three-inch tires to surf deep sand, hydraulic seatposts that drop with a thumb's push to lower a rider's center of gravity, and five-inch shocks to make the ride as plush as an old Caddie. Atop my Scott Genius, I feel like a hero. Tucker notices. "Just be careful you don't run out of talent," he says.
After several hours of pedaling, we clear a rise and glimpse a slice of silver in the distance: Lake Powell, that beautiful abomination, sloshing in its sandstone bathtub. We roar downhill toward the reservoir and find shade beneath a bridge across the Colorado River. HAYDUKE LIVES, someone has scrawled on the bridge span.
It isn't accurate to say that you bike through canyon country. You bike with it, because the topography demands submission.
That night on the edge of Sheep Canyon, I stand beneath the solar shower and scrub at the top two layers of dust, then I sit by the campfire with a map and trace the route with a finger. The names that Utah's white settlers gave to the landmarks that steered their days were born from the pioneer's practical squint. Time rusted these names into something else, however, and endowed them with the accidental poetry of an old harrow in a field. I say them aloud just to feel their strange edges. On the map are places named for people who once lived there (Negro Bill Canyon, Freddies Cistern) and places named for bad things that happened there (Bloody Hands Gap). There are places named after what they were good for (Beef Basin) and places named for not being good for much (Devils Garden). There are names, too, whose stories have long since blown away: Cads Crotch, Tin Cup Mesa.
The campfire sends its sparks toward the Milky Way. Hedge Fund Jim is telling investment ghost stories. I close the gazetteer, nudge a tarantula to a point on the compass away from my bedroll, and head off to sleep.
---
The days take on a pleasing routine: Rise to coffee. Brush derailleurs. Ride hard all day. Pitch camp again, at a place somehow more superlative than the last. Dutch-oven chili around the campfire. Sleep under a flour spill of stars. Repeat.
One morning we spin 20 miles on a subtle climb up Wooden Shoe Road without once fingering the brakes. A road marker announces that we've entered San Juan County, a chunk of real estate larger than Connecticut that has fewer than two residents per square mile. The sagebrush is silver-green, the sky blue. Walls rise again from the open country, high and red beside the red road.
To move through big country beneath a bowl of sky—these are the days a mountain bike was made for, aren't they? I like them, too, for this: When you travel at the speed of a pedal's churn, you're forced to slow down. You lift your head. You consider those cliffs around you. Your mind drifts to thoughts of Jurassic and Triassic. You think about the grains of sand on the road ahead—how they began life as the ancient Appalachian Mountains, and how they were carried west by continent-crossing rivers to rise again as these stone walls, only to crumble once more into the powder that now scatters beneath your wheels. If it doesn't lead to an existential wig-out, you may find that you can settle into this smallness. Things gain perspective.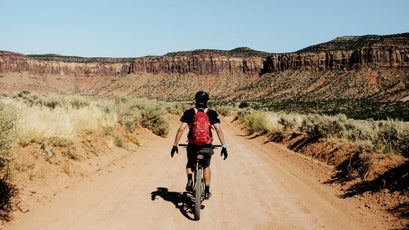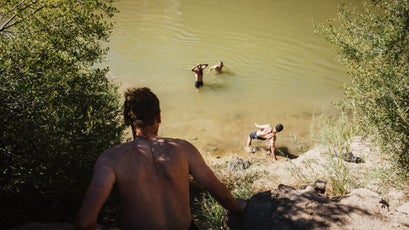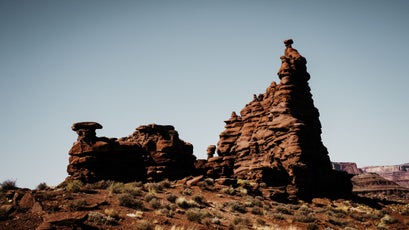 The morning's friendly, clotted-cream clouds join hands and grow grim. Cumulus become cumulonimbus. Gumball hail briefly hammers down. Three of us huddle under a juniper to wait out the deluge. The upside to the squall is that it cools the day and beats perfume from the big sagebrush. It smells like the West. Humphries grabs a handful and rubs it into his armpits.
That afternoon we turn down a spur road until the track ends at the edge of Dark Canyon Primitive Area. The ground drops away 2,500 feet in an awning-striped canyon. We pitch camp, pull up chairs, sip beers, and watch the show as clouds drag their shadows over an eternity of stone. "I look at this and it's a national park," says Humphries. "It's like camping on the west rim at Zion. And no one's here. We haven't seen anyone else all day." For hours we sit like this. Sometimes we talk. Mostly we don't. Once in a while, somebody says something that's not up to the moment. We sit in silence again and stare, closing eyes hard the way a child tries hard not to forget.
---
Before we head north toward Moab, we need to head skyward. Up we pedal, past more landmarks none of us have heard of before. The Pushout. The Heel. The Toe. Woodenshoe Canyon. After topping out on a ridge, Kevin bombs down the other side and skids to a stop at a T intersection. A rancher in a pickup has appeared out of nowhere. "Truck!" he sputters. The startled rancher waves. Kevin laughs. "I hadn't seen one in so long I forgot what to call it."
We ride higher. Juniper turns to gambel oak, blushing with the thought of autumn. Oak becomes aspen, which in turn becomes ponderosa. The forest smells of butterscotch. One afternoon we gain the high, wide plateau of Cedar Mesa, the centerpiece of Obama's embattled new Bears Ears National Monument. From one overlook we can see four states. We also see turkeys, deer, and moon-faced cattle among the ponderosa, along with hunters who give us the same confused look.
"It's all downhill—except where it's up," Humphries says the next morning, giving us a grin. We head out in a pack along South Elk Ridge Road. At first, Humphries seems to have gotten his days wrong. Atop the mesa, it's all high meadows. I try to suck on Richard's rear wheel as he roars across it, but the oxygen is scarce at 9,000 feet and he's soon gone. Finally, the road tilts down. We drop seatposts and corkscrew 4,000 vertical feet back to the sandbox, where Canyonlands National Park wavers in the heat.
On these long trips, when you're out for days on end, you feel a new rhythm working you and changing you. I come to peace with the dust. I soften toward Hedge Fund Jim, who gets quieter even as he rides more strongly—as if he, too, is finding his own rhythm again. That night, near the famed climbing grounds of Indian Creek, we root through the cooler to grab one of the dwindling beers, then fall asleep to coyotes yipping at the pale skull of the moon.
---
On the seventh and final morning, we rise in the blue hour of dawn to Humphries's call to coffee bouncing off the walls of Lockhart Basin.
If it doesn't lead to an existential wig-out, you may find that you can settle into this smallness. Things gain perspective.
"I never want these trips to end," says Kevin.
"From this camp, we do offer the Hayduke Option," Humphries replies. "We tell people you just disappeared into the desert."
We ride out into slanting light and enjoy some of the best riding of the week—hill-and-dale stuff beneath the drippy chocolate towers of the eroded Moenkopi Formation. Humphries chooses the best lines, and I keep close to him as he swoops and whoops. He stops just long enough for us to regroup and check in—"Rubber side down!" he hollers, then he blasts off again.
Toward noon the group descends on a steep bouldered wash mined with step-downs into Chicken Corners, where 4x4s can reach and where they like to rooster around. Within minutes a buzz approaches. The buzz resolves into music. It's Beyoncé's "Halo," blaring from an ATV that's driven by a balding, middle-aged white guy. The spell is broken.
Soon another Jeep appears. Spent, Sam and Hedge Fund Jim jump in. A nice lady in the Jeep offers me water. I decline, foolishly clutching to the purity of my prejudice, and I mash onward in the noonday heat toward Hurrah Pass. Later that afternoon, outside Moab, we dive into the Colorado River to cool off, then we pedal, dripping, the final two miles to the Moab Brewery. There we dive into pints of Rocket Bike Lager.
We have ridden 260 miles and climbed about 20,000 vertical feet. We'll be mining the sand and dust from gear and ears for days, but Humphries knows he has a winner. He now offers the trip four times a year, twice each in spring and fall.
At home, people ask me how it was. The snapshots I show them look flat. My descriptions feel flabby. I keep thinking about Abbey, who in the early 1960s drove with friends from Blanding to Green River on byways like ours. "Those who go there now, smooth, comfortable, quick and easy, sliding through as slick as grease, will never be able to see what we saw," he wrote in an essay called "How It Was." "They will never feel what we felt. They will never know what we knew, or understand what we cannot forget."
Yeah, I think. That's how it was.
Contributing editor Christopher Solomon (@chrisasolomon) wrote about forensic biologist Kathy Burek in January/February.