Indefinitely Wild
Why This Girl Wants to Become a Boy Scout
Meet the 16-year-old working to end discrimination in the nation's largest youth outdoors program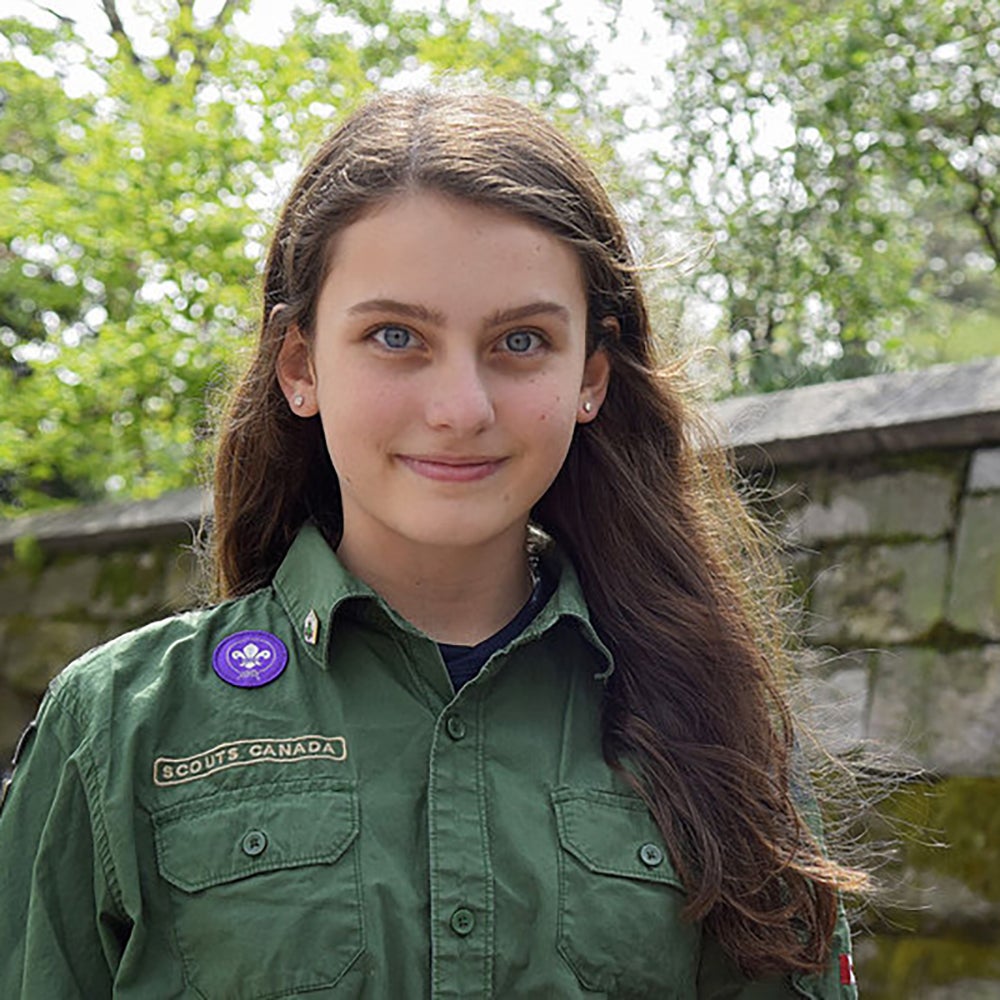 Heading out the door? Read this article on the new Outside+ app available now on iOS devices for members! Download the app.
Sydney Ireland is, by anyone's standards, a normal, well-adjusted 16-year-old. She just finished tenth grade, loves to dance, and this year choreographed her high school's dance recital. She's looking forward to college, where she wants to study "something with math" and "something with the environment." As we spoke, Sydney was getting packed for a weekend camping trip with her dad. And, like her big brother and other members of their Manhattan Boy Scout troop, Sydney is working toward becoming an Eagle Scout. Which is a problem, because Sydney Ireland is a girl.
"I really don't feel different," Sydney says. She's been camping with the Boy Scouts since she was four years old, when her brother Bryan joined the Cub Scouts. Once she was old enough, she joined, too, unofficially. She even achieved the highest rank, the Arrow of Light, also unofficially. Sydney completed the requirements but was not granted the award, because she's a girl.
Today, she still goes camping with Troop 414, where the other kids and their parents accept her as a member, even if the organization itself does not. In fact, Sydney will soon sit in front of a board of review and ask for approval to move up the second rank of Boy Scouts, to Tenderfoot. Of course, that'll be unofficial, too.
"I really love the Scouting program," Sydney tells me. "It's just a really great program, but they still don't recognize me as a member."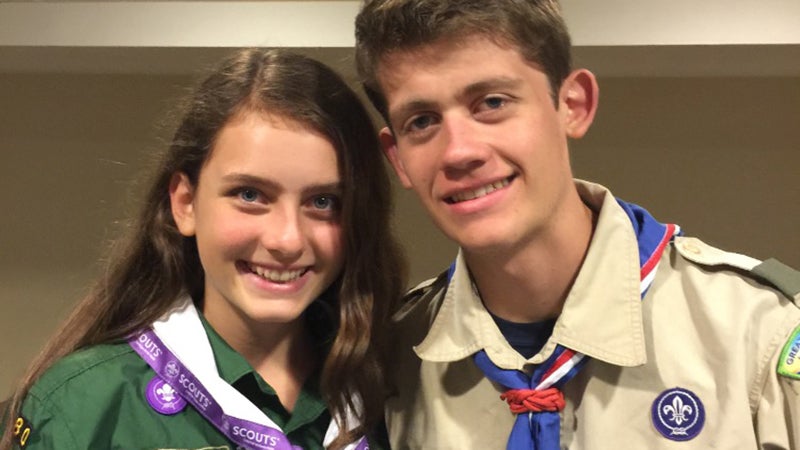 The Boy Scouts of America is the largest and, some (including Sydney) would argue, best leadership program for youth in this country. It teaches kids responsibility, outdoor skills, and environmental stewardship.
"High-level Scouting creates opportunity, and with opportunity comes a chance at success," writes Sydney on the Change.org petition she started to ask the BSA to accept children of any gender. "Unfortunately for me and half the country's population, we are excluded from most of these amazing opportunities for no reason other than that we are female."
Sydney's dream of becoming a Scout has taken her to South Africa and Canada—both countries that recognize girls as Boy Scouts. (The United States is the only Western country that does not.) So, even though she doesn't live there, Sydney has been able to join Scouts in other countries, where she's worked to progress in rank remotely. Through her troop in Ontario, Canada, Sydney earned that country's highest Scouting honor, the Chief Scout's Award. She's flying up in August to join them for a backpacking trip.
But Sydney still can't officially participate in the U.S. program she's been participating in since she was four years old. Unlike her 18-year-old brother, Bryan, Sydney won't be allowed to earn the rank of Eagle Scout.
"As you probably know, we've been trying to change that," she says.
I first encountered Sydney's name while researching an article about the BSA's move toward inclusiveness. The organization allows gay scouts, gay adult leaders, and, as of this year, transgender scouts who identify as male. But it still does not allow women. I'm an Eagle Scout who thinks it's past time that the BSA ended its policies of discrimination. But when I explained why in that article, it resulted in the most hate mail I've gotten this year.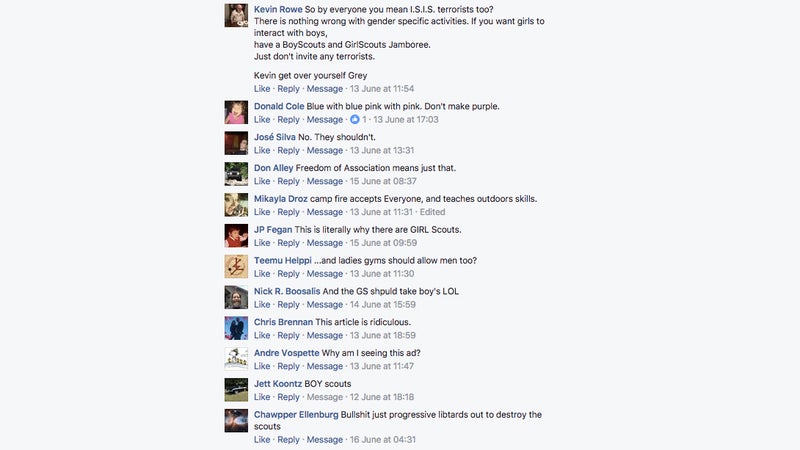 Sydney's no stranger to nasty comments, and I asker her to address some of the more common ones.
Why doesn't she just join Girl Scouts? "I've never been a member of the Girl Scouts, and I'm not an expert on it. But I do know that it's not the program I want to be a part of," she explains. "I really want to be a part of the Boy Scouts. They offer what I want to do with service and with the outdoors."
Despite the similar naming conventions, the Girl Scouts is not affiliated with or in any way based on the Boy Scouts. Through her brother, Sydney has been included in Boy Scout programs and activities and would simply like to be officially accepted by an organization she's already unofficially involved with.
What's it like having girls on Boy Scout campouts? "I've been doing this since I was four years old. It's definitely not weird," says Sydney. "But it would be nice to have some girls along too sometimes."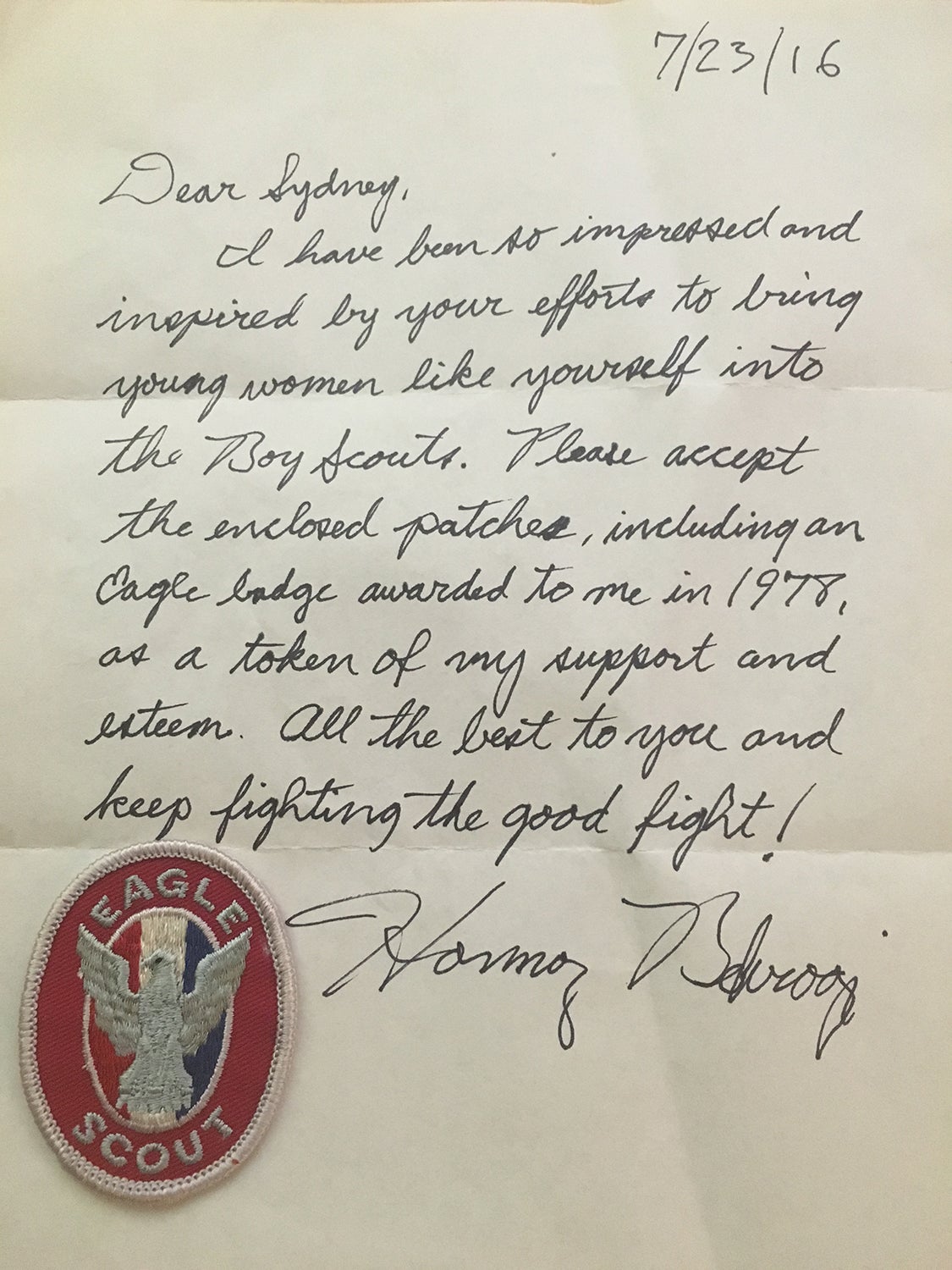 Away from the online vitriol, Sydney enjoys the full support of her Scout troop. Like a lot of troops, 414's scoutmaster is one of the moms. She submits Sydney's applications for membership and rank advancement to the BSA every time, despite knowing that each will be rejected.
Sydney is also supported at home, where her dad, Gary, has enthusiastically embraced both Bryan and Sydney's participation in Scouting, and despite the organization's policies of discrimination against his daughter, promotes the positive benefits it delivers. "We'll speak to anyone and tell them how great the program is," Gary tells me. "It's a program that teaches character and leadership. In order to better our kids and our country, I want every kid to have access to Scouting."
Sydney knows that convincing the BSA to change its gender policy within the next two years (you have to achieve Eagle before you turn 18) is a long shot, but she still plans to complete the requirements for the rank, regardless. She's even starting to think about the big service project each Eagle candidate must complete. "Something with sustainability," she says.
"There's nothing in the program that's specifically for boys," Sydney concludes. "There's no reason it can't just be called Scouts."