The Marathon World Record Holder the World Forgot
Two weeks after Kathrine Switzer made headlines at Boston in 1967, 13-year-old Maureen Mancuso quietly shattered the women's world record. Few people noticed.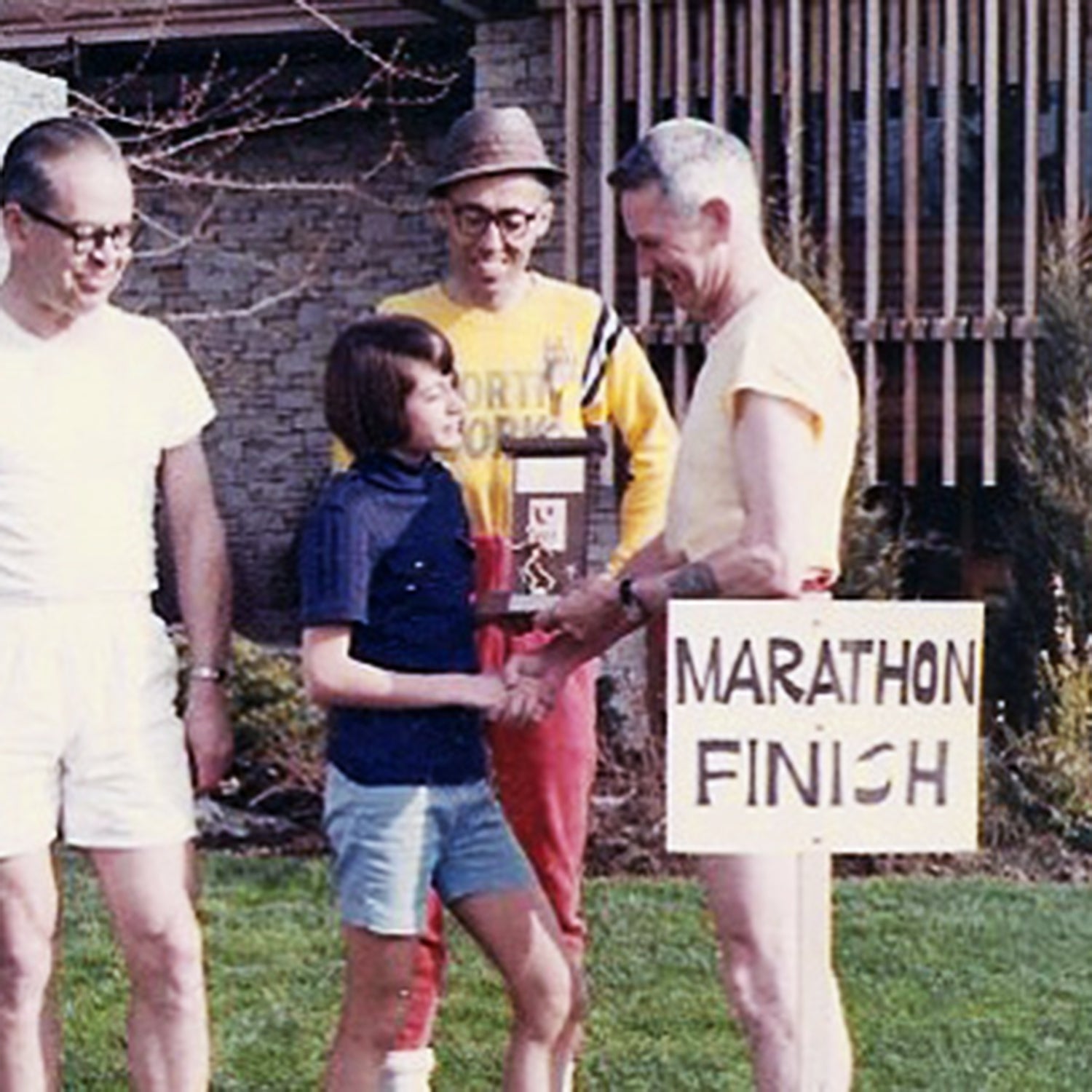 Courtesy Maureen Mancuso(Photo)
Heading out the door? Read this article on the new Outside+ app available now on iOS devices for members! Download the app.
If you crossed paths with Maureen Wilton Mancuso in Toronto, it would be easy to give nothing more than a passing glance to the 64-year-old woman running trails with her dogs. Sure, she glides over the terrain with ease, but you would never know that at one point she owned the women's marathon world record. Then again, very few people even knew her name when she set that record, in 1967.
There are many possible causes for Mancuso's relative anonymity. Maybe it's the fact that she was a tiny 13-year-old running her first marathon and stepped unnoticed onto the unpaved Eastern Canadian Marathon Championships course. Or perhaps she got lost in the headlines, because two weeks earlier, Kathrine Switzer had become the first woman to officially enter and run the Boston Marathon. Or it could be simpler: After Mancuso smashed the record by more than four minutes (she ran 3:15:22, breaking the 3:19:33 set by New Zealand's Mildred Sampson in 1964), she returned to life as usual and largely dropped off the radar.
Amby Burfoot, winner of the 1968 Boston Marathon and a former Runner's World editor, says it's crucial to put Mancuso's run in historical context. "She was running a race in Toronto that no one had heard of, at a time when no one was covering marathons," he says. "Most people only knew about Boston, and the overwhelming attitude was that distance running was bad for women."
In today's running landscape, where the top female marathoners are widely celebrated (and with good reason), it seems a bit sad that Mancuso never had her day in the sun. But in talking to her, it becomes clear that fame and admiration were never her goals and that a marathon career was not in the cards.
Today, Mancuso puts it bluntly: "I didn't really enjoy marathons. They weren't my thing." She admits, however, that the distance was a natural fit. "I didn't train much for that first one," Mancuso says. "But I had a talent for being able to keep going."
Prior to lining up that morning, Mancuso was a devoted and talented cross-country and track runner, training five or six days a week with her brother and the local running club. She first pulled on a pair of spikes at age ten after expressing interest in the sport to her parents, who wholeheartedly supported but never pressured her.
The idea of her running the marathon originated with her coach, Sy Mah, who spotted her talent for endurance. He turned to the Amateur Athletics Union (AAU) for permission—the governing body did not officially permit women to run marathons until 1972—and while the federation didn't explicitly deny Mancuso's entry, it did try to discourage it.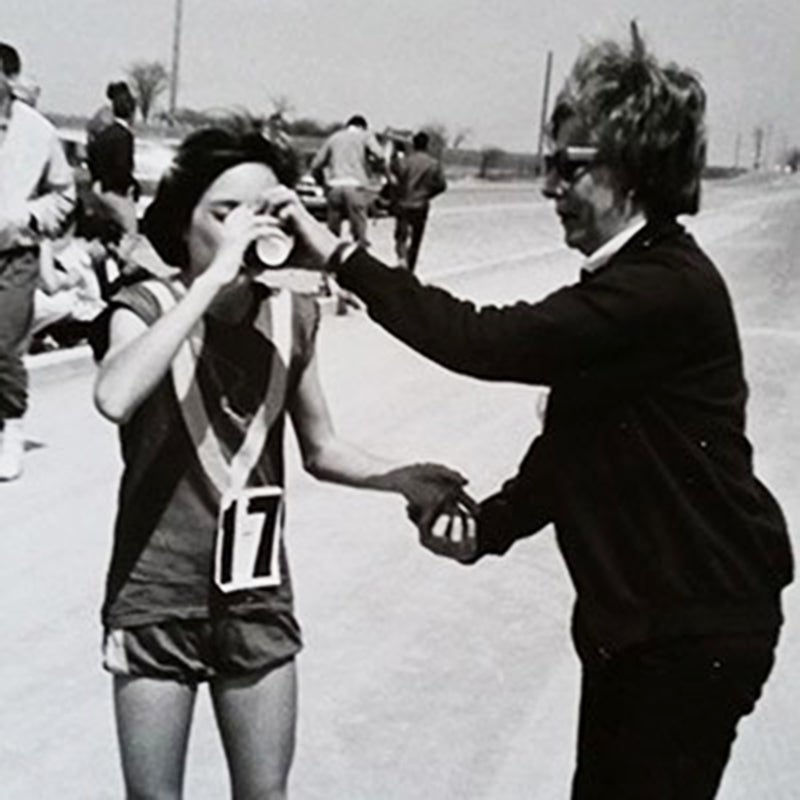 Mancuso went into the race knowing she could break the world record by running 7:30-mile pace. "That seemed easy to me, because I was accustomed to running so much faster for track and cross-country," she says. Mancuso stayed steady (within seconds of that pace) throughout the first 25 miles, she says, based off the splits yelled out from race officials at mile markers. Her mother was also watching the clock and determined that Mancuso was running too slow for the record—she shouted to her daughter that she needed to speed up. Mancuso obliged and clocked six minutes flat for her last mile. She crossed the finish line well in control. A race physician checked her heart rate right away, noting how much less winded she seemed compared to her older male counterparts.
Mancuso's achievement was underappreciated from the very beginning. Despite her showing that day, she says the officials didn't even name her run a world record at the finish line, because she was too young to qualify for records. "They called it a 'world's best performance,'" Mancuso says. "It wasn't until years later that they named it a world record."
---
Mancuso was one of only two women in the field that day in Toronto. Knowing how much controversy Switzer had caused in Boston, Mah invited her to join Mancuso for support. While the two women didn't run together for long—the 20-year-old Switzer was still not recovered from Boston a few weeks earlier—her presence gave Mancuso comfort. "I was happy to have another woman in the race," Mancuso says. "The AAU didn't stop me from running, but we knew they weren't happy about it."
Switzer says that accepting Mah's invitation was a no-brainer. "My boyfriend, my coach, and I had been expelled by the AAU after Boston, so it felt like a protest to go run another," she says. "Plus, Sy gave us money for gas."
In the end, Switzer crossed the line an hour or so after Mancuso, and she remembers complimenting the "little girl" on how well she had run. "Like a typical 13-year-old, she didn't care about the race," Switzer laughs. "She wanted to show me her Monkees poster instead." (Mancuso also remembers this interaction and considers it normal teenager behavior. "My friend had just drawn this picture of [Monkees member] Peter Tork for me," she says. "That's where my attention was.")
On the drive back to the states with her boyfriend and coach, Switzer says, the conversation turned to Mancuso. The three of them discussed whether the young phenom would continue running. "I speculated that she would be finished with it by 18," Switzer says, "because that's what happened with kids and running. They burned out."
Switzer's instincts proved to be true. Despite Mancuso's talent for the distance, her heart belonged to the track and shorter road distances. "I really preferred a five- or ten-mile race," Mancuso says. "For a 13-year-old, three hours is a long time to run—it just felt boring to me."
Boredom wasn't the only obstacle to Mancuso's running future. Immediately following her marathon, she and her family hopped in the car and headed north to their cottage for two weeks. When she returned, it wasn't to accolades or glory, but to largely negative attention. "There were media calls coming in from all over the place," Mancuso says. Numerous articles pointed to the potential harm that running 26 miles could cause a young girl. Some claimed that the women's marathon would never catch on and that Mancuso's effort was "without purpose." One reporter went so far as to ask her to prove she was indeed female. The headlines were hard for a 13-year-old. "All I could see was the negativity toward me," Mancuso says.
While the marathon already wasn't her favorite distance, Mancuso says the controversy over her race didn't help. "I think if there was any enthusiasm to do another, that probably killed it," she says.
Burfoot isn't surprised by the reactions to Mancuso's race. "We were a long way from understanding what women could do," he says. "It took many more women and years of fighting to prove that running wasn't bad for the female body." Despite the controversy, Mancuso had a good support system. "I had strong friendships in my club, and my coach and parents were behind me," she says. "The reporters weren't the important people in my life."
Mancuso returned to her track and cross-country training and competed at the World Cross-Country Championships in Scotland when she was 15. She gave the marathon two more shots in 1968, but because they weren't a priority for her, Mancuso didn't properly train for them and didn't come close to matching her previous performances.
Mancuso's running career was largely over by the time she finished high school—a combination of burnout and dead ends. "All my friends were quitting the club, and, really, it was enough for me at that point," she says.
In the ensuing years, Mancuso's running largely became recreational, and she went through stretches where she gave it up for reasons of injury and time restraints. Mancuso's life post-competitive running has been largely dedicated to raising her two children. Ever humble, she didn't even share her running history with the children until her then-nine-year-old daughter came home from running with her school club and asked her mother if she had ever run. "I sat her down and told her about the marathon," Mancuso says. "That was a special day for both of us."
These days, you'll mostly find Mancuso—who works as a dog groomer—out running with her four-legged companions. After a spate of injuries over the years, she's added strength training to her routine and credits the practice with keeping aches and pains at bay.
While Mancuso remains unassuming, there's been a recent renewed interest in her accomplishments. A new book about her life, Little Mo: The Story of a Forgotten Young Running Revolutionary, will be released next year. In 2010, the Canadian Broadcasting Company reunited Mancuso and Switzer to run the Toronto GoodLife Half Marathon. "It was like meeting the Rip Van Winkle of running," Switzer says. "Maureen had been out of competitive running for so long that I had to tell her what a chip was and teach her about the bag check."
Aside from her unfamiliarity with modern-day racing, Mancuso still pulled off a decent finish. "She still had the goods," Switzer says. "I was out of shape and struggled to run a 2:13. But Maureen ran a 1:48. She's a natural."
Lead Photo: Courtesy Maureen Mancuso
Trending on Outside Online