Road Biking While Female
You're a woman who rides a bike? I'm assuming you've been the target of lewd comments, threats, and maybe even outright assault. It has to stop.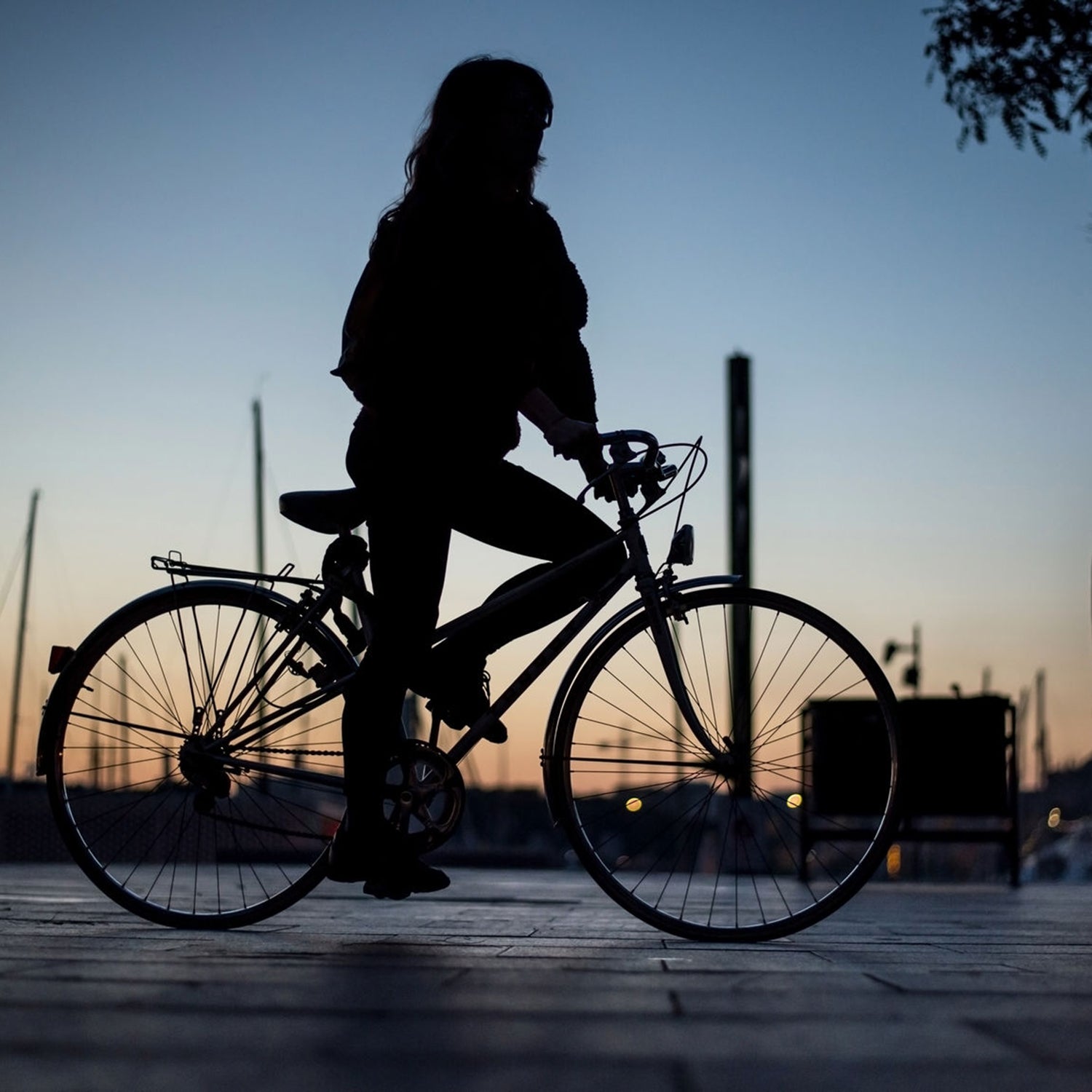 Bisual Studio/Stocksy(Photo)
Heading out the door? Read this article on the new Outside+ app available now on iOS devices for members! Download the app.
In late January, Emily Sportsman, a longtime cyclist who lives and works as a geochemist in Oakland, was on her morning bike commute. She'd already dropped off her young daughter at daycare and was stopped at a red light just a few blocks from her office when she saw a driver make an illegal U-turn across several lanes of traffic into a nearby lane.
Sportsman shook her head at the infraction, and the driver noticed. He then rolled down his window and "threatened several times to beat up my bitch ass," Sportsman says. The driver started to get out of his car, but the light changed and Sportsman quickly rode away.
This followed a similarly scary incident from spring 2017, also while Sportsman was riding with her daughter to daycare. A man in a truck followed her for blocks, yelling that "I was going to get my kid killed because I was a selfish bitch," she says. Another time, Sportsman flipped off a driver because he was blocking the bike lane during rush hour. Two weeks later, he recognized her (she has a distinctive cargo e-bike) and got in her face on the sidewalk—right in front of her daughter's daycare center, no less—calling her a "miserable bitch," she says, and threatening to run her off the road.
Sportsman estimates these encounters make up about 10 percent of her biking experience. I believe her. I'm no stranger to run-ins like these. Although I don't ride nearly as much since my son was born in 2016, over the years I've been the target of occasional catcalls, whistles, and, sometimes far nastier interactions (like the dude I confronted, nicely, at a stoplight in downtown San Francisco after he buzzed me, prompting him to scream, "F— you, bitch!").
Of course, anyone who rides on a regular basis is well aware of the potential for conflict every time you get in the saddle, whether it's an impatient honk from a stressed-out commuter or the all-out fury of a pickup truck driver with a Christine-like intent on trying to kill you.
But for women, these encounters come with the added element of sexual harassment. Not only are we targeted as cyclists, we're further penalized because of our gender. From mild but misplaced flirtation to outright assault, the message from perpetrators seems to be this: You're a woman who dares to ride a bike, so we can say or do anything we want to you.
What drove this home for me more than anything was an email that circulated among my husband's racing team in San Francisco, where Sportsman and other female riders detailed some of their experiences. After reading the team email, I reached out to other women cyclists, including friends and others via online channels, and heard an array of shocking incidents. A sample of the lowlights (from Portland, Oregon, all the way to Australia):
"Mostly I get comments about my ass. I once had someone say, 'Look at those titties bounce, you little slut.'"
"'I'd love to be your bike seat,' said one sweet man out of a car window. Many others have revved their engine menacingly behind me."
"One time in broad daylight a guy lunged at me while I was stopped at a traffic light, laughed and said something inaudible, and proceeded to grab my handlebars. I threw my front wheel into him while screaming, 'Don't touch me!' which surprised me and him, and he let go and slithered away."
As Sportsman so aptly put it: "It's a double whammy of vulnerability—I'm so low on the totem pole of power as a woman on a bike. Men aren't going to mess with another dude who might hurt them. But me, a mom with a kid? I seem to be fair game."
Elizabeth Bagioni, coordinator for Women & Bicycles, a women's advocacy program that's part of the Washington Area Bicyclist Association, notes that "harassment is still a real barrier to biking for many people." According to a recent WABA member survey, about 42 percent of the bike commuters in the Washington, D.C., metro area identify as women, a number Bagioni is convinced would be higher if women felt less vulnerable while riding.
"Men who choose to ride their bikes in Marin County put a naked woman on their kits? You can't make the connection that it's a bad idea?"
The problem isn't limited to motorist versus cyclist, either. It also stems from the elitist "Lycra-bro" subculture, as Bagioni describes it, of the cycling community and the currents of sexism that run through it. The topic is the basis of an excellent WABA blog post, "Guys, What the Hell?", which ran last May in response to a Facebook post by a Women & Bikes member expressing frustrations at the rude, dismissive behavior she experienced from male riders—on National Bike to Work Day, no less.
Kirsten Spinelli, women's captain for my husband's team, can relate. Her assorted bag of grievances includes images of "mudflap women" that a racing team in the Bay Area used to have on their kits. "That really gut-punched me," Spinelli says. "Men who choose not to be in a car, to ride their bikes in Marin County, go and put a naked woman on their kits? You can't make the connection that it's a bad idea? Here you are, in my biking circle, and you can't get that?"
Eventually, Spinelli says, the team changed its kits ("Though I'm sure there are a few old ones floating around out there," she noted), similar to the way in which bike manufacturer Pinarello pulled several overtly sexist advertisements promoting the launch of its new e-bike after public outcry in fall 2017.
It's all part of the larger conversation unfolding as the outdoor industry reckons with the ripple effects of sexual harassment and gender discrimination. Most recently, the climbing community is dealing with the aftermath of pro climber Joe Kinder's admitted bullying of fellow pro Sasha DiGiulian on Instagram. Kinder was subsequently dropped from his endorsements.
Advocacy groups are also shining a spotlight on the issue. At gatherings of Women Bike SF, a program of the San Francisco Bicycle Coalition with the objective to get more women on bikes, harassment is a regular topic of conversation, says Kelsey Roeder, membership manager for the SFBC. "Sunlight is the best disinfectant," she says. "The more we have these conversations, the more it comes to light, and that's one of the best ways we can combat it as a group, to come together and say it's not okay."
On an individual level, Sportsman and Spinelli and countless other badass women out there continue to do their part every time they get in the saddle. Most of the women I spoke to say they handle harassment and sexism on a case-by-case basis. If they feel safe—or pissed off enough—they generally speak up. (Roeder says she always makes sure she has an escape route first.) But whatever their tactic, one thing is clear: Real progress hinges on men doing their part, like calling out sexist comments and behavior from other men and sticking up for women whenever possible.
And definitely don't tell us to just let it go. "If I had to give men advice on how to make it better for women, I'd ask guys not to minimize a woman's emotional response to a bad event," says Sportsman. She says she loves her Slap Bag for easy access to her phone and Cycliq bike-mounted camera as a way to document potential harassment. "Don't tell us we should change our behavior, like not yell at drivers."
But therein also lies perhaps the brightest spot in this whole issue. None of the women I spoke with have considered letting being harassed keep them from riding. "I see biking as an incredibly joyful, independent, freeing mode of transportation, and nobody can take that away from me," Roeder says. "Each time I experience this, I'm more motivated to combat this behavior, to call it out, and to let other women know there is a community of women who have their backs."
Lead Photo: Bisual Studio/Stocksy