The Ocean Cleanup Launches System 001
Boyan Slat, the 24-year-old founder and CEO of the Ocean Cleanup, has finally launched a system he says will rid the Great Pacific Garbage Patch of half its plastic trash in five years.
Pierre Augier/The Ocean Cleanup(Photo)
Heading out the door? Read this article on the new Outside+ app available now on iOS devices for members! Download the app.
It's around 11:45 a.m. on September 8, a perfect-as-usual Saturday along Fisherman's Wharf in San Francisco. The waterfront is already packed with tourists, their happy chatter intermittently overtaken by the barks of the famous sea lion horde over on Pier 39's K-Dock. Nearby, a crowd of some 30,000 has gathered for the Rise for Climate, Jobs, and Justice March, an event that will culminate with the Global Climate Action Summit. The smell of pot meanders through the crisp air as convincing Donald Trump and Kim Jong Un impersonators pose for photos.
This is a big day for Boyan Slat, the 24-year-old founder and CEO of The Ocean Cleanup (TOC), a Netherlands-based nonprofit that wants to rid the oceans of plastic pollution. TOC has chartered the rusty, austere Harbor Emperor ferry to shuttle about 100 journalists out into the bay, where it will follow the Maersk Launcher, a 296-foot offshore tug whose day job is hauling oil and gas platforms to the Golden Gate Bridge. Today, however, the Launcher is towing TOC's long-awaited, multimillion-dollar System 001—or "Wilson," as Slat and his young team of more than 100 engineers, scientists, PR savants, and volunteers have nicknamed the boom-like contraption.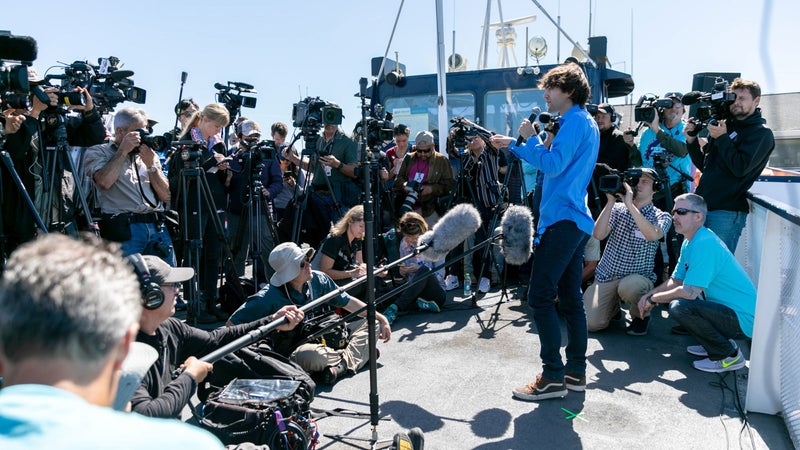 Over the next two weeks, the Launcher will tow the 2,000-foot, 380-ton apparatus 200 nautical miles offshore, where its survivability and efficiency will be tested for the first time in the Pacific's tempestuous waters. If it passes this stress test, it will be pulled for another couple weeks farther west into the heart of the infamous Great Pacific Garbage Patch, where an estimated 1.8 trillion pieces—250 million tons—of plastic trash swirl, like a great, nebulous smog. The goal is to begin cleaning up this monumental man-made mess. If it does, TOC hopes to deploy 59 more Wilsons, which they say could clean up 50 percent of the garbage patch within five years.
It seems an impossible task, but Slat faces it with a nonchalance that has become TOC's brand. With his shaggy hair and lingering adolescent lankiness, Slat has been compared to a boy-band star. Indeed, as Slat speaks to the press on the Harbor Emperor, wearing his untucked baby-blue button-up shirt, tightish charcoal pants, and scuffed Vans, one journalist says, "Boy, he's got great hair." Slat's style has become doctrine—his team, all young, all with great hair and great clothes, work happily and doggedly for the cause, seemingly unflustered by the enormity of their mission.
In 2016, I joined Slat and his team on the North Sea for the media-hyped launch of System 001's first prototype, which resembled a 328-foot high-density plastic sausage string. It looked nothing like the giant, sleek, ray-like design that Slat had first imagined on a restaurant napkin when he was 16. Slat, who told me he designed and built "a very functional" wooden chair at age two, was confident that the prototype would work but was careful to remind me this was just a start. He had described the process of getting to that point as "throwing spaghetti at a wall."
Back then, the United States and Europe seemed to be naturally moving toward an era that embraced the bold, if expensive, dreams of young environmentalist entrepreneurs like Slat. Today, the world—but particularly the White House—has changed, and ideas like Slat's feel more distant. This past June, for example, the Global Warming Policy Foundation, a UK-based anthropogenic climate change–denying think tank, published a report condemning plastic recycling. "Plastic pollution has become the favoured cause of environmentalists," Breitbart wrote in an article about the report, "as it finally dawns that the public is heartily sick of being lectured about 'climate change.'"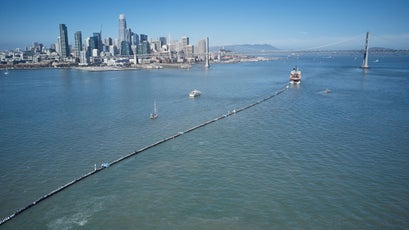 Despite the shifting political and cultural winds, TOC has raised some $20 million from donors that include the Dutch government and PayPal co-founder Peter Thiel. But they've also faced myriad engineering setbacks. Out in the green-brown bay, near the sandstone cliffs of Alcatraz, as the Launcher comes into view, Wilson in its wake, it is clear that both the beautiful ray design of Slat's 16-year-old imagination and the sausage-string prototype have been mutilated at the hands of engineers and reality. Since 2016, TOC has conducted some 300 scale-model tests and six multimillion-dollar research trips, by air and sea, to the garbage patch. Now, System 001 resembles an enormous polyethylene fire hose with a heavy nylon geotextile screen dangling ten feet beneath it. Nevertheless, it has arrived—and two years ahead of schedule.
---
Ambling through the friendly crowd of journalist-fans on the Harbor Emperor, as we follow the Launcher ever closer to the Golden Gate, it is difficult to imagine Slat and TOC having detractors beyond the Breitbarts of the world—but there are many. Within the scientific community, criticism ranges from Slat and his team's youth to System 001's inability to capture harmful microplastics to a question of execution. Wouldn't it be easier, one popular argument goes, to implement systems at the source of the plastic pollution, like rivers?
I put this question to Laurent Lebreton, TOC's lead oceanographer, who is, of course, young, a surfer, and wearing a stylish short-sleeve button-up with little octopuses printed on it. Lebreton, like Slat, doesn't dispute the importance of stopping plastic before it enters the ocean and hopes that, one day, TOC can tackle that problem as well. But for now, he says, the team is focusing on the ocean. "We don't want to be garbage men forever," Lebreton tells me.
Another argument is that, especially today, TOC should be using its fundraising prowess and popularity to influence policies that could curb industry's metastasization of plastics, especially of the single-use ilk. Slat has long held the opinion that it's not an either-or question, that there is a place for both TOC and the other solutions. But by creating something bold like System 001, which the media and rich donors have gobbled up, "we can make a lot of people aware that this problem exists," Slat says. "We can give it a bit of hope."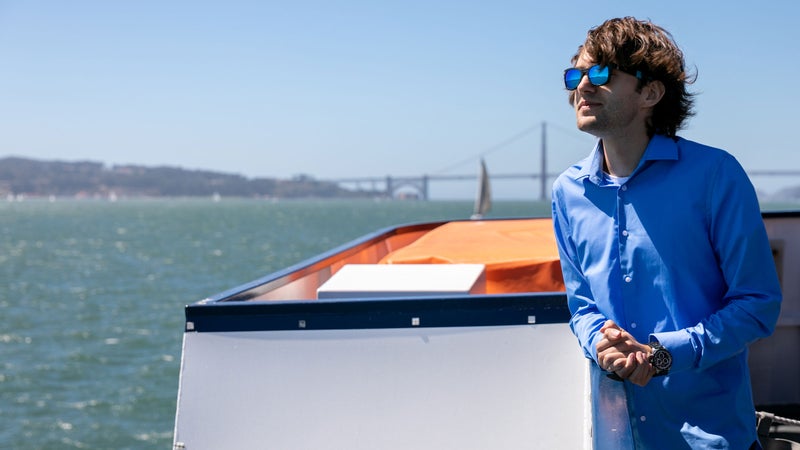 As a believer in the power of policy, I'm not sure I can count myself as one of the journalist-fans onboard the Harbor Emperor. But in this current world of bickering, posturing, and feasibility study after feasibility study, I have to admit it's refreshing to see a kid just going for it. "What I hope is that the Ocean Cleanup can become this example of how you should solve a problem," Slat says as the Launcher slips beneath the shadow of the Golden Gate. "Instead of trying to complain or protest about something that you don't agree with, try and build something that you do agree with."
The wind turns cold and gusty, so I head down to the galley for coffee. A journalist next to me also orders a cup, then asks for a lid. The galley hand points to the little station with sugar packets, powdered creamer, wooden stirrers, and, well, plastic lids. Without thinking, I hand one to her, but she recoils. "It's plastic," she says. Worldwide, in the two hours we spent out on the bay, millions of pounds of plastic had been dumped into the ocean. I turn to the galley hand and say, "It's so difficult." He shrugs. In the distance, the Launcher has crossed into the Pacific, plowing into a stiff headwind, but plowing nonetheless.
Lead Photo: Pierre Augier/The Ocean Cleanup
Trending on Outside Online