In Stride
The California International Marathon Is for the People
The race is a celebration of the amateur athlete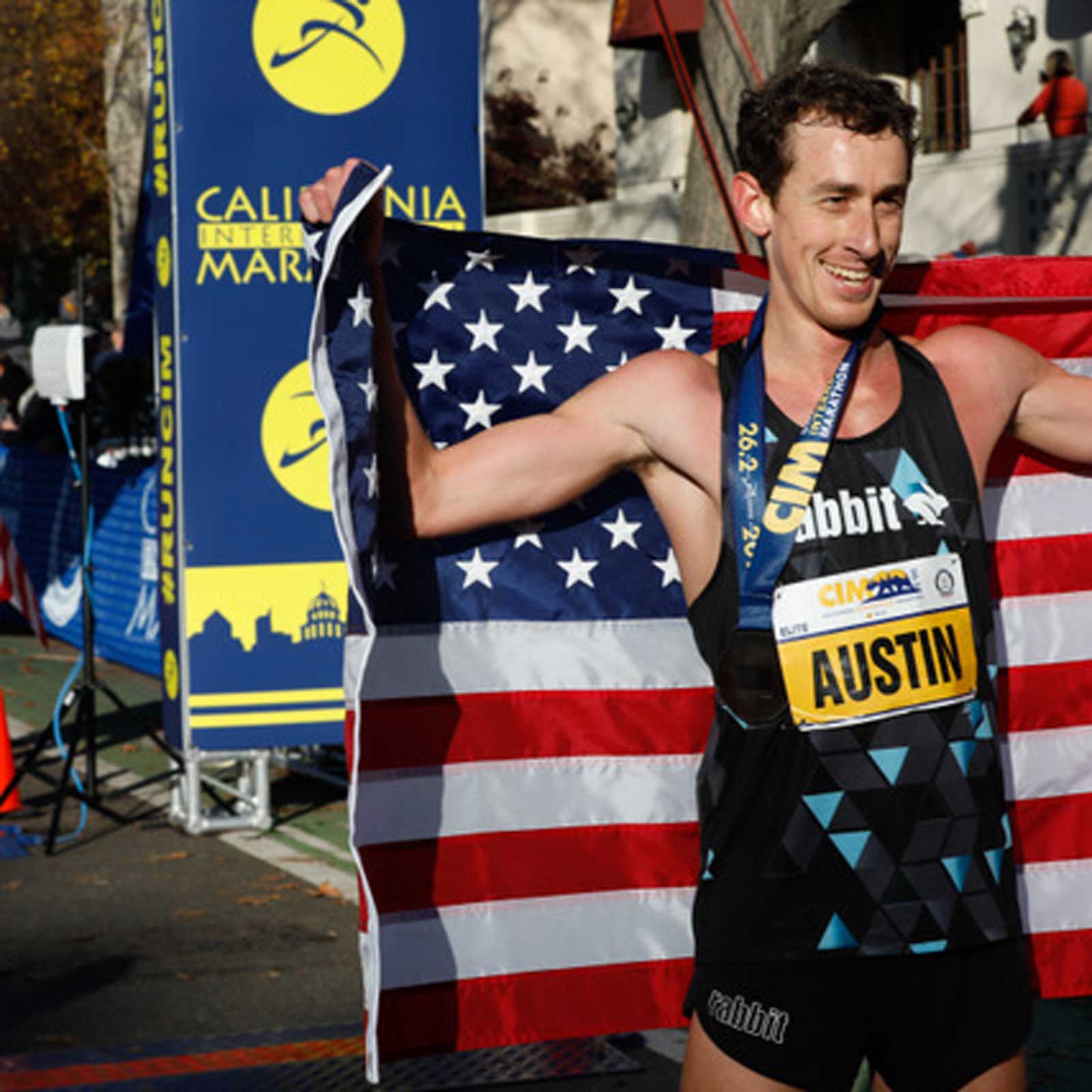 Courtesy Sacramento Running Asso(Photo)
Heading out the door? Read this article on the new Outside+ app available now on iOS devices for members! Download the app.
Unless something extremely unexpected happens next Sunday in Honolulu, last weekend's California International Marathon in Sacramento will go down as the race with the deepest field of any U.S. marathon in 2018. As I've written previously, CIM has evolved into a destination for American elite and sub-elite level runners who want to crank out a fast 26.2-miler before the winter lull. On top of the favorable weather conditions and downhill, point-to-point course, the last two iterations had the additional boon of doubling as the USATF National Marathon Championships. In other words, a lot of very good runners rolled up in Northern California and crushed it.
How much crushing went down? Exceeding even last year's extraordinary results, Sunday's race saw 99 women and 53 men run qualifying times for the 2020 Olympic Trials in Atlanta (the "B" standard is 2:45:00 for women and 2:19:00 for men). What's more, 265 women ran under three hours, while 164 men cracked the 2:30 barrier. Those are impressive stats, and not only by U.S. standards. (The prestigious Fukuoka Marathon also took place over the weekend and only 94 runners ran sub 2:30. This is notable because, though the field size is relatively small, you need to run 2:35 or faster to qualify.) 
Despite the abundance of quick times, the biggest guns in American marathoning were conspicuously absent on Sunday; CIM generally doesn't attract pro running A-listers. There was no Shalane Flanagan, Amy Cragg, Jared Ward, or Galen Rupp. Instead, the early leaders at CIM included runners like 2:13 man Malcolm Richards, a 36-year-old elementary school teacher from San Francisco, and Emma Bates, a 28-year-old unsponsored marathon debutante. While Richards would fade and finish in 26th place, Bates never gave up her lead and ended up crossing the line in 2:28:19 to crown herself national champion. On the men's side, Brogan Austin, a former NCAA standout from Iowa, threw down a late-race surge to win in 2:12:39. I've been writing about this sport for years and had to Google Austin's name. 
"Who were all those runners in the street?" a headline from the Sacramento Bee story on the marathon asked. My thoughts exactly.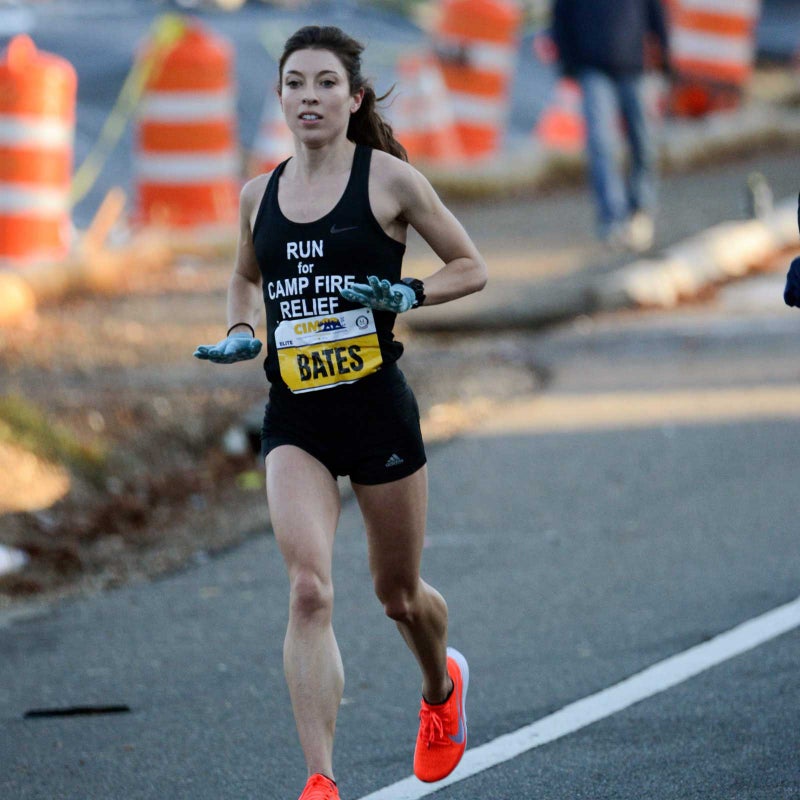 Watching the USATF broadcast of CIM, I was struck by how, rather than a pro race, the event felt more like a mass celebration for the competitive amateur—the "regional class" athlete who might eviscerate the competition at her local Turkey Trot, but wouldn't allow herself to dream about actually making an Olympic team. The feeling was exacerbated by the fact that the few runners I recognized while watching the race online were not elites, but people from my local running club as well as members of the insular world of "running media." Ten minutes into the broadcast, I spotted Mario Fraioli, author of the popular running newsletter The Morning Shakeout, whom the USATF announcer unforgivably referred as a "good little writer." Fraioli, who is also a good little runner, ran a personal best of 2:27:33. He finished in 129th place. 
As is the case with other second-tier marathons like Grandma's in Duluth, Minnesota, CIM is a race that occupies that elusive sweet spot between the marquee event that draws world class-level titans, and the small-scale local race where a 2:30 performance will occasionally carry the day. Among other things, this means that at CIM the spotlight often falls on those who don't normally get it.  
To be sure, professionals were also in attendance in Sacramento; it was a national championship after all. Until the final mile, it seemed certain that Matt Llano, who is sponsored by HOKA, would solo run his way to victory and take home $20,000 in USATF prize money. Northern Arizona Elite's Stephanie Bruce, who came in second in the women's race, is also a full-time pro whose marathon resume includes a top-ten finish at New York City.
But finishing roughly a minute behind Bruce in third place was Sam Roecker, who works as a full-time nurse and moonlights as a model/brand ambassador for the apparel company Tracksmith. In improving her personal best in the marathon by roughly eight minutes to finish in 2:30:25, Roecker produced what was arguably the surprise of the day. Like Sarah Seller's unexpected runner-up finish at this year's Boston Marathon, it was a very professional performance by a non-professional athlete. In an age where many of our sports stars have become as elusive as Hollywood idols, the success of the unknown amateur feels especially gratifying.
I realize that comparison might sound a little spurious. After all, being too famous generally isn't something that pro runners need to worry about. (I imagine an alternate reality in which Galen Rupp is smuggled out the side entrance of his hotel to avoid the legions of randy groupies in the street.) However, more than any Marathon Major, Sunday's California International Marathon was a reminder that most of those who devote endless hours to excel in this sport do it anonymously—all in the hope of achieving an obscure benchmark that, for saner souls at least, means absolutely nothing. 
Lead Photo: Courtesy Sacramento Running Asso
Trending on Outside Online