Can a Mall in New Jersey Save Skiing?
More than two decades in the making, Big Snow is the first indoor ski area in North America. Now the question is: Can it attract enough skiers to survive?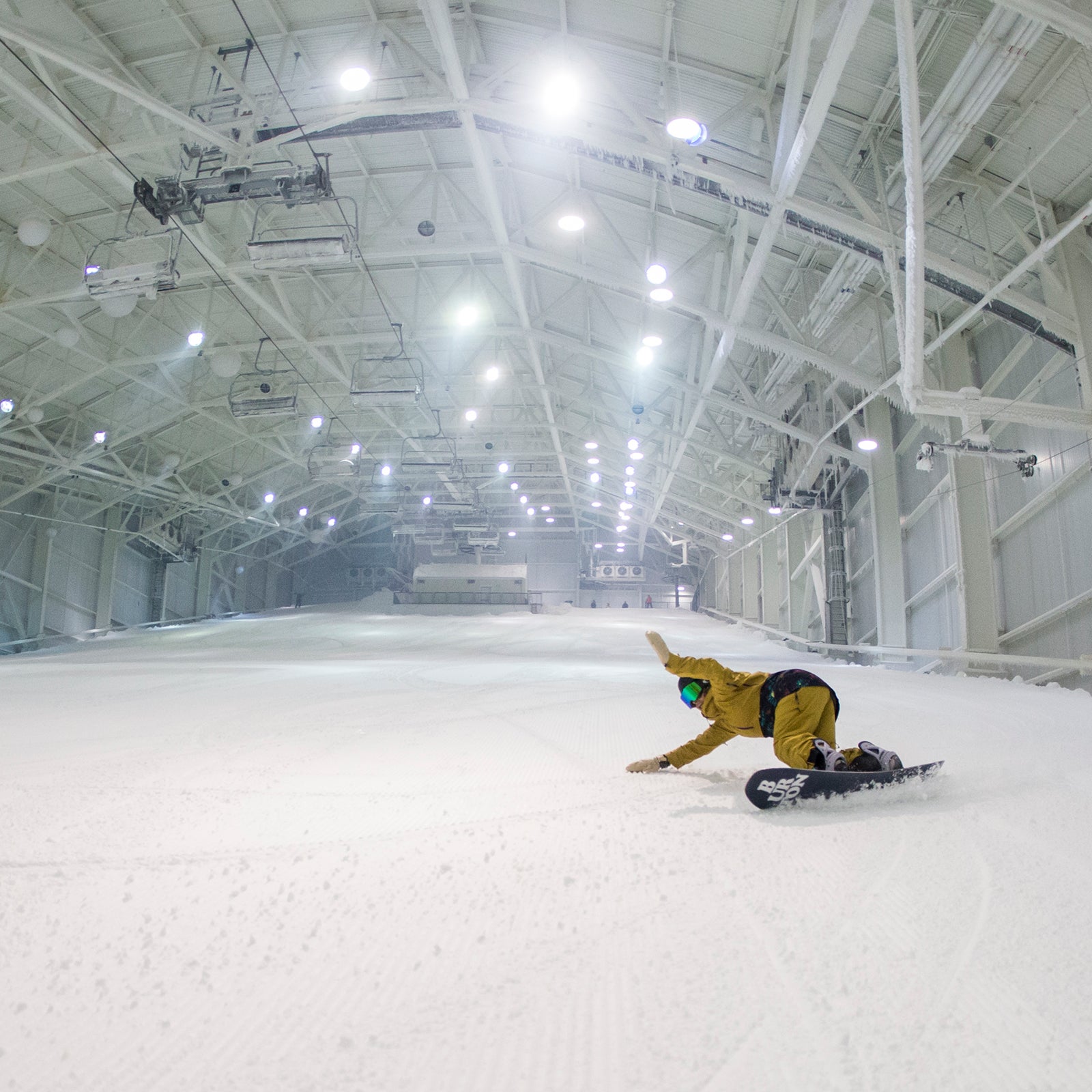 Courtesy American Dream(Photo)
Heading out the door? Read this article on the new Outside+ app available now on iOS devices for members! Download the app.
On a damp and overcast morning in early December, I checked out of my hotel in northern New Jersey, walked outside, sucked in a deep breath of smoggy air, then headed off to go skiing in the middle of a swamp. In about an hour, a mega mall called American Dream, located in the New Jersey Meadowlands, just 30 minutes outside New York City, would be opening a 180,000-square-foot indoor ski area. There are around 20 indoor ski facilities worldwide—mostly in Europe and Asia—but this would be the first operation in North America. Lindsey Vonn would be there to cut the ceremonial ribbon and officially inaugurate the facility. She'd take a run down the 1,000-foot slope, then I'd get my chance to make some turns. It would be the first time I'd ever skied inside.
I hopped in a Lyft and motored toward the mall, past overflowing dumpsters and construction sites, and in five minutes, MetLife Stadium, where the Giants and Jets play, came into view. Across from the stadium—actually, attached to it via a long walkway—is the mall. Jutting skyward from the mall is a 16-story ramp, where the skiing happens. Anywhere else, the bizarre-looking structure would be an eyesore, but in the Meadowlands—a vast, polluted, urban marshland—it sort of fits in.
The building has a troubled past. The idea to construct a mall that housed an indoor ski area was conceived in 1996. The now defunct Mills Corporation finally broke ground in 2004. It was to be named Xanadu, based on the ancient Mongolian city that Marco Polo once described as having marble palaces, fountains, and meadows. But funding issues delayed progress. Then, in 2009, with a lot of work done but still much more left to do, the economic recession brought the project to a halt. Reportedly, some $2.3 billion had already been spent on the construction. That year, The New York Times wrote that Real Capital Analytics, a research company that tracks real estate investments, had listed Meadowlands Xanadu as the largest of $9.2 billion worth of troubled assets in the New York area. For over a decade, the building sat empty.
"My family used to go to every Giants game, and we used to stare at the ugly bones of that thing," says Hannah Follender, a Salt Lake City–based lawyer who grew up near the mall. "It was basically the butt of every single joke."
With online retail forcing malls out of business, it seemed the project was forever doomed. But in 2011, Triple Five Group, which owns Minnesota's Mall of America, took control, renaming it American Dream. By early 2019, it was zeroing in on an opening. By now the cost of building the mall had reached $5 billion, and local residents doubted that it could attract enough business to keep the lights on. The North Jersey Record recently described American Dream as an "American nightmare."
"Few people live in the swamp, so anything we build must be big enough to attract a crowd," the story read. "But big, isolated developments have failed again and again."
---
I walked into the mall, past Christmas decorations and a small line of kids waiting to sit on Santa's lap, and up an escalator. I made my way through a ski shop selling gear from Anon, Burton, Giro, and Head and headed into the ski facility.
The ski-area portion of the mall is called Big Snow and is basically a bunny hill inside a warehouse. Giant air-conditioning units attached to the walls keep the place a consistently chilly 28 degrees Fahrenheit. Fixed to the steel support beams are hundreds of lights and several snowmaking guns, which over the past two months have run practically nonstop, covering every inch of slope with three feet of snow.
"Sometimes I think we forget that even playing in snow can be an uncommon experience for a lot of people, especially in urban areas."
Near the entrance of Big Snow is a 225-foot-long moving carpet that's next to almost imperceptibly inclined beginner terrain. On the far end of the building is a platter lift (sort of like a T-bar). Next to that is a quad chairlift that runs on a cable attached to the ceiling. Underneath the chair is the main ski hill. Fifty yards wide and, at its steepest, only 26 degrees, the slope resembles a beginner run. A small terrain park with some jumps and rails takes up a portion of the hill. The facility also has a Prinoth grooming machine, which takes laps every few hours to ensure that the surface remains buffed out.
For the grand opening, a DJ spun hip-hop, and several machines cranked out a veil of bubbles, giving the whole warehouse a snow-is-falling vibe. But the place still wasn't quite finished. Raw plywood was visible near the entrance, and the wall that the ski area shares with the mall was adorned with large stickers of stacked wood, a fireplace, and faux deer antlers. Eventually, the company says, a Yard House Brewery, a Lucky Strike bowling alley, and a Hard Rock Café will occupy the space behind the facility. 
A few hours after the short opening ceremony, during which the executive group said its thank-yous and Vonn made her ceremonial first run—"It was actually really good, light and fluffy," she reported—the ski complex opened to the public for the first time. I put on my boots, clicked into some rental skis, and headed up the lift, a three-and-a-half-minute ride. Six turns and 25 seconds later, I was back at the bottom. Three runs after that, I was already bored. But this place wasn't built for me; I live in Jackson, Wyoming, and ski 80 days a year. It was built for guys like McCoy Daboy and Gurey Rodriguez, two snowboarders I met on the lift.
Daboy, who's 35 and lives in nearby Hoboken, was wearing white-rimmed sunglasses, a neon yellow beanie, ripped jeans, a baggy black coat, and a long, tasseled blue scarf. He hadn't snowboarded in three years but liked that Big Snow was "close, it's easy, right next to New York. I had to come try it." Rodriguez, who's 45 and lives in Manhattan, was wearing similar clothing to his friend. He'd never snowboarded before and was bit tight-lipped. I asked him if he was nervous. "I'm afraid of heights," he said, looking down from the lift.
"He was down for the adventure," said Daboy. "What is there to do? Drinking and eating? This is something different."
We got off the lift, and Rodriguez immediately collided with Daboy. Then, as the pair were strapping their boards on, two kids collided with Rodriguez. The carnage continued to pile up in the unloading area and on the hill. By now about 200 people had shown up to ski or snowboard, and as I looked down, at least five of them were strewn across the trail in various states of wipeout. I watched Rodriguez scoot down the entire hill on his butt. Daboy shook his head. "But that's how you learn," he said. "That's how you learn."
---
The brass at Big Snow is hoping the impetus to try skiing or snowboarding will drive more people like Rodriguez to the facility. "The two biggest barriers to getting people to ski and snowboard is that it's hard to get to the mountain and it's super expensive," says Joe Hession, CEO of Snow Operating, the company Triple Five contracted to run Big Snow. "We're ten miles from downtown Manhattan, so we've removed the location barrier. But price was important, too. So if you book online for a full package, you get everything you need for $59." That includes skis and poles or a snowboard, boots, a helmet, goggles, and outerwear, as well as two hours of skiing and a lesson. Another obvious barrier to the sport that Big Snow removes is the need for winter. The ski area will operate from 10 A.M. to 10 P.M. every day of the year.
Snow Operating estimates that those factors combined will, this year, spur 600,000 people to come ski inside. If that seems ambitious, consider that an indoor ski facility in Dubai has successfully operated in the middle of a desert since 2005. Still, whether Big Snow can be viable is the $5 billion question. Just keeping a 180,000-square-foot building meat-locker cold year-round sounds expensive (Triple Five won't disclose exactly how expensive). 
Regardless, lots of people in the ski industry are rooting for the venue's success. Jon Rucker, president of Head Skis USA, is one of them. He believes the opening of ski areas like Big Snow are crucial to the survival of a sport that's suffering from declining numbers. "Let's face it," Rucker said, after taking one of the first runs inside the facility. "Skiing is pretty much as white as snow. So exposing these great sports to different populations is radically important for the future of our business."
Adrienne Saia Isaac, director of marketing at the National Ski Areas Association, agrees. "Sometimes I think we forget that even playing in snow can be an uncommon experience for a lot of people, especially in urban areas," Isacc says. "Even if it begins as a novelty, hopefully the experience at a place like Big Snow will inspire visitors to keep coming back."
That seemed to be the case with Rodriguez. I bumped into him as I was leaving. He'd had a tough day—not really ever able to get the snowboard to work for him. But he was smiling, and it seemed as though a taste of the sport was enough to pique his interest. "I'm coming back," he told me. "I need to try again."
Lead Photo: Courtesy American Dream
Trending on Outside Online