Sweat Science
We Can Now Estimate the Effect of Blood Doping
Russian women got slower after the Athlete Biological Passport was introduced in 2012. Anti-doping officials think they know why.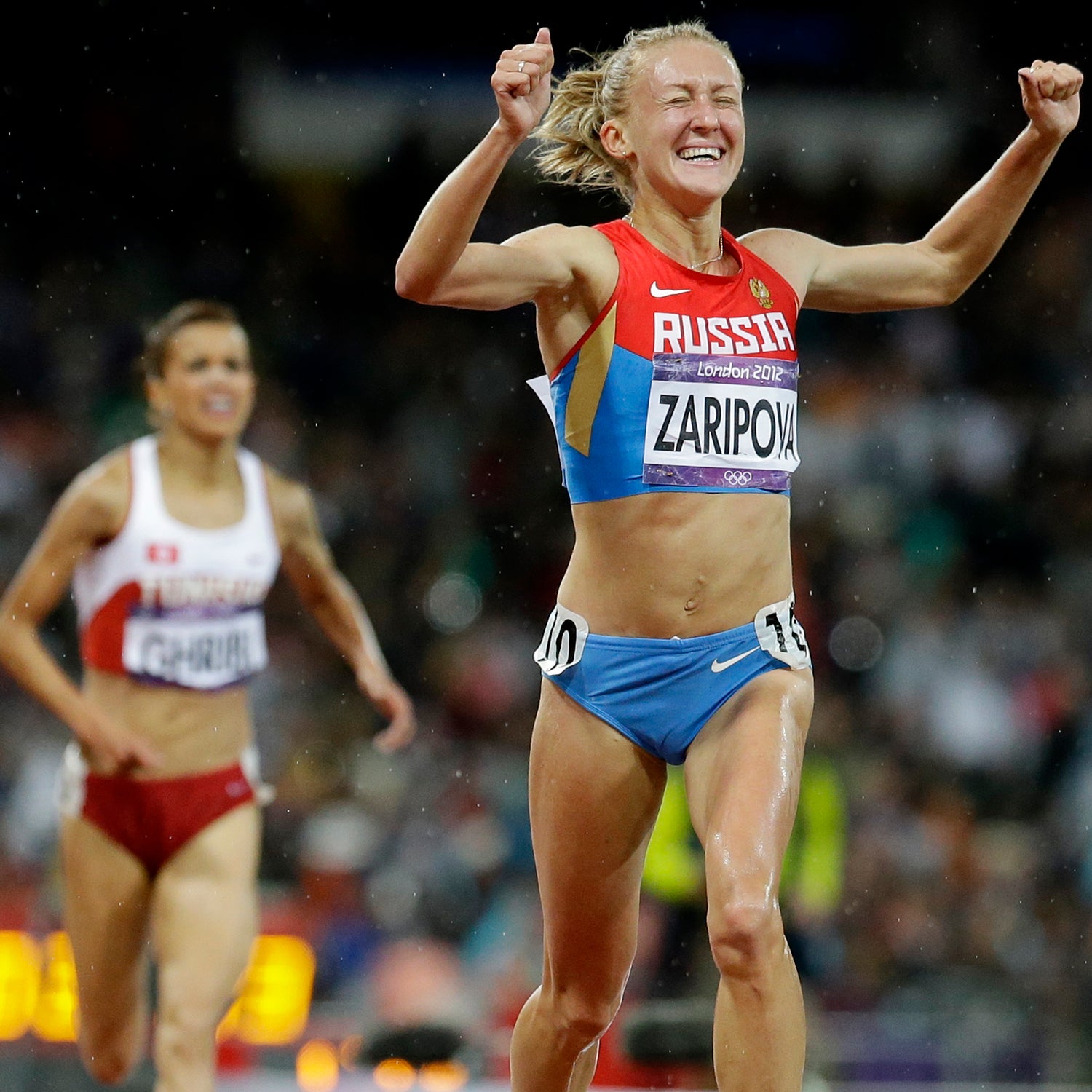 Anja Niedringhaus/AP(Photo)
Heading out the door? Read this article on the new Outside+ app available now on iOS devices for members! Download the app.
Imagine what would happen if some, but not all, athletes found a way of instantly improving their race times by two or three percent. At the elite levels of sport, where the slimmest of margins can separate fame, glory, and big piles of money from a pat on the back and a free bagel, two or three percent is enormous. That hypothetical scenario, according to a new study, is—or at least was—real.
Wait, you thought I was talking about running shoes? Nah, not this time. I'm talking about systematic, state-sponsored blood doping. The state in question is Russia, which is currently locked in a years-long dispute with the World Anti-Doping Agency over manipulated data and hidden positive tests that may see Russia once again excluded from the Olympics (if they happen) and other major international sports competitions for the next four years. An analysis of Russian female distance runners before and after the implementation of a new anti-doping technique reveals a starkly incriminating pattern, and provides a back-of-the-envelope estimate of how big of a difference doping can make.
To be clear, the new study can't tell us exactly who was doping, or what they were taking. It relies on an approach called performance profiling, which looks for unexpected patterns in athlete performance. It's a way of mathematically formulating the sense that something stinks. Back in 2018, for example, I wrote about the case of a 2:20 marathoner who popped a surprise 2:17 at the Frankfurt Marathon, which triggered an algorithm that led to a blood test four days later, and eventually a positive doping finding.
The lead author of that case study was Sergei Iljukov, an anti-doping expert at the University of Helsinki and the Research Institute for Olympic Sports in Finland, working with colleagues including Yorck Schumacher, a pioneer of the performance profiling approach. Now Iljukov and Schumacher have teamed up once again for a retrospective analysis of Russian performances following the introduction of the Athlete Biological Passport in 2012. The ABP is itself an indirect way of detecting doping, since it judges guilt based on suspicious changes in an athlete's blood values rather than direct detection of a banned substance. For that reason, there has been controversy about how effective it really is. The new paper should help put any remaining doubts to rest.
The design of the study was straightforward. Iljukov and his colleagues looked at the top eight times from the Russian National Championships between 2008 and 2017 in the women's 800, 1,500, 3,000 steeplechase, 5,000, and 10,000-meters. Anti-doping authorities started collecting longitudinal data to assemble biological passports in 2009, and began formally using the technique and applying sanctions sometime around 2011. Figuring that the deterrent effect of the ABP program started after the first bans were handed out, the researchers divided the results into two categories: 2008 to 2012, and 2013 to 2017.
There are a few different ways you can slice and dice the data, and the researchers also looked at other metrics like the number of athletes caught doping in these events and the number of Russian women hitting the Olympic qualifying standard. But the simplest outcome is the average of those top-eight times before and after the ABP. Here's what that looks like for each of the five events analyzed: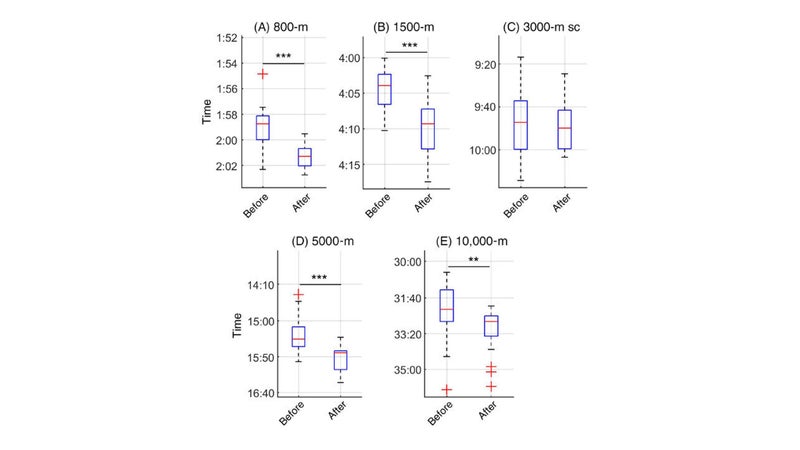 For four of the five events, there's a significant slowdown, ranging between 1.9 percent in the 800 and 3.4 percent in the 5,000. The only exception is the steeplechase, which was still a relatively new event for women in 2008, when it made its first appearance at the Olympics. The steeplechase also involves hurdling over barriers, which introduces an additional performance variable beyond pure endurance capacity.
One way of interpreting these findings, Iljukov says, is to conclude that for elite athletes, "a significant amount of blood transfusion could improve running times by 1 to 4 percent, depending on the distance, but on average 2 to 3 percent." The paper compares this estimate with early studies of blood doping in elite athletes, including some old Soviet studies that don't show up in the usual PubMed searches, which support the idea of a 1 to 4 percent range of improvement from a transfusion of 750 to 1,200 milliliters of blood.
These days, the ABP program makes it difficult to get away with adding that much blood to your system. Instead, would-be cheaters are limited to microdosing with small amounts of blood. Iljukov guesses that this might still give a one-second edge to an elite 800-meter runner—far from fair, but much better than the previous situation. Of course, this deterrent only works if the athletes in question are being regularly tested to generate sufficient data for a biological passport.
In many respects, these results are anything but surprising: it's been clear to most observers for a long time that the Russian women were doing something funny. What I always wondered was: where were the Russian men? In the 1980s and early 1990s, when anabolic steroids were the drug category of choice, the usual theory for the middle-distance success of Eastern Bloc women (and relative absence of Eastern Bloc men) was that they responded more strongly to steroids because they started with lower levels of hormones such as testosterone compared to men. But if the problem now is blood doping, what explains the difference?
According to Iljukov, the answer is basically the same. The old Soviet blood doping studies, which include four-decade-old dissertations with titles like "Autohemotransfusion for Enhancing Work Capacity in Athletes," found that women get a bigger boost from blood transfusions than men. Though the studies don't directly address why this happens, the key may be baseline levels of total hemoglobin, which tend to be lower in women: "The lower the initial level," Iljukov hypothesizes, "the more you can benefit from blood doping."
Overall, these results seem like cautiously good news. The biological passport program is having a measurable deterrent effect. And performance profiling seems like a promising way of targeting limited testing resources at the most suspicious cases. There's a catch, though, Iljukov admits. Any system that flags sudden performance jumps of 2 to 3 percent in long-distance races is currently spinning in overdrive thanks to the emergence of carbon-fiber-plated shoes that have led to a rash of out-of-nowhere improvements: "The [resulting] changes, on an individual level, could definitely be defined as abnormal," Iljukov says. "It is ugly."
---
For more Sweat Science, join me on Twitter and Facebook, sign up for the email newsletter, and check out my book Endure: Mind, Body, and the Curiously Elastic Limits of Human Performance.
Lead Photo: Anja Niedringhaus/AP
Trending on Outside Online