Indefinitely Wild
NPS Memo: Lock Down National Parks Now
The National Park Service's Public Health Department warns of dire consequences to employees and communities if parks don't close immediately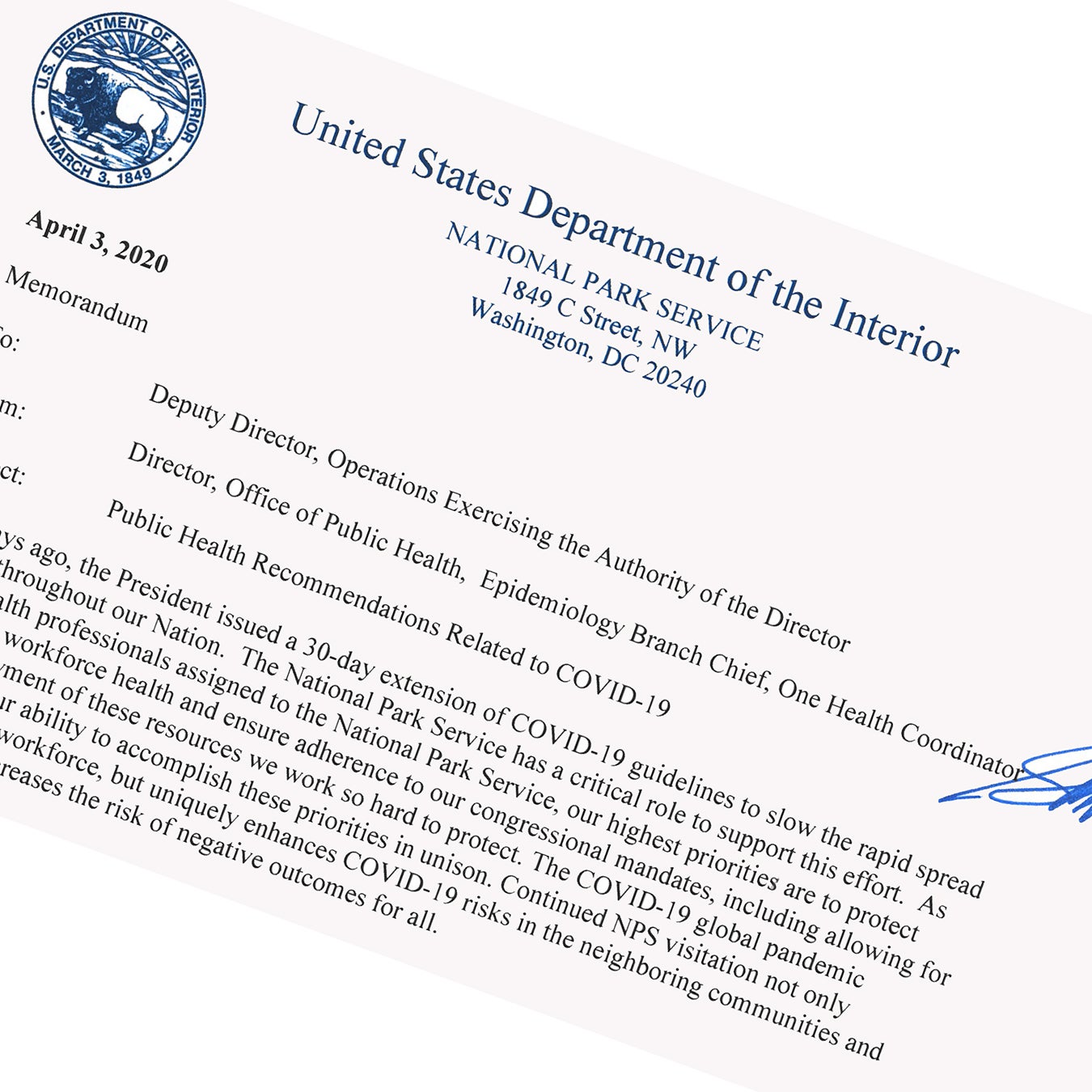 Heading out the door? Read this article on the new Outside+ app available now on iOS devices for members! Download the app.
Sierra magazine and Type Investigations obtained an internal memo from the National Park Service's Public Health Department to its deputy director of operations warning of dire consequences to the health of both park employees and local communities from the COVID-19 pandemic. In the memo, written on April 3, the department recommends that the National Park Service lock down all of its sites immediately. 
At least 200 national park units remain open at the time of writing this story, even if some of the most popular parks like Yellowstone and Yosemite have closed.
The memo reads:
"We can say with absolute certainty that leaving our parks open to the public when social distancing is not being practiced, onboarding employees originating throughout the country and world, and permitting significant shared housing environments will result in a significantly greater burden of disease and death than if we had taken the proactive measure to continue to close these parks and/or limit operations." 
It goes on to recommend closing all parks to any outside traffic for at least 30 days, an end to dormitory-like housing of park and vendor employees, and taking particular care to totally shut down park access in areas where social distancing orders are not able to be enforced.
The result of those three recommendations would be, in effect, a total lockdown of national park sites. Any employees, volunteers, researchers, or concessioners not inside parks at the time of the lockdown wouldn't be permitted entry. Alternative housing, which achieves proper dispersal for its residents, and perhaps even permits the quarantine of people exposed to the disease, would need to be sourced or constructed. Backcountry trails and recreation sites that may draw travelers to isolated communities would need to be closed to deter that travel. 
"We recognize these recommendations significantly impact and delay park operations for the upcoming season and many other factors," the memo reads. "These steps are intended to protect our national treasures, the NPS family that is dedicated to their preservation, and the health and safety of our nation."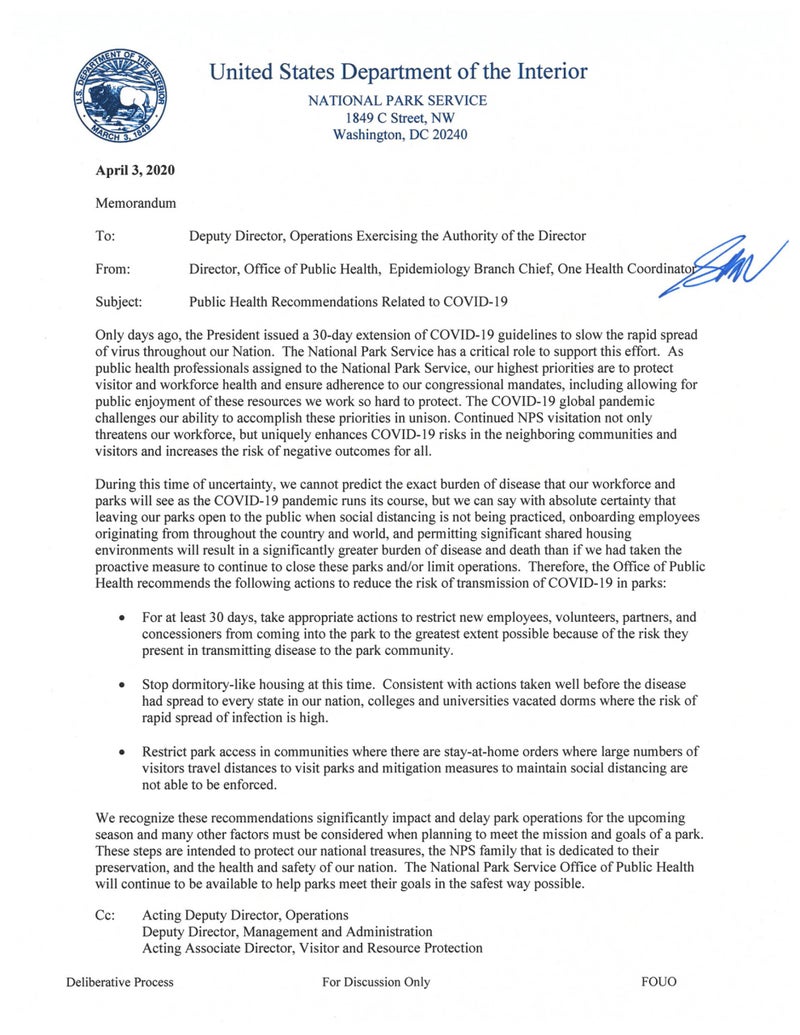 To recap, it appears that the Department of the Interior, which manages the National Park Service, is only allowing individual parks to close if there is significant pressure from local communities and governments to close them. Before Grand Canyon National Park was shut down on April 1, for instance, we published an internal email detailing efforts by staff at the park to collect "support documentation" to justify the closure. Neither NPS nor DOI have responded to my requests for comment on why this remains the case even as the severity of COVID-19 in the U.S. has become more clear. 
And the deadline to develop a cohesive response from NPS to the pandemic is rapidly approaching. Summer is traditionally the busiest season for park visitation, something NPS addresses by hiring thousands of seasonal workers. That process has been thrown into chaos, with no clear direction to park managers or staff on how those workers and full-time park staff will be kept safe or how many jobs will become available. 
One seasonal worker at a popular national park reached out to me to express concern that he and his colleagues aren't sure how they're going to keep paying for their health insurance if their usual summer jobs aren't available. "Many parks are pushing back people's onboarding dates and leaving them unexpectedly uninsured in the middle of a pandemic," the employee, who wishes to remain anonymous, wrote. "This, for a profession where many people make less than $20,000 a year in their NPS jobs."
Sierra reports that, as of April 9, ten NPS employees and two members of the United States Park Police have been diagnosed with COVID-19. They account for one-third of all infections reported among DOI staff, even though NPS employees and Park Police together represet only 17 percent of DOI employees, highlighting the unique vulnerability of park employees to the disease.