Indefinitely Wild
Moultrie's XV-6000 Is My Outdoor Security Camera Pick
Keep an eye on anything, pretty much anywhere, for just $150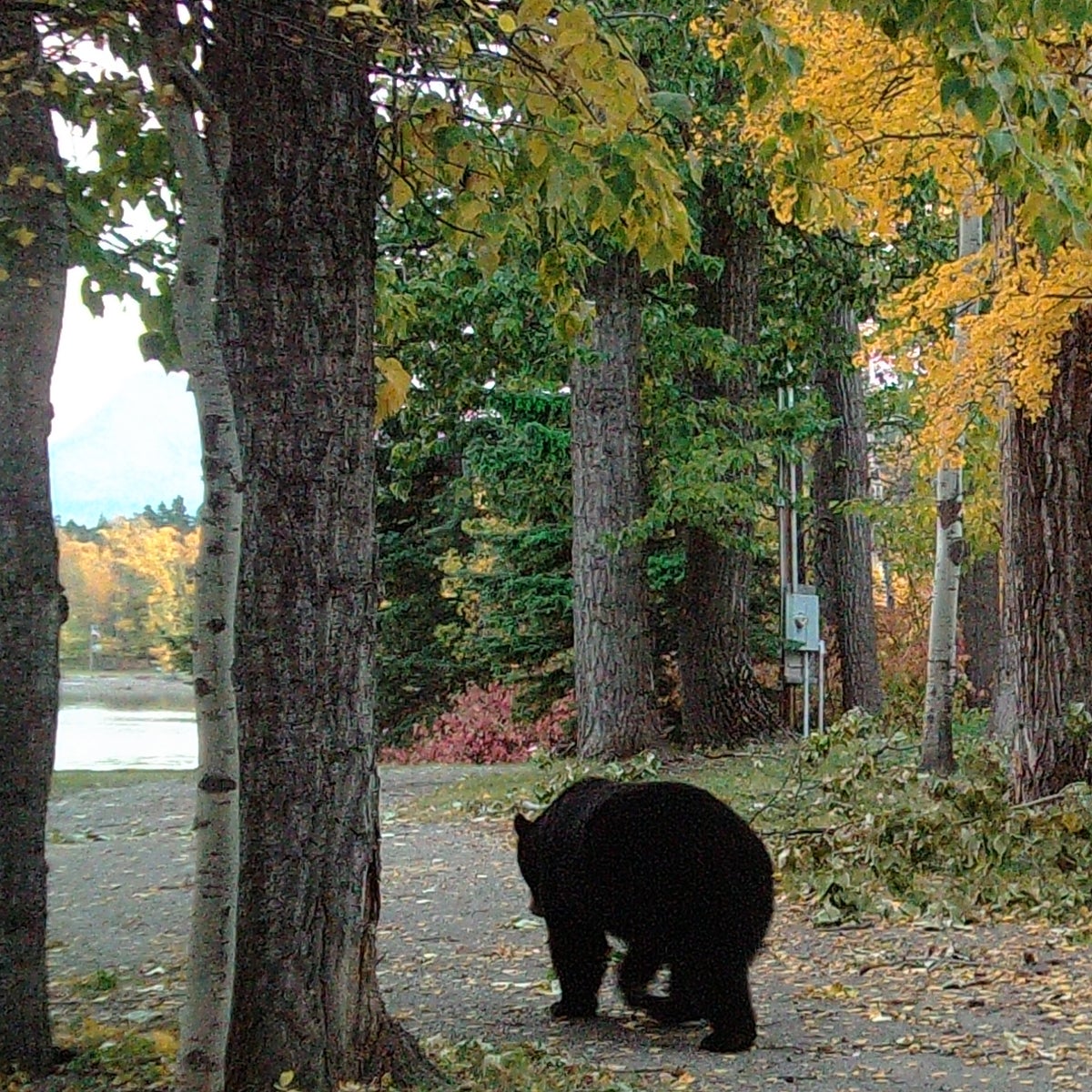 Heading out the door? Read this article on the new Outside+ app available now on iOS devices for members! Download the app.
Want to see what goes bump in the night? Curious what animals might be visiting your property? There are a million reasons why you might want a motion-sensor camera, and for just $150, this one is as good as it gets.
My reason for wanting a camera was to see what might be visiting my family's cabin in northern Montana while we're there—and when we're not there, I didn't want to wait for those images, so I needed the information to be live.
But things got a little more complicated than simply installing a doorbell camera. I was looking for an angle that could show me more than the view out the front door, and the electricity and satellite internet connections at the cabin are spotty at best. What I needed was something that ran on batteries and was capable of instantly uploading photos to the internet using a cellular data uplink. In other words, I was after a game camera.
Game cameras use infrared motion sensors to capture images of wildlife that walks in front of them. Hunters use them to gain knowledge of what wildlife exists where. In the past, you had to visit the camera, remove the SD card, and insert it into a laptop or tablet to view the images the camera had captured. Recent years, however, have seen the adoption of cellular data uplinks. Now, many new game cameras are able to transmit images wirelessly, which opens up their application as ruggedized, weatherproof, outdoor security cameras.
But drive to our cabin, and if you're on Verizon, you'll be greeted by a "welcome to Canada" message. That's because the only faint, patchy bar of signal available there comes from one of that network's towers across the border.
A bunch of Googling led me to a company I'd never heard of before: Moultrie, which specializes in eastern-style quality deer habitat management tools—and a now-discontinued $400 camera called the XV-7000i that customer reviews indicated would work well with a very limited signal. That price created another problem, though: I didn't want this thing to get stolen.
More time on Google led me to CamLockBox, which produces steel lockboxes custom fit to individual models of game cameras, along with other security gear, like mounts and locks. Sixty dollars later, I'd ordered a box fitted for the Moultrie and a cable lock sized to the mounting holes in the camera and box.
On our next visit to the cabin, I set everything up and mounted it to a tree in the driveway. I was nervous that my $500 investment (I also had to buy an SD card and batteries) was going to be a waste, but all the lights lit up green, suggesting things were going well. You control the camera through a smartphone app—I pay for the midtier plan that gives me up to 1,500 images a month for $14. No contract, preexisting or new, necessary.
Surprisingly, the camera said it had four out of five bars of service, despite connecting to that tower in Canada. It has no issues uploading photos or responding to commands through the app despite being housed inside the steel lockbox. A set of 12 lithium AA batteries I installed last July is still going strong now in late March, despite winter temperatures that reached the negative twenties.
Almost immediately, the XV-7000i started capturing wildlife photos: an awful lot of squirrels, the fox that lives near the trash cans, the skunk that lives under the house (don't get me started), deer, a moose, the big mountain lion we'd only ever seen as tracks before, and even a couple bears. The family text thread filled up with images of the animals, giving us all a connection to our favorite place, even when we aren't able to visit.
More important, the camera provides an appreciable extra level of live security. When a tree fell in the driveway last fall, we were able to see that it hadn't damaged the house. Phew. A commotion at the top of the driveway last summer, while we were inside the cabin, turned out to be a car full of teenagers who looked like they were up to no good. They were pulling out of the driveway just as I ran up there.
The images uploaded to the app initially are pretty low resolution, but with the push of a button, you can request that the camera uploads them in full 16-megapixel resolution at 5376×3024 pixels. That's a long way from even an iPhone-quality shot, but it's enough to read license plates and identify faces within the camera's 80-foot detection range.
The "V" in XV-7000i denotes Verizon. Moultrie also makes cameras that run on AT&T's mobile data network, if that works better in your chosen location. Motion detection is accomplished using a passive infrared sensor with adjustable sensitivity, and the black-and-white nighttime images are aided by an invisible infrared flash.
The CamLockBox fits the camera perfectly, allowing no room for movement or vibrations. The cable lock passes through both the lockbox body and the camera's mounting holes, making it very secure. My only complaint is that it can be hard really snugging the whole thing up against a tree using only the included cam strap. In the future, I plan to remount the camera with lag bolts using the existing mounting holes provided in the lockbox body.
Speaking of security, no one has tried to mess with the camera. While I have no doubt that a highly motivated person with the right tools could cut the cable lock or pry the box open, that'd likely take them several minutes of work. And while they labored, the camera would just fire off shots, uploading them all instantaneously to Moultrie's cloud server. I'd have pictures of them on my phone before they finished. The app also enables you to create custom alerts, pinging your phone if it captures an image of a human, a certain type of animal, or whatever other variable you ask of it.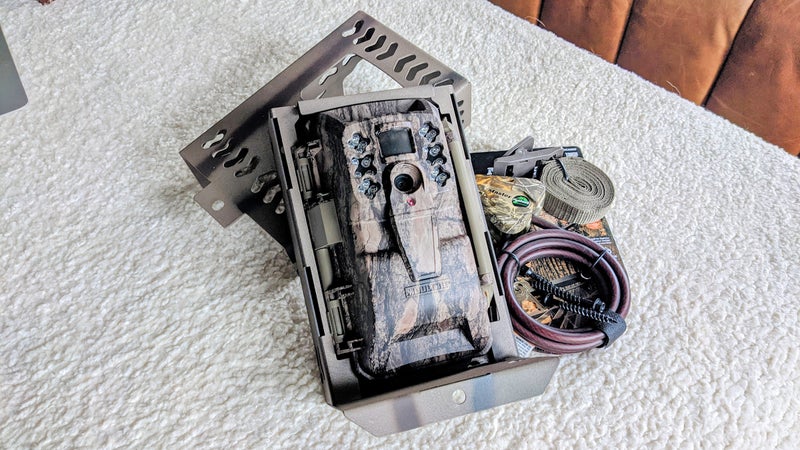 The best part? While the XV-7000i described here cost me $400 a year ago, it's since been replaced by the new XV-6000, which costs just $150. Performance is actually said to be superior on the new, cheaper camera, with a decreased tendency to capture images of absolutely nothing. I bought one, plus the accompanying CamLockBox and lock, a month ago and am just waiting for my next visit to the cabin to install it. I want to get some more images of that lion, and I think I know the route he prowls, so I'm going to install the XV-6000 along his path.