This Is the Perfect Road-Trip Meal
Fuel up for your next adventure with these deliciously portable bento boxes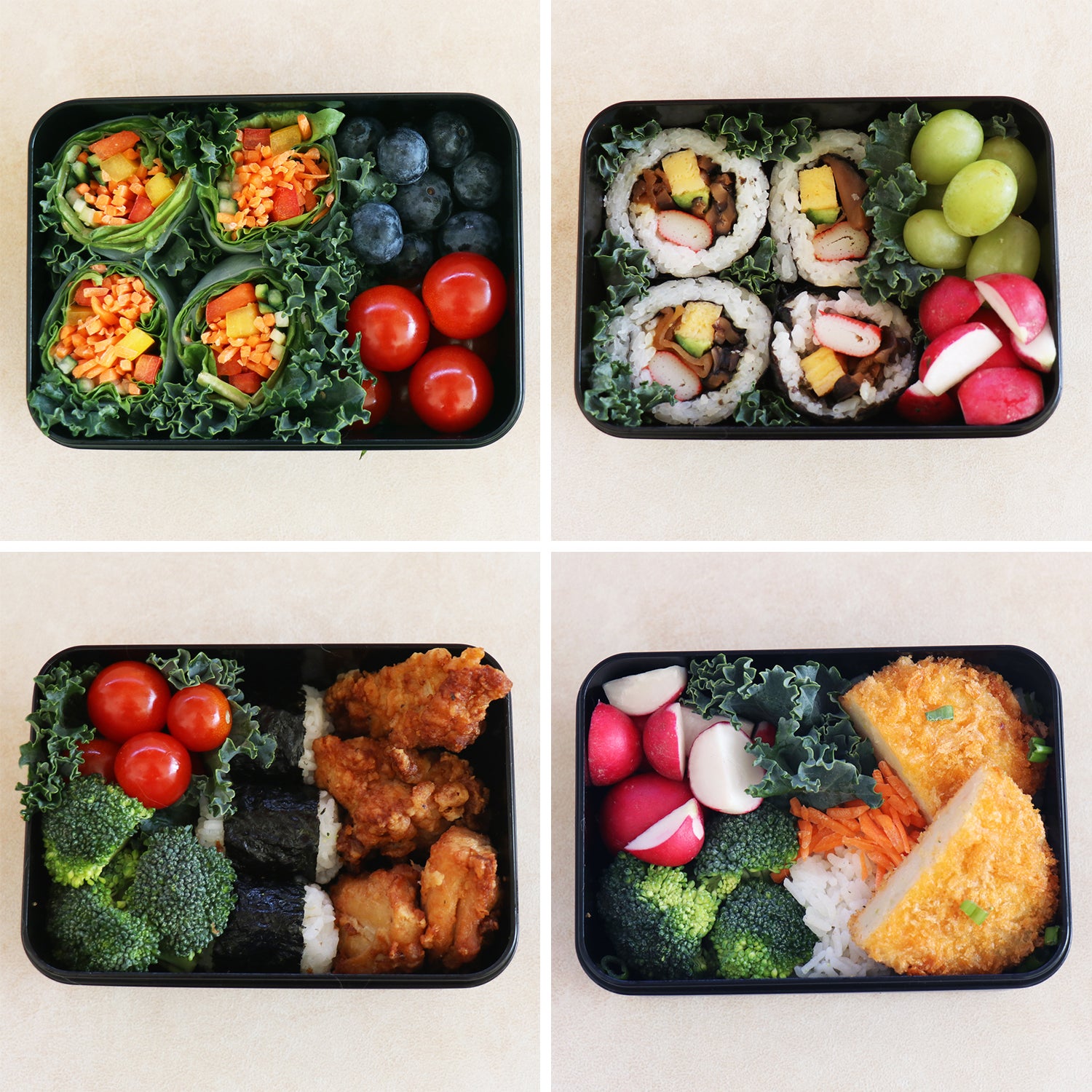 Rachel Ng(Photo)
Heading out the door? Read this article on the new Outside+ app available now on iOS devices for members! Download the app.
When it comes to eating on the road, there are a few schools of thought. Some pack pretzels, fruit, and lunch meats into a cooler with Tetris-like precision. Others prefer rolling the dice on roadside stands and gas station burritos.
When avid traveler and chef Marc Matsumoto is on the move, his go-to meals are bentos—Japanese-style packed lunches that often include combinations of rice, meat or tofu, and vegetables. "If my trip were to involve a lot of physical activity like hiking," says Matsumoto, co-author of Ultimate Bento: Healthy, Delicious, and Affordable: 85 Mix-and-Match Bento Box Recipes and host of Bento Expo on NHK World, "I'd pack a bento with a lot of protein and carbs."
In Japan, the dominant form of transportation is by train, and the modern form of bento comes from ekiben, which literally means train station bento. "These were bentos sold by vendors at train stations around Japan for travelers looking for a meal to eat on their trip," Matsumoto says. "Bento" refers to the lunch box and the meal, and there are whole online communities dedicated to the art of making them.
In addition to being portable, bentos are eaten at room temperature and typically not refrigerated, making them perfect for your next road trip or camping adventure. "A typical Japanese bento box is about the size of an American pack of butter," Matsumoto says. "It may seem small, but the idea is to keep it compact so that it's easy to take with you when you're on the go." Matsumoto estimates that an average bento box could hold at least a pound of food, which equates to around 600 to 1,000 calories, making them hearty enough to sustain you on a rigorous hike. A couple of Matsumoto's favorite meats to include are loco moco (burger patty with a mushroom gravy) and chicken nanban (fried chicken coated with egg batter). You can purchase the bento box container from any Asian grocery store or from Amazon.
Matsumoto shared some tips with Outside on the right way to pack a bento.
Keep It Clean: Be sure to wash your hands, utensils, and the lunchbox thoroughly before packing the food. "The more microbes you introduce during packing, the higher the chance the food will spoil," Matsumoto says. "For the same reason, you also want to use fresh ingredients that aren't close to expiring."
Go Bold with Flavors: Salt and acidity can stave off spoilage, so ingredients packed into a bento are typically well seasoned. Rice mixed with rice vinegar and a dash of salt form a great base for any bento meal.
Reduce Moisture: Bad microbes thrive in moist environments, so Matsumoto recommends avoiding watery sauces or wet ingredients. Just One Cookbook author Namiko Hirasawa Chen concurs, adding that because bentos are served at room temperature, "foods that are soaked in oily sauce don't work, as oil gets solidified."
Pack It Tight: A properly assembled lunchbox is compact enough to prevent its content from shifting around when you're on the move. "You should be able to shake it gently and not have the food move all over the place," Matsumoto says.
Use Edible Separators: "No one wants the tastes of their fruit and savory food to get mixed up," says Matsumoto, who suggests using green leaves, such as lettuce, radicchio, and kale, to form partitions in the bento. "This keeps foods you don't want touching separated and adds a splash of color," he says. "You can also eat the separators if you want."
Make It Colorful: You want to whet your appetite when you open the bento box. "By packing a lot of colors into the bento, it not only makes it more appetizing, it helps ensure you're packing a good balance of micronutrients," Matsumoto says.
Ready to get started? Here are of four of my favorite bento boxes to pack for your next trip.
---
Summer Vegetable Spring Rolls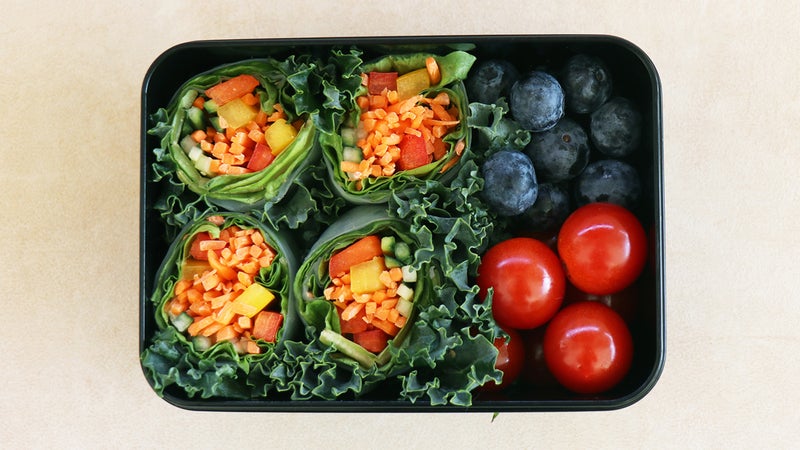 The beauty of fresh spring rolls lies in their versatility—you can incorporate any of your favorite vegetables and protein. The rice wrappers can tear easily, so be careful not to overstuff them.
Ingredients
2 rice wrappers, 8.5-inches in diameter
Green leaf lettuce
Whole basil leaves
1/4 carrot, julienned
1/4 cucumber, julienned
1/4 red bell pepper, julienned
1/4 yellow bell pepper, julienned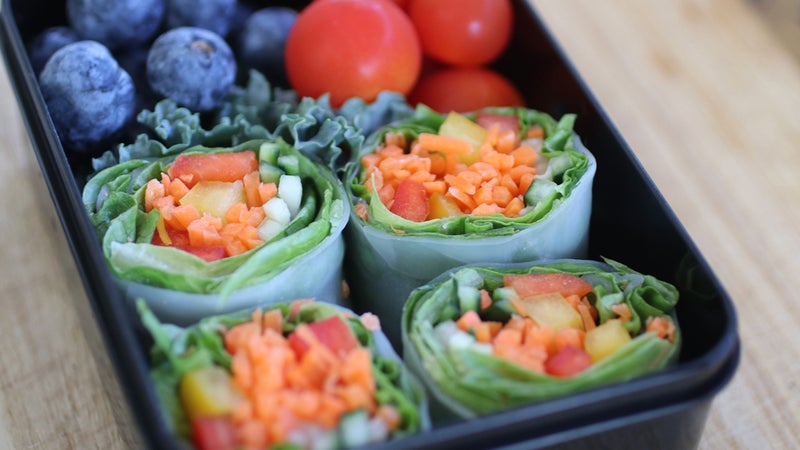 Directions
Fill a shallow bowl with warm water. Dip the rice wrapper in the water for a couple seconds to soften. Lay the wrapper flat on a cutting board. Line with lettuce, whole basil leaves, carrots, cucumber, and peppers across the center. Fold in the sides and tightly roll the wrapper. Repeat with remaining ingredients. Cut into bite-size portions, and dip in a salad dressing of your choice.
---
Marinated Mushroom Maki with Eggs, Cucumber, and Crab Sticks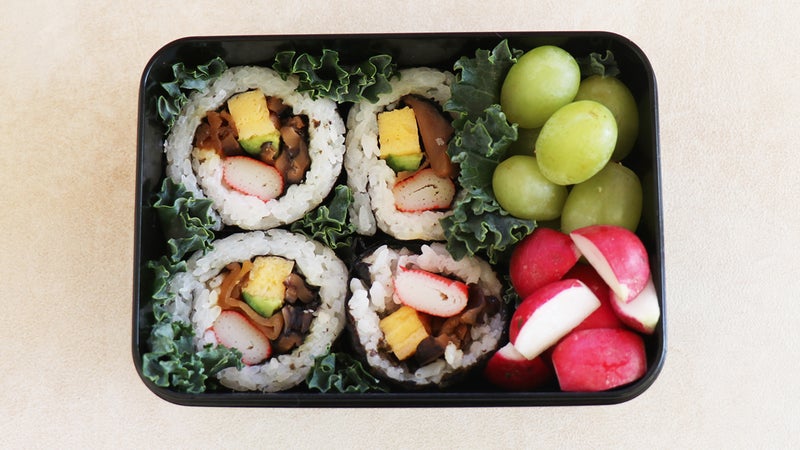 This maki features flavor-packed marinated mushrooms and crunchy cucumber. Leftover sushi rice and mushrooms can be incorporated into other bento boxes.
Ingredients for Sushi Rice
2 tablespoons rice vinegar
1 tablespoon sugar
1/2 teaspoon salt
3 cups cooked short-grained rice
Directions
In a small bowl, mix rice vinegar, sugar, and salt. Place the hot cooked rice in a large wooden salad bowl. Drizzle the vinegar mixture over the rice and mix with a rice paddle or large wooden spoon until the rice is cooled.
Ingredients for Marinated Mushrooms
1 1/4 cup vegetable stock
2 tablespoons mirin (Japanese sweet rice wine)
2 tablespoons sugar
2 tablespoons soy sauce
6 to 8 shiitake mushrooms, cleaned, stems removed
Directions
In a medium-sized pot, combine stock, mirin, sugar, and soy sauce. Add shiitake mushrooms and bring to a boil. Lower heat to a simmer and cook until the sauce evaporates. Thinly slice the mushrooms.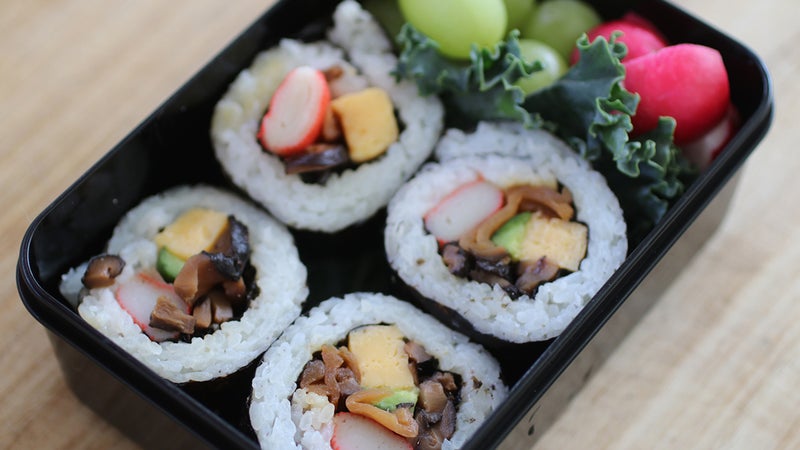 Ingredients for Maki
1 sheet nori seaweed (approximately 7×8 inches)
Sushi rice
A plain egg omelet (Cook it in a frying pan, then cut into strips.)
Crab sticks
Cucumber, deseeded and cut into strips
Marinated mushrooms, sliced
Directions
Place a thick kitchen towel on top of a cutting board. Cover the towel with plastic wrap, then lay the nori sheet down flat. The "rough" side of the nori should be facing up. Wet your hands, pick up a handful of sushi rice, and gently lay your hands on the nori sheet. Spread the rice over the entire nori sheet, leaving a half-inch margin at the top. Add omelet strips, crab sticks, cucumber, and marinated mushrooms in the middle of the sheet. Using the kitchen towel as a guide, slowly roll the maki to form a cylindrical shape. Cut immediately with a sharp, wet knife.
---
Japanese Fried Chicken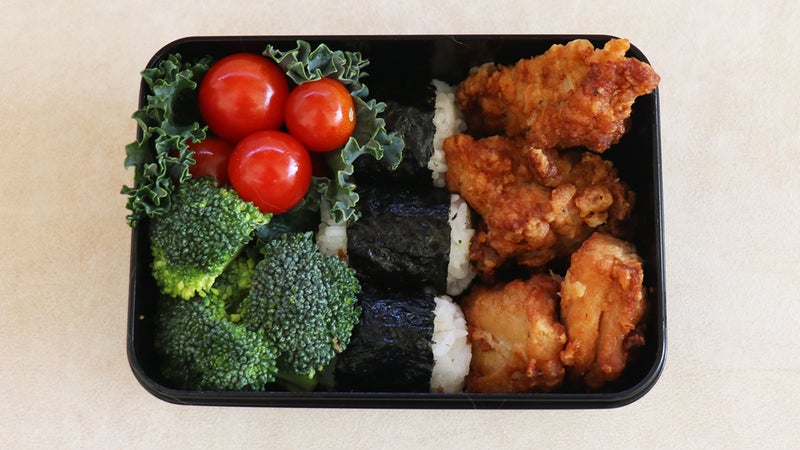 One of the most popular additions to bento boxes is Japanese fried chicken, or karaage. This well-seasoned chicken tastes great right out of the fryer or cooled to room temperature. Pack it with mini rice balls, steamed broccoli, and cherry tomatoes.
Ingredients
1 pound skinless, boneless chicken thighs, cut into bite-size pieces
1 tablespoon grated ginger
1 teaspoon garlic
1 tablespoon sake
1 1/2 tablespoon soy sauce
1 teaspoon sugar
Cornstarch or potato starch
Canola oil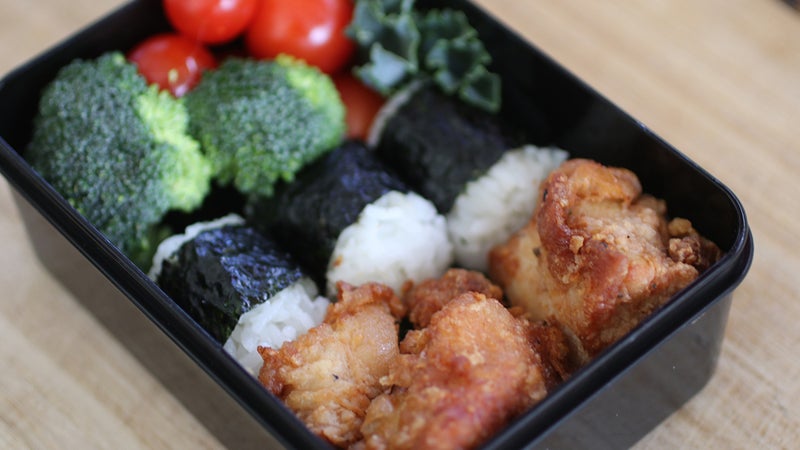 Directions
Place chicken into a Ziploc bag. Add ginger, garlic, sake, soy sauce, and sugar. Seal the bag and shake to evenly distribute the seasonings. Refrigerate for at least four hours. Heat oil in a deep pan to 350 degrees Fahrenheit. Coat chicken with cornstarch. In small batches, fry the chicken for four to six minutes. Drain on a paper towel–lined rack.
---
Japanese Croquettes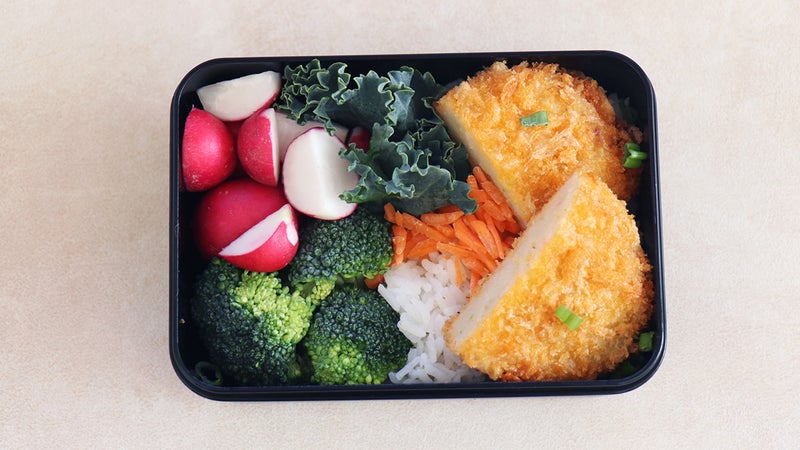 If you're looking for extra protein for this recipe, you can add ground beef or pork when cooking the onion. Be sure to drain the excess oil before mixing it with the mashed potato. Lay the croquettes on a bed of rice and veggies, or serve them on top of lightly dressed shredded cabbage.
Ingredients
1 tablespoon plus 4 cups vegetable or canola oil
1 onion, diced
Salt and pepper
1 tablespoon butter
2 russet potatoes, cooked, mashed, and seasoned with salt and pepper
Canola oil
1/2 cup all-purpose flour
3 eggs, beaten
2 cups panko (Japanese breadcrumbs)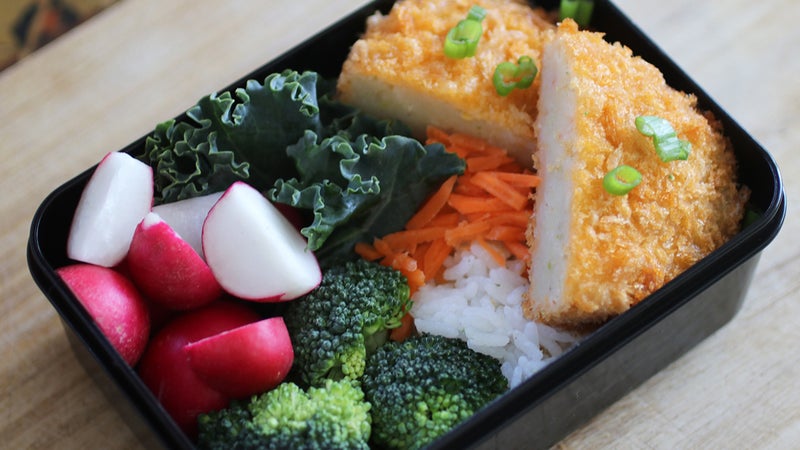 Directions
Heat one tablespoon of oil in a medium frying pan. Add diced onion. Sauté on low heat until the moisture has evaporated. Season with salt and pepper. Add onion mixture and butter to mashed potatoes. Hand-shape the mashed potato mixture into patties and place on a small baking tray. Cover with plastic wrap and let the patties rest in the refrigerator for at least 30 minutes. Heat remaining oil in a deep pan to 350 degrees Fahrenheit. Coat patties in flour, then dredge in beaten eggs, then cover the patties with panko. Deep-fry patties until golden brown, around two to three minutes each. Drain on a paper towel–lined rack. Alternatively, you can bake the patties in a 350-degree oven for 20 minutes.
Lead Photo: Rachel Ng
Trending on Outside Online