How to Find a Last-Minute Campsite
We've got you. With this advice, you can still nab a nice—and even popular—spot at a campground of your choice this summer. Huzzah!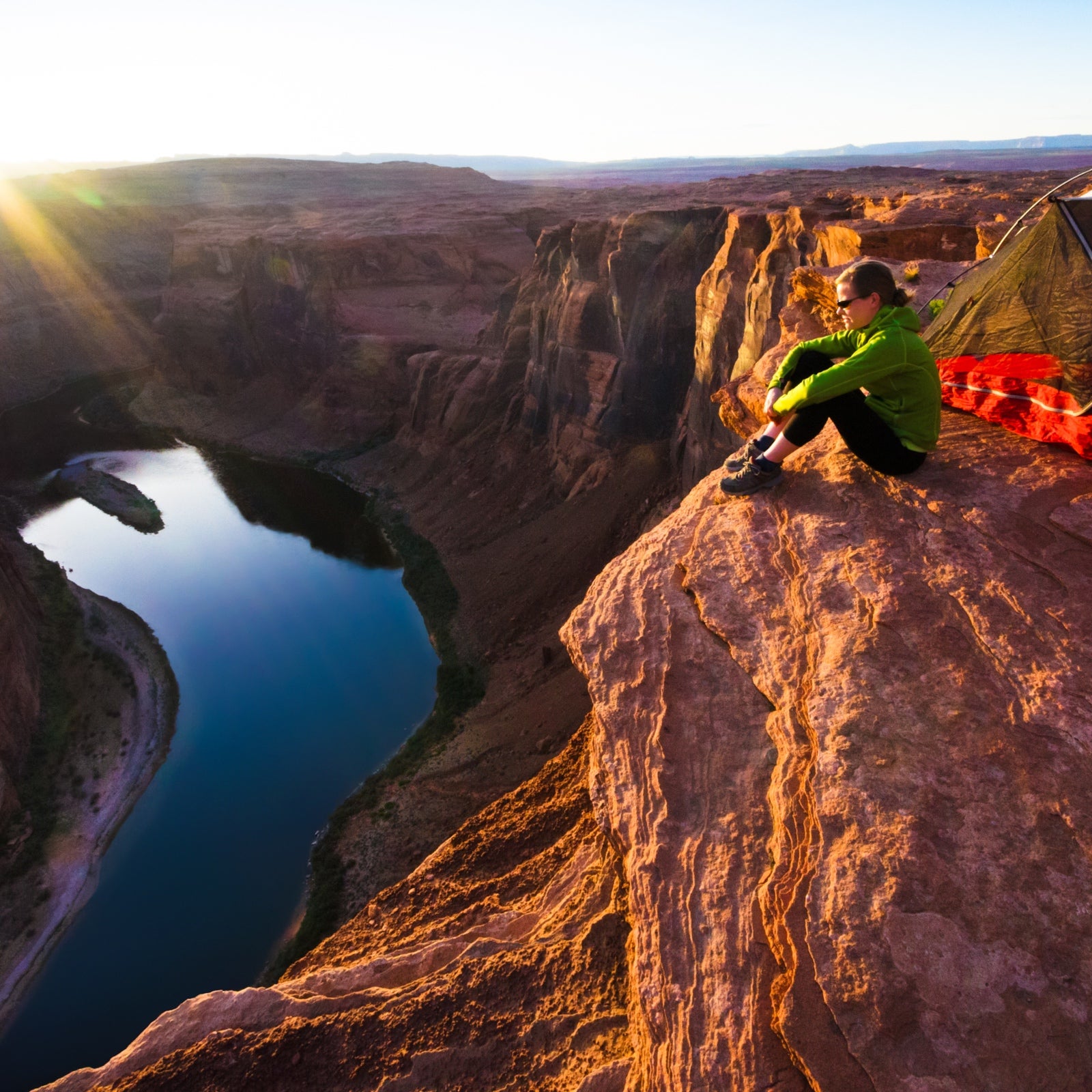 Getty Images/thinair28
Heading out the door? Read this article on the new Outside+ app available now on iOS devices for members! Download the app.
Any number of concerns are on our radar as we plan our next trip, from serious issues like how destinations are working to mitigate tourists' environmental impact to inconveniences like months-long passport wait times. In this column, our travel expert addresses your questions about how to navigate the world. 
All the good campsites are already taken! I want to go camping in one of the big national parks or seashores this summer, but I guess I should have booked a site long ago. (I'm not a planner.) Do I have to write off this idea entirely? —Spontaneous Sally
I, too, grew up thinking camping was meant to be spontaneous. As a kid, my parents would decide on a whim to stuff me and my two siblings in the station wagon with a tent, some fishing rods, and a cooler filled with beer, juice boxes, and everything to make burgers and hot dogs, and drive from our home on the Jersey Shore to a state park in the Poconos or upstate New York. There was never any worry (even from my type A mother) that we wouldn't find a campsite.
When I moved to Colorado as an adult, however, my friends laughed when I suggested a last-minute camping trip over Fourth of July weekend in Rocky Mountain National Park. "You need to plan months out for that," they told me.
If you're hoping to head to the holy grails of national parks (read: Yosemite, in California, or Yellowstone, in Wyoming), you should know that reservations open four to six months in advance and sites get snatched up quicker than tickets for Taylor Swift's Eras Tour. Also, the pandemic-fueled surge of new campers has created a campsite shortage, making it more difficult than ever to score a spot, even if you do plan ahead.
According to a recent camping report from The Dyrt, a campsite-finding app, 2022 was the hardest year yet to land an available campsite—perhaps not that surprising when you look at the numbers: there are an estimated 80 million Americans who consider themselves campers, 15.5 million of whom only began camping over the past two years. As a result, those surveyed reported it was five times more difficult to find openings compared with 2019, and that sites were twice as scarce as they were in 2021.
But enough with the discouraging stats. Don't abandon your camping dreams just yet. With a little patience, persistence, tech savvy, and a bit of luck, you can still pitch a tent in a national park or seashore this summer, even the bucket-list ones. Here's how to snag that last-minute site this late in the game.
1. Just Go and Hope for the Best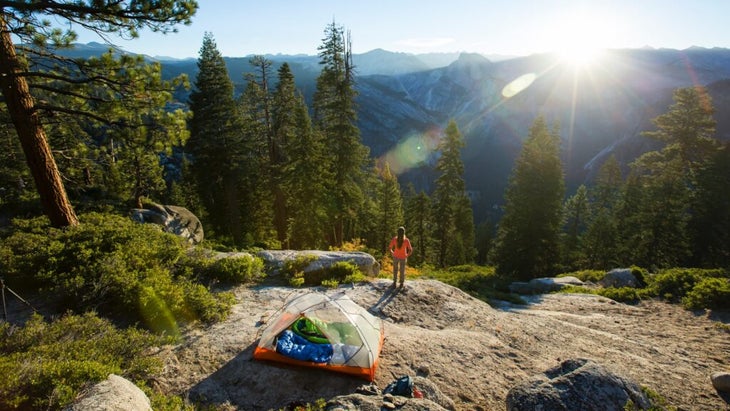 If you aren't a planner, your next best chance of getting a great campsite during high season is to trust you'll have good travel karma and reap the benefits of a no-show. Super planners often book sites six months in advance, knowing they may need to cancel, says Jeremy Puglisi, author of Where Should We Camp Next? and cohost of the podcast Campground of the Week. This results in lots of last-minute availability when those planners back out. John Tillison, creator of the site Park Ranger John, says that during his two decades as a ranger in Washington State, it was very common for Friday-night bookings to never check in. "People staying just outside the park could often come in and scoop up a no-show spot on Saturdays," he says.
2. Sign Up for Cancellation Alerts
Sure, you can stalk campgrounds for vacant sites, call a park over and over, or stare at your phone constantly, refreshing a campground reservation page. But most of us have busy lives. Fortunately, a number of apps have removed these time-consuming hassles and when a spot opens, they'll send you a text or in some cases an email alert. For the following sites, you simply insert where you'd like to go, when, and how often you want a scan conducted; how much you're willing to pay for a scan will increase that frequency. With all of these, the earlier you know your dates and plans, the better your chances.
Campnab, which launched in 2017, scans reservation calendars at over 350,000 campsites in over 3,000 state and federal campgrounds across the U.S., as well as provincial campgrounds across Canada, to search for cancellations. You pay a fee to get a text message when the campground or backcountry permit of your choosing has an opening on the dates you requested. Pay-per-use scans are a great option for the occasional camper; they watch for vacancies at a specific park for a specific date and range from $10 to $20 each based on whether you want a scan run every 60, 20, or 5 minutes. Camping enthusiasts can purchase memberships ranging from $10 to $50 a month that request a scan of multiple parks and/or dates simultaneously. Depending on your membership level, the app will scan every 15, 10, or 5 minutes. The Mega and Awesome plans will scan every two minutes for extremely popular parks.
CampsitePhotos.com, a website that shows images of more than 2,000 campsites within U.S. national parks, state parks, and Forest Service lands, has a campsite-assist feature that scans for cancellations and sends email and text alerts with a reservation link when a booked campground has an opening. For a one-time fee, users can plug in an exact arrival date and length of stay for a specific campground or use a matrix-scan feature that allows scans for availability at one campground within a set date range of up to seven days. Depending on the scanning fee you select ($20, $15, or $10), the app will search every 3, 13 or 33 minutes, respectively, for specific scans, or every 15, 45, or 90 minutes for Matrix scans for three to six months.
Newcomer CampScanner, which launched this year, scans a database of more than 12,500 campgrounds at 4,900-plus state and national parks—including Glacier, Yosemite, and Yellowstone—for last-minute openings, alerting members as they become available. A basic membership at $39 a year allows up to five concurrent scans, checking cancellations every 15 minutes, whereas the premiere membership, $79 a year allows up to 15 concurrent scans that are checked every five minutes.
And the free camping app called The Dyrt recently launched Dyrt Alerts, which searches a database of over 4,000 state and federal campgrounds across all 50 states. Single scans are based on the time frame of your arrival and allow you to choose up to five campgrounds in an area from pre-populated choices. Fees range from $9 to $24, and scans check availability every 5, 20, or 60 minutes for up to 12 months. The upgraded version of the app, the Dyrt Pro, costs $36 a year; it includes added features like offline search capabilities, plus two free scans and 50 percent off additional single scans.
An alert doesn't guarantee a site though, cautions Eric Karjaluoto, cofounder of Campnab. It's simply a signal to beeline to the campsite's booking page to secure your reservation. Recreation.gov covers a lot of parks, but not all of them; a number of state campsites are booked on Reserve America. Still others use different systems and have stand-alone booking pages, including Florida State Parks, Reserve California, Arizona State Parks, and so on. In Canada, national parks are booked on Parks Canada Reservations, and each province, like B.C. Parks and Ontario Parks, has its own booking site.
A newly canceled spot at a national park like Yosemite will get rebooked in less than a minute, Karjaluoto says, so you need to act fast. He suggests setting up a custom ringtone for alerts, so you can pull to the side of the road and make a booking ASAP. He also notes that different states handle cancellations in different ways. "Some canceled sites get released immediately, but some aren't released until the next day, and even if the park website says they'll be released at 8 A.M., it might be 7:30 or 8:10 A.M.," he says.
Additionally, the savvier you are with your booking parameters on these apps, the more likely you are to find a site, says Karjaluoto, who reaches out to each Campnab user to help them optimize their search. "If you get super granular and say you only want a minimum of eight nights at Yosemite at one particular campsite over July 4 versus saying, 'I'm willing to stay anywhere in Joshua Tree during the first two weeks of July,' then your probability decreases," he says. "When you're searching 100 campsites versus one, it's easier to find a cancellation."
Another pro tip from Karjaluoto: when considering when and where to stay, note that shorter stays at parks farther from major urban areas often yield the best results.
3. Travel Midweek and Consider Skipping July
In a remote-work world, summer is no longer just about the weekends. If you can escape midweek, you'll face less competition for a site and increase your odds when booking further out. According to The Dyrt's 2023 report, Wednesday is the best day for camping availability, closely followed by Tuesday.
That's not to say you should give up on weekends. When I did a quick search on June 30 for sites in Rocky Mountain National Park—America's fourth most visited national park last year—Recreation.gov showed a handful of openings for the Timber Creek Campground (the only campground on the park's west side) throughout July, even over a weekend.
Still, Puglisi says that July is the worst time for impromptu camping trips. The entire country is out of school, so it feels like every family in America is traveling. He and his family always take their national-park trip the last week of August. "We could have landed a plane at Old Faithful last year—Yellowstone felt half empty, and we had astonishingly good luck getting sites," he told me.
4. Combine Sites and Stays
Reserving a prime site for an entire week or longer at the last minute requires strategizing. Consider moving between campsites once in a campground to lengthen your stay. Sometimes a friendly request to extend your stay once you're already checked in can be accommodated, notes Ashley Rossi, managing editor at Campendium, a website and free app for campsite research and reviews. Also look into camping alternatives, like a houseboat at Lake Powell or a tent cabin at Curry Village in Yosemite; researching all the options will increase your likelihood of a longer stay in your preferred area.
If your priority is experiencing a national park, combine camping a few nights inside the park with a few nights at other nearby National Park Service sites. For example, if you can only get a night or two at a campground within Utah's Arches or Canyonlands National Parks, you might try Colorado and Natural Bridges National Monuments, which also have fantastic scenery and first-come, first-served sites year-round. Try Bureau of Land Management or Forest Service sites, as most operate on a first-come, first-serve basis.
Sites on private land or glamping properties can be pricier but still offer a camping-like experience. Yonder Escalante, located within Utah's Grand Staircase–Escalante National Monument and 45 miles east of Bryce Canyon National Monument, is a good example. Hipcamp offers a collection of sites near national-park entrances and will help you find reservations available tonight or this weekend, for instance, or camping within a two-hour radius of your location. Harvest Hosts, a private-land option with annual memberships starting at $99, offers options for RV camping at thousands of farms, wineries, and breweries across the country; it's a great option for a single-night stay en route to a park, says Patrick Buchanan, director of partnerships for the site RV Life.
5. Be Realistic About Camping in an Iconic Park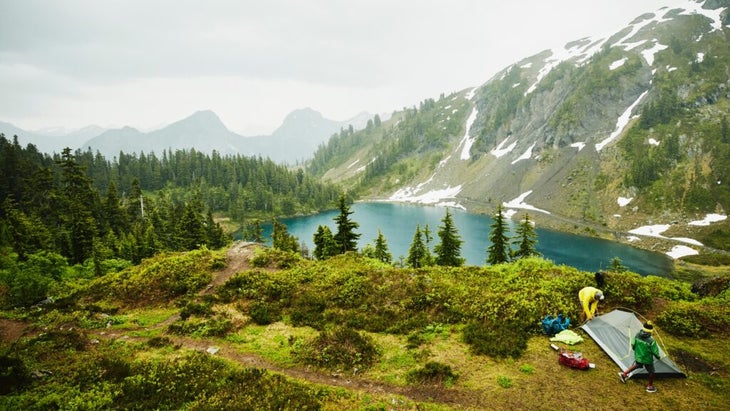 A camping trip in one of America's most famous national parks can take a year of planning, says Puglisi. "Booking a site is intense and competitive. You can always luck into something, but if you focus your energy on lesser-known parks, you'll improve your chances," he advises.
Yosemite, with its waterfalls, giant granite cliffs, and campgrounds nestled beneath towering ponderosa pines with views of Half Dome, is arguably the toughest park in America to land a reservation, he says. People will set alarms, enlist friends and family, and take off work to sit at their computer and constantly refresh their screen hoping to secure a booking the day reservations open for their preferred arrival date. Demand is so high, in fact, that the park is currently testing a new early-access lottery system in an attempt to level the playing field.
But cancellations happen even at Yosemite. Lisa Cesaro, a spokesperson for Aramark Destinations, a hospitality partner that manages the 266-site Housekeeping Camp in Yosemite Valley, says people have up to seven days prior to arrival to cancel without penalty. Cancellations can occur in summer but are more frequent in fall, so if you're flexible, you can still score a prime spot near Merced River in September or October or a room at the Yosemite Valley Lodge, convenient to Yosemite Falls.
Puglisi considers Utah's Mighty Five—Arches, Bryce Canyon, Zion, Canyonlands, and Capital Reef National Parks—tough tickets, too. "Demand generally exceeds the number of campsites available, especially in the summer," says Zion spokesperson Jonathan Shafer, who notes the variety of public lands nearby offering camping options.
Many hot spots like North Cascades National Park, in Washington, and Grand Teton National Park, in Wyoming, offer walk-up backcountry-camping permits the day of or day before a trip on a first-come, first-served basis. You'll need to pay the park-entrance fee and show up in person at a ranger station to enquire. Naaman Horn, a spokesperson for the National Park Service's Intermountain Regional Office, highly recommends showing up well before 8 A.M. to get one of the first spots in line. He also suggests having a back-up plan. For example, Grand Teton is surrounded by National Forest Service land, including Bridger-Teton and Caribou-Targhee National Forests, both of which welcome campers.
6. Expand Your Horizons
Try going to some BLM and lesser-known public lands. With Gaia GPS, you can enable private-public land layers on top of Gaia Topo to find dispersed camping sites. Points of interest are included, too, like the best photo opportunity or water sources. (Disclosure: Gaia GPS is owned by Outside Inc., which also owns Outside magazine.)
"Dispersed camping simply means camping outside of a designated campground," says Gaia GPS's Abby Levene. Typically, dispersed campsites don't include common campground amenities such as running water, bathrooms, and a camp host. But they do generally afford more privacy and seclusion. Plus, you can find a dispersed campsite at the last minute—and it's free.
"If you don't mind foregoing amenities, BLM and other public land provide a trove of private and peaceful campsites for you to enjoy," says Levene. "Gaia Topo now clearly shows all 248 million acres of BLM-managed public land, as well as expanded state public lands. With it you can navigate forest roads, avoid trespassing, and find the best dispersed camping."
Dispersed campsites on Gaia GPS are usually marked by a fire-ring icon. Be sure to check the BLM website, call the field office, or inquire at the ranger's station to make sure dispersed camping is allowed in the area.
7. Check Out These Alternatives to the Most Popular National Parks
If your search for a campground in a major national park starts making you frustrated, remember that America has 63 national parks and more than 6,600 state parks. Sanna Boman, editor in chief of Roadtrippers, a global road-trip planning tool, shared her list of excellent alternatives to the national parks everyone flocks to, based on similar scenery.
Death Valley, California and Nevada
Alternatives: Big Bend National Park, Texas; Great Sand Dunes National Park, Colorado; Bruneau Dunes State Park, Idaho
Yosemite, California
Alternatives: Kings Canyon National Park, California; Rogue River–Siskiyou National Forest, California and Oregon
Rocky Mountain, Colorado
Alternative: Black Canyon of the Gunnison National Park, Colorado
Glacier, Montana
Alternatives: North Cascades National Park, Washington; Mount Rainier National Park, Washington
Yellowstone, Wyoming, Montana, and Idaho
Alternatives: Lassen Volcanic National Park, California; Custer State Park, South Dakota
Joshua Tree, California
Alternatives: Mojave National Preserve, California; Saguaro National Park, Arizona; Great Basin National Park, Nevada
Grand Canyon, Arizona
Alternatives: Badlands National Park, South Dakota, Palo Duro Canyon State Park, Texas
Zion, Utah
Alternatives: Monument Valley, Arizona and Utah; Canyon de Chelly National Monument, Arizona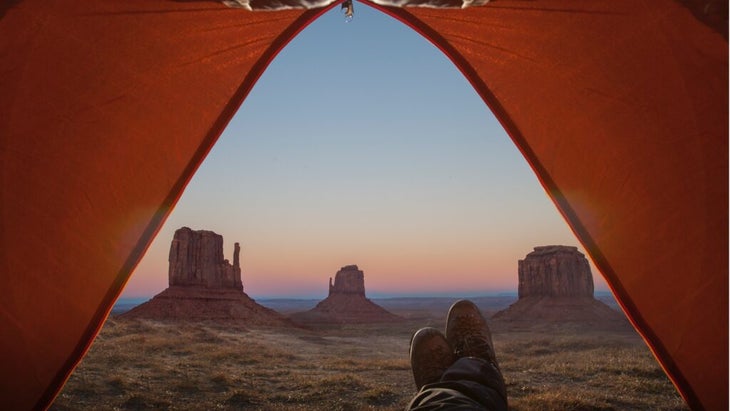 8. Still Can't Decide Where to Head? Use This Cheat Sheet.
Earlier this year, The Dyrt created a list of the ten hardest-to-book campgrounds in the country. After I interviewed founder Sarah Smith for this story, she went back to the report data and curated a list of 15 sites with a rating of 4.2 or higher out of 5 on The Dyrt. Each has some of the highest number of bookings per year, but also report vacancy for more than half of their high season. Surely you'll find an idyllic spot at any of the places listed below, Sally, where you can pitch your tent, pull out your cooler, finally turn off your phone and all of those alerts, and simply enjoy some downtime in nature.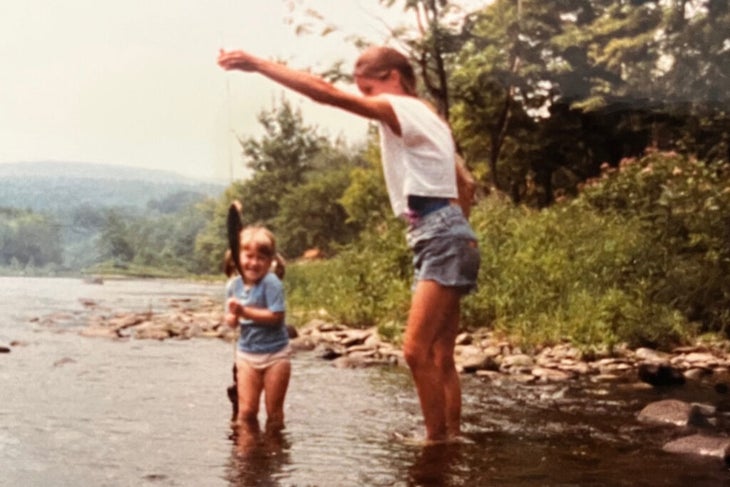 Outside correspondent Jen Murphy has been camping since before she could walk. Family-tent adventures ended around age five, however, after an unfortunate incident involving a flooded campground and a sister who threw up in her sleeping mother's hair in the middle of that rainy night. Luckily, Murphy was unphased and still loves camping. She's set up app alerts in hopes of scoring one of the three backcountry cabins in Haleakala National Park in Maui this summer. 
Lead Photo: Getty Images/thinair28