How to Plan Your First Hut Ski Trip
From where to go to what to pack, here's everything a newbie needs to know to pull off a successful first hut trip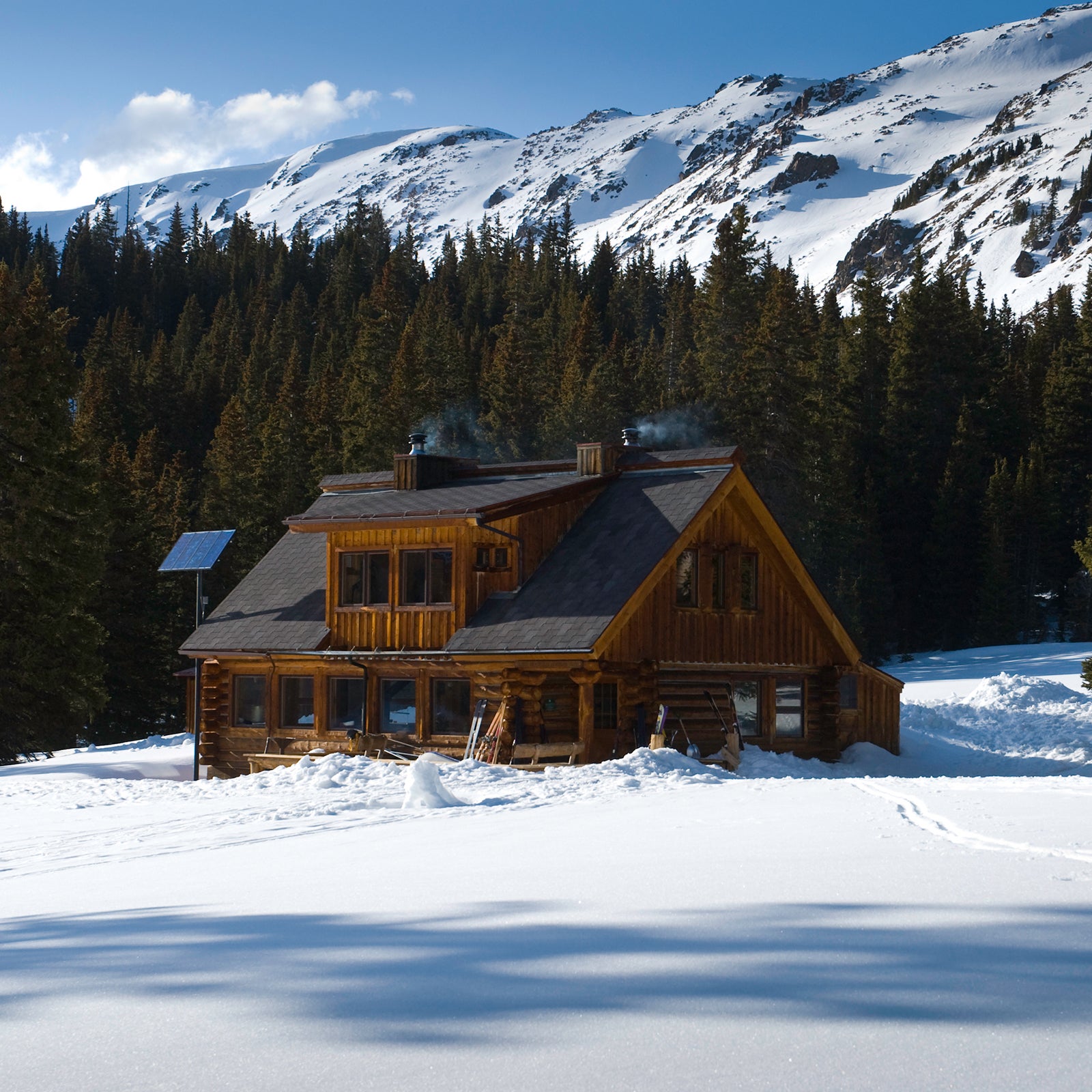 Heading out the door? Read this article on the new Outside+ app available now on iOS devices for members! Download the app.
In the past few years, backcountry skiing has become one of the fastest-growing segments in the snowsports industry. If you're one of the many people who recently started ditching the chairlift, you've probably heard of hut trips from some of your off-piste friends.
For the unacquainted, a hut trip involves backcountry skiing to a rustic cabin nestled somewhere in the mountains. It requires extra knowledge, planning, and equipment but makes for the best kind of ski getaway: empty slopes, a group of friends, and a wood-burning stove in a picturesque cabin. We've outlined everything newbies need to know to crush their first hut trip. 
Get Schooled
No ski patrol in the backcountry means no avalanche mitigation. There are plenty of training courses on how to avoid avalanches and basic rescue techniques. The American Institute for Avalanche Research and Education (AAIRE) is the big name in avalanche preparedness, and various schools offer classes throughout the winter around the country. Courses aren't cheap—an AAIRE Level 1 certification costs about $450—but it's a necessary investment if you're going to spend time out of bounds. 
Find a Good Hut
To decide on a cabin, consider your group's skiing ability, fitness level, and how many amenities you want. If it's a first trip, I recommend finding a hut with an easy approach, about two miles or less from a road, and surrounded by mellow runs. 
Colorado's 10th Mountain Division, a system of 35 huts connected by 350 miles of routes, is a good starting point. Though calling them "huts" is an understatement—they're beautiful, well-outfitted log cabins. Most sleep around 16 people and come equipped with comfy memory foam mattresses and pillows, a wood-burning stove and oven, and two outhouses. It's usually easy to book a bed or two throughout the winter, but it's more fun to reserve an entire hut and bring a crew of friends. To do so, you'll have to enter a lottery in the spring, which fills up fast. For even more luxury, the Opus Hut (from $50 per person a night) in southwest Colorado is a European-style experience that sleeps 16 people and includes meals. 
While Colorado probably has the country's most extensive system, there are huts scattered throughout the United States. Here's a helpful resource that lists huts all over North America.
What Gear to Pack
Part of the fun of a hut trip is prepping your kit. It can be tricky, because you want to keep things as light as possible, but winter gear is inherently bulky. You can find plenty of packing lists online, but here's my personal list, adapted from a document sent to me by a friend.
Aside from your backcountry-specific gear, like skins, an avalanche beacon, shovel, and probe, make sure to pack extra batteries for your electronics (they tend to not last in the cold) and indoor booties, an overlooked but essential comfort. (Rab's Hut Boots pack small and light but are tall enough to keep snow out.) You won't need a winter sleeping bag—any hut worth visiting will have a woodstove to keep you toasty throughout the night. Instead, bring a 20-to-30-degree down bag, which will save room (and weight) in your pack. Earplugs to deal with snoring ski mates are an absolute necessity if you want to get any sleep at night; carry extra pairs and you'll be everyone's favorite. Finally, you'll want to pick the right pack. Look for one with about 40 liters of volume that can compress smaller for use on day tours. I have a 45-liter backcountry ski–specific pack, but an airbag pack also works well. 
How to Prepare 
Once you've booked your hut trip, start training. Make sure you're comfortable in your gear (you don't want blisters) and hit the snow as much as you can—your trip will be much more enjoyable if you're not wrecked at the end of each day. If you're not close to the mountains, focus on leg and core exercises, and mix in a little cardio (preferably with resistance) for the trek in. Also keep an eye on the forecast. If you booked a hut in Colorado, for example, look at the CAIC website and avalanche forecasts as often as possible, especially in the weeks before your trip, to have a good idea of the range of conditions.
Lead Photo: Adventure_Photo/iStock