Where Are the Best Places for Portaledge Camping?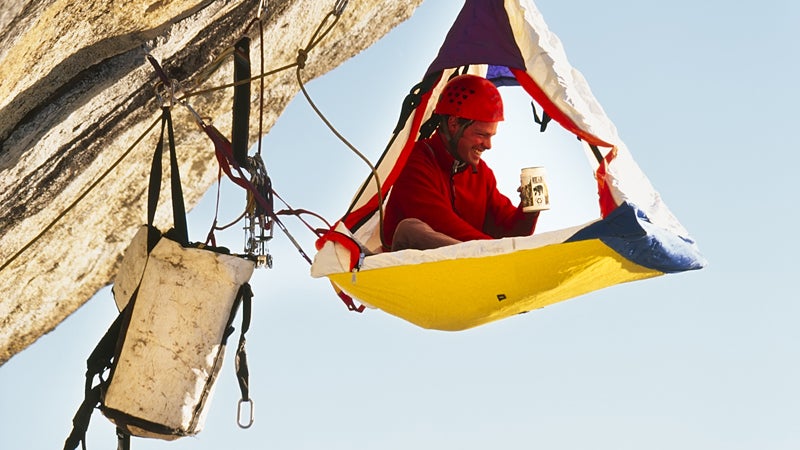 Heading out the door? Read this article on the new Outside+ app available now on iOS devices for members! Download the app.
Like any real estate choice, camping is all about location, location, location. Camping on a portaledge—a deployable, hanging-tent system—gives rock climbers locations worth bragging about: unimpeded views, no noisy neighbors, and everything from egress to big-wall climbs.
In the U.S., there's no better place for a suspension sleeping system than Yosemite National Park. Why? "Huge, steep walls; easy access; high-quality rock; and good weather combine to make it the perfect place for big-wall climbing," says Jeff Ward, owner of North Cascades Mountain Guides. With more than 40 routes, El Capitan tops most climbers' lists for big-wall climbs, as well as for portaledge camping destinations, especially along the Shield wall on the formation's southwest face. Other popular cliffs include Half Dome, Washington Column (whose South Face is many climbers' first big wall), and Leaning Tower.
For another North American option, Eli Simon, a certified American Mountain Guides Association rock instructor with the Atlantic Climbing School, recommends Blow-Me-Down, located in Newfoundland's Devil Bay. Accessible only by boat, the sea cliff towers 1,280 feet above the north Atlantic Ocean. Blowing winds, fog, and rain might make getting a piece of this aerial oceanfront real estate a little dicey. Hit this cliff on a nice day, however, and it's clear climbing up a just-less-than-vertical bottom and a steep upper half.
In Europe, the Dolomites, limestone peaks rising along the Austrian-Italian border, call to climbers. Although most of the routes here can be completed in a day, big-wall ones, like those up Marmolada (Don Quixote) and the north wall of Cima Grande tower, require longer excursions. Norway's Troll Wall is the continent's tallest vertical rock wall. Multi-day climbs along the Trolldom (a.k.a. Troll Magic), Swedish, Raspberry Dream, and Troll's Wife routes are in prime territory for a portaledge (just be mindful of the loose rock that makes Troll Wall a challenge).
If climbing isn't your thing, but tree houses are, Waldseilgarten, a ropes course in Pfrontener, Germany, provides a high-flying solution: the company suspends portaledges from branches of freestanding trees and books guest stays there. Talk about sleeping on air.
If you're aerial for several days, and needs (ahem) arise, find out how to shag on a portaledge.