America's Best Car-Touring Roads
Long stretches of open road through some of the most beautiful areas of the country, peppered with wildlife sightings, adventurous detours, and good brews—it's so much more than getting from Point A to Point B.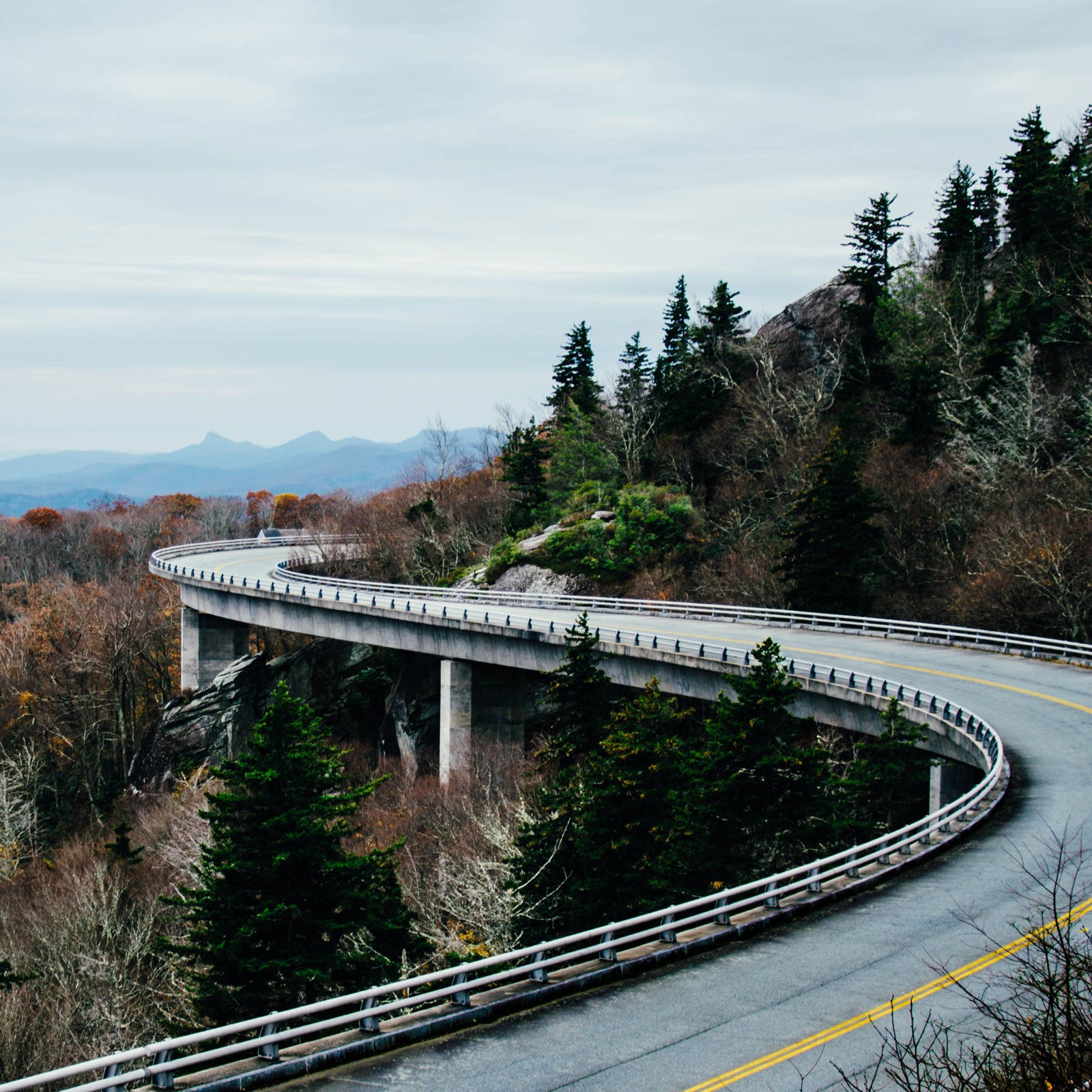 Heading out the door? Read this article on the new Outside+ app available now on iOS devices for members! Download the app.
The American road trip is a longstanding rite of passage. We're drawn to movement and freedom and experience unchained from the morass of daily obligation. The open road— fiery leaves, frosty mountains, sunny coasts, big open desert—offers all that when you've got an open mind and a penchant for adventure.
But it's not enough just to jump in your car and drive. You need the right road with just the right amount of planning. Whether you have a day or a week, we've got the ten best stretches of highway to bolster your soul. 
---
Alaska Highway
MILEAGE: 1,365
DRIVING DAYS: You could do it in four. Give it at least a week.
WHEN TO GO: June to early August for endless summer days.
THE JOURNEY: Stretching from Dawson Creek, British Columbia, to Delta Junction, Alaska, and built in 1942 as an American military supply road, the Alaska-Canadian Highway (aka the Alcan) is one of the last truly wild roads in the United States (despite most of it tracking through the boundless pine forests of the rugged Canadian Rockies). From Dawson Creek, you'll pass a handful of outposts that pepper the route to Alaska, but leave those for refueling and revel in the lonely open road, watching for wild bison, bears, moose, and caribou. Take your time. This drive is all about improvisation, and the route is strung with countless rivers and lakes. Stop often, and camp where it suits you. Try Liard River Hot Springs, where you can soak in a natural bath near your campsite, or Kluane Lake for boating in the shadow of the Ruby Range and Kaskawulsh Glacier. Take a frigid dip anywhere you want, or join a rafting trip on the Tatshenshini River near Whitehorse, the Yukon capital, with Tatshenshini Expediting ($135). Then, soak at Takhini Hot Springs, west of town, before braving the rolling frost heaves that span the last 300 miles to the border.
---
Oregon Coast Highway 101
MILEAGE: 347
DRIVING DAYS: 3
WHEN TO GO: September for small crowds and warm days before the rain.
THE JOURNEY: Oregon's famed coast is a mystical merger of wild seas crashing against forbidding rock along Highway 101. Set out from Astoria and explore the 1906 ruins of the shipwrecked Peter Iredale, foundered in the sands of Astoria's Fort Stevens State Park. Make tracks south to the 2,700-acre Cape Perpetua Scenic Area and witness the mythical thrashing saltwater fountain of Thor's Well, which opens like a sudden crater in the surf. Then, take to the sand at Oregon Dunes National Recreation Area, south of Florence, where you can cruise the dunes in a giant buggy with Sandland Adventures (from $15) or slide down the 500-foot drifts on your own sandboard. Nab a solitary campsite anywhere along the 40 miles of dunes, and then head to Port Orford to spend a day surfing, kayaking, kiteboarding, or hang gliding over the bay. Rent gear from Floras Lake Windsurfing and Kiteboarding in Langlois. 
---
Blue Ridge Parkway, Virginia and North Carolina
MILEAGE: 469
DRIVING DAYS: 3
WHEN TO GO: Mid- to late October for fall foliage.
THE JOURNEY: Behold the best of the Appalachians between Shenandoah to Great Smoky Mountains National Park. Start on Shenandoah's Skyline Drive in Front Royal, Virginia (an additional 105 scenic miles), or just head south from Afton to the James River Visitor Center at mile 60 for a short hike to the historic Kanawha Canal Locks and picturesque foliage at Otter Lake. Stay at Peaks of Otter Lodge at mile 86, the parkway's only year-round lodging (from $144), and hop on the nearby Appalachian Trail for a quick section hike. Then take your time. Stop at any number of idyllic picnic spots or quaint pit stops along the way—shopping at Poor Farmer's Market (mile 177 ), noontime jams at the Blue Ridge Music Center (mile 213), traditional crafts at the Folk Art Center (mile 382)—and stretch your legs often on the innumerable hiking trails for scenic views. At mile 451, hike early or late to catch a majestic sunrise or sunset on 5,820-foot Waterrock Knob before reaching the route's end at Great Smoky Mountains.
---
Seward & Sterling Highways, Alaska
MILEAGE: 294
DRIVING DAYS: 4
WHEN TO GO: June to August
THE JOURNEY: The Kenai Peninsula is often called Alaska in miniature, and for good reason. From Anchorage, you'll cruise south past hanging glaciers, immense waterfalls, verdant peaks along Turnagain Arm, and spectacular coastline rife with marine life. Ride the tram up 2,300-foot Mount Alyeska to view wildflowers, wildlife, and long vistas. Pitch your tent at Primrose Campground, north of Seward, and hike the gorgeous 15-mile out-and-back to Lost Lake, where parting mists reveal the tundra's montane glory. In Seward, arrange a cruise into Kenai Fjords National Park to watch breaching orcas, and then grab a pint of Liquid Sunshine Ale at Seward Brewing Company. On the way out, stop at Exit Glacier, the only car-accessible part of Kenai Fjords, and then catch the Sterling Highway west through the Chugach National Forest and Kenai National Wildlife Refuge to Homer. Party on Homer's four-mile spit, and hire a guide to kayak along striking Kachemak Bay, or cruise the scenic Skyline Drive perched above town, then grab a burrito at Cosmic Kitchen.
---
Route 66, Arizona
MILEAGE: 401
DRIVING DAYS: 3
WHEN TO GO: May
THE JOURNEY: The classic American road trip began on the Mother Road, which runs 2,451 miles from Chicago to Santa Monica, California. Because much of the road is run-down and, frankly, not terribly interesting, focus on the westbound Arizona stretch, which harbors some of the road's best sights. Stop first in Lupton for souvenirs at the Chief Yellowhorse Trading Post and photos of the giant tepee. Then, detour to the Petrified Forest National Park and Painted Desert to scope ancient petroglyphs and variegated escarpments scattered with fossilized wood. Stand on a corner, or stay at La Posada in Winslow (from $129), then head to Williams, where you can walk around the quaint downtown and take a train to the Grand Canyon (from $62). Tour the 300-foot-deep Grand Canyon Caverns in Peach Springs, and finish on the narrow, twisting road to Oatman, where tame burros roam the streets begging for food.
---
Enchanted Circle Scenic Byway, New Mexico
MILEAGE: 83
DRIVING DAYS: 2 to 3
WHEN TO GO: Summer or fall
THE JOURNEY: You'll encounter the best of the aptly named Land of Enchantment on this northern New Mexico loop from Taos. Visit Taos Pueblo, where native Tiwa-speaking people have dwelled for more than a thousand years. Drive north to Questa, site of D.H. Lawrence's 1920s ranch and the newly protected Rio Grande del Norte National Monument, which boasts 242,500 acres chock-full of hiking, mountain biking, rafting, and caving adventures. Free-camp on the BLM-managed land, and then stop at Red River, a mountain-swaddled former mining town where you can stock up on sweets at Candy Mountain Fudge and slip down the country's longest tubing tracks at Red River Ski Area (from $18). Near the loop's terminus, detour to Angel Fire to bomb down 50 miles of lift-accessed mountain bike trails above 10,000 feet. End back at Taos, grab a pie at Taos Pizza Out Back, and—if you still have the energy—head into Taos Ski Valley and march eight miles to summit 13,161-foot Wheeler Peak, New Mexico's tallest.
---
Scenic Route 100, Vermont
MILEAGE: 189
DRIVING DAYS: 3
WHEN TO GO: Early October
THE JOURNEY: The Skier's Highway passes 13 resorts with thousands of acres of alpine, cross-country, and snowshoe trails. The snow is great, but visit in early October to bask in the blazing palette of autumn foliage as you wind through the Green Mountains amid some of New England's most idyllic scenery. The route abounds with farm stands, markets, hayrides, and pumpkin patches, so harvest all the apple cider, candy apples, and maple syrup you can handle. Start near the Massachusetts border and amble north, with a stopover at Weston's Vermont Country Store for throwback goods, or catch a show at the Weston Playhouse Theater, the state's oldest theater company. In Killington, hike a section of the converging Appalachian and Long Trails with a side trip to Deer Leap Overlook for a view of fiery Pico Peak, then slug a pint or two at the Long Trail Brewing Company (try the Double Bag or Imperial Pumpkin). Crash at the lemon-chiffon-hued Salt Ash Inn, which houses its own pub, and then wend north to Stowe. Explore downtown, hike 4,393-foot Mount Mansfield—Vermont's tallest peak—or take the Gondola SkyRide up the colorful mountain.
---
San Juan Skyway, Colorado
MILEAGE: 236
DRIVING DAYS: 2 to 3
WHEN TO GO: Summer to fall
THE JOURNEY: Connect the Old West towns of the San Juan Mountains through southwestern Colorado's most scenic stretches. Start the loop in Durango, and float the Animas River in town or hike a portion of the 469-mile Colorado Trail, which weaves across eight mountain ranges on its course to Denver. Stop off in Mesa Verde National Park, west of Durango, to explore the 1,500-year-old cliff dwellings of the ancient Pueblo people, then swing north to Telluride. Wander the mountain village, hike the 2.5 miles to Bear Creek Falls, or jam out at the Telluride Bluegrass Festival in June. From Ouray, wind down the Million Dollar Highway, past iron-hued peaks and cascading waterfalls, to Silverton, where you can board a train to the gold mine in the heart of Galena Mountain. Or ride the historic steam train through the canyons of the Animas River valley to Durango and back (from $68).
---
Going to the Sun Road, Glacier National Park, Montana
MILEAGE: 50
DRIVING DAYS: 1
WHEN TO GO: June to September
THE JOURNEY: On what is perhaps America's most stunning single-day drive, you'll ascend sunward past mountain goats and bighorn sheep, glaciers and waterfalls as you edge along the mountainside towering over stunning river valleys shadowed by snow-flecked peaks. Start at Glacier's west entrance and cruise at a leisurely pace. You'll feel compelled to get out of your car often to steep your eyes in the arresting views. Satisfy the urge. Check out McDonald Falls and Sacred Dancing Cascades near Lake McDonald, and take a 1.5-mile walk along the verdant Trail of the Cedars. From the Loop Trailhead, you can hike along the Highline Trail to Granite Park Chalet, or keep driving to Logan Pass to view the 560-foot Bird Woman Falls and walk among the roaming mountain goats. Spot Jackson Glacier, the park's only remaining glacier visible from the road, and then picnic along mountain-ringed St. Mary Lake and wade in its cool, cerulean waters.
---
Outer Banks National Scenic Byway, North Carolina
MILEAGE: 138 (plus two ferries)
DRIVING DAYS: 2 to 3
WHEN TO GO: May or September, to avoid summer crowds.
THE JOURNEY: Drive the nine barrier islands of Cape Hatteras, the country's first national seashore, lined with tidal marshes, windblown dunes, lighthouses, and beautiful beaches. If you've got a four-wheel drive, make tracks on the sands of Carova to spot the wild Spanish mustangs foraging oceanside. Hit the charming shops and restaurants of tiny Duck before continuing south to the Wright Brothers National Memorial commemorating the first sustained flight along the Kitty Hawk dunes. In Nag's Head, surf, kiteboard, or hang glide from 80-foot Jockey's Ridge, the tallest dune on the East Coast. Take a rest farther south in Waves and toss back a Dark 'n' Stormy at Watermen's, a haven for great food and live music. Visit the black-and-white-striped Cape Hatteras Lighthouse, where you'll tackle 269 steps to reach the lens room at the top. Finally, take once more to the waters of Pamlico Sound, this time by kayak with Ocracoke Adventures (252-928-7873).
Trending on Outside Online