The Land the War Ate: Tourism in Afghanistan
Once a layover for hippies on the overland trail to India, Afghanistan is now so dangerous even its Lonely Planet author won't go back. Can a tourism industry rise from the rubble?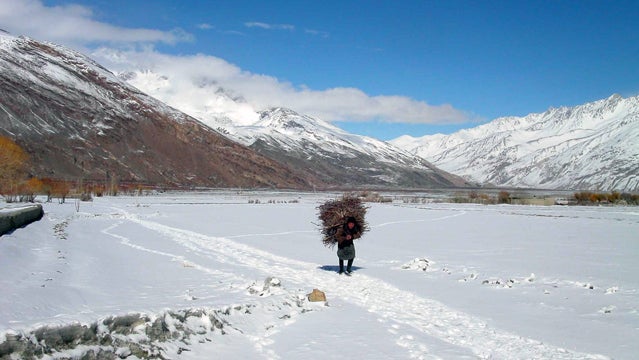 Heading out the door? Read this article on the new Outside+ app available now on iOS devices for members! Download the app.
"Afghanistan is a stark beauty, vicious and seductive. A certain type of person will brave any difficulty to get there, then having arrived, continually pinch themselves to ensure they are not dreaming." —Christopher Kremmer, The Carpet Wars

Masjid Jami is one of the oldest mosques in Afghanistan.

Afghan women at a textile factory in Kabul.

A potato farmer being interviewed at one of his fields in Bamyan Province.
Even the most hard-bitten of travelers can get a bit gushy when they talk about Afghanistan. They may have the dust of 70 countries on their boots, but here they find a singular allure that few can articulate. They romanticize about the hospitality, the lunar landscape, and confluence of history, but the word they most often use to describe the country is, "stark."
"It's beautiful, in a stark, brutal sort of way," says Geoff Hann, a British tour operator who first visited Afghanistan with his family in 1970. "It's got this air of wildness, this sense of danger about everything."
Afghanistan is that rare place that eludes time itself, where a traveler can wander into an almost Biblical village and be treated to melons on rust-colored carpets in an orchard, where a child is sent up into a tree to shake a branch of ripe mulberries, which fall onto a sheet held by his siblings below. In a world that is increasingly well-trodden, Afghanistan is an adventurer's final frontier. "There is nothing," says Hann, "quite like it." 
Hann's company, Hinterland Travel, started organizing tours to Afghanistan in the '70s, when Afghanistan was a stopover for hashish-smoking hippies traveling overland from Europe to India. The Soviet invasion, subsequent civil war, and five years of Taliban rule ended his operations, until 2004, when he began leading groups there again. Forty years ago his biggest worries were bandits. Now it's a corrosive Taliban insurgency and the residue of 33 years of continuous war.
Hann isn't the only traveler to step hopefully into Afghanistan with an optimistic eye toward the future. Since Operation Enduring Freedom removed the Taliban from power, adventure travel outfitters that specialize in destinations like Turkmenistan and Iraq have sent emissaries to scope out possible itineraries. Lonely Planet sent a writer to Kabul to start work on its first guidebook to the country in 25 years. 
"You could see the glimmer of potential there," says the writer, Paul Clammer. "People were very optimistic and hopeful that they could begin to put the last 30 years behind them." In 2003, and again in 2006, Clammer crisscrossed the country by road, taking notes and mapping cities. He visited the 1,500-year old Buddha statues of Bamiyan, destroyed by the Taliban in 2001, but still impressive, silent testimonies of the country's recent history. He saw the spring-fed lakes of Band-e Amir, Afghanistan's first national park, which stand out like a string of sapphires in the desert. He traveled onward, past the remote 12th-century Minaret of Jam ("one of the most stupendous sights I've ever seen"), to Herat, once a great city of the Silk Road.
"The news never shows you that it's a beautiful country," he says. "It's a stark sort of beauty, but it's beautiful nonetheless."  
In the years since, Clammer has watched the country's security situation slip bloodily downhill. "Frankly, it just breaks my heart," he says. "It's a country you fall in love with, and then you take it very personally when something happens. That's why I would never be glib about people going there just for a holiday."
Clammer rejects the idea of travelers going to Afghanistan for the thrill of danger and a trophy stamp in their passport. "We're not talking about Disneyland here," he says. "You're taking a holiday in other people's war."
But Marc Leaderman, head of operations for an outfitter called Wild Frontiers, thinks it's still possible to travel in Afghanistan responsibly. Wild Frontiers has operated in Afghanistan since 2004, and interest in their itineraries has been steady; almost 30 people, mostly British, sign up for three different trips there each year. The clients tend to be older, well-read, and extensively traveled. They're people who want to see an Afghanistan behind the headlines, Leaderman says. "People who are clued into the fact that even though there is a war going on, that doesn't mean that every single day every single person is in a bunker, running around screaming and shouting. Life goes on."
As grim as Afghanistan's headlines can be, parts of the country are safer than others. The central province of Bamiyan, for example, is an island of security and also home to some of Afghanistan's greatest natural and historical wonders. There has even been a recent, optimistic attempt to bring skiing to the surrounding Koh-e Baba mountains. But getting to Bamiyan is hazardous. In 2011, only about 1,000 foreigners traveled there, most of them NGO workers or diplomats already working in the country. The two land routes from Kabul are now deemed unsafe. This spring, a new Afghan airline plans to begin a twice-weekly service from Kabul to Bamiyan on a 48-seater plane, but until then, there are no commercial flights.
Another relatively safe region of the country is the Wakhan Corridor, the mountainous finger of territory in the northeast corner of Afghanistan, which was never occupied by the Soviets or the Taliban, and can be accessed with comparative safety through Tajikistan. "No one's been there for a long time," says Kiwi mountaineer Pat Deavoll, who climbed a peak there with her sister in 2011 and intends to return this summer. "It's beautiful. It's the kind of mountains I like, the arid, glaciated mountain ranges as opposed to say, Nepal, where it's greener and more populated."
Even Afghanistan's safest areas have very little tourist infrastructure. Wild Frontiers has trouble finding reliable transport, and the brightest local guides are often snatched up by NGOs. "At the end of the day we just need some decent vehicles," Leaderman says. "We need people who can cook a meal and speak English."
But there's an opportunity in Afghanistan to build a sustainable tourism industry from the ground up, he says. He also considers it an investment in the country's future. "For me the way forward for places like Afghanistan is not charity," he says. "As an individual, I can go there and sit down with restaurateurs, with drivers, with guides, smaller people, and enter into business with them and provide for them a really legitimate access to money."
Amir Foladi couldn't agree more. National Ecotourism Program Coordinator for the Aga Khan Foundation, Foladi took time away from a cross-country skiing trip with international guests in Bamiyan to answer an email interview. "Many other programs are going on in different sectors, and no one is waiting for stability," he writes. "Tourism should be like other programs. Even tourism could be used as a tool to bring peace in the country."
The biggest challenge, by everyone's admission, is creating an environment that's safe enough to attract tourists. "You need security," says Clammer, who is now writing a guidebook for Haiti, a country he considers "immeasurably" safer than Afghanistan.
"You can't travel, or operate tours, or recommend people go if they're putting themselves at unnecessary risk. You've got a risk of being shot or kidnapped, or blown up with an IED. It's not appropriate."
 "There may be a time down the road, and I really hope that there will be," says Clammer. "When that happens, I will be the first one putting my hand up and saying, 'Go to Afghanistan, and buy the new edition of my guidebook.' That would make me so incredibly happy. But not now."
IF YOU MUST: The U.S. State Department's travel advisory to Afghanistan is vivid. "Travel in all areas of Afghanistan is unsafe," it reads. "Terrorist actions may include, but are not limited to, suicide operations, bombings … assassinations, car-jackings, rocket attacks, assaults, or kidnappings." They're not empty words. Several dozen foreigners have been kidnapped over the last five years, and some have been murdered. In August 2010, eight foreigners and two Afghans were gunned down in Northern Afghanistan as they returned from a medical aid trip to a remote valley. For those who must go, Afghanistan is safest seen by way of an organized tour. Try one of the following itineraries, and buy some travel insurance before you go.
CENTRAL AND NORTH AFGHANISTAN
Hinterland Travel, Geoff Hann
Departs London July 27, 2013, £2,860, 25 days will take you by road from Pakistan, over the Khyber Pass to Kabul, then onward to Bamiyan, Band-e Amir, the Minaret of Jam, Herat, Mazar-i Sharif, Balkh and back to Kabul.
WAKHAN PAMIR ADVENTURE
Wild Frontiers
£3,650, 20 days will take you from Dushanbe, Tajikistan, to the Afghan border at Eshkashem and the mouth of the Wakhan Corridor. Drive slowly up the Corridor, stopping at villages along the way to meet the local Wakhi people. The Pamir Mountains protected this region from the worst of the fighting.
FOR THE ARMCHAIR ADVENTURER: If you're not quite ready to board a flight to Kabul, you can get most of the way there with these colorful travelogues.
An Unexpected Light, Jason Elliot
The Carpet Wars, Christopher Kremmer
The Forever War, Dexter Filkins
Afghanistan, Roland and Sabrina Michaud