The 13 Best Hut-to-Hut Hikes in the World
From Chamonix to New Zealand, this expert hiker reveals the most beautiful hut-to-hut hikes on the planet
Courtesy Emily Pennington
Heading out the door? Read this article on the new Outside+ app available now on iOS devices for members! Download the app.
The merits of hut-to-hut hiking are many: it's one of the most accessible ways to tackle a multiday outdoor adventure, offers the benefits of backcountry camping—crowd-free sunrise vistas, deep wilderness immersion, and long, glorious days on the trail—and promises the creature comforts of home, notably running water, toilet facilities and a warm, dry place to sleep.
While the U.S. has several well-known and well-regarded hut systems, I've hiked a handful of the world's most famous hut-to-hut trails and can tell you that some trekking systems abroad are worth traveling for. Here are the most stunning, with accommodations that range from rustic guesthouses run by locals to high-altitude refugios to backcountry bunkhouses set amid scenery that will soothe your soul. One thing's for certain—every one of these 13 trips is a bucket-list-worthy escape.
Laugavegur Trail, Iceland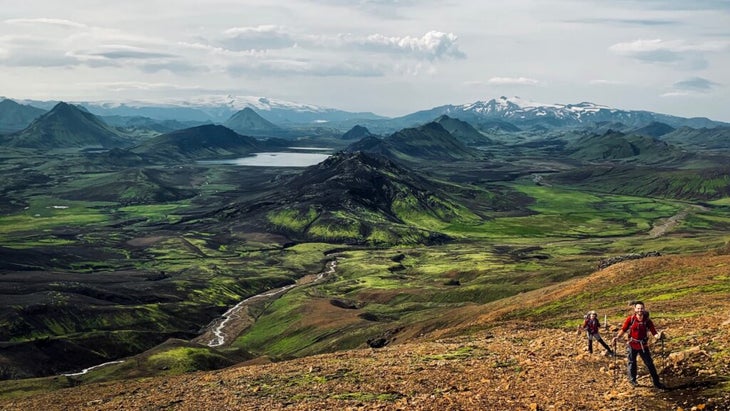 Length: 33.6 miles
Terminus: Thórsmörk
Best time to go: July to August
Days to complete: 5 to 6
Starting with the splotchy rhyolite mountains of Landmannalaugar, as colorful as an artist's paint palette, Iceland's fabled Laugavegur Trail doesn't slouch on the scenery for the entire route southward. The trail, only open mid-June through September—and even then you'll encounter snowfields—traverses volcanic moonscape slopes freckled with obsidian and plunges into deep green valleys filled with mirror-clear tarns. Because its otherworldly landscapes and jaw-dropping beauty attract the masses, the five huts on this trek (from $80) tend to book up to six months in advance, though hikers may elect to bring their own tent and camp near each hut for free. Want to trek with a guide or explore farther off the beaten path? Amarok Adventures arranges a Hidden Trails itinerary each summer that tacks on several obscure lakes and waterfalls to this famous hike (from $3,475).
Overland Track, Tasmania
Length: 40.4 miles
Termini: Ronny Creek (north) and Narcissus Hut at Lake St. Clair (south)
Best time to go: December to March
Days to complete: 6 to 7
Though it's punctuated by a state-of-the-art hut system (think: mud rooms, clean kitchen spaces, and composting toilets), Tasmania's Overland Track is rugged, rooty, and rocky, even by American standards. Still, we wouldn't let a little rain and mud stand in the way of this recommendation; the trade-off are expansive button-grass plains descending into ancient eucalyptus forests, possible encounters with adorable wallabies and wombats, sapphire alpine lakes, and the chance to set off on a class-three scramble up 5,305-foot Mount Ossa, the highest in this Australian island state. Most hikers depart from Ronny Creek and stay in a handful of huts en route to Lake St. Clair and the ferry to the St. Clair Visitor Center, though if you're up for another 11 miles of tramping, by all means. Plan to pay a total of about $190 for park and hut fees. Looking for a splurge? Check out Tasmanian Walking Company's six-day Cradle Mountain Signature Walk (from $2,803), which boasts privately owned huts with fireplaces, local wine, and freshly prepared meals.
Annapurna Circuit, Nepal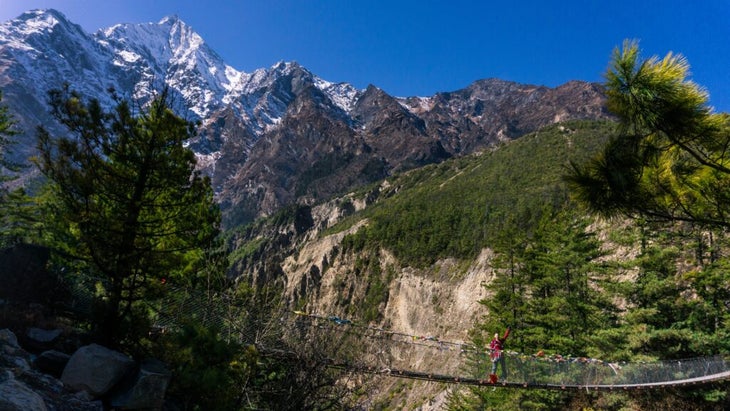 Length: 143 miles
Termini: Besisahar (east) to Pokhara (west)
Best time to go: March to April or October to November
Days to complete: Up to 21
The Annapurna Circuit is a breathtakingly high altitude romp around the Annapurna massif, passing through some of the Himalayas' most soul-stirring scenery as it climbs from lush forests filled with delicate butterflies and past rushing cascades to Thorung La Pass, a lung-crunching 17,769 feet above sea level. Travelers can expect to see myriad important Buddhist cultural markers, too: fluttering prayer flags, centuries-old temples, and intricate prayer wheels. Accommodations are simple and affordable: teahouses with Western-friendly menus and private-room options—just don't expect a heater. And small villages are now connected via a dirt road that spans most of the route, so making the trek is not the remote experience it once was (and you can hop on adjacent trails to avoid the road altogether). As of April 2023, Nepal implemented a new rule stating that all trekkers must hire a licensed guide or porter to explore the country's wilderness trails. Experienced tour companies like Amarok Adventures and 3 Sisters Adventure Trekking offer excellent guided trips, full of history and heart (inquire for prices).
Mount Meru Trek, Tanzania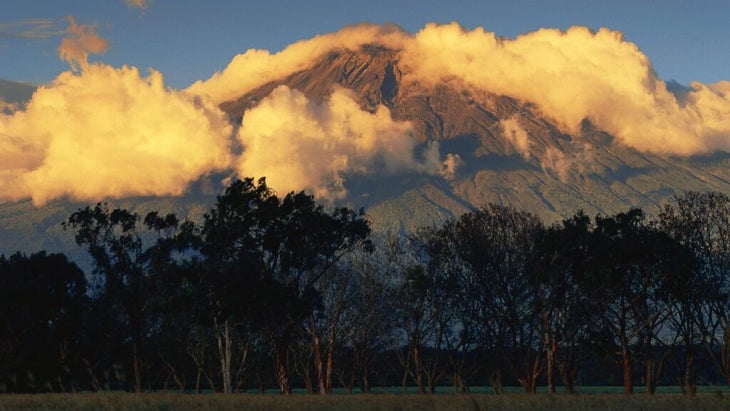 Length: 43.5 miles
Terminus: Momella Gate
Best time to go: December to February or July to October
Days to complete: 3 to 4
If you don't have time for a full expedition up Kilimanjaro (19,340 feet), or you're seeking an epic acclimatization hike before the big journey, Mount Meru (14,968 feet) is a fantastic option. Situated in Arusha National Park, in northern Tanzania, this brief trek boasts abundant wildlife sightings on day one (giraffes, zebras, and, if you're lucky, elephants) before a steep ascent that affords phenomenal views of the collapsed crater and ash cone. From the summit, hikers can even enjoy panoramic vistas eastward to Kilimanjaro, often hovering above the clouds like an ethereal being. As for accommodations, expect rustic, dorm-style cabins with indoor mess halls and separate lodging for your porters. Due to the amount of wildlife, an armed ranger is required to hike with groups on the first day of this trek, so a guided trip is a must. Altezza Travel and Climbing Kilimanjaro are both highly regarded (inquire for prices).
Kumano Kodo, Japan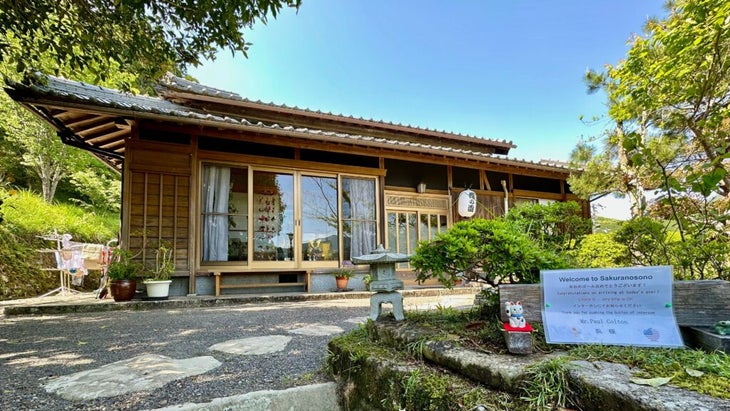 Length: 43.5 miles
Termini: Tanabe (west) and Katsuura (east)
Best time to go: March to May or October to November
Days to complete: 5
The Kumano Kodo, located south of Osaka on Japan's Kii peninsula, is a centuries-old pilgrimage route and one of only two paths of its kind to earn Unesco World Heritage status (the other is the Santiago de Compostela in Spain and France). Technically, the Kumano Kodo is not a singular route but a network of footpaths that crisscross the deeply wooded region, passing ancient Shinto shrines and temples, edging past misty waterfalls (including the tallest in the country), and wending through tiny villages. The Nakahechi Route (a.k.a. the Imperial Route) is the most popular way to explore. Skip the guided tours on this one—the Kumano Travel website is incredibly thorough and helpful with bookings—and instead plan to overnight in traditional ryokans, or inns, as you go.
Nahuel Huapi National Park Traverse, Argentina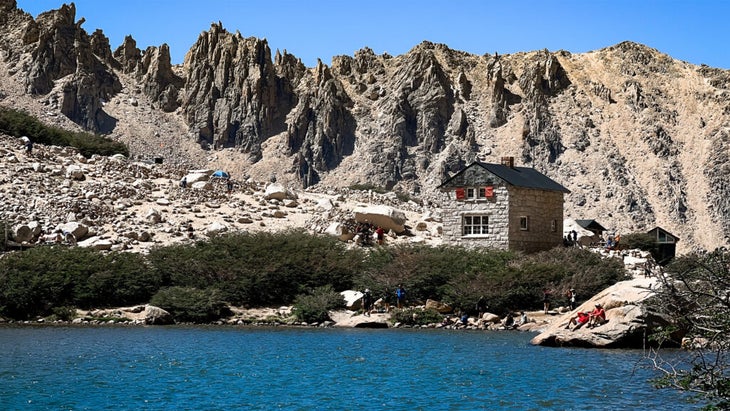 Length: 25 miles
Termini: Villa Catedral (south) to Arroyo Lopez (north)
Best time to go: December to March
Days to complete: 4 to 5
Soaring, toothy peaks that seem to grasp at the sky, glittering azure lakes, rushing waterfalls, and refugios that resemble hobbit houses… there's a lot to love about this trek across Argentina's first national park. Utilize the robust public transportation from the gateway city of San Carlos de Bariloche, and nab a night at Refugio Frey—the only reservable hut of the four—in advance. Alternatively, you can hire a respected company like Swoop Patagonia for a guided adrenaline-fueled adventure along steep, rocky ridgelines, with opportunities to rock-scramble and take in the striking views of enormous Lake Nahuel Huapi (from $1,310). Before jetting off, spend a few days luxuriating in Bariloche, surprisingly European and often touted as the Switzerland of South America.
Jotunheimen National Park Historic Route, Norway
Length: 35.4 miles
Termini: Gjendesheim (east) to Eidsbugarden (west)
Best time to go: July to early September
Days to complete: 4
For a hearty dose of towering peaks, deep-cut valleys, and crystal-clear lakes, look no further than this challenging quest through Jotunheimen National Park, often referred to as Land of the Giants. Thirty-five miles might not seem like much at first, but this trail is no walk in the park—you'll be following in the footsteps of Norway's mountaineering history, sometimes gaining over 3,600 feet in a day as you clamber over craggy terrain (chains are present to aid with grip on the most harrowing sections), making your way between two remote lakes once essential to accessing the region: Gjende and Bygdin. You can book the DNT huts—the video below, of Fondsbu, is just one run by the Norwegian Trekking Association—in advance and traverse the "fairylands" of Svartdalen solo, or sign on with Wildland Trekking for a similarly supported route that'll quench your hiker hunger with delectable included meals (from $4,800).
Tongariro Northern Circuit, New Zealand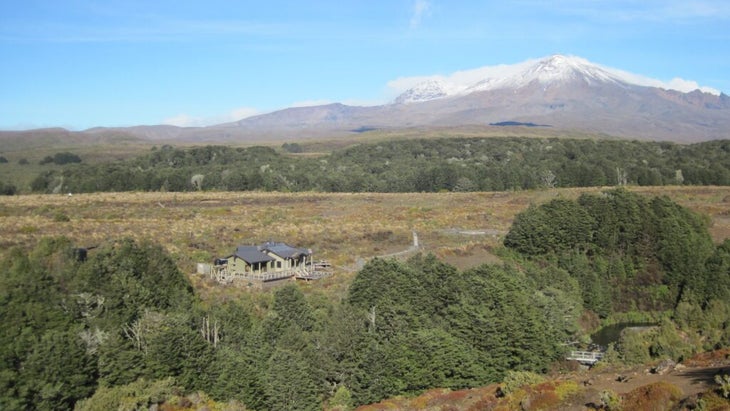 Length: 22.4 miles
Terminus: Whakapapa Village, North Island
Best time to go: November to April
Days to complete: 3 to 4
Unlike the Tongariro Crossing (a day hike which traverses the same eponymous national park), the Tongariro Northern Circuit allows travelers to get up close and personal with the nation's most notorious volcanic peaks, sans the crowds. The loop circumnavigates the snowcapped, charcoal-hued cone of Mount Ngauruhoe, skirting hissing steam vents, ancient lava flows, and brilliant emerald lakes. Considered one of New Zealand's Ten Great Walks, this hike is for geology and Lord of the Rings buffs who'd love nothing more than tackling a such a boulder-strewn landscape en route to Mordor. You can opt to guide yourself through the well-appointed huts (which include bunk beds with mattresses, indoor heating, kitchens, and non-flush toilets), or book a locally led trip like Walking Legends' three-day jaunt (from $891).
The Walker's Haute Route, France and Switzerland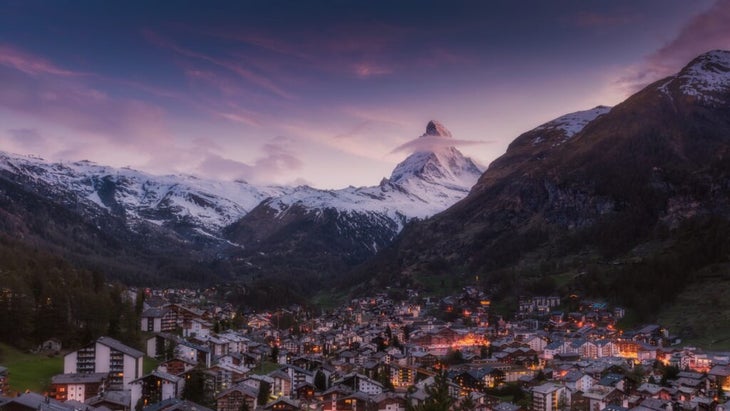 Length: 108 to 141 miles (depending on the route)
Termini: Chamonix, France (west) and Zermatt, Switzerland (east)
Best time to go: Mid-July to mid-September
Days to complete: 10 to 14
Sure, this one winds up on virtually every best-of hiking list on the planet, but if you take a second to Google a few snapshots of the gobsmacking glacially carved valleys, fields full of crocus and blue bugle, and steep summits that jut skyward like granitic witches' hats, you'll quickly see why. The Walker's Haute Route (not to be confused with the similarly named ski traverse) passes below the summits of ten of the twelve highest peaks in the Alps. You'll alternate between staying in well-appointed mountain huts and quaint European villages, indulging in fresh pastries and local cheeses between leg-burning ascents. Huts book up well in advance (and require a piecemeal email approach for booking), or just let an experienced company like Alpenwild or Mont Blanc Treks do all the hard work and logistics, while you focus on the scenery (from $6,195 and $3,616, respectively).
Sunshine Coast Trail, Canada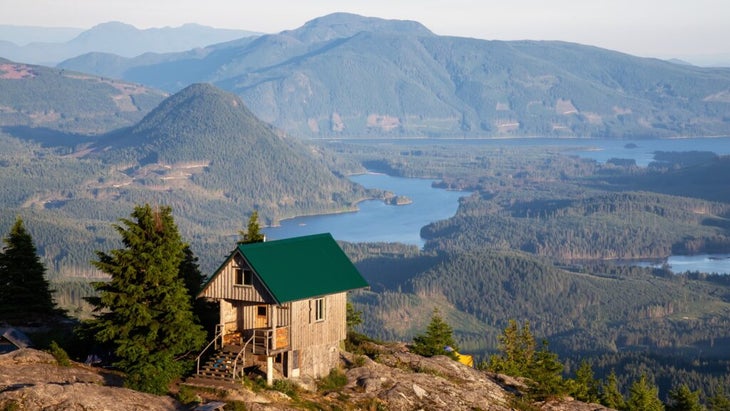 Length: 111.8 miles
Termini: Sarah Point on Desolation Sound (north) to Saltery Bay (south)
Best time to go: June to September
Days to complete: 9 to 10
Often lauded as our northern neighbor's best, least commercialized, and longest hut-to-hut trek, the Sunshine Coast Trail meanders across the British Columbia seashore, terminating some 90 miles north of Vancouver. The journey is a bucket-list adventure for forest bathers and ocean lovers alike, with wonderful opportunities to spot wolves, deer, raccoons, grizzlies, and elk, not to mention pick plentiful blackberries and salmonberries in late summer. Fourteen first-come, first-served huts (with another slated to open next year) are set along the route, and the Powell River Parks and Wilderness Society provides loads of how-to info it you'd prefer to go it alone. Another possibility is a guided partial trek with Coastal Bliss Adventures (from $1,340).
The O Circuit, Chile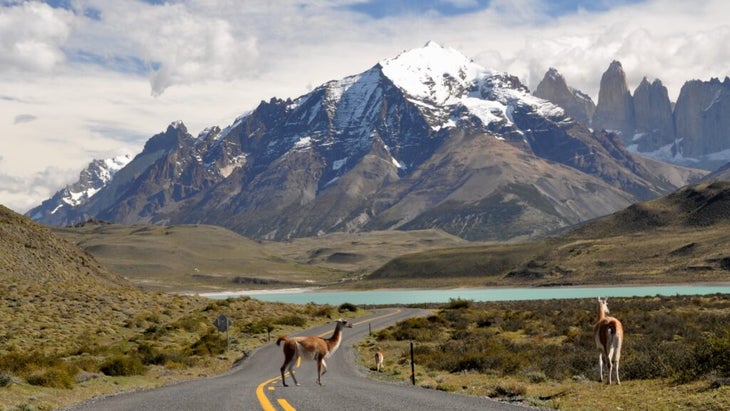 Length: 85 miles
Terminus: Torres del Paine National Park's Laguna Amarga Entrance
Best time to go: November to March
Days to complete: 11
As one of the premier treks in South America, southern Chile's O Circuit is a show-stopping option for mountain-loving backpackers who want to put in the big miles when the U.S. is knee-deep in winter. Longer (and more secluded) than its more famous cousin to the south, the W Trek, the O Circuit includes the aforementioned route, plus dozens of off-the-beaten-path miles skirting the northern expanse of Torres del Paine National Park. Purchase your park entrance online in advance, then plan to get to your refugio (see the sites managed by Las Torres and Vertice) or camping spot as early as possible, as this trip is incredibly popular. Wildland Trekking offers guided group trips, if that's your preference ($5,900).
Triglav National Park Traverse, Slovenia Mountain Trail, Slovenia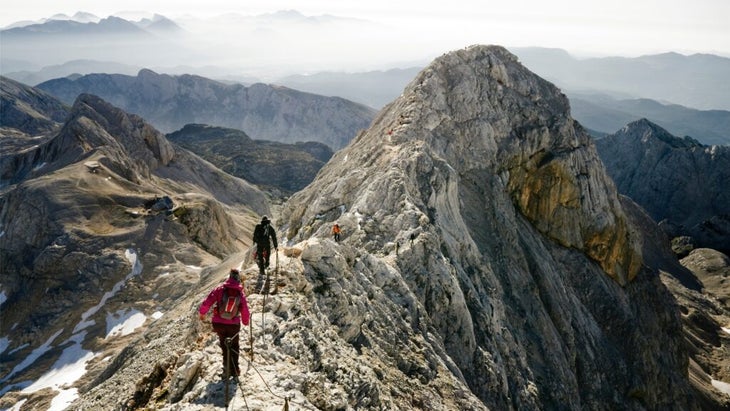 Length: 27 miles
Termini: Vrsic Pass (north) to Lake Bohinj (south)
Best time to go: June to September
Days to complete: 4
It seems like the Julian Alps have been on the tip of every travel writer's tongue ever since the Juliana Trail made its debut back in 2020. But if you'd rather not blow all your vacation time hiking the full 168 miles through this scenic landscape, this route through Triglav National Park will give you a taste of the best stuff. Book hut reservations for Pogacnikov dom na Kriskih podih, Koca na Dolicu, and Koca pri Triglavskih jezerih in advance, then get ready to traipse across craggy ridgelines, limestone escarpments, and peacock-green tarns. If arranging the trek yourself sounds like too much of a headache (and the language barrier can be intimidating), Slotrips offers a similar itinerary, with an optional add-on to summit 9,396-foot Mount Triglav, the highest in Slovenia ($430).
Sneffels Traverse, Colorado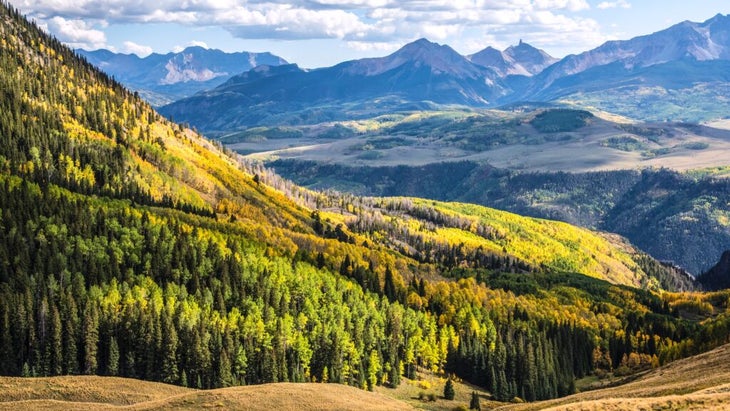 Length: 29.4 miles
Termini: Telluride (south) and Ouray (northeast)
Best time to go: July to September
Days to complete: 5
The U.S. is home to several well-regarded hut systems, but one stands out above the rest: the Sneffels Traverse. Run by the San Juan Hut System in the (you guessed it) glorious San Juan Mountains of western Colorado, this route begins at 10,676-foot Last Dollar Pass, above the iconic ski town of Telluride, and meanders between four diminutive, eight-person bunk-style cabins on its way to the gold-rush town of Ouray. Due to its popularity, hikers must book a four-night, five day package ($275, including return-shuttle service) through the hut system between June 1 and October 15. Expect eye-catching meadows of purple lupine, serrated sky-high peaks, and verdant forests of aspen and pine along the way.
Emily Pennington has now trekked on every continent, including hundreds of nights spent on the trail in the United States. For big adventures, she recommends bringing a Kula Cloth and a clip-on carabiner mug.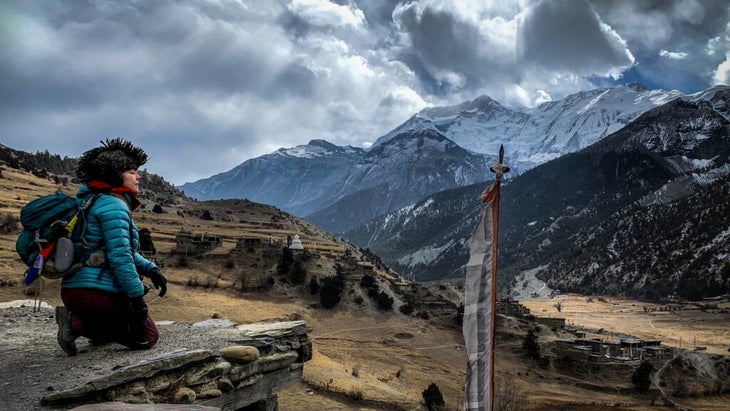 Lead Photo: Courtesy Emily Pennington
Trending on Outside Online